Industry Insights
The U.S. esters market was valued at USD 3.16 billion in 2015. Growing demand for emulsifiers and stabilizers in personal care and detergent sectors is expected to drive product demand over the forecast period. In addition, hydraulic stability and lubricity of phosphate and fatty acid derivatives are further anticipated to drive industry growth over the forecast period.
Esters used in synthetic lubricants play a pivotal role in the country's economy where hydrocarbon E&P contributes a major share to the economy. Synthetic ester lubricants have gained prominence over the past few years owing to their affinity for metal surfaces and high viscosity index. These product attributes to enhance the lubricity that subsequently minimizes sludge deposits and engine fouling.
U.S. esters market volume by product, 2012 - 2022 (Kilo Tons)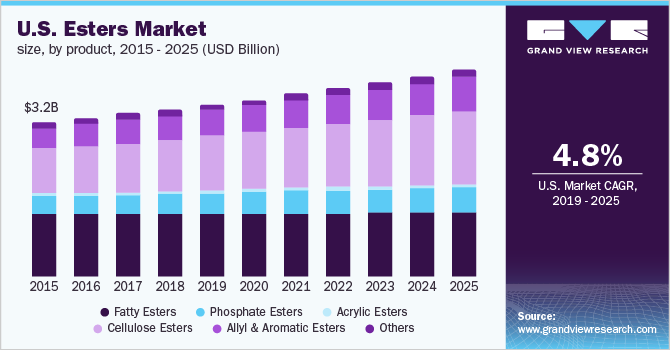 Shifting consumer trend towards health and beauty has led to the adoption of an active lifestyle and carefully-formulated diets that include fatty acid esters (FAE) on a significant scale. FAE promotes weight loss by burning calories and accelerating the body to metabolize food and energy faster. Aforementioned factors are anticipated to steer the demand for medium-chain triglycerides, and glycerol monostearate in nutritional supplement and food additive industries.
Esters by themselves contain chemicals that could cause detrimental health effects in case of high intake by humans and high exposure to humans. Hence, to a certain extent, regulatory policies preventing the use of hazardous chemicals in food and direct contact applications are expected to challenge the industry growth.
However, with the shifting trend towards developing bio-based materials, esters are also anticipated to witness high growth in terms of their development. Another factor contributing to its significant growth is attributed to their functional efficiency, performance, biodegradability, and sustainability.
Major regulatory policymakers that command the industry dynamics include U.S. FDA (Food & Drug Administration) and U.S. EPA (Environment Protection Agency). In addition, The Joint FAO/WHO Expert Committee on Food Additives (JECFA) evaluates the safety of ester based ingredients used in food consumables. High costs associated with certification and labeling of these ingredients in personal care and food industry has led to the consolidation of small enterprises to achieve economies of scale.
Product Insights
Acrylic esters such as methyl, ethyl, butyl, and 2-ethylhexyl, were the leading segment and accounted for 42.3% of the market volume in 2014. These esters are extensively used in construction and manufacturing sectors. Non-toxic nature of acrylic esters is responsible for growing adoption in various industries and is used as building blocks for industrial polymers.
Coatings, adhesives, sealants, and elastomers (CASE) accounted for over 41% of the U.S. methyl acrylate esters market in 2014. Owing to its chemical feasibility with water-based formulations, methyl acrylate has witnessed a significant increase in demand in surface coating applications.
Cellulose segment is expected to emerge as the fastest growing product, on account of properties such as good heat and moisture resilience and ultraviolet stability. In addition, growing cellulose acetate propionate (CAP) demand in printing inks application segment is expected to be major contributor driving cellulose esters demand over the next eight years.
CAP demand in printing inks is anticipated to grow at an estimated CAGR of 5.7% from 2015 to 2022. Growing consumer awareness towards graphic design and print making has contributed to the significant demand for printing inks and coatings demand over the past few years. Product innovations such as printing designs on varying materials such as plastics and fabrics are further expected to drive CAP demand over the forecast period.
Competitive Insights
The U.S. esters market is dominated by top multinational corporations such as Arkema, Lanxess, Chemtura, Dow Chemical, and DuPont whichhave integrated their operations along the value chain, from raw material processing to ester production, to distribution of finished products.Ester manufacturers such as Procter & Gamble (P&G), Evonik Industries, Sasol, PCC Chemax, Archer Daniels Midland, Honeywell, and Eastman Chemical, are actively indulged in product & technology innovations and industrial collaborations to expand their product portfolio in the U.S. market.
Major industry participants are actively involved in the development of innovative products, packaging, and related solutions for the U.S. esters market.Other key industry participants include Stepan Company, Ashland, AkzoNobel, Rotuba, Elementis Specialties, Valtris Specialty Chemicals, Innospec, PMC Biogenix, Croda International, LG Chem, and Polymer Plastics Co. LC.