Industry Insights
The U.S. hair brush market is expected to grow significantly over the forecast period owing to increasing health and hygiene awareness. Hair brushes are used by the majority of age groups including children, teenagers, and adults for detangling, styling, and smoothing of human hair. Reducing the cost of synthetic products is anticipated to drive the hair brush industry over the forecast period.
The increasing popularity of infrared hair brushes may fuel market demand in this segment. These products deliver infrared heat during use; a seven light infrared hair brush is ideally used for providing complete scalp massage and help increase blood circulation in the scalp. Further, they also stimulate scalp follicles. These brushes are ergonomically designed and have options to turn off infrared and massaging features. The need for product differentiation has led to the development of vibrating massage hair brushes and folding brushes, which have a compact design and added utility. Increasing awareness of health benefits from regular hair brushing may further contribute to the U.S. hair brush industry.
Regular hair brushing helps eliminate waste materials such as uric acid crystals, catarrh, other acids, and impurities that stick to the scalp. It also helps stimulate blood capillaries resulting in increased blood circulation and transportation of oxygen and nutrients to the root, stem, and bulb of the hair. The increasing cost of boar bristle brushes is anticipated to pose a challenge to the U.S. hair brush market over the forecast period. The presence of a large number of local manufacturers may restrain the U.S. hair brush market over the next seven years.
U.S. hair brush market by application, 2012 - 2022 (Million Units)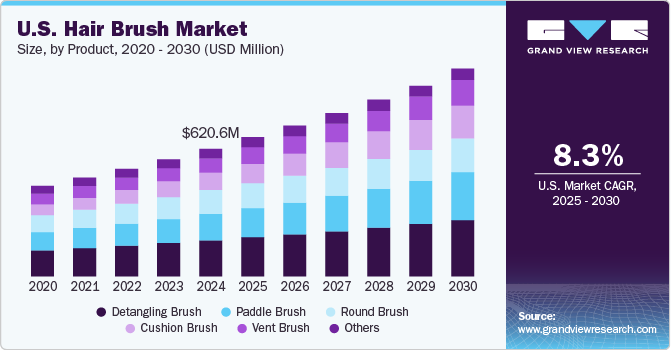 Application Insights
Personal hair brushes are also expected to continue dominating the regional market through the forecast period on account of the high adoption rate among consumers. Since these products are viewed as an essential low-cost commodity, consumers are projected to continue accounting for the majority of the overall demand. The professional hair brush market segment has very low penetration as compared to the personal segment but is expected to have high growth. This is due to increasing number of salons in the U.S. owing to the growing demand for grooming services. Additionally, salons need to ensure the availability of high-quality products to maintain its customer base, which is also expected to drive growth in this segment.
Competitive Insights
Key contributors to the U.S. hair brush market include AirMotion Pro, Babyliss, Braun, Conair, Crave Naturals, Denman, Hershesons, Kent, L'Oreal, Mason Pearson, Revlon, Scalpmaster, Spornette, Trevor Sorbie, Vega, and Wet Brush. Distribution being a critical component for success, Conair collaborated with Capgemini to be Global Data Synchronization (GDS) complaint. This refers to the electronic synchronization of product, price, trading party data and acts as a common platform for the global supply chain. The U.S. hair brush market is highly competitive and mature. Increasing growth of marchandisers along with rapidly changing consumer shopping preferences and patterns are expected to contribute significantly to the market. The emergence of multi-category retailers and growing internet sales through various portals such as Amazon.com has provided new avenues to market growth.