Industry Insights
The U.S. terracotta cladding market size was worth USD 456.1 million in 2015. Economic revival in the U.S., coupled with high construction spending in the residential & commercial sectors are expected to drive industry growth.
Growing refurbishment and redevelopment activities, coupled with the introduction of luxury buildings under sustainable norms are anticipated to drive the industry. Terracotta, a glazed or unglazed ceramic, provides a natural look with an attractive clay finish and is widely used for surface decoration incommercial buildings such as museums and even heritage sites.
U.S. terracotta cladding market revenue by application, 2012 - 2022 (USD Million)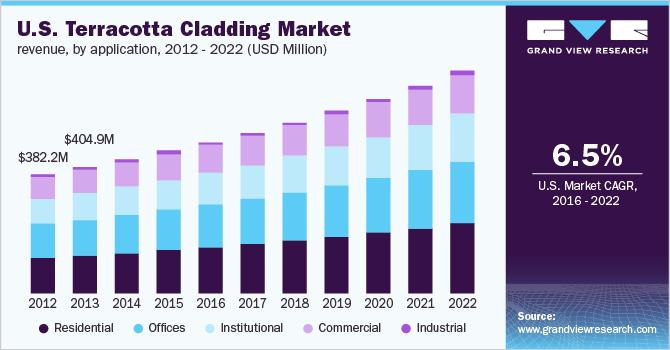 The shift in trend towards development of innovative 'green buildings' with high energy efficiency, has boosted the popularity of low-maintenance building materials. High demand for light weight and durable composite panels with protective cladding isalso anticipated to fuel growth over the forecast period.
Infrastructure & commercial construction activities are witnessing a substantial rise in the U.S.owing to economic recovery and growing consumer confidence. Surging demand for enhanced moisture & energy management solutions is expected to fuel market growth. Stringent government regulations, coupled with rising environmental awareness are other major factors contributing to industry growth.
Increasing construction spending, particularly for non-residential applications such as commercial spaces and educational institutions, is expected to boost the terracotta market in several construction applications. These cladding systems also have the added advantage of greater ventilation, resistance to grout & mildew, with high energy savings, which makes them ideal for several construction & building applications.
Façades of this material exhibit several superior characteristics such as long-lasting color properties, and high resistance to external elements, which are expected to promote their demand in construction applications.
High installation costs and complex maintenance issues are expected to restrain industry growth. However, light weight and recyclability of these products are anticipated to offer lucrative growth opportunities to key industry participants over the forecast period.
Application Insights
Residential was the leading application segment with its value estimated at over USD 130 million in 2014. High urbanization and LEED programs promoting 'green buildings' are expected to fuel construction projects over the forecast period.
Additionally, redevelopment & refurbishment of old residential buildings are expected to drive product demand to rejuvenate these structures. The residential segment is anticipated to retain its lead with an estimated CAGR of 6.5% over the forecast period.
Increasing rent rates for commercial office spaces and growing employment rates are anticipated to fuel private office construction projects. New start-up ventures and the growing base of business entrepreneurs are also expected to fuel such construction activities in the U.S. Furthermore, strong economic revival, along with increasing construction spending in Arizona and California is expected to drive product demand in upcoming office projects.
Growing investments in education, healthcare, infrastructure, and promotion of medical tourism are anticipated to boost product consumption in institutional applications. Stringent government policies regarding energy consumption are expected to boost the demand for sustainable building materials such as terracotta.
Regional Insights
The Western regionoccupied the largest share, accounting for around 23% of the total volume in 2014. Expanding population and rising consumer disposable income in this region are expected to fuel growth over the forecast period.The region is expected to grow at a CAGR of 6.9% over the forecast period.
South Atlantic was the second largest regional marketowing to strong GDP growth. Development of the manufacturing sector in this region is expected to boost terracotta consumption in states such as Delaware, Florida, Georgia, and Maryland. Increasing government investments in public infrastructure to support economic growth is anticipated to be a key driver for growth in the East North Central region.
Competitive Insights
Key companies operating in the U.S. terracotta cladding market include Terreal North America, M.F. Murray Company, Carea Ltd., Elite Cladding Systems Ltd., Pace Representatives, Inc., R.A.M. Inc., Shildan, Celotex Ltd., CGL Facades Co., Hunter Doulas, Cladding Corp., Palagio Engineering, Avenere Cladding LLC, James & Taylor Co., Boston Valley Terracotta.