Industry Insights
The global UV light stabilizers market was worth USD 171.2 million in 2014. Increasing ultraviolet radiation protection demand in wood coatings industry is expected to drive global growth over the forecast period. The parent market radiation cure experienced a CAGR of over 5% during the last decade. UV light stabilizer additives give protection to wood and various other polymers from harmful exposures. In wood coating industry, the major function of UV light stabilizer includes wood protection from noxious ultraviolet radiations.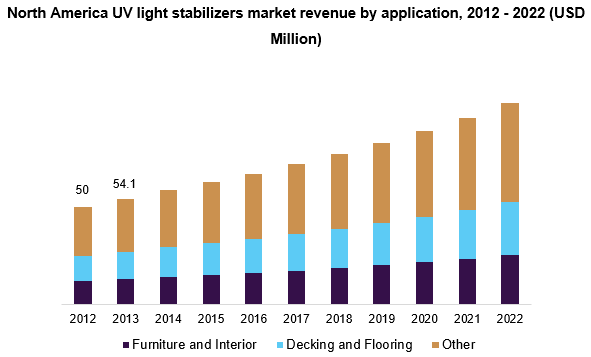 Continuous exposure of UV results in discoloration and product decomposition. In addition, it also helps in minimizing lignin degradation levels in wood. Apart from maintaining wood quality, these products are also useful in minimizing harmful environmental effects such as a decrease in volatile organic compounds (VOC) emissions resulting into lower ozone depletion. Growing construction spending in emerging countries such as Vietnam, Indonesia, Malaysia, China, India, Russia, and Brazil is expected to benefit the overall market growth. A wide range of UV light stabilizers is available based on its applications and end-use industry requirement.
Major products are UV absorbers, quenchers, and hindered amine light stabilizers (HALS). Nanotechnology emerged as a major technological advancement in the coating industry in the recent past. As a result, TiO2 and ZnO2 based nano-UV light stabilizers are gaining attractiveness among the consumers globally. This is expected to create ample opportunities for business players in the industry. UV absorbers are cheaper products widely used for short time exposure application areas. Quencher, on the other side, is majorly used for agricultural application areas and is expected to witness high demand owing to developing in agriculture activities.
HALS is specially designed for the automotive industry and is expected to experience high demand growth in developing countries such as China, Taiwan, and India owing to its augmenting automotive industry. High product cost is expected to restrain the global industry in the future. In addition, complexities in manufacturing coupled with huge investments involved in the manufacturing process may add to the hindrance list.
Application Insights
On the basis of application, the global industry consists of three major segments which include furniture & interior, decking & flooring, and others. Others segment mainly consists of the automotive sector. North America others application segment accounted for a market revenue share of 50.37% in 2014. In the U.S., the decking & flooring segment covered a market volume share of over 20% in 2014.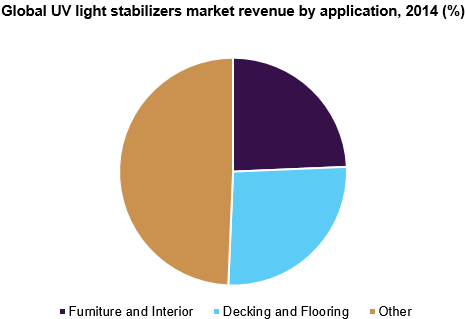 The decking & flooring application segment is anticipated to have the highest growth rate, in terms of revenue and is projected to augment at a CAGR of 9.1% over the forecast period. The segment, in terms of volume, stood at 2,306.4 tons in 2014 and is projected to have strong growth over the forecast period. Growing furniture demand in emerging countries is expected to benefit the application segment of the market. Asia Pacific furniture and interior application segment accounted for a market volume share of 24.1% in 2014.
Regional Insights
North America UV light stabilizers market dominated the global industry with a demand share exceeding 30% in 2014. The region is expected to be driven by an increase in housing projects and technological advancements in furniture & construction industries coupled with stringent environment regulations by EPA.
Stagnant growth in the European wood packaging industry is expected to lower regional industry demand over the forecast period while strict environmental regulations by REACH are expected to emerge as a major growth opportunity. Asia Pacific is expected to witness the highest growth on account of developing construction and furniture application areas in Japan, India, China, and Taiwan. In terms of revenue, the UV light stabilizers market in the Asia Pacific was worth USD 40.9 million in 2014 and is expected to grow significantly over the forecast period.
UV Light Stabilizers Market Share Insights
The global industry is fragmented with high competition levels among market players. Key companies are Akcros Chemicals, Everlight Chemical, Lycus Ltd, Clariant Ltd, Cytec Industries Inc., BASF, BYK-Chemie GmbH, AkzoNobel N.V., Mayzo Inc. and Chemtura Corporation. On account of the eco-friendly nature of the product, companies are expected to gain market attractiveness globally as it will help companies incurring support from associations and regulatory bodies. Innovation in terms of technology and high investment in the R&D department to develop improved products is expected to create lucrative opportunities for the market player over the next seven years.