Industry Insights
The global vascular graft market size was valued at USD 1.95 billion in 2014 and is expected to witness healthy growth rate over the forecast period. Key factors contributing to market growth are rising prevalence of cardiac diseases, increasing prevalence of diabetes and end stage renal diseases, coronary artery disease (CAD), hypertension and cardiac aneurysms. Apart from above mentioned factors genetic and hereditary factors, unhealthy lifestyle, alcohol consumption, tobacco smoking is expected to increase the demand for vascular grafts over the period. Low reimbursement rate and rising Out-of-Pocket expense in emerging economy can restrain the market growth.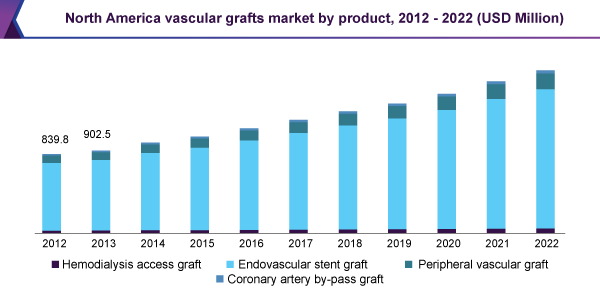 Ischemic Heart Disease (IHD) is one of the common cause of heart attack across the world. According to CDC as of 2013, it is estimated that about 935,000 Americans will have heart attack. About one in 13 people in the age group of 18 suffer from CAD while the rate of CAD associated deaths is quite high, about 85% in the age group of 65. According to British heart foundation, in 2015 UK has around 2.3 million coronary heart disease patients which leads to 70,000 deaths per year.
Other factors contributing to growth of this market includes growing prevalence of diabetes and ESRD. According to International Diabetes Federation, the prevalence of diabetes is projected to increase from 366 million to 552 million between 2011 and 2030. Such exponential growth in prevalence of diabetes is expected to drive the growth between 2015 and 2022.
According to WHO in 2012, cardiovascular diseases constituted nearly 31% of the global mortality rate. Increasing number of treatment failures for cardiovascular diseases, such as failure of organ transplantation, surgical reconstruction, and unfavorable outcomes due to mechanical devices are expected to trigger demand for minimally invasive vascular implants. Increasing demand for minimally invasive implants is expected to drive the growth of vascular graft markets over the forecast period.
Product Insights
Vascular grafts are segmented by product as coronary artery by-pass graft, peripheral vascular, hemodialysis access and endovascular stent. Endovascular grafts dominated the overall market in 2014 with a share of 86.1%, owing to increasing number of abdominal aortic aneurysm procedures with less potential of access site complications. Furthermore, reduced mortality rate associated with this treatment and technological advancements pertaining to novel product development such as Nellix and Fortevo is expected to positively reinforce market growth during the forecast period.
Coronary artery bypass grafts are anticipated to emerge as fastest growing product segment with CAGR of 9.9% during the forecast period. The market for coronary artery bypass grafts is mainly driven by a wide number of medical applications and improvements pertaining to the development of intra-operative techniques. Factors that drive the growth for this market includes high prevalence rates of renal failure and hardening of arteries.
Technological advancements pertaining to the development of novel products for the treatment of peripheral arterial disease are expected to spur demand for peripheral vascular devices during the forecast period. The Spiral Flow Peripheral Vascular Graft possesses better patency as compared to polytetrafluoroethylene (PTFE) grafts, which are applicable for reconstruction of damaged blood vessels.
Application Type Insights
Vascular grafts market by application is segmented as kidney failure, aneurysm, vascular occlusion, coronary artery diseases and diabetes. As of 2014, cardiovascular segment dominated the market with 25% of total share attributing to factors such as high blood sugar, increasing prevalence of high blood pressure and improvements pertaining to development of advanced tissue engineered grafts for pediatric congenital heart surgeries.
The demand for vascular grafts is expected to gain momentum during the forecast period due to key factors such as development of novel prosthetic grafts with improved porosity & efficiency coupled with growing acceptance for these grafts. Also, increasing geriatric population base and unhealthy lifestyle habits such as alcohol consumption & smoking, is anticipated to drive the demand for minimally invasive grafting procedures.
Raw Material Insights
Polyester vascular grafts dominated the overall market with 38% of total revenue in 2014.Key factors attributing to its largest share includes rising demand for novel biologically engineered prosthetics and technological advanced products. According to National Institutes of Health the development of sirolimus-eluting poly successfully fulfilled the requirements of peripheral vascular intervention under in vitro conditions. Low risks associated with degradation and graft infection of polyester grafts, are among the key factors attributing to its large share.
Polytetrafluoroethylene (PTFE) vascular grafts are mainly applicable for ischemic heart disease for patients required to undergo aorta-coronary bypass graft operations. PTFE are fabricated with technically advanced architecture that results in minimal blood loss and provides maximum protection against delamination. Polytetrafluoroethylene is also applicable for peripheral bypasses and extra anatomical procedures. Technological advancements such as modification of argon plasma-treated PTFE, are expected to boost the demand for PTFE between 2015 and 2022.
Biological material is anticipated to be the most lucrative segment and is projected to grow at a CAGR of 9.6% by 2022. Biological material market is driven by factors such as increasing prevalence of cardiovascular diseases and depletion in the demand for polymer grafts. The share of biological materials in the vascular grafts market is anticipated to increase from 30.5% in 2014 to 34.3% in 2022.
Regional Insight
North America dominated the vascular grafts market with 50% of total revenue in 2014. North America maintained its dominant share due to high prevalence rate of diabetes, cardiovascular diseases and chronic kidney disease. Presence of reimbursement coverage and availability of state-of-the-art healthcare infrastructure are driving the growth of this market in North America.
European market is anticipated to follow North American market with 25% of total share in 2014. Increasing number of biomaterials research projects undertaken by the European Union in partnership with medical organizations, is anticipated to propel the market growth over the forecast period. In addition, increasing incidence rate that are attributable to cardiovascular disease and growing acceptance of prosthetic graft implantation, is expected to boost the usage rate of grafts.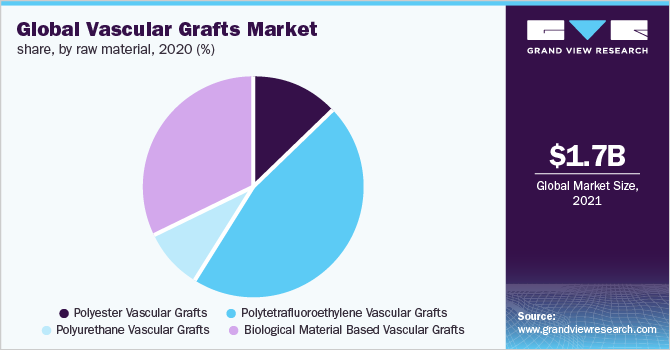 Asia Pacific is anticipated to show fastest growth with CAGR of 9.9% over the period due to increasing incidences of cardiovascular disease & diabetes, improving healthcare infrastructure, rapid epidemiological transition that has resulted in high rates of premature deaths is expected to boost the demand for minimally invasive grafting procedures during the forecast period. The need for new biomaterial grafts for the growing heart failure cases has gushed up research on new developments depending for high capital revenues. This increasing demand for vascular grafts in Asia Pacific is expected to drive the market between 2015 and 2022.
Vascular Grafts Market Share Insights
Some of the key players operating in this market include Medtronic, LeMagitre Vascular Inc., Cook Medical, Bard Peripheral Vascular Inc., Terumo Cardiovascular, W.L. Gore & Associates, Getinge Group, Shanghai Suokang Medical Implants Co., Ltd, and Junken Medical Co., Ltd.
Medtronic, Terumo Cardiovascular and Bard Peripheral Vascular Inc. dominates the vascular grafts market with 50.5% of total market share and remaining 49.5% market is contributed by other fragmented players in the market.
Segments Covered in the Report
This report forecasts revenue growth at global, regional, and country levels and provides an analysis on latest industry trends in each of the sub-segments from 2014 to 2024. For the purpose of this study, Grand View Research has segmented the global vascular grafts market report on the basis of product, application, raw material and region:
Product Outlook (Revenue, USD Million, 2014 - 2022)

Hemodialysis access graft

Endovascular stent graft

Peripheral vascular graft

Coronary artery by-pass graft

Application Outlook (Revenue, USD Million, 2014 - 2022

Cardiovascular diseases

Coronary artery disease

Cardiac aneurysm

Hypertension

Cardiac stroke

Aneurysm

Kidney failure

Vascular occlusion

Diabetes

Material Outlook (Revenue, USD Million, 2014 - 2022

Polyester based vascular graft

Polytetrafluoroethylene based vascular graft

Polyurethane based vascular graft

Biological materials based vascular graft

Human saphenous and umbilical veins

Tissue engineered materials

Regional Outlook (Revenue, USD Million, 2014 - 2022)

North America

Europe

Asia Pacific

Latin America

MEA