Industry Insights
Vietnam animal feed market size was 15,829.3 kilo tons in 2014. Growing meat consumption and rising consumer disposable income are expected to drive growth over the forecast period. The outbreak of numerous livestock diseases is also expected to promote feed additive usage in the local industry.
Vietnam animal feed market is characterized by a high number of imports and numerous, often contradictory regulations implemented by agencies, such as the Ministry of Agriculture and Rural Development (MARD). The industry is also highly dependent upon the feed grain industry to obtain raw materials for feed production. Rising feed grain prices are thus expected to pose a challenge for profitability.
Vietnam animal feed market revenue by product, 2012-2022, (Kilo Tons)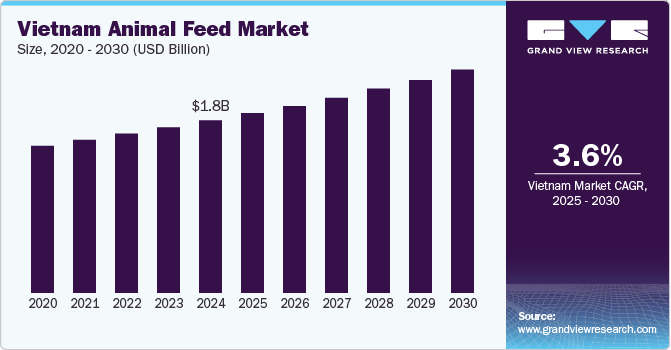 Growing regulatory pressure on companies has led to the adoption of hygienic animal husbandry practices. Emerging technologies and demand for higher quality meat products at lower prices have led to the development of efficient breeding processes utilizing statistical methods to determine genetic changes and characteristics.
Newer dissemination methods such as cloning are expected to dramatically alter livestock production. Vietnam is now conducting considerable research on feed intake and animal digestion. Major international feed manufacturers are entering Vietnam by the means of M&A of aquaculture and poultry feed producers. These companies bring technical expertise thereby improving growth prospects.
Economic growth has fostered increased consumer income, most of which is diverted into the meat market contributing to animal feed demand. Numerous governmental schemes such as the 'Livestock Development Strategy' have contributed to rising domestic meat production and consumption. Poultry feed was the highest consumed product owing to consumer preference for 'white' chicken and duck meat.
Product Insights
Commercial animal feed products include fodder and forage. Fodder was the largest product with global consumption estimated at 13,542.0 kilo tons in 2014. Fodder is expected to grow at an estimated CAGR of 6.6% over the forecast period. Fodder is agricultural foodstuff such as plants cut and carried to animals or processed food, used specifically by breeders to nourish domesticated livestock and cattle.
Increasing awareness regarding animal nutrition and hygienic meat production processes is expected to develop fodder market. High meat consumption from elite hotels and restaurants catering to wealthy tourists and business is expected to foster fodder market growth. Forage is also expected to witness a moderate growth owing to increasing instances of epidemics and disease outbreaks, promoting demand for safe and high-quality feed.
Livestock Insights
On the basis of livestock, the global industry is segmented into poultry, cattle, pork or swine, aquaculture, and others such as camel, deer, goats, and sheep. Increasing consumer demand for chicken, quail, and duck meat is expected to boost poultry meat demand. Poultry feed accounted for the highest share of 39.5% in 2014 and is expected to witness highest the growth of 6.6% CAGR over the forecast period. Pork feed followed the poultry feed segment in terms of market size and is projected to reach 8,605.7 kilo tons by 2022 at 6.2% CAGR.
Aquaculture feed is also rapidly gaining importance in Vietnam owing to innovative feeding systems developed to promote aquaculture nutrition and quality. The segment accounted for USD 355.3 million in 2014 which is projected to rise to USD 670.2 million by 2022. Other segments such as cattle feed are also expected to gain market share rapidly owing to the high demand for expensive beef products. The industry is characterized by a high number of beef imports to cater to the rising demand for high-quality premium cuts.
Competitive Insights
The Vietnam animal feed market share is highly fragmented with domestic and international players vying for greater market share. Over 38.5% of the local market is occupied by numerous regional and multinational players. Charoen Pokphand (CP) Vietnam occupied a major share of 19.7% as of 2014. Major international players such as Cargill and Masan Group have large subsidiaries operating in Vietnam. The industry is characterized by increasing collaborations, alliances, and strategic initiatives between local players to obtain a higher share and eliminate foreign competition.