Industry Insights
The global Visible Light Communication (VLC)/Light Fidelity (Li-Fi) market was valued at USD 454.8 million in 2015. Rising adoption of communication technology and exponential increase in the number of internet users is anticipated to drive the market over the forecast period. Increasing data traffic in the developed countries is expected to lead to a higher adoption of the technology over the forecast period.
Growing demand for a secure, fast and reliable network has attributed to the growth of Li-Fi industry. Additionally, rising spectrum crisis due to increased data usage has also influenced the network providers to switch towards high efficiency and robust internet services. VLC is free of charge, secure and unlicensed. Thus, it can adequately address RF spectrum crunch effect.
U.S. VLC market share by application, 2013 - 2024 (USD Million)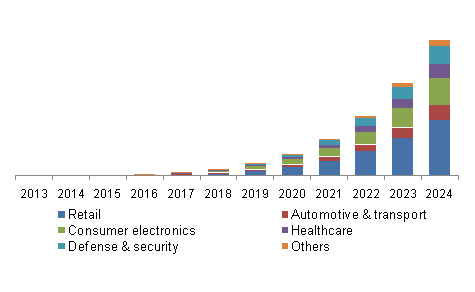 Increasing awareness of indoor positioning and monitoring in the retail sector is projected to fuel demand over next eight years. Implementation of the LED-based lighting system in various applications such as automotive & transport, in-flight communication, and smartphones is expected to be a high impact rendering driver.
Increasing penetration of smartphones along with high demand for mapping portals are anticipated to stimulate the photodetector component demand in communication systems. Rising demand for real-time traffic updates is expected to accelerate the demand for VLC over the forecast period.
Instead of these potential drivers, factors such as up-gradation of the existing lighting system to a communication system can act as a constraint for the adoption of this technology. Moreover, the lack of infrastructure for wireless technology in emerging countries is also expected to hamper the industry growth.
Component Insights
The market has been categorized by components as LED, photodetector, and microcontrollers. LED-based VLC devices accounted for over 40% of the revenue share in 2015. These can be switched on or off to generate a digital string of binary numbers. The data can be encoded in the light using the mixtures of red, green and blue LED by varying flickering rate to alter the light frequency.
The component assists in transmitting the data using the different part of the spectrum. The advancements in LED have contributed to the solution wherein light is used for high-speed wireless communication.
Photodetectors accounted for over 30% of the revenue share in 2015. Commonly used photodetector such as a photodiode are utilized for sensing and detecting images in the transmitted signal. Microcontrollers help in modulating the data using different modulation technique such as pulse width modulation (PWM). Microcontroller component segment was valued at over USD 95 million in 2015.
Application Insights
Application sectors analyzed in the study include retail, automotive & transport, consumer electronics, healthcare, defense & security and aviation. Retail applications accounted for over 30% of the overall revenue share in 2015.
VLC is used as a positioning component in indoor areas of retail stores where it can help in improving customer's shopping experience by displaying the latest preferred promotional offers. LED and fluorescent lamps send out the flickering light that can be detected by a smartphone which enables indoor navigation. The implementation of the component can enhance customer loyalty and services towards retailer.
Automotive & transport application segment is expected to witness the fastest growth among other applications, expanding at a CAGR of over 80% from 2016 to 2024. Technological advancements in LED and communication components of cars are expected to drive the adoption in traffic and car lights. Increasing parameters for traffic management and road safety featuring instantaneous tracking via applications is also expected to play a significant role in increasing market penetration.
Regional Insights
North America visible light communication market accounted for over 40% of the global revenue share in 2015, as the growth resides in applications which include horticultural lighting, industrial & commercial and marine lighting. The National Highway Traffic Safety Administration (NHTSA), Department of Transportation (DOT) mandates the application of LEDs in the headlights and taillights of the vehicles.
Europe is expected to offer a huge platform for growth of this market. Already established the infrastructure of visible light communication system offers great potential for growth across this region.
Asia Pacific market was valued at over USD 95 million in 2015 and is anticipated to witness significant growth owing to the high manufacturing capacity of VLC components in countries such as Japan, Korea, and China.
Competitive Market Share Insights
The companies dominating VLC market share include PureLifi Ltd., Velmenni, Visilink, Oledcomm, Ibsentelecom Ltd., Lightbee Corp. and ByteLight, Inc. Wireless internet service providers are focused on enhancing their structures and mobile applications with the increasing development and competition among players in indoor positioning based services.
Other potential players in the market include Axrtek, Fujitsu Ltd., General Electronic Corp., LVX System, Panasonic Corp., Qualcomm Inc., and Supreme Architecture Inc.