Industry Insights
Global waterborne coatings market size was 19.47 million tons in 2013. Global increase in infrastructure spending, particularly for residential & commercial sectors, is expected to drive market growth. It is widely preferred for applications across the architectural industry for façade paints, windows, floor finishes, interior wall paints and wood vanishes as they are environment-friendly and easy-to-apply.
Increasing decorative paints demand is projected to remain a key driver for growth over the forecast period. Increasing construction & remodeling activities, particularly in Asia Pacific, Latin America, and the Middle East & Africa, coupled with growing per-capita middle-class disposable income is expected to help its course. Global increase in automotive sales coupled with a shift of automobile production facilities to emerging economies of Asia Pacific such as China, India, Thailand & Indonesia is projected to drive waterborne coatings market growth. Stringent government regulations in U.S. and Europe regarding Volatile Organic Compounds (VOC) content in paints & coatings is expected to increase its demand.
Waterborne coatings are widely preferred in end-use industries as they consist of 80% water with glycol ether and solvents. The global waterborne coatings industry is expected to witness a surge in demand owing to its properties such as adhesion, flexibility, stain resistance, toxicity, corrosion resistance, and hardness.
Increasing application scope in marine, coil, wood, metal packaging, printing inks and electronics end-use industries is expected to significantly increase demand over the next seven years. Growing sales of computers, copiers, printers and fax machines are also expected to be a key factor for industry development. Excessive foam formation during production, handling and transportation are expected to slow down industry growth.
Global waterborne coatings market volume by resin, 2012 - 2022 (Kilo Tons)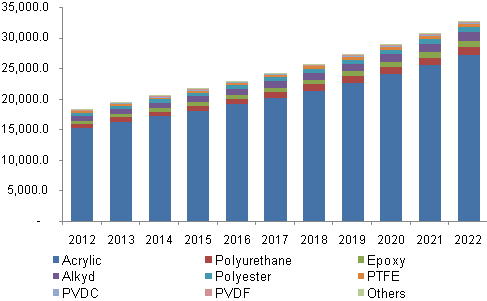 Associated flow & viscosity problems are also expected to hamper profitability in contrast to solvent-borne coating. Increasing R&D spending to develop new production technology and appropriate use of anti-foaming agents are expected to overcome these problems and provide lucrative opportunities for industry participants.
Resin Insights
Acrylic was the largest resin type consumed in 2014. Acrylic resins based coatings are widely used in architectural, and automotive refinishes applications owing excellent exterior durability coupled with low production cost. Polyurethane (PU) resins based coatings are widely used in high-quality finishes in outdoor and indoor applications and are expected to exhibit highest growth rate over the next seven years.
Increasing PU resin based coating demand from end-use industries such as coil and the automotive industry is slated to positively influence market growth. Other resin types such as epoxy and polyvinyl chloride are noted for their adhesion, chemical resistance and weather resistance. These resin types find application in electrical insulation, industrial finishes, automobile interiors and office machine exteriors.
Application Insights
It finds application across industries such as architectural, automotive OEM, protective coatings, industrial wood and metal packaging. Architectural was the largest application segment in 2014 and is expected to continue its dominance over the forecast period. The architectural application includes all lacquers and vanishes used to decorate & protect window frames, external & internal frames, and doors.
Increasing consumer spending in regions such as Asia Pacific and Latin America is expected to drive automotive demand and positively influence industry revenue. Growing coil coatings demand for application in steel & aluminum industry is expected to drive global market growth.
Regional Insights
Europe waterborne coatings market emerged as the largest region in 2014 and is expected to witness moderate growth rates over the forecast period. Increasing architectural and automotive refinishes demand is expected to drive Europe demand. Asia Pacific, waterborne coatings market, was the second largest and is expected to witness significantly higher growth rates over the forecast period.
Increasing construction spending, particularly in China, India and Indonesia, is expected to propel demand Asia Pacific. Rising public awareness coupled with government support to curb VOC content is projected to increase demand in the region. Growing infrastructure industry in the Middle East is expected to create lucrative opportunities for industry participants.
Competitive Market Share Insights
The global waterborne coatings market share is highly competitive with a large number of industry participants in Europe, the U.S. and Asia Pacific. Major industry participants include Akzo Nobel NV, BASF, Berger Paints India Ltd, Axalta, Nippon Paint Holdings Company Ltd. Other prominent industry participants include Kansai Paint Company Ltd., PPG Industries Inc., The Sherwin-Williams Company, Tikkurila Oyj, RPM International and The Valspar Corporation.