Industry Insights
The global waterproofing chemicals market demand was 3,124.2 kilotons in 2014. It is projected to expand at a CAGR of 5.0% from 2015 to 2022. Rising demand from various end-use industries including building and construction of residential and commercial buildings and landfills and tunnels is anticipated to drive growth. Furthermore, increasing awareness regarding the importance of waterproofing products in construction in developing regions is anticipated to boost product demand.
Cement-based structures experience immense damping and erosion due to frequent climatic changes, thereby decreasing the shelf life of residential and commercial buildings. This makes waterproofing chemicals a necessity as it imparts longer life to the structure. Rising infrastructure development in the Asia Pacific, particularly in India, China, and Indonesia coupled with growing awareness regarding durable construction materials is expected to fuel demand for waterproofing chemicals.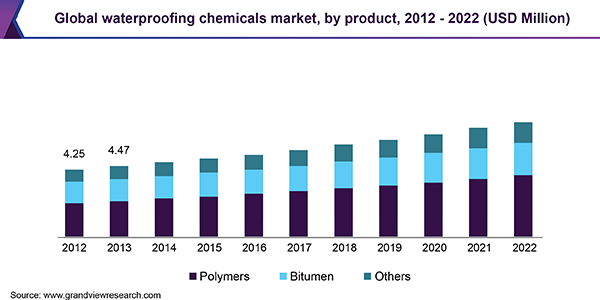 Government initiatives in countries such as the U.K., France, Germany, U.S., India, and China for clean groundwater and landfilling have had a radical impact on market growth over the past few years. The development of waterproofing chemical composites with improved self-adhesion and longevity is estimated to have immense future growth prospects for this market.
However, volatile raw material prices which are heavily dependent on petrochemical demand and supply is anticipated to hinder the growth of the market over the forecast period. Market participants have been continuously focusing on commercializing biological routes for developing environment-friendly waterproofing chemicals.
These chemicals also find application in the textile and fabric industry for large scale production of waterproof and breathable fabrics which is expected to open new growth avenues in the forthcoming years. Furthermore, increasing applications in geomembranes, water management, and tunnel liners are expected to drive the waterproofing chemicals market.
Product Insights
Polymers was the largest product segment, accounting for over 50% of the market share in terms of volume in 2014. Rising demand for thermoplastic polyolefins owing to their high energy efficiency is expected to be a growth driver. In addition, rising demand for acrylic polymer for waterproofing based coatings is expected to create new growth opportunities over the forecast period. Asia Pacific is expected to be the fastest-growing market on account of the rising demand from the construction sector. This demand will continue over the forecast period owing to rapid urbanization in emerging markets including China, India, and Indonesia.
Application Insights
Roofing was the largest application segment and is expected to continue its dominance over the forecast period on account of increased government expenditure on infrastructure development. Rapid urbanization coupled with the growing disposable income of the middle-class population is likely to fuel the market growth in the construction sector. Growing consumer awareness regarding product quality is anticipated to have a positive impact on market expansion over the projected period.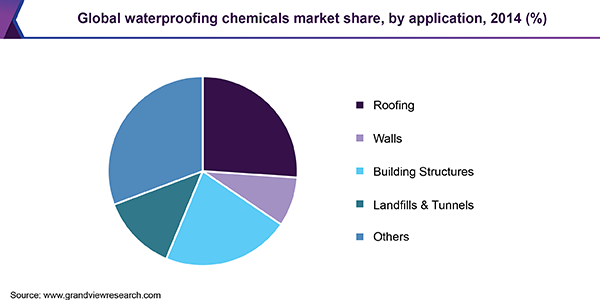 Development of niche applications of waterproofing chemicals including bitumen bonding, expansion joints, and subsoil waterproofing is likely to positively influence the market growth. Furthermore, widening the scope of application in the water management sector owing to the flexible and water-resistant properties of these chemicals is anticipated to bode well for the overall growth of the market in the forthcoming years.
An increase in building and construction expenditure owing to regulatory inclination towards improvement in infrastructure coupled with the rise of disposable income among the consumers in developing regions such as Central and South America and Asia Pacific have been contributing to the overall market growth. Stringent government regulations regarding string foundations and the rising trend of the redevelopment of older structures in North America and Europe is responsible for rising demand in wall construction application.
Regional Insights
Asia Pacific was the largest regional waterproofing chemicals market in the past owing to the growth of the construction sector in the region on account of rapid industrialization and economic boost. Asia Pacific is expected to witness substantial growth over the forecast period on account of increasing infrastructure expenditure coupled with the rising disposable income of the average consumer.
Europe also witnessed above-average growth owing to a rise in preference for sustainable construction activities, thereby augmenting the growth of the bio-based waterproofing chemicals. European Commission announced favorable policies governing the production of natural-based polymer products such as biopolymers thereby enabling companies to provide eco-friendly products and solutions. The robust manufacturing base of the textile and fabric industry coupled with growing domestic demand in Germany, Italy, France, and the U.K. is anticipated to augment the regional market.
Latin America is expected to witness significant growth on account of increasing infrastructure investment and focus on the environment and safety of consumers. Rising awareness regarding the protection of the environment has forced the manufacturers in construction and energy sectors to increase expenditure on landfill systems. The use of waterproofing chemicals in textiles and fabrics in the form of waterproof and breathable apparel is anticipated to drive the demand over the forecast period.
Waterproofing Chemicals Market Share Insights
Key market participants include Pidilite Industries Ltd, BASF, Polygel Industries, ExxonMobil Chemicals, Dow Chemical Company, E.I. DuPont De Nemours & Co, Mitsubishi Chemical Holdings Company, Toray Industries, Evonik Industries, Eastman Chemical Company, Choksey Chemicals Pvt Ltd, Trinseo Europe GmBH, Estop Group, and Kumho Petrochemicals.
In 2012, Pidilite Industries Ltd launched Low Energy Consumption (LEC) which is a waterproofing and insulation systems for buildings that provide eco-friendly solutions for various areas of applications catering to high rise structures. In 2014, Estop Group launched new product Estoflex amorphous polymers used as waterproofing compounds for wire and cable insulation and asphalt modifiers for bitumen roofing membranes. In 2010, ExxonMobil Chemical introduced four grades of waterproofing chemicals for high-performance film applications, namely, Vistamaxx 6202FL, Vistamaxx 6102FL, Vistamaxx 3980FL, and Vistamaxx 3020FL.