Industry Insights
The global wound dressing market size was valued at USD 9,163.4 million in 2014 and is expected to grow at a CAGR of 4.4% over the forecast period. Increasing incidences of diseases such as pressure ulcers, diabetic ulcers, and venous stasis ulcers have led to a growth in demand for advanced injury care products for treating these conditions. These products owing to their capabilities to improve the overall health condition of patients suffering from the aforementioned disorders are gaining preference by healthcare practitioners and patients globally.
The rise in the incidence of sports injuries coupled with the growing awareness among sports clubs, schools, and institutions to maintain medical budgets is expected to expedite the growth of wound dressing market. Moreover, growth in healthcare expenditure incurred by the government of various countries in the recent years and growth in disposable incomes of people are encouraging people to spend a substantial amount on healthcare facilities, thus boosting industry's growth.
North America wound dressing market, by product, 2012-2022 (USD Million)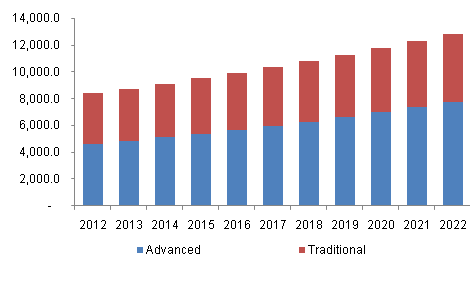 The rise in the incidence of infections caused by the lesions is expected to further accentuate the growth of this industry. Lesions when not treated at the right time lead to infections, thus the growth in the awareness among healthcare practitioners and the patients is boosting wound dressing market growth.
Rising geriatric population base is a high impact rendering factor for the growth of wound dressing market, as people of this age group are expected to experience a growth in the prevalence of chronic disorders such as venous stasis ulcers and pressure ulcers. Moreover, older people's skin gets easily damaged as their cells do not multiply quickly, and usually, they don't have the required response to stress in terms of gene upregulation of stress-related protein.
Various advancements in the applications of these products have led to a spurred use of these products globally. Furthermore, commercialization of novel therapies such as electromagnetic therapy, electrical stimulation, nanotechnology, and the use of silver and other combination bandages are enhancing the wound dressing market. These advancements render better relief to patients during any trauma treatment and hence is a high impact rendering driver for the wound dressing market.
Product Insights
Key product segments of this industry include traditional products and advanced products. Advanced product segment comprises moist, antimicrobial, and active products that dominated the overall wound dressing market at over 56.1% revenue share in 2014. This market position can be attributed to high usage and improved utility of products.
Antimicrobial products, which consist of silver and non-silver dressing products, are expected to exhibit lucrative growth over the forecast period owing to their benefits, which include ease-of-use and wide availability. Moreover, antimicrobial products have increased the healing rate, thereby reducing the ambulation time as compared to the other available alternatives.
Furthermore, alginate dressings under moist products are expected to gain substantial revenue shares owing to their high utility in exuding lesions as they have great absorbance capacity, which helps to keep the lesions clean and dry.
Regional Insights
The North American wound dressing market was the largest in 2014 accounting for over 35.1% of the overall revenue owing to the presence of large geriatric population base, increased patient awareness levels, and rapidly increasing geriatric population in this region, especially in the U.S. Increasing incidences of chronic wounds coupled with the rise in preference for home healthcare also contributed towards the dominance of this region.
Asia Pacific wound dressing market is expected to grow lucratively owing to the availability of immense opportunities in this region, especially in India and China. The presence of large population, increasing patient awareness levels, and rising disposable incomes are the major drivers for this region. The presence of large population base suffering from diabetes is also expected to be a high impact rendering driver of this region.
Market Share Insights
Key players operating in this industry include 3M Healthcare, Coloplast, Medline Industries, HARTMANN, BSN Medical, Medtronic Plc, Smith & Nephew, ConvaTec, Derma Sciences, and Systagenix. These companies are involved in strategic initiatives such as acquisitions and new product launches to gain and maintain their competitive edge.
For instance, in November 2014, BSN Medical acquired Sorbion, a privately-held company focused on the development of products related to wound care. This acquisition has helped BSN Medical to broaden product portfolio pertaining to this industry.