Artificial Intelligence Category Overview
"The artificial intelligence category's growth is driven by the increase in adoption of the technology in healthcare, banking, retail, automotive and transportation."
The Artificial Intelligence (AI) category is expected to grow at a CAGR of 38.1% from 2023 to 2030. Factors such as heavy investment by tech giants in research & development, availability of vast amounts of first and third-party data, and growing demand in end-use industries such as healthcare, and banking are fueling the category growth. As an example, for FY23, about USD 9,616 million was sanctioned in funding by the U.S. federal government for AI R&D compared to USD 8,573 million in FY22.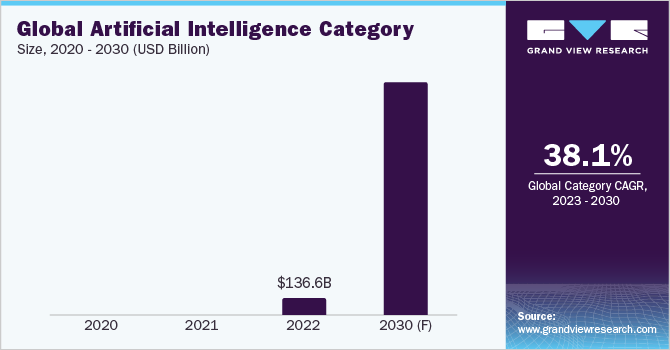 The global artificial intelligence category size was estimated at USD 136.55 billion in 2022. One of the key trends is the growth of Edge AI, increasing focus on digital ethics & governance, and augmented analytics. In 2022, 46% of this category's global growth may be attributed to the North American region due to increased technology adoption mainly in the U.S. and Canada by government organizations.
As of 2021, approximately 20% of healthcare firms across the globe polled indicated that they were in the early stages of AI model implementation. This meant that their products had been in the market for less than two years. Under ten percent of healthcare firms had used AI for more than five years. Functions linked to healthcare data integration and Natural Language Processing (NLP) were the most commonly used features of AI software by healthcare users. Although 60 percent of companies at the mature level of deployment reported that patients should be able to use the AI technologies developed whereas doctors and providers were the primary intended users of AI.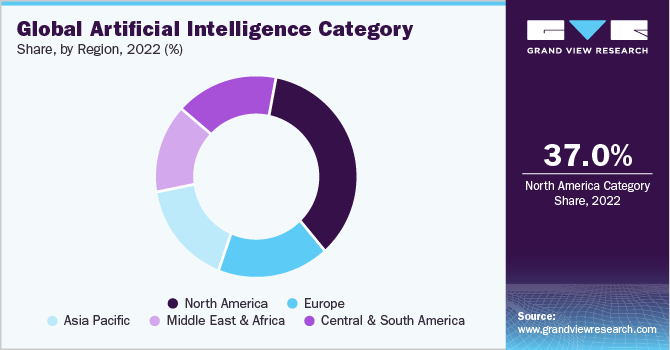 It was estimated in Europe that a physician's working time was split equally between treating patients and administrative activities. However, it was predicted that with the deployment of AI in healthcare, physicians will be able to spend about 20% more of their time on patients because the time they spend on administrative work would be reduced. Moreover, it was predicted that nurses will be able to spend around 8% more time with patients as a result of the reduction in time spent on administrative and regulatory activities.
In addition, the rising concerns toward data traceability and quick transactions are expected to aid artificial intelligence category expansion.
Supplier Intelligence
"How is the nature of the artificial intelligence category? What are the initiatives taken by the suppliers in this category?"
The global artificial intelligence category is highly fragmented with the presence of several players in the market. Companies are continuously partnering with technology providers to implement this technology in their business. For instance, in February 2023, Amazon.com Inc. teamed with startup Hugging Face Inc. to build an alternative to Chat GPT. Developers will be able to optimize their models as a result of their collaboration.
The competition among players is fierce because many large and small players provide a variety of services. The number of suppliers of this technology, such as developers and programmers, has grown over time, lowering the supplier's power somewhat. Suppliers can exercise more bargaining power when it comes to specialized artificial intelligence protocols or platforms.
Key suppliers covered in the category:
Pricing and Cost Intelligence
"What are some of the major cost components in developing or implementing this technology? Which factors impact the cost of artificial intelligence development?"
Hardware, software, data processing & management, and labor form the major cost components when it comes to implementing artificial intelligence technology. The size and complexity of the project, the type of solution, and the amount of experience required are all factors that can influence the pricing of these solutions. All these aspects should be carefully considered by businesses when pricing their solutions to guarantee that they are competitive and profitable.
According to an IBM report, the storage cost of AI data is about USD 7 - USD 25 per terabyte (TB) per month along with a regular server which costs around USD 10,000. The development of custom AI applications may cost from USD 5,000 to 150,000. The prices of the technology may vary depending on reactive machines, limited memory, theory of mind, or self-aware technology.
The following chart provides various costs incurred in implementing this technology. The major cost heads are shown below:
Several factors can impact the cost of building and managing an artificial intelligence system. First of all, the network's complexity and the individual software applications used can influence expenses. More complicated networks may need more powerful technology, resulting in greater initial costs. Furthermore, the solution's scalability is critical, as the cost of growing the network might vary greatly. Also, the regulatory environment and legal constraints associated with this technology might have an impact on prices, since compliance efforts may incur additional expenditures. Finally, the degree of skill and technical resources needed to build, install, and maintain an AI system will influence the overall cost.
The Artificial Intelligence Procurement Intelligence report provides a detailed analysis of the cost structure of artificial intelligence and the pricing models adopted by prominent suppliers in this category.
Sourcing Intelligence
"Which countries are the leading sourcing destination for artificial intelligence development?"
North America is a major region in the development of AI technology and is aggressively investing in it. Over 85% of North American financial service firms are implementing this technology. In terms of artificial intelligence sourcing intelligence, the top five countries preferred for this technology are China, Japan, the U.S., the UK, and Germany.
The government of the United States heavily promotes artificial intelligence technology and is the industry's leading global promoter. Since 2017, the number of firms associated with this technology has more than quadrupled, with 14,700 start-ups expected by the end of 2023. The U.S. government is extending its usage in developing regulatory rules with the creation of an artificial intelligence risk management framework. To help artificial intelligence-based firms, the government plans to provide industrial standards, property insurance licenses, and tariff advantages.
Western Europe and Asia Pacific will be among the first to invest heavily in this technology. Top pharma and healthcare businesses are aggressively collaborating with artificial intelligence technology suppliers to address their growing needs for innovative technologies in their respective sectors. For instance, In November 2022, Nuance Communications and NVIDIA are integrating AI models in medical imaging directly into the clinical setting. The strategic relationship amongst them permits the deployment of diagnostic imaging AI models learned in current large-scale clinical applications for all.
In terms of engagement, multinational corporations choose either a partial or complete outsourcing approach. Many sectors are racing to maximize the potential of cutting-edge technologies. Employing an internal team would be advantageous; but firms are confronted with substantial problems such as personnel shortages, onboarding concerns, and infrastructure expenditures, all of which have a large financial impact. As a result, big organizations in the healthcare, real estate, insurance, and logistics sectors choose a comprehensive outsourcing strategy to achieve enhanced transparency, decreased risks and frauds, and increased protection against outside assaults. It allows them to acquire access to specialist teams, which may be useful in the long run. It is witnessed that implementing an offshore strategy can assist a corporation in reducing employee expenses by more than 40% - 60%.
"In the approved provider model, the supplier meets the predefined set of qualifications, quality standards, and other criteria."
Because of its superior value generation potential, the most popular type of operating model is an approved provider model. In this approach, the artificial intelligence technology supplier must fulfill a stated set of standards, such as prior-proven performance, platform access, privacy conditions, and a number of other criteria.
Healthcare providers are investigating artificial intelligence technologies for securely storing and maintaining patient medical information, as well as boosting clinical trial transparency and efficiency. They work with technology and platform/software providers to create platforms/solutions that track and verify clinical trial data, ensure the integrity of medical records, provide end-to-end traceability of pharmaceutical products, and create systems that track drug movement and prevent counterfeit drugs from entering the supply chain.
The Artificial Intelligence Procurement Intelligence report also provides details regarding day one, quick wins, portfolio analysis, key negotiation strategies of key suppliers, and low-cost/best-cost sourcing analysis.
Artificial Intelligence Procurement Intelligence Report Scope
| | |
| --- | --- |
| Report Attribute | Details |
| Artificial Intelligence Category Growth Rate | CAGR of 38.1% from 2023 to 2030 |
| Base Year for Estimation | 2022 |
| Pricing Growth Outlook | 8% - 10% (annual) |
| Pricing Models | Fixed fee pricing, cost plus pricing |
| Supplier Selection Scope | Cost and pricing, past engagements, productivity, geographical presence |
| Supplier Selection Criteria | Type, technical expertise, security measures, cost and value, support and maintenance, regulatory compliance, and others |
| Report Coverage | Revenue forecast, supplier ranking, supplier positioning matrix, emerging technology, pricing models, cost structure, competitive landscape, growth factors, trends, engagement, and operating model |
| Key Companies Profiled | Advanced Micro Devices, AiCure, Arm Limited, Atomwise, Inc., Ayasdi AI LLC, Baidu, Inc., Clarifai, Inc, Cyrcadia Health, Enlitic, Inc., Google LLC, H2O.ai., HyperVerge, Inc., International Business Machines Corporation, Intel Corporation, Iris.ai AS., Lifegraph, Microsoft, NVIDIA Corporation, Sensely, Inc., Zebra Medical Vision, Inc |
| Regional Scope | Global |
| Historical Data | 2020 - 2021 |
| Revenue Forecast in 2030 | USD 1,806.51 billion |
| Quantitative Units | Revenue in USD billion and CAGR from 2023 to 2030 |
| Customization Scope | Up to 48 hours of customization free with every report. |
| Pricing and Purchase Options | Avail customized purchase options to meet your exact research needs. Explore purchase options |