Blister Packaging Category Overview
"The blister packaging category's growth is driven by the rise in environmentally friendly packing solutions and increasing demand from pharmaceutical companies."
The blister packaging category is expected to grow at a CAGR of 7.7% from 2023 to 2030. Factors such as smart wrapping, child-resistant, sustainable wrapping, and anti-counterfeiting measures are driving the growth. Companies are continuously focusing on using environmentally friendly plastics for the category. For example, in February 2023 Astellas Pharma Inc., CKD Corporation, and The Mitsubishi Chemical Group won the Minister of Environment Award of the fifth Japan Open Innovation Prize for using eco-friendly biomass-based plastic for blister packages.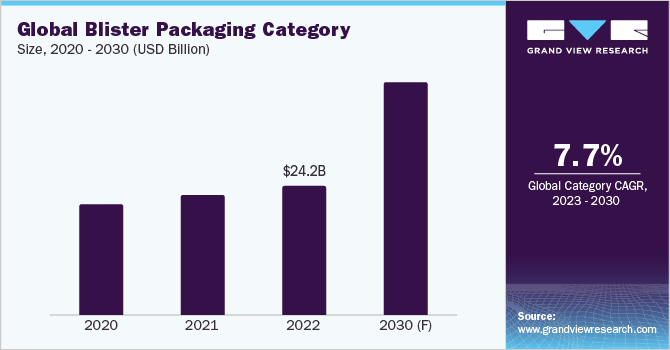 The global blister packaging category size was valued at USD 24.2 billion in 2022. Maintaining safety is the foremost concern in pharmaceutical packaging design. Advances are being made in the development of child-resistant packaging through the implementation of inventive closures and mechanisms. These measures are designed to safeguard young children from unintentional ingestion while ensuring convenience for adults. Additionally, senior-friendly packaging strives to cater to the requirements of elderly patients by incorporating elements such as easily readable labels, larger fonts, and user-friendly opening mechanisms. These endeavors guarantee the secure accessibility of medications to individuals of all ages and physical capabilities.
Additionally, pharmaceutical companies have a high demand for nanotechnology due to its ability to provide blister packs with improved barrier protection and reduced package weight. This technology is sought after by these companies as it offers enhanced protection against moisture, oxygen, and other gases for their products. In March 2023, Amcor announced a joint research agreement with Nfinite Nanotechnology Inc., to leverage nanotechnology in recyclable packaging.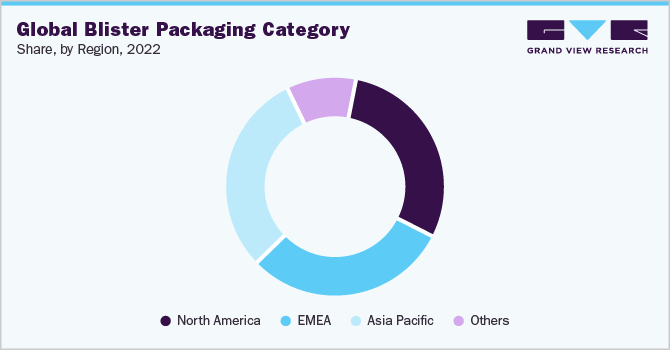 Wrapping materials have the potential to harm the environment. In response, there is a push for packing and manufacturing companies to create more sustainable products and solutions, owing to the growing pressure on them to follow environmental regulations while producing blister packs. As a result, they are working on designing biodegradable blister packs, which will be expensive to produce and require additional research to offset those expenses. In 2021, Huhtamaki launched its Push Tab blister lid, a sustainable wrapping solution for the global pharmaceutical market. The packaging was made of mono-material PET and contained no aluminum. It was an alternative to the traditional push-through blister packaging and adhered to the strict safety requirements of pharmaceutical packing.
Supplier Intelligence
"What are the characteristics of the blister packaging category? What are the different initiatives taken by the suppliers?"
The global blister packaging category is highly fragmented with the presence of several players in the market. Blister wrapping is used in various industries, such as pharmaceuticals, food and beverages, and consumer goods. Each industry has specific requirements and regulations, leading to the presence of multiple players specializing in different sectors.
The bargaining power of buyers in the category is relatively high. Buyers, such as consumer goods manufacturers or pharmaceutical companies, have many packing options available and can choose among various blister packaging providers. This gives them leverage to negotiate prices, quality, and other terms to their advantage.
Key suppliers covered in the category:
Pricing and Cost Intelligence
"What are some of the major cost components and how are these components impacting the blister packaging category?"
Raw material cost, R&D, labor, and SG&A are some of the cost components for the category. Raw materials (forming film, lidding material, heat seal coating, printing inks, and various others) account for around 60% of the overall cost. Prices of raw materials, such as PVC, have increased by more than 25% in 2022 in comparison to 2020, owing to supply shortages due to COVID-19. Product safety and hygiene became the priority for the manufacturers to consider improved packing solutions.
Capex cost mainly includes the cost of acquiring the packaging equipment such as form filling and sealing or coating equipment/machines that help make the blister packaging using raw materials like lidding material, heat seal coating, printing inks, and others. Rugged polymers, such as PET, PVC, and PVDC, also account for a major share of the raw material costs. Apart from these, heat seal coating is a critical component used to ensure an adhesive bond between plastic blister and lidding material.
The following chart indicated various costs involved in the category, and raw-material shares are shown below:
Utilization of blister wrapping instead of other packaging options can lead to cost savings once the mold is created for the product. Replicating the blister wrapping using the mold is a simple and straightforward process, which reduces expenses. Additionally, blister packing requires fewer materials compared to alternative methods, making it more cost-efficient.
In 2022, the average global price of polyvinyl chloride (PVC) which is used for forming film stood at USD 1,115 per metric ton. The average price of PVC in 2021 was USD 1,449 per metric ton, while it was USD 889 per metric ton in 2020.
The Blister Packaging Procurement Intelligence report provides a detailed analysis of the cost structure of blister packaging and the pricing models adopted by prominent suppliers in this category.
Sourcing Intelligence
"Which countries are the leading sourcing destination for blister packaging?"
North America dominated the category with the highest market share. In terms of blister packaging sourcing intelligence, China, Germany, and India are the preferred destination for sourcing blister packs. The U.S. is heavily focusing on sustainable wrapping. Companies such as Amcor plc., are among the top players producing sustainable packaging solutions. In 2022 blister packages accounted for 20% market share of medications packing in the U.S. Consumers in the U.S. are highly concerned about the environmental impact of packing. They look for plastic films or rigid wrapping that are recyclable, which is enabling companies to move towards sustainable wrapping.
Additionally, in North America, there is a transition occurring from plastic containers to blisters to improve patient adherence among the expanding elderly population. The Europe, Middle East, and Africa (EMEA) region is anticipated to achieve the highest CAGR of over 8%. This growth can be attributed to rising concerns regarding physical protection, barrier protection, containment, security, convenience, and portion control.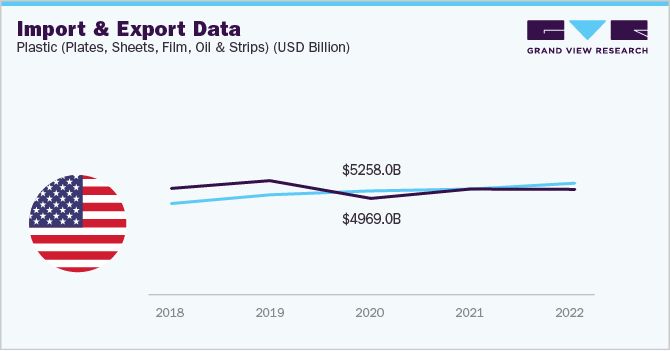 The U.S. imports most of the blister packaging from Germany, Hong Kong, and China, and is among the second largest importer of blister packaging globally. Innovations in blister packaging were driven by the COVID-19 pandemic, resulting in the creation of improved materials and designs aimed at enhancing product protection and minimizing the risk of contamination.
Europe region is heavily focusing on reducing packing waste and recycling the waste. According to European Parliament March 2023 report, The Packaging and Packaging Waste Directive (PPWD) establishes measures aimed at preventing the generation of packing waste & encouraging the reuse, and recycling of packing waste. It also outlines the necessities that all packaging sold within the EU must follow. These regulations are intended to minimize the disposal of packing waste and foster a more circular economy. In line with the new circular economy action plan and European Green Deal, in November 2022 the Commission proposed a revision of the PPWD. The objective of this initiative is to guarantee that all packaging can be economically reused or recycled by 2030.
In terms of engagement, companies opt for outsourcing packing solutions rather than in-house packing. Pharmaceutical companies can achieve cost-effective wrapping without compromising quality by leveraging contract packaging organizations (CPOs) for outsourcing their pharmaceutical packing needs. Pharmaceutical contract wrapping offers the advantage of enabling pharmaceutical companies to leverage packing advancements without exposing themselves to risks. The development of new wrapping formats can incur high costs, and not every design will prove to be enduring.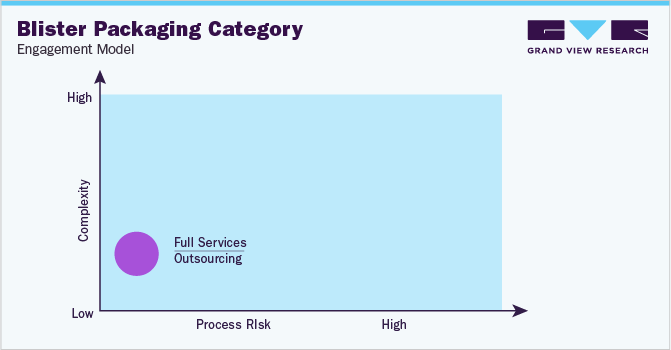 An approved provider model is the most common form of the operating model due to its potential for higher value creation. In this model, the category manufacturer must meet the predefined set of qualifications, such as prior-proven performance, government certification, privacy terms, and various other criteria. Companies must comply with government regulations such as U.S. Food and Drug Administration (FDA) complies manufacturers or packers that pack OTC drug products for retail sales should pack them in a tamper-evident package.
The Blister Packaging Procurement Intelligence report also provides details regarding day one, quick wins, portfolio analysis, key negotiation strategies of key suppliers, and low-cost/best-cost sourcing analysis.
Blister Packaging Procurement Intelligence Report Scope
| | |
| --- | --- |
| Report Attribute | Details |
| Blister Packaging Category Growth Rate | CAGR of 7.7% from 2023 to 2030 |
| Base Year for Estimation | 2022 |
| Pricing Growth Outlook | 5% - 10% |
| Pricing Models | Contract-based pricing model, Fixed price pricing model |
| Supplier Selection Scope | Cost and pricing, past engagements, bulk purchasing, geographical presence |
| Supplier Selection Criteria | Types of packaging, quality, production capacity, source of manufacturing, regulatory compliance, category innovation, and others |
| Report Coverage | Revenue forecast, supplier ranking, supplier positioning matrix, emerging technology, pricing models, cost structure, competitive landscape, growth factors, trends, engagement, and operating model |
| Key Companies Profiled | Amcor plc, Westrock Company, Blisterpak Inc., Sonoco Products Company, Honeywell International Inc., Klockner Pentaplast, Dow, Constantia Flexibles, UFlex Limited, and ACG |
| Regional Scope | Global |
| Historical Data | 2020 - 2021 |
| Revenue Forecast in 2030 | USD 43.8 billion |
| Quantitative Units | Revenue in USD billion and CAGR from 2023 to 2030 |
| Customization Scope | Up to 48 hours of customization free with every report. |
| Pricing and Purchase Options | Avail customized purchase options to meet your exact research needs. Explore purchase options |
Frequently Asked Questions About This Report