Construction Services Category Overview
"The construction services category's growth is driven by increasing urbanization and infrastructure development globally."
The construction services category is expected to grow at a CAGR of 11.8% from 2023 to 2030. North America region dominated the category with more than 40% in 2022, The rising urbanization is driving the increase in infrastructural activities across the globe. This category is continuously evolving with the advancements in technology. Additionally, rising concerns over climate change, and environmental sustainability is expected to result in a rising focus towards green buildings. Companies are investing in technology such as 3D printing, Building Information Modeling (BIM), Virtual Reality (VR), construction software, and data collection systems. According to the State of Residential Construction Industry annual report, in 2023, 26% more builders plan to invest in software as compared to 2022.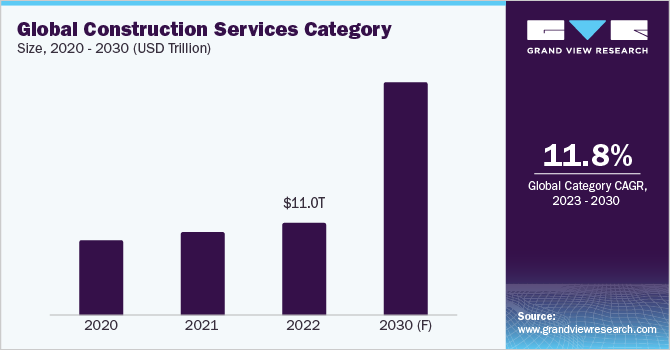 3D printing technology has been emerging in recent times. Under this technology, the building team will be able to print the entire building in 3D format. It will also solve problems such as waste reduction, human error reduction, and design freedom. Moreover, 3D printing would lower material costs, reduce incident occurrences, speed up building activities, and improve durability.
The global construction services category size was valued at USD 11.0 trillion in 2022. In the field of architecture, engineering, and construction (AEC), one of the most promising recent advancements is Building Information Modeling (BIM). BIM technology helps in creating a highly precise virtual representation of a building, known as a building information model. This digital model serves multiple purposes, including planning, design, building, and operation of the facility. By utilizing BIM, architects, engineers, and builders can effectively visualize the construction process in a simulated environment which helps in effectively identifying and addressing potential design, building, or operational challenges. BIM introduces a novel approach in the AEC industry by promoting seamless integration among all stakeholders involved in a project.
The focus is rising towards workers' safety and providing appropriate guidance to them. Providing adequate training to staff, setting clear guidelines, collecting feedback from employees, constantly inspecting the site, providing safety gear to the workers, and holding regular meetings with them can benefit the building team to reduce unintentional deaths and accidents. According to the Association of Professional Builders 2023 report, 45% of the builders don't use software to manage the safety and health of the workers.
Supplier Intelligence
"How is the nature of the construction services category?"
The global construction service category is fragmented consisting of numerous small and medium-sized companies that offer specialized services such as plumbing, electrical work, roofing, painting, etc. These companies may operate locally or regionally. Competition can be intense, especially in regions with high infrastructural development activities. Companies compete based on factors such as pricing, reputation, expertise, and the ability to complete projects on time and within budget. Differentiation and strong relationships with clients are crucial to gaining a competitive advantage.
Providers of the category rely on various suppliers for raw materials, equipment, and skilled labor. The bargaining power of suppliers can be significant if there are limited suppliers of essential materials or if there is a shortage of skilled labor in that region. This could result in higher costs for companies involved in building activities. On the other hand, if suppliers are abundant and their products or services are not highly differentiated, their bargaining power might be lower.
Key suppliers covered in the category:
Bechtel Corporation

Fluor Corporation

DPR Construction

Kiewit Corporation

STO Building Group

The Walsh Group

Skanska

Clark Construction Group, LLC

AECOM

Holder Construction Group, LLC
Pricing and Cost Intelligence
"What are some of the major cost components in the category? How are these components impacting the category?"
Raw Materials such as cement, steel, aluminum, concrete blocks, and others, labor, machinery, equipment, transportation, office rent, furniture, power, legal charges, permits, insurance, and others are the cost components involved in the construction services. Labor accounts for 40% of the budget, which further includes employee wages, training, overtime, and benefits. The overall cost is highly impacted by the size and scale of the project. For instance, multi-story hotels or stadiums cost significantly higher as compared to medical office space. Across the globe, the construction cost of buildings in the city may cost 2% - 6% higher as compared to suburban areas. The industry is witnessing ongoing changes in input prices, and the instability in material costs is causing a surge in the overall expenses of building a project. The prices of construction inputs have risen by 40.5% from February 2020 to August 2022. Contractors who haven't purchased their materials in bulk at standard prices or incorporated suitable price escalation clauses in their contracts might be at risk if inflation continues to persist.
Although the initial project cost may appear as the primary consideration, it's crucial to account for supplementary expenses in the budgeting process. This includes costs associated with repairing, replacing, or reconfiguring existing structures, as well as the required staff, which should all be taken into consideration when making plans.
The following chart indicated various costs involved in the category, and labor cost shares are shown below:
Contingency refers to a reserved amount in a contract intended to cover unexpected expenses and inefficiencies that are commonly encountered in building projects. The extent of these contingency funds can significantly differ throughout the industry, influenced by factors such as the construction type, company size, and project risk. It is customary for most construction companies to include approximately 5-10% of the contract price as a provision for contingency.
The Construction Services Procurement Intelligence report provides a detailed analysis of the cost structure of construction services and the pricing models adopted by prominent suppliers in this category.
Sourcing Intelligence
"Which countries are the leading sourcing destination for construction services?"
North America is the major region that dominated the category due to rising construction activities in countries such as the U.S. According to the U.S. Department of the Treasury June 2023 report, the U.S. experienced rise in construction spending for manufacturing facilities. Since 2021 spending on manufacturing plants/factories construction has doubled. However, spending on National nonresidential construction decreased by 0.2% in May 2023 according to Associated Builders and Contractors analysis report published in July 2023.
China and India are also among the top countries in construction activities. The construction service sector in China has been a significant contributor to the country's economic growth. China's rapid urbanization, infrastructure development, and real estate boom have driven substantial demand for the category.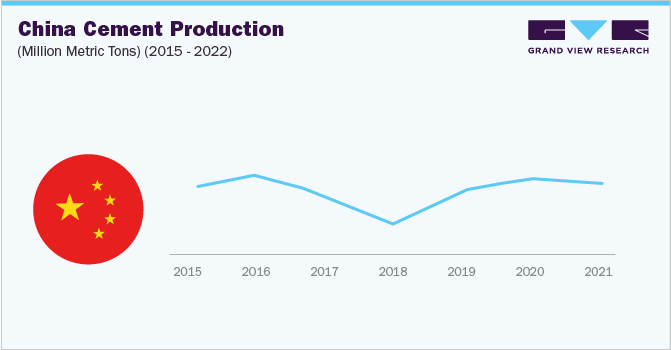 Enhancing India's population growth and economic progress necessitates the enhancement of transportation infrastructure which is achieved by investing in roads, railways, aviation, shipping, and inland waterways. Additionally, India is expected to be the third-largest construction market globally. According to IBEF November 2022 report, in the Union Budget 2022-23 government announced USD 93.1 Million towards the Ministry of Housing and Urban Affairs. FDI in construction development (townships, projects, built-up infrastructure, and housing) stood at USD 28.67 Billion in 2022. The rise in building activities in the country is expected to drive the demand for construction activities.
The successful execution of building a project requires a smooth network of interconnected processes, spanning from on-site operations to office tasks. The most demanding aspect of project management lies in ensuring seamless connectivity, effective collaboration, and efficient communication throughout the entire process. Outsourcing construction services is the best sourcing intelligence practice rather than relying on the own employed team. Outsourcing the services provides industry expertise, a fresh perspective, and cost-effectiveness. Performing drilling, utility locating, and trenching tasks can be time-consuming activities that can significantly impede the building process. Outsourcing these heavy-duty building jobs can help gain greater control over the timeline for completing them. Establishing an extensive network of service provider relationships is an essential component in the endeavor to cultivate robust deal opportunities.
The Construction Services Procurement Intelligence report also provides details regarding day one, quick wins, portfolio analysis, key negotiation strategies of key suppliers, and low-cost/best-cost sourcing analysis.
Construction Services Procurement Intelligence Report Scope
| | |
| --- | --- |
| Report Attribute | Details |
| Construction Services Category Growth Rate | CAGR of 11.8% from 2023 to 2030 |
| Base Year for Estimation | 2022 |
| Pricing Growth Outlook | 7% - 8% (Annually) |
| Pricing Models | Service-based pricing, price for services offered, competition-based pricing |
| Supplier Selection Scope | End-to-end service, cost and pricing, compliance, service reliability, and scalability |
| Supplier Selection Criteria | Types of building, quality, number of services offered, client relationship, track record and reputation, regulatory compliance, and others |
| Report Coverage | Revenue forecast, supplier ranking, supplier positioning matrix, emerging technology, pricing models, cost structure, competitive landscape, growth factors, trends, engagement, and operating model |
| Key Companies Profiled | Bechtel Corporation, Fluor Corporation, DPR Construction, Kiewit Corporation, STO Building Group, The Walsh Group, Skanska, Clark Construction Group, LLC, AECOM, Holder Construction Group, LLC |
| Regional Scope | Global |
| Historical Data | 2020 - 2021 |
| Revenue Forecast in 2030 | USD 26.8 trillion |
| Quantitative Units | Revenue in USD billion and CAGR from 2023 to 2030 |
| Customization Scope | Up to 48 hours of customization free with every report. |
| Pricing and Purchase Options | Avail customized purchase options to meet your exact research needs. Explore purchase options |
Frequently Asked Questions About This Report