Category Overview
"Increasing outsourcing of clinical research by pharmaceutical companies to reduce R&D expenditure is aiding to the growth of CRO market"
The global CRO market is expected to witness sustainable growth (CAGR of 6.4%) from 2020 to 2025 due to the increasing global need for drug development and investments by pharma giants in R&D, owing to the patent expiration of blockbuster drugs.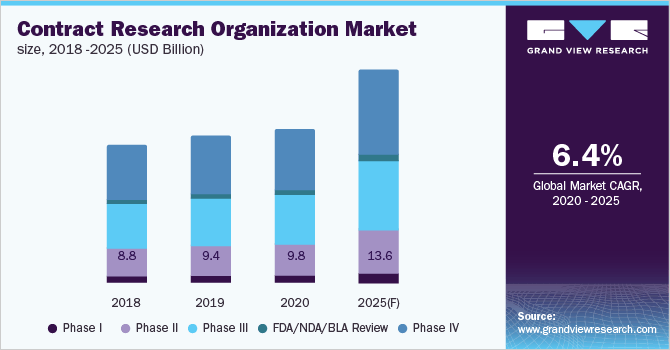 Another reason behind the increasing demand for CROs in the pharmaceutical industry is their diversified expertise as compared to pharma companies in terms of conducting clinical trials across multiple geographies and developing drugs in specific therapeutic areas. To efficiently cater to the rising demand, CROs are focusing on innovative sourcing and procurement methods for optimizing the cost of clinical trials and improving profitability.
Supplier Intelligence
"The global CRO market is moving toward consolidation, with many large corporations striking strategic partnerships with mid-sized or small-sized companies to leverage their regional clinical research capabilities."
Mergers and acquisitions have increased over time in the CRO industry, thereby leading the market toward consolidation. Moreover, CROs are focused on combining capabilities to improve their service quality.
For instance, in January 2021, Parexel collaborated with Signify Health to provide customers with new solutions that enable access to a more diverse and traditionally underrepresented population for their clinical trials. In October 2020, Covance acquired SnapIoT to improve Covance's mobile-connected self-service platform solutions.
Pricing and Cost Intelligence
"Though the Cost Transparency is lower, the Cost Plus Pricing Model is offered by the suppliers to maximize profits with fewer management complexities."
Clinical procedure is the biggest cost component (35%) of a clinical trial, followed by data management, site recruitment, and site management. The clinical procedure includes project management, regulatory affairs, drug safety management, drug logistics, biological supplies, clinical supplies logistics, medical writing, and quality control.
The contract research organization market procurement intelligence report provides a detailed analysis of the cost structure of the service along with the prevalent pricing models that prominent suppliers in the market opt for.
Sourcing Intelligence
"APAC is the leading sourcing destination of clinical research outsourcing services due to its dynamic population characteristics and low service cost."
The demand for CROs is expected to increase in emerging markets such as China and India owing to the presence of huge growth opportunities coupled with reduced development time and R&D costs as well as the availability of a large, affordable, and skilled workforce. These countries offer clinical trials at significantly lower costs than the Western countries. They also have a greater population of clinically naive patients.
China is one of the most preferred destinations for outsourcing clinical trials, chiefly due to its large population and low patient recruitment cost. China's position as the API manufacturing hub also favors pharmaceutical companies in outsourcing their clinical trials to China.
From the sourcing perspective, a majority of suppliers opt for a full services outsourcing engagement model as it reduces the complexities associated with in-house clinical trials.
Suppliers widely prefer approved provider operating models to reduce risks and improve the potential for value creation. As such, suppliers are expected to move from offering generic services to proprietary services in the future. The report also provides details regarding quick wins, portfolio analysis, key negotiation strategies of key suppliers, and low-cost/best-cost sourcing analysis.
Frequently Asked Questions About This Report