Category Overview
"Growth of manufacturing sector in developing economies is fueling the demand for industrial gases"
The global industrial gases category is anticipated to grow at a CAGR of 7.42% from 2023 to 2030. The growth is driven by rapid industrialization, rising manufacturing sector (wherein industrial gas is commonly used in metal fabrication and welding) in developing economies, and utilization of industry products in several sectors such as healthcare, food & beverage, metals, mining, and manufacturing. Products offered in the industry are also utilized in the photovoltaic sector for the production of flat panels, solar displays, semiconductors, and other products. Growing acceptance and popularity of electronic gadgets across the globe is fueling the demand in this category.
Various nations are witnessing an increase in the usage of green industrial gases due to rising environmental awareness and the ensuing need for clean energy. Typically, nitrogen, carbon dioxide, hydrogen, and oxygen are the most frequently used gases in various sectors, which are delivered in both gaseous as well as liquid form for the end-usage, through the tankers. Filtration of the air cryogenically through air separation units is a typical method utilized to produce these gases. In addition, they are also referred to as specialty gases, refrigerant gases, medical gases, and fuel gases, depending on their use in various industries. Furthermore, applications of industrial gases in the mining and metals sector are also fueling the global demand.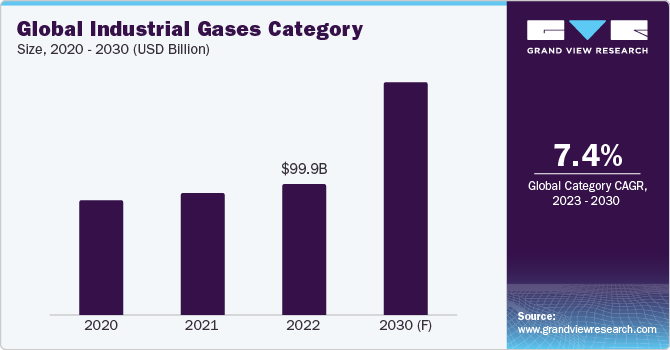 In 2022, oxygen led the industry and generated the largest revenue share in terms of product. Oxygen finds use in copper smelting, steel melting, medical, and other industrial processes. It is well known that oxygen increases fuel's thermal efficiency. Therefore, using oxygen as an approach can help improve the energy yield from fuel. In a similar vein, it can also be applied to coal gasification systems, contaminated water treatment, and hazardous waste remediation. In the pulp and paper sector, it is thought to be a substitute for chlorine in terms of reducing pollution. Nitrogen witnesses the fastest growth rate and penetration and holds the second spot in terms of market share. It is used extensively in the pharmaceutical and medical sectors.
The global industrial gases category was valued at USD 99.9 billion in 2022. Over the course of the projected timeframe, the category will be shaped by the sharp increases in urbanization and industrialization rates that have been recorded in both developed and emerging nations. The category is expected to benefit from the rapid expansion of new facilities put up by the urbanization process, particularly in the manufacturing and processing industries. As per a report, many of the world's most populous nations such as Vietnam (over 36.9%), China (over 59.9%), India (over 33.9%), and Italy (over 70.9%) have their people living in urban areas. Therefore, the need for products offered in the category will also increase as the application sector grows.
With the highest predicted CAGR throughout the forecasted timeframe, the manufacturing industry application segment holds the largest percentage of total revenue. The sector is expected to experience a sharp increase in the need for industrial gases due to a multitude of uses. In the rubber business, dry ice containing carbon dioxide is widely used to clean rubber molds without using any kind of abrasive. It is frequently employed by producers of molded rubber goods to lower labor and maintenance expenses as well as production downtime. There are several advantages to cleaning molds and other crucial rubber manufacturing equipment with carbon dioxide as opposed to more conventional methods. For instance, carbon dioxide is compressed into a solid state to form dry ice, which effortlessly removes dust and rust stains from the molds without producing any further trash.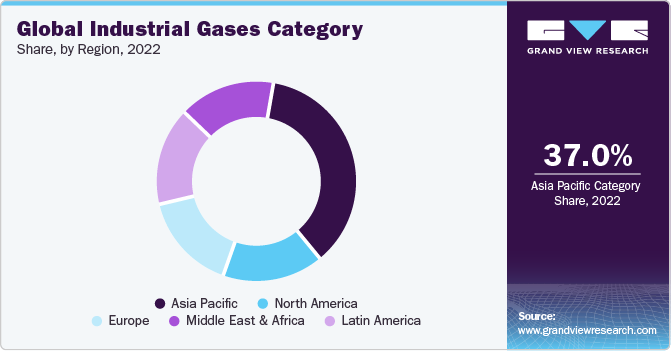 Asia Pacific region dominates the global category, holding a substantial share of revenue. Growth of the category is anticipated to be driven by the development and expansion of end-use sectors in important markets including Japan, South Korea, China, and India. China is the largest market in the region because of the growing need for industrial gases in the aerospace industry for high-quality gas solutions. Demand for industrial gases is anticipated to increase during the forecast period due to the growth and expansion of the food and beverage and industrial sectors in important economies like India and China. North America holds the second-largest revenue share of the global category. The region's need for industrial gases is predicted to increase as a result of the developing healthcare sector and the industrial sector's growth in the United States and Canada.
Technologies such Internet of Things (IoT), Artificial Intelligence (AI), big data & analytics, and robotics & automation are propelling the growth of the global category. IoT is used by the oil and gas sector to increase output, guarantee worker safety, maximize equipment, and monitor remote locations. Real-time data collection is made possible by sensors installed within choke valves, wells, and blowout preventers (BOP). In addition, the sector leverages AI and data science more and more to address complicated issues in middle, upstream, and downstream operations. AI-enabled systems that leverage insights from prescriptive, predictive, and cognitive analytics facilitate decision-making. In order to optimize their return on investment (ROI), oil and gas engineers and managers might employ artificial intelligence to find and apply fresh concepts for exploration and production on the ground.
Supplier Intelligence
"What best describes the nature of the industrial gases category? Who are some of the main participants?"
The global category for industrial gases is extremely concentrated due to the dominance of a small number of significant participants. There is fierce competition among the leading businesses to maintain and increase their market share. Major companies are fiercely vying with one another to expand their product offerings and worldwide footprint to serve the sizable global market. In addition, they are heavily investing in research and development, which will further fuel the growth of the industrial gases market. The players are also pursuing a variety of strategic measures, such as joint ventures, product launches, contracts, mergers and acquisitions, higher investments, and cooperation with other institutions.
Despite the concentration of the sector, there is adequate availability of suppliers. Exploration and manufacturing equipment costs for industrial gas products are too high to allow for supplier switching. Businesses also require the services for regular maintenance and timely upgrades after buying the equipment. As a result, manufacturers only work with a select group of suppliers under long-term contracts to preserve productivity and low operating costs, resulting in moderate negotiating capability of suppliers in the category. In addition, since this category has few alternatives, the threat of substitutes is minimal. As an illustration, LPG is too costly to use and has greater operating costs. There is not even a large profit margin. One obstacle to alternatives is the quality of competing products.
Key suppliers covered in the category:
Air Products and Chemicals, Inc.

BOC Limited

Coregas Pty Ltd

Iwatani Corporation

L'Air Liquide S.A.

Linde plc

Matheson Tri-Gas, Inc.

Messer SE & Co. KGaA

Strandmøllen A/S

Taiyo Nippon Sanso Corporation

Universal Industrial Gases, Inc.

Yingde Gases Group Company Limited
Pricing and Cost Intelligence
"What is the cost structure for industrial gases? What variables affect the prices?"
The total cost of ownership for the category consists of feedstock (natural gas), energy, labor, logistics, storage, equipment, depreciation, taxes & profits, and others as the key cost components. Natural gases are the primary feedstocks that act as the key raw material for the production of industrial gases. One of the primary energy expenses is electricity, which is primarily utilized for air separation.
Industrial gas separation requires a significant quantity of electricity, accounting for between thirty and thirty-five percent of the overall cost of production. The cost of production is influenced by the price of power. The proportionality of cost aspects may change based on how much the specific criteria for each country cost. Given the moderately projected increase in electricity prices, an increase in manufacturing costs is expected. With the recovery of crude oil prices, logistics expenses are probably going to come under pressure to increase.
Natural gas prices are typically lower when the supply is increased and higher when the supply is decreased. Prices often rise in response to increases in demand and fall in response to declines in demand. A few supply factors that affect the prices of natural gas include import & export volumes, natural gas storage level, and the production volume of natural gas. In addition, a few demand factors that impact the prices of natural gas include the cost and accessibility of alternative fuels, the growth rate of the economy, and variations due to summer and winter weather.
In 2022, the average price of natural gas was USD 6.4 per million British thermal units in the United States, while it was USD 40.3 per million British thermal units in Europe. Prices have increased dramatically because of the conflict between Russia and Ukraine and the shortage of energy supply that began in 2021. Prices in Europe are expected to stay higher than in the United States since natural gas is produced in the United States at a higher pace than in Europe.
The cost structure is broken down in the accompanying chart. Other costs can depend on multiple cost components, which have been illustrated below: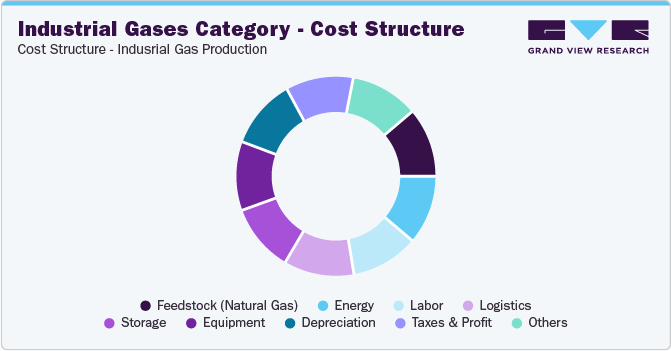 The report provides a detailed analysis of the cost structure and the pricing models adopted by prominent suppliers in this category.
Sourcing Intelligence
"How do industrial gas providers engage? What is the type of engagement model?"
The sourcing intelligence of the global industrial gases category suggests that the industry players follow a hybrid/bundled outsourcing model to engage with their suppliers.Production of various types of industrial gas requires chemical reactions involving different volumes, purities, and pressures. Over time, there have been significant advancements in the technologies used to produce industrial gas. Industry-wide gas producers are now able to outsource part of their operations thanks to the demand for cutting-edge technology, sophisticated cryogenic distillation systems, and different modularization systems for the production of oxygen and nitrogen. Outsourcing can offer lower cost per capita solutions that are customized to the operation and demands of the customer.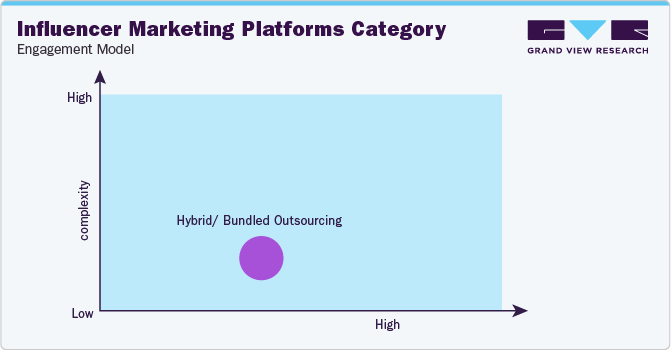 "In the hybrid/bundled outsourcing model, the client outsources some parts of the overall operation to third parties. Generally, critical operations are carried out in-house by the client."
Industry players are collaborating with third-party suppliers who have exploratory skills to secure natural gas supplies for the long run. In addition, they are collaborating with engineering firms and technology owners to integrate technologies, boost productivity, and develop supply chains for their products. Global giants that have been in operation for many years, possess fleets of services, employ a sizable workforce, and have the technological capacity to produce goods in a variety of categories fall under the category of in-house services.
Industrial gas firms look for approved suppliers who offer high-quality raw materials with specific predetermined specifications. These suppliers are selected based on their track record of performance in the past. Companies obtain gases for usage in a variety of industries using specific procedures and techniques, such as extraction and mode of supply. Large-scale businesses commonly use cutting-edge technology, such as cryogenic separation procedures, to meet high-purity requirements from suppliers and ensure excellent output. Players enter into long-term supply agreements with authorized raw material suppliers to get materials at a specific price and with specified attributes so they can innovate and keep their product development consistent.
The report also provides details regarding day one, quick wins, portfolio analysis, key negotiation strategies of key suppliers, and low-cost/best-cost sourcing analysis.
Industrial Gases Category Procurement Intelligence Report Scope
| | |
| --- | --- |
| Report Attribute | Details |
| Industrial Gases Category Growth Rate | CAGR of 7.42% from 2023 to 2030 |
| Base Year for Estimation | 2022 |
| Pricing Growth Outlook | 5% - 10% increase (Annually) |
| Pricing Models | Cost-plus pricing, fixed pricing |
| Supplier Selection Scope | Cost and pricing, past engagements, productivity, geographical presence |
| Supplier Selection Criteria | Industries served, revenue, employee strength, certifications, production capacity, types of gases (carbon dioxide, nitrogen, hydrogen, oxygen, etc.), and others |
| Report Coverage | Revenue forecast, supplier ranking, supplier matrix, emerging technology, pricing models, cost structure, competitive landscape, growth factors, trends, engagement, and operating model |
| Key Companies Profiled | Air Products and Chemicals, Inc., BOC Limited, Coregas Pty Ltd, Iwatani Corporation, L'Air Liquide S.A., Linde plc, Matheson Tri-Gas, Inc., Messer SE & Co. KGaA, Strandmøllen A/S, Taiyo Nippon Sanso Corporation, Universal Industrial Gases, Inc., and Yingde Gases Group Company Limited |
| Regional Scope | Global |
| Revenue Forecast in 2030 | USD 177.1 billion |
| Historical Data | 2020 - 2021 |
| Quantitative Units | Revenue in USD billion and CAGR from 2023 to 2030 |
| Customization Scope | Up to 48 hours of customization free with every report. |
| Pricing and Purchase Options | Avail customized purchase options to meet your exact research needs. Explore purchase options |
Frequently Asked Questions About This Report