Legal Services Category Overview
"Increasing regulatory complexity, growing demand for specialized expertise, and advancements in legal tech solutions are accelerating the growth of the legal service category."
The legal services category is expected to grow at a CAGR of 5.3% from 2023 to 2030. The iIncreasing importance of legal technology and the adoption of automation tools such as artificial intelligence, and private cloud tech are driving the category growth. The move towards toward a multidisciplinary approach is being incorporated into various fields like technology, finance, and business. This shift allows lawyers to offer holistic solutions by merging their legal skills with industry-specific expertise. As the data volume is rising day by day, in-house corporate legal departments must adopt automated AI software to streamline data management, which would result in enhanced client experience. For instance, in September 2023, Rally announced an "Open AI-powered" contract/legal writing add-in application known as Spellbook. It uses the GPT-3 large language model and has the ability to suggest new language in contract.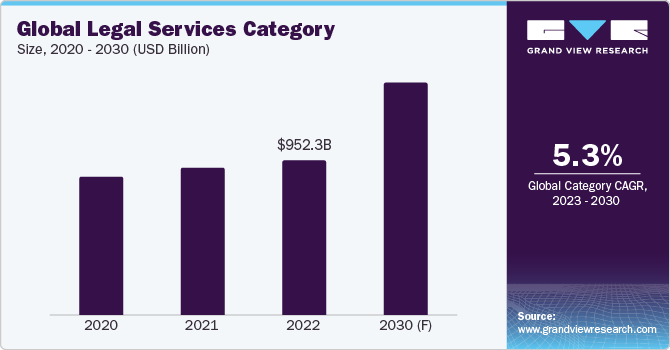 The global legal services category size was valued estimated at USD 952.29 billion in 2022. Private cloud technology is a form of cloud-based computing and data storage exclusively owned by the utilizing law firm. It is inaccessible to the public, ensuring complete privacy. This exclusive access is especially beneficial for law firms dealing with sensitive information regularly. With the increasing prevalence of cybercrimes, private cloud technology provides a secure and dependable operational solution for law firms.
In recent years, alternative legal service providers (ALSPs) have created a new level of competition among the law firms that practice for particular types of clients, and within geographical areas. ALSPs are non-legal firms or attorney firms designed specifically for executing tasks at a lower cost as compared to corporate legal divisions, and traditional law firms. ALSPs offer tech-enabled and process-improved support from low-cost locations for high-volume work, which includes document review, contract management, and compliance.
Phishing frauds pose a significant cybersecurity threat to law firms, being a prevalent issue in the industry. The abundance of sensitive data transmitted digitally makes this type of cybercrime particularly worrisome. Scammers employ various manipulative tactics to obtain confidential information from unsuspecting clients, highlighting the ongoing risk faced by professionals.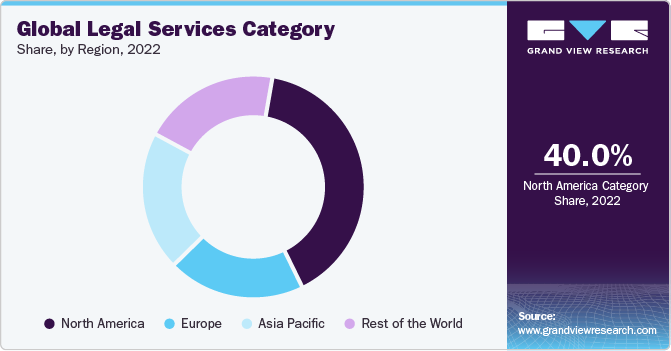 Law firms are increasingly impacted by data breaches, a cyber-security issue that has become all too common within the legal sector. Many clients have unfortunately fallen prey to these incidents. Preventing such data leaks necessitates the implementation of robust user security policies and the use of effective tools collaboratively between law firms and clients.
Supplier Intelligence
"What are the characteristics of the legal services category?"
The global legal services category is fragmented due to the presence of various small law firms and solo practitioners that operate independently. Additionally, the presence of ALSPs offering lower-cost services has increased the competition for law firms. Due to the rise in technology, there has been a surge in online legal services, which makes it more accessible and affordable for consumers. This has enabled service providers to adopt technology in their process to sustain in the market.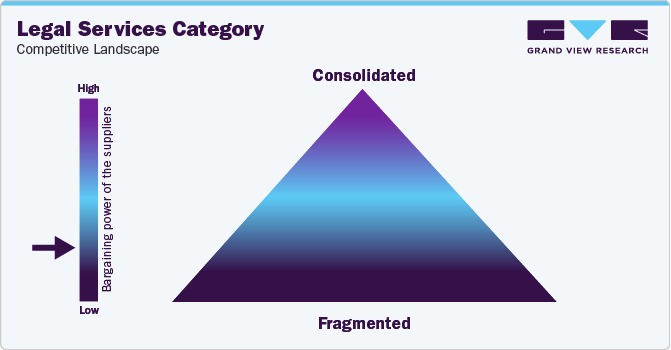 The category buyers, ranging from individuals to large corporations, often have significant bargaining power. They can compare services, quality, and prices among various law firms. However, this power can vary based on the complexity of legal issues. For routine or commoditized services, clients have higher bargaining power. For specialized or high-stakes cases, the power might shift towards law firms, especially those with unique expertise.
Law firms must implement strategies promoting innovation and creative thinking to stay competitive in the industry. These policies should prioritize customer needs while aligning with the organization's core objectives. Additionally, utilizing cutting-edge technology is crucial to enabling law professionals to stay ahead, meet deadlines, enhance document management, and optimize lawful procedures effectively.
Key suppliers covered in the category:
FindLaw

Avvo

LegalZoom

Baker McKenzie

Baker Hostetler

Goodwin Procter

LegalShield

Rally

Deloitte

PwC
Pricing and Cost Intelligence
"What are some of the major cost components in legal services? How are these components impacting the category?"
Consulting salaries and licenses, office rent/lease, office equipment, insurance, utilities, and others
are some of the cost components incurred in providing the services. Each of these costs plays a vital role in providing clients with quality legal advice. Consultant salaries and licenses, office rent/lease, and office equipment form the major cost components. Legal business is highly reliant on the usage of computers, and software for research, and data storage purposes which impacts the office supplies and equipment costs significantly. Other costs include travel expenses, taxes, and marketing and advertising expenses.
Office rent and leasing expenses are highly dependent on the location of the building, the type of lease agreement, and the size of the space. According to the FINMODELSLAB report published in 2023, the average cost of renting and leasing office space in the U.S. is around USD 23.23 per square foot, each year. Additionally, the global salary of an international lawyer can range between USD 70,000 to USD 200,000 per year depending on the expertise, experience, reputation of the law firm, and location. On average USD 1,132 per employee is spent on office supplies and equipment by legal service businesses. Specialized equipment such as scanners, printers, photocopiers, and computers are more expensive as compared to regular equipment, with a cost of around USD 632 per employee.
The following table below indicates the average salaries of the lawyers in India based on their specialization.:
Average Salary of the Lawyers in India based on Specialization

Specialization

Salary(USD per annum)

Corporate Lawyer

9,611.4 - 24,026.8

Criminal Lawyer

6,006.7 - 14,416.1

Intellectual Property Lawyer

8,409.9 - 24,026.8

Tax Lawyer

8,409.9 - 24,026.8

Litigaion Lawyer

6,006.7 - 18,020.1
The law firms usually use cost-plus, competition-based, and value-based pricing models. The cost-plus model is the model that includes markup over the attorney costs. The value-based model is the preferred choice for law firms, guaranteeing optimal value for their clients. Hourly fees, flat fees, and contingency fees are some of the pricing models used by lawyers to charge their clients. The contingency fees typically range from 25% - to 40% for injury claims depending on whether the claim is resolved quickly or not. The hourly fee a lawyer charges can range from as low as USD 50 or USD 100 and can increase to several thousand dollars. According to the Clio 2022 report, the average hourly rate in 2022 was USD 313. The amount charged under the flat fee category depends on the nature of the legal work.
The report provides a detailed analysis of the cost structure of legal services and the pricing models adopted by prominent suppliers in this category.
Sourcing Intelligence
"What are some of the best sourcing practices considered for legal services?"
North America is the major region that dominated the category in 2022. According to Reuters' August 2023 report, U.S. law firms continued to have an excess of lawyers halfway through 2023. The demand for the category legal services in the U.S. dropped by 0.4% in the first half of 2023 as compared to the same time in 2022, which witnessed an increase in demand by 0.2%. However, law firms managed to increase revenue by 4.4% in the first half of 2023 by increasing billing rates.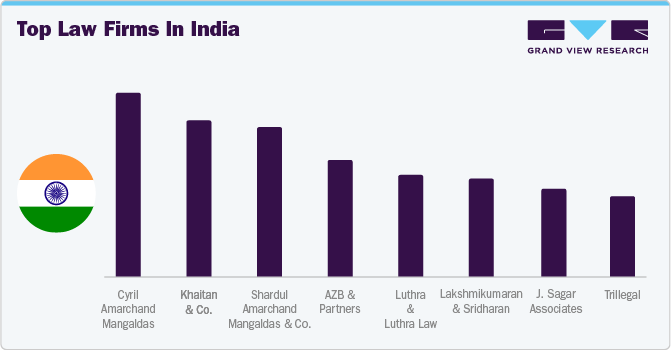 India, the U.K.K, and Germany are the preferred sourcing countries for legal services. Law professionals are increasing in India with an astounding more than 600,000 attorneys. India has the second-largest legal profession in the world after the U.S. The low labor costs as compared to the U.K.K and Germany also favor India. The March 2023 decision by India to permit foreign law firms to open offices here in March 2023 set up shop in the country has helped the sector. India witnessed cross-border deals worth USD 50 billion in 2022, while corporate arbitration cases and other legal disputes continue to grow in 2023. The rising cases in the country are expected to drive the demand for the category.
In the U.K.K, skilled attorneys have the chance to excel in esteemed law firms, multinational companies, or public institutions. The U.K.K's legal framework, rooted in common law ideals, imparts lawyers with versatile expertise applicable on a global scale. Additionally, the nation's diverse populace offers insights into various legal viewpoints, essential for lawyers aiming for professional excellence.
The German legal industry faced challenges (i.e., lengthy contract times, discrimination, surveillance of media, women's rights, etc.) as the industry continued its growth in 2022. In 2022, law firms in the country Germany sustained their growth momentum, with the biggest firms witnessing a 7% rise in profits following a turbulent year due to COVID-19. This success has instilled newfound confidence in German independent firms, highlighting their ability to withstand adversities.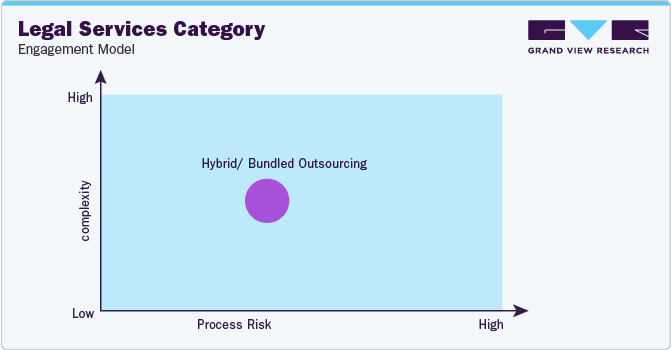 "In the hybrid outsourcing model, suppliers outsource some parts of the overall operation to third parties. Generally, critical operations are carried out in-house by the client."
In terms of legal services sourcing intelligence, big corporate firms usually adopt a hybrid model. Some companies outsource their matters, and some companies have in-house legal departments to handle the legal aspects. However, in the complicated type of cases, companies outsource expert legal services to get expert services. In recent years, law firms have increasingly embraced outsourcing as a standard practice. This strategy enables them to handle the tasks more efficiently and cost-effectively. Outsourcing entails identifying tasks and practice areas best suited for external service providers. Experts predict the legal process outsourcing industry will continue to expand over the forecasted period. This growth will offer law firms, services related to accounting, billing, and various technological functions.
Additionally, sSome companies have internal departments to handle cases. Such companies hire lawyers for a specific task, and all other services such as research, documentation, and data storage are handled internally. However, oOutsourcing the services is more beneficial as it gives exposure to expert services who as experienced in the field.
The report also provides details regarding day one, quick wins, portfolio analysis, key negotiation strategies of key suppliers, and low-cost/best-cost sourcing analysis.
Legal Services Procurement Intelligence Report Scope
| | |
| --- | --- |
| Report Attribute | Details |
| Legal Services Category Growth Rate | CAGR of 5.3% from 2023 to 2030 |
| Base Year for Estimation | 2022 |
| Pricing growth Growth Outlook | 2% - 3% (Annually) |
| Pricing Models | Value-based pricing, service-based pricing, competition-based pricing |
| Supplier Selection Scope | Cost and pricing, past engagements, productivity, geographical presence |
| Supplier selection Selection criteriaCriteria | Diversified types of cases handled, win rate, experience in the field, case resolution time, transaction support, global reach, regulatory compliance, technical specifications, operational capabilities, quality measures, certifications, data privacy regulations, and others |
| Report Coverage | Revenue forecast, supplier ranking, supplier positioning matrix, emerging technology, pricing models, cost structure, competitive landscape, growth factors, trends, engagement, and operating model |
| Key companies Companies profiledProfiled | FindLaw, Avvo, LegalZoom, Baker McKenzie, Baker Hostetler, Goodwin Procter, LegalShield, Rally, Deloitte, and PwC |
| Regional scopeScope | Global |
| Historical dataData | 2020 - 2021 |
| Revenue Forecast in 2030 | USD 1.362 trillion |
| Quantitative unitsUnits | Revenue in USD billion and CAGR from 2023 to 2030 |
| Customization scopeScope | Up to 48 hours of customization free with every report. |
| Pricing and purchase Purchase optionsOptions | Avail customized purchase options to meet your exact research needs. Explore purchase options |
Frequently Asked Questions About This Report