Category Overview
"The growing demand of sugar from food and beverages industry is driving the growth of sugar processing"
The global sugar processing market was valued at 166 million MT in 2020 and it is expected to grow at a CAGR of ~2% from 2021 to 2027 to cross 200 million MT in terms of volume in 2027. The growth of the market is majorly driven by the high demand generated from the food and beverages industry. However, a supply shortage due to the COVID-19 pandemic and the substantial reduction in output from Brazil, India, the EU, and Thailand resulted in a decrease in production in 2020.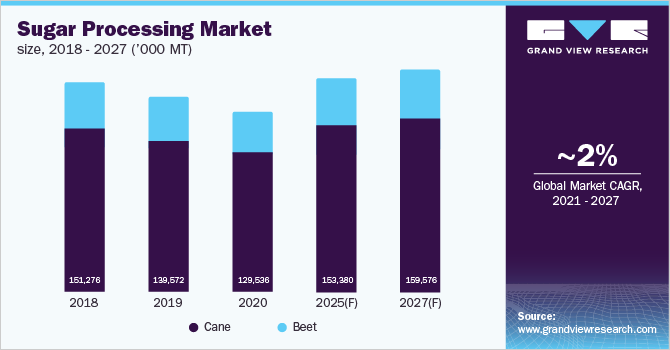 Based on type, white sugar has the highest market share (60%), followed by brown sugar and liquid sugar. Brazil (39.5 million tons) stood as the largest producer of sugar, followed by India (33.7 million tons) and the European Union (17.7 million tons) in 2020. Production in Brazil dropped by 5% in 2020 due to the low availability of sugarcane. Unfavorably dry weather and incidences of fire outbreaks in sugarcane fields lowered production volumes. Additionally, steady grain prices have encouraged the shift of marginal sugarcane areas to soybeans and corn.
Supplier Intelligence
"The global sugar processing market is moderately fragmented & competitive with strategic partnerships between several large market players and small regional sugarcane suppliers to get higher profit margins."
The presence of a high number of sugarcane producers and with a relatively low number of sugar processing companies reduces the bargaining power of sugarcane suppliers. However, the bargaining power can shift to either side based on region and climatic conditions for sugarcane harvesting. Furthermore, with the growing demand for sugar across the food and beverage industry, more buyers are dealing with a comparatively lesser number of suppliers. Hence, the bargaining power of buyers is low.
Companies such as Cosan, Biosev, Mitr Phol, and Nordzucker are aggressively investing in developing efficient sugar processing methods and improving profit margins.
Pricing and Cost Intelligence
"Feedstock (Sugarcane) cost is the most important cost component of sugar processing. It accounts for more than 40% of the overall processing cost."
Sugarcane is the key feedstock used for sugar processing. Brazil is the largest producer of sugarcane across the globe. Hence, sugarcane price fluctuations in Brazil play an important role in determining sugar processing costs. Sugar production in Brazil witnessed a decline in 2020 due to the COVID-19 pandemic and drier weather conditions. It resulted in a steep increase in price in 2021. The rate of price increase is expected to slow down in 2022 and grow steadily till 2025.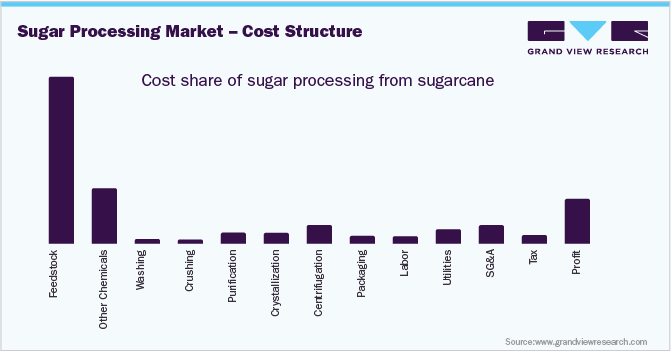 The report provides a detailed analysis of the cost structure of sugar processing and the pricing models opted by prominent suppliers in the market.
Sourcing Intelligence
"Countries like Brazil, India, and Thailand, being the largest producers of sugarcane in the world, are turning out to be the preferred sourcing destinations for sugar processing."
India is one of the world's leading exporters of sugar. Sugar production in India has been witnessed a steady rise since 2017.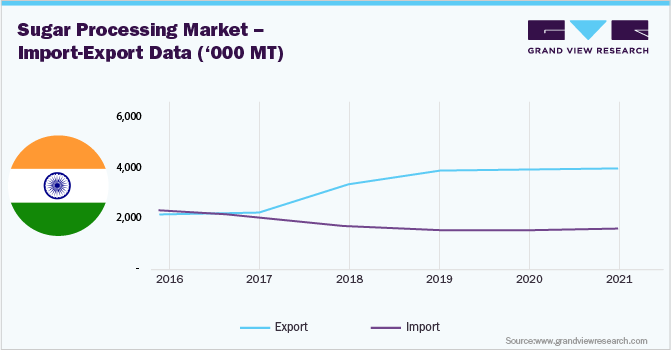 Earlier, Indonesia imported more than 90% of its sugar from Brazil. However, as the pandemic slowed down production in Brazil, India took the opportunity to tap the Indonesian market and make it one of its leading export destinations.
From a sourcing perspective, sugar processing suppliers outsource sugarcane harvesting to local sugarcane producers to reduce additional cost risks and improve flexibility in processing.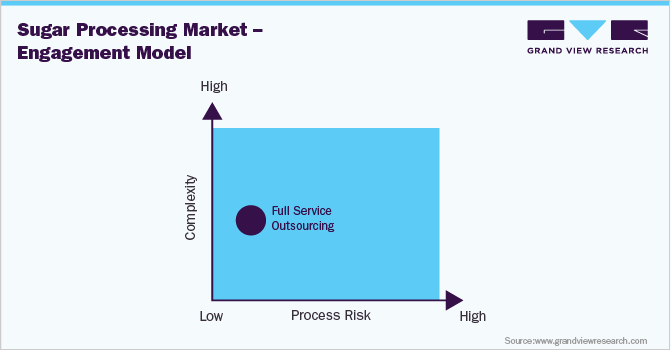 Suppliers often prefer approved provider operating models to reduce risks and improve the potential for value creation. As such, suppliers are expected to move gradually to proprietary services in the near future.
The report also provides details regarding quick wins, portfolio analysis, key negotiation strategies of key suppliers, and low-cost/best-cost sourcing analysis.
Frequently Asked Questions About This Report