Industry : Healthcare
"Point of Care Coagulation Analyzers: Paving the way for faster diagnosis"
Coagulation analyzer or a hemostasis analyzer is a device that is used in testing a hemostasis system. These analyzers aid in measuring the coagulation factors as well as identifying the abnormalities that are likely to result in thrombosis. The common tests performed by the hemostasis analyzer are D-dimer, Activated Partial Thromboplastin Time (APTT), and prothrombin time among others. These analyzers are used in medical conditions such as pulmonary embolism, atrial fibrillation, and impaired liver function, and also monitoring the effect of several anticoagulation drugs as well.
Synthetic anticoagulant such as warfarin is used as anticoagulant to treat pulmonary embolism in deep vein thrombosis and to remove blood clot. Moreover, it is also used as a blood thinning agent in cardiovascular conditions such as congestive heart failure, stroke, myocardial infarction, atrial fibrillation, and hypertension. Due to the rising prevalence of these diseases, the usage of synthetic anticoagulants (such as warfarin) is expected to escalate over the forecast period. To check the efficacy of warfarin, blood clotting time or Prothrombin Time (PT) test is performed. Increasing usage of anticoagulants resulting in the growth of hemostasis tests performed is anticipated to help the market grow significantly.
Rising life expectancy and lowered mortality led to increasing presence of geriatric population base. People of this demographic have greater susceptibility towards chronic disorders.Aging is considered to be the greatest risk factor for chronic conditions. The rising global geriatric population is expected to heighten the susceptibility towards chronic cardiac disorders such as deep vein thrombosis, pulmonary embolism, atrial fibrillation and congenital heart diseases. Moreover, with the increasing age, the blood count gets reduced and affects the hemostasis parameters. This is anticipated to increase the usage rate of hematological tests, thereby increasing the demand for Point of Care (POC) as well as clinical hemostasis analyzers.
Increasing awareness about various diseases such as deep vein thrombosis, pulmonary embolism, and vitamin K deficiency has led to early and preventive diagnosis for these conditions. Moreover, initiatives by government and corporate organizations resulted in people going for early diagnosis. For instance, in November 2014, Boehringer Ingelheim held a symposium to discuss treatment safety and efficacy in acute Deep Vein Thrombosis (DVT) and Pulmonary Embolism (PE). This ultimately has increased the demand for the hematological tests, thereby increasing the demand for hemostasis analyzers.
Coagulation analyzers market: Value chain analysis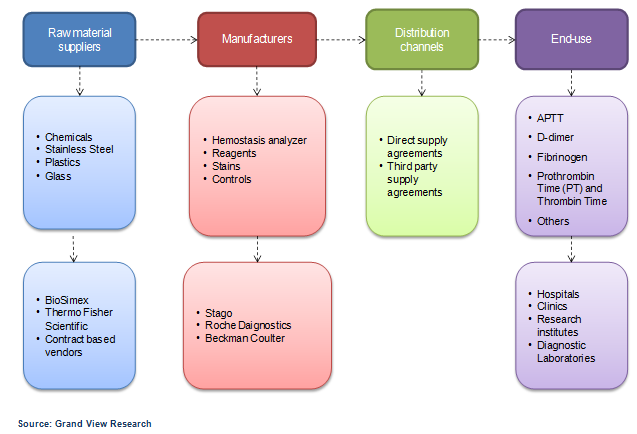 In order to boost the industrial economy, governments of various countries are working towards increasing the number of manufacturing units within the region. This effort is expected to benefit the suppliers and manufacturers of the industry with gain in cost efficiency and easier access to all materials.
The Porter's Five Forces analysis suggests that, there are abundant local raw material suppliers which witness aggressive competition and thereby have a low bargaining power. This fact, acts in favor of the manufacturers and in the future may help them attain higher economies of scale if they provide, bulk contract orders and choose their suppliers suitably. The market players are mostly global players, who due to easy accessibility are currently, trying to compete to gain higher share of the coagulation analyzer market.

In-depth report on global coagulation analyzers/reagents market by Grand View Research:
https://www.grandviewresearch.com/industry-analysis/coagulation-analyzers-market