Industry : Healthcare
"Healthcare Predictive Analytics Market: What lies ahead?"
Predictive analytics is the field of advanced analytics, which is used to make predictions about future events. Historical data can be used to predict probable outcomes and accurately inform businesses about future trends. Predictive analytics helps in setting realistic goals to achieve them through effective planning. In healthcare, it can be applied in areas such as operations management, financial management, population health management, and clinical applications.
"Predictive analytics: How is it helping healthcare industry?"
Patients, providers, payers, research firms, and regulatory authorities are key dimensions of the overall healthcare system. Predictive analytics advances different offerings for each dimension.
Patients: Patient benefits can be in terms of providing improved care access and customized treatment to patients, enabling greater patient involvement, and bring transparency in the overall care delivery system.

Healthcare Providers: Healthcare providers can benefit in terms of optimized treatment protocols, innovative patient care services offering personalized care, and competitor benchmarking.

Payers:The basic objective, which can be achieved using healthcare predictive analytics is, "the right treatment at the right price". The key utilities of predictive analytics for payers include demand management, formulating an effective risk management program, payment fraud detection and prevention, and enhancement of health economic efficiency.

Research: The predictive modeling approach can help accelerate the research process. Drug discovery and development of new therapies can be expedited using novel models along with numerous analytical tools, reducing time to market.

Regulatory: Incorporation of predictive modeling lends several advantages to healthcare authorities, regulatory bodies, and various independent organizations. These regulatory authorities use predictive modeling for:

Population health management

Identifying parameters for public health surveillance

Managing finance and resources

Optimization of treatment protocols
"Healthcare Predictive Analytics: Market Snapshot"
The global healthcare predictive analytics market was valued at 1.4 billion in 2015 and is expected to grow at a CAGR of 29.3% over the forecast period. Pressure to curb healthcare costs, introduction of advanced analytics, and increasing demand for personalized medication is governing the lucrative growth of the healthcare predictive analytics vertical.
Government authorities, health organizations, and private players are striving to bend the cost curve. To this end, healthcare predictive analytics provides insights that help devise strategies and enables optimization of the clinical workflow, operations, and payment to contain healthcare costs.
Global healthcare predictive analytics market, by Application, 2015 & 2025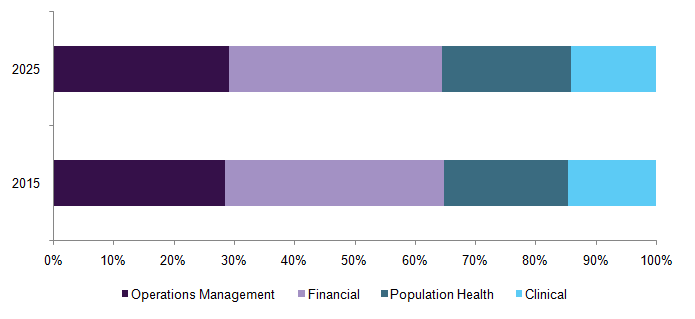 "Healthcare predictive analytics market: What's pulling back?"
Data privacy and theft issues: Analytics involves the collection of huge data, which also includes patients' personal records. Rising cyber crimes and hacking incidents pose a major constraint to the market in terms of providing secure and confidential platforms to patients. The Health Insurance Portability and Accountability Act (HIPAA) enacted in 1996,is now assuring users and fostering the adoption these services.

Lack of skilled professionals: Predictive analytics requires a high technical and statistical knowhow. Currently, there are very few experts and professionals working in this field. Moreover, very few universities and institutes offer a course in healthcare analytics. Introduction of new courses in the field of healthcare informatics are anticipated to make available effective resources over the forecast period.

In-depth report on global healthcare predictive analytics market by Grand View Research:
https://www.grandviewresearch.com/industry-analysis/healthcare-predictive-analytics-market