Industry : Next Generation Technologies
Market Overview
The metaverse is a digital environment that combines cryptocurrency, online gaming, social media, virtual reality (VR), and augmented reality (AR) to allow people to connect virtually. It is a digital environment that combines cryptocurrency, online gaming, social media, virtual reality (VR), and augmented reality (AR) to allow people to connect virtually. The metaverse will build digital places that allow multi-dimensional user interactions as it further develops.
The metaverse allows the trading of NFTs (documents of ownership) and virtual land with the help of cryptocurrencies. All the transactions are recorded in a decentralized blockchain, which avoids the probability of data alteration and fraud and makes the trading more secure.
Blockchain technology provides various services, including accessibility & digital governance, secured transactions, and others. The demand for digital services and investment with blockchain-integrated technology is increasing. For instance, In January 2022, A blockchain-based gaming company, Space Falcon, raised USD 4 million to implement blockchain technology in traditional gaming. The company is also planning to develop a metaverse with premium NFTs and blockchain technology.
The major factors influencing the growth of metaverse include the following:
Integration of the physical and digital world using the internet
The increasing popularity of augmented reality (AR), Virtual Reality (VR), and Mixed Reality (MR)
Use of Artificial intelligence, Blockchain security, and 5G & 6G edge computing networks, all these factors together make the concept of digital presence possible
Market Outlook
Metaverse is one of the trending technology platforms attracting various social networks & technology leaders and online game makers to enter and establish its presence within the market. It has become a fast-growing trend with a considerate penetration rate of users for various applications such as gaming, content creation, social interaction, learning & training, and online virtual shopping.
The metaverses are still in their infancy; many companies are already experimenting in the digital world. Cryptocurrency has a huge opportunity here as it has the ability to transform the way people interact, learn, watch entertainment, engage with customers, and trade digital assets. As crypto becomes the metaverse's medium of payment, it is becoming more mainstream in terms of utility and adoption.
NFTs are investing in luxury fashion labels such as Louis Vuitton, Adidas, Gucci, Burberry, Nike, and others in the Metaverse. They're entering a new period in which digital fashion will be as dynamic as real fashion. The metaverse is a real-time virtual world commonly used to create and leverage massive opportunities for brand connection.
Market Opportunity
Increasing demand for purchasing digital assets using cryptocurrencies
The metaverse is a parallel universe in which real-world objects are replicated. Trading virtual assets, including virtual land, NFTs, and avatar shoes, is done using cryptocurrencies. The advantages of cryptocurrencies are multifold, a few of them are mentioned below.
Cryptocurrencies bridge the gap between the virtual and the real world
Cryptocurrencies help calculate the value of any digital assets in terms of government issue currency
The demand for buying digital assets using cryptocurrencies is increasing around the world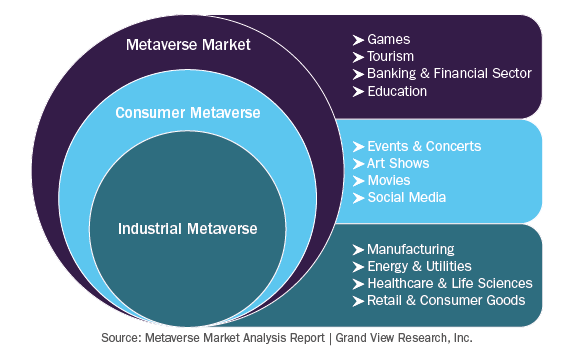 People nowadays communicate with one another via websites, messaging apps, and social media platforms like Facebook. Through Metaverse, people's interactions become more multidimensional, and they can engage more effectively with online content rather than simply reading it. Investors can profit by selling metaverse currencies and NFTs directly to buyers due to the widespread availability of crypto on exchanges worldwide.
Increasing demand for metaverse-based technology
People are spending more time on the metaverse, which increases the demand for technologies, like VR, AR & MR, 3D and 4D models of real-world, Cyber security, 5G networks, and interactive applications are gaining popularity. Virtual reality (VR) and augmented reality (AR) technologies provide a gateway to the metaverse, allowing users to immerse themselves in its 3D-built environment with the help of a VR headset. The presence of 5G networks & a secure cyber framework fuels mass footfalls in this space, thereby opening up flood gates. With the use of computer simulation and modeling, virtual reality enables a person to interact with artificial 3D (Three-dimensional) visuals. In contrast, with AR, a person gets a technologically enhanced representation of the real physical environment created by digital visual components, music, and other sensory stimulation. Thus, the metaverse development will be very difficult without these technologies.
Key Players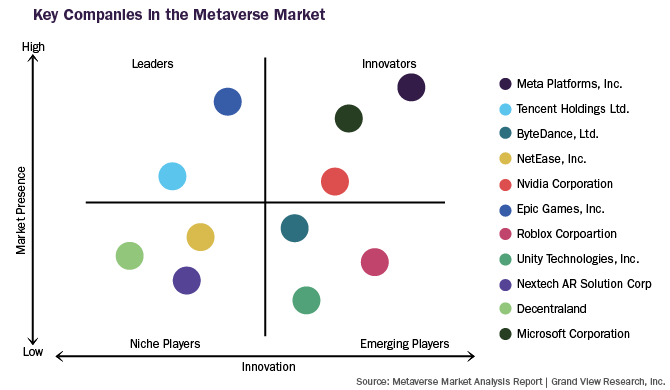 NexTech AR Solutions Corp provides augmented reality (AR) 3D models, founded in 2018 and headquartered in Toronto, Canada. It provides augmented reality and video telephony services for social interactions, teleconferencing, remote work, advertising, e-commerce, and distance education, using a peer-to-peer cloud-based software platform. A few initiatives taken by the company are as follows,
In April 2022, NexTech AR Solutions announced a partnership with Restaurants in Canada to develop Canada's first food service metaverse marketplace, "Market 365". Marketplace 365 will be the global destination for restaurant and food professionals looking to do business and communicate online, marking a significant breakthrough for the industry.
In April 2022, NexTech AR Solutions Corp introduced BigCommerce App, ARitize 3D. NexTech's ARitize 3D SaaS enables BigCommerce merchants' access to the corporation's 3D model production capabilities. This App provides BigCommerce companies with the technologies they require to sell efficiently online with a seamless one-click integration for 3D model development.
In April 2022, NexTech AR launched "NexTech Metaverse Suite," its groundbreaking, comprehensive SaaS platform. This integration of the Company's AR and 3D SaaS offerings into a single login page is a major step ahead for SaaS revenue. This Metaverse SaaS product suite brings NexTech's entire technology stack of AR and 3D products and apps into an easy-to-use, seamless, and end-to-end SaaS subscription platform.
Few Questions answered by the Metaverse Market study
How will the rising trend of protectionism & geopolitics at the global level impact the development of the metaverse?
What could be the larger ramifications for businesses that are more multinational or with plans for diversification owing to the internet alone?
How sustainable would the metaverse be, as there could be thin lines between pixels and voxels, leading up to more pressure on the power grid?
As customer trust comes to the fore, owing to mass immersive experiences & adaptive human personas with kaizen manifestations, how will organizations design & build customer journeys, with humans at the center of it all?
Pervasive metaverse transformation, how soon or how long? What could be the new paradigms of innovation? What could be the new & evolving business models?
What are the flip sides in terms of technology addiction, mental health, security, and privacy issues? How are Regulators prepared to handle this?

Request for a Free Sample Report or order your copy of the report titled Metaverse Market Size, Share & Trends Analysis Report By Product, By Platform, By Technology (Blockchain, Virtual Reality (VR) & Augmented Reality (AR), Mixed Reality (MR)), By Offering, By Application, By End Use, By Region, And Segment Forecasts, 2022 - 2030, published by Grand View Research
Authored By
Mangesh Yeolekar, Senior Analyst, Information Technology, Grand View Research
Mangesh serves as a Senior Analyst in the Information Technology Research division of Grand View Research. With an exhaustive experience of five years in business consulting and market research, he works with a solution-oriented approach to convert business challenges into actionable solutions. He tracks market intelligence around emerging technology spaces such as Artificial Intelligence, Autonomous Vehicles, and Machine Learning, to name a few.