Industry : Medical Devices
The term "osteosynthesis" was used by the Belgian surgeon Robert Danis. According to him, internal fixation must enable immediate active movement of muscles in the affected region and the adjacent joints and enable complete restoration of the original shape of bone.
Osteosynthesis is based on two methods: internal and external fixation. Metal plates for internal fixation of fractures are the most common method and are being used in medicine since a century. The external fixation method provides relative stability, which results in healing by callus formation and is efficient in local damage control, making it effective in treatment of fractures with severe soft tissue injuries.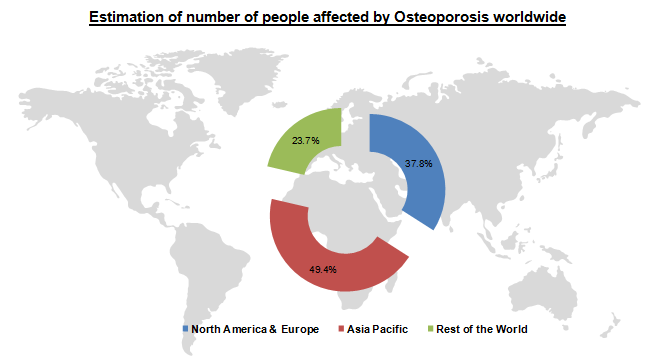 "The Challenges"
Shortcomings, such as corrosion and insufficient strength, have been reported in usage of metal plates. New research and management options to develop equipment that accelerates fracture healing while not interfering with bone physiology is still underway.
In materials used for osteosynthesis, implants made of stainless steel are still used successfully, but now titanium alloy products are gaining popularity. This material demonstrates greater strength and significantly better biocompatibility. However, the recent designs have not solved all problems. Further research is still needed to improve surgical outcomes.
"Osteoporosis - A leading cause of concern"
Global rise in osteoporosis in both men and women presents a public health crisis. The International Osteoporosis Foundation, a nonprofit organization, is actively involved in formulating a game plan to execute early prevention, diagnosis, and treatment of the disease. Asia Pacific region is at a higher risk rate of osteoporosis due to a growing geriatric population count. The IOF conducted a survey in 11 countries and concluded that lack of communication about osteoporosis with personal physician and a lack of access to diagnosis and treatment of the disease are the leading factors responsible for the rising disease prevalence. With growing awareness, people are taking active steps toward preventing the spread of the disease.
"Key Players"
The osteosynthesis devices market is a consolidated market with a relatively low number of companies controlling a rather large market share. Some leading vendors in the market are DePuy Synthes, Inc., Smith & Nephew plc, Stryker Corporation, and Zimmer Biomet, and they collectively account for the largest market share in 2015. These companies are focused toward building direct customer relationships and widening access to their premium product offerings to boost growth.

In-depth report on global osteosynthesis devices market by Grand View Research:
https://www.grandviewresearch.com/industry-analysis/osteosynthesis-devices-market