Industry : Semiconductors & Electronics
Technological innovation regarding the development of ultrasonic transducers for the detection of gas bubbles for food & beverage and healthcare applications is projected to fuel the piezoelectric materials market growth. Furthermore, rising regulatory spending in the U.S. and Israel towards energy harvesting in light of increasing awareness towards energy storage devices is expected to promote the usage of electroactive materials over the forecast period.
Global wind energy capacity, 2008-2015, (GW)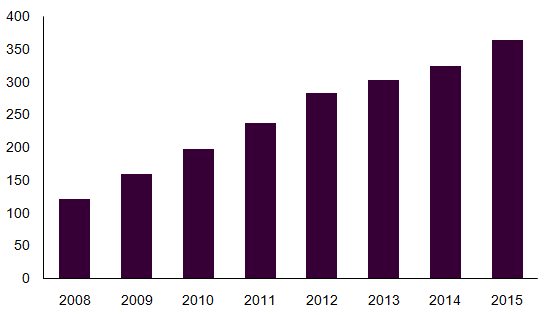 Over the past few years, numerous actuators manufacturers have been increasing the spending towards the development of new products including Electro-Hydraulic Actuator (EHA). In July 2016, the U.S. based Kyntronics launched a new EHA which is capable of producing high impact force of up to 20,000 pounds within a compact space.
Innovation by actuator manufacturers to develop new products will open new market opportunities for electroactive piezo materials over the forecast period. Furthermore, rising demand for microactuator tools in minimally invasive surgeries is expected to play a significant role in increasing the market penetration in the healthcare sector over the next nine years.
Rising demand for conductive polymers on account of their ability to act as a shield against electrostatic discharge (ESD) and electromagnetic interference (EMI) in electronics manufacturing sector is expected to limit the application of piezoelectric materials. Also, stringent regulations aimed at restricting the use of lead in electronics industry owing to the association of dangerous effects is expected to remain a challenging factor for the market players.
In July 2015, the government of India launched the Digital India campaign which is aimed at promoting growth in the information technology and telecommunication sectors. This initiative also focusses on supporting investments in electronics goods manufacturing with a target of net zero imports by the end of 2020. As a result, electroactive piezo-based material manufacturers are expected to lead participants to establish their production units in the vicinity.
Lead zirconate titanate (PZT) is projected to remain a key raw material for manufacturing piezoelectric products on account of its excellent properties including high dielectric constant, low dielectric losses, and superior electromechanical strength. The rising prices of raw materials including PZT as a result of technological development about ultra-fine products is expected to remain a concerning factor.
Major industry participants include PI Ceramics, Harris Corporation, Morgan Technical Ceramics, and Piezosystem Jena. High concentration of manufacturers operating in electronics-producing destinations including China is expected to induce increased competition. The advancement about the usage of solid state and sol-gel technology is supposed to increase operational cost and thus likely to shrink profit margins of piezoelectric materials.
In August 2016, the U.S. government's Public Utilities Commission allocated approximately USD 2 million for the development of piezoelectric energy harvesting roads. This regulatory spending is expected to open new avenues for prospecting companies to enter the industry over the upcoming years.

In-depth report on global piezoelectric materials market by Grand View Research:
https://www.grandviewresearch.com/industry-analysis/piezoelectric-materials-market