Industry : Plastics, Polymers & Resins
UV curable resins are believed to be one of the fastest growing technologies within the graphic arts, coatings, adhesives and other related industries. Various end-use product manufacturing companies now rely on UV cured coatings to achieve customer satisfaction and environmental compliance. UV curing technology exhibits a superior chemical resistance and physical properties.
The development of new and improved photoinitiators is believed to the latest trend in the UV curable resins market. Improvements such as expanded photosensitive wavelength band and better photoinitiator solubility are incorporated in conventional photoinitiators to increase its performances. Developing new photoinitiators for UV curing technology requires a huge R&D investment. Innovation in these products can help in developing more effective curable resins and increase the breadth of objects to be cured across end-use industries.
The selection of the right photoinitiator and its combinations is critical for achieving the desired results such as speed and balance of cure film properties. This selection is dependent on a number of variables such as resin system, monomers, orientation and UV lamp type. UV curing process can be divided into radical, cationic and anionic UV curing. These UV curing materials are currently used and face some problems. Therefore companies are developing new and improved photobase generators that can generate high-efficiency results and overcome these challenges.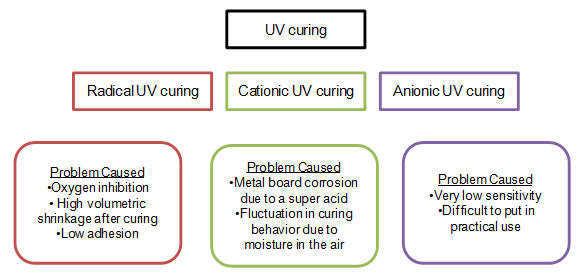 Manufacturers around the world are developing nonionic and ionic photoinitiators to overcome these problems faced by traditional photobased generators. In nonionic systems, companies are trying to use photocyclization-type base generator 1 as a photoinitiator that generates no carbon dioxide. Through this the resin could be cured without causing any bubbles when photobase generator 1 is added to the base-reactive liquid resin. Due to this, the problems faced by radical and cationic UV curing can be minimized.
The ionic system improves the sensitivity of anionic UV-curing. The photoinitiators generate strong bases photochemical and improve the efficiency of the base catalytic reaction. The use of these photoinitiators makes it possible to conduct anionic UV curing at room temperature. Photoinitiators based UV curing products offers various benefits such as economic, environmental, and various other capabilities.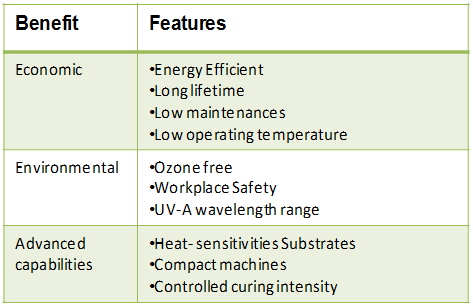 Ultraviolet (UV) curing resins are photochemical products in which ultraviolet light is used to dry or cure coatings, inks, or adhesives instantly. The increasing popularity of eco-friendly curable products has boosted the demand for UV curable resins over the past few years. The properties such as low emission, high production speed, high productivity, line on sight cure, and eliminate mixing errors of UV curable resins has resulted in the growth of the market.
Industrial sector and eco-friendly products are the major driving factors for UV curable resins. The increasing importance of safe, odor-free, sustainable and green materials by various government regulatory authorities across the globe has resulted in the surge in the demand of UV curable resins.
Major applications of UV curable resins are in the coating (wood, paper, plastics, and metal), industrial (packaging, optoelectronics, and adhesives), graphics art (printing inks, plates, and overprint varnishes) and automotive.
The industrial sector is the largest and fastest growing application from past few years. The sector is mainly growing in developing and emerging countries such as China, Malaysia, India, Thailand, Indonesia, Brazil, Sri Lanka, and other. The packaging industry is growing at a substantial rate owing to industrialization. The demand for UV curable resins in the packaging industry is also growing owing to its instant drying properties.
North America has been a potential market for UV curable resins from past few decades. The market is stable and fragmented in nature resulting in high competition. The region has experienced as well as small-scale regional players. The region is also highly technology driven.
Asia Pacific is anticipated to be the fastest growing market for UV curable resins. The growth of industries such as paints & coating, construction, electrical & electronics, and automotive in the region will result in the growth of UV curable resins. An economic slowdown in China has led to the shift of foreign investment in other Southeast Asian countries, resulting in growth of these industries.
The overall UV curable resins market across the globe is highly fragmented. The industry has small as well as big players. The market is highly technology driven and companies are investing a large amount in R&D activities for new product development.

In-depth report on global ultraviolet (UV) curable resins market by Grand View Research:
https://www.grandviewresearch.com/industry-analysis/uv-curable-resins-market