Database Overview
Grand View Research's API and High Potency API industry databook is a collection of market sizing & forecasts insights, regulatory & technology framework, pricing intelligence, competitive benchmarking analyses, macro-environmental analyses studies. Within the purview of the database, such information is systematically analyzed and provided in the form of summary presentations and detailed outlook reports on individual areas of research.The following data points will be included in the final product offering in two reports and one sector report overview.
Active Pharmaceutical Ingredients and High Potency API Industry Data Book Scope
Attributes

Details

Research Areas

Active Pharmaceutical ingredients Market
High Potency Pharmaceutical ingredients market

Details of Product

2 Individual Reports - 2 PDF
2 Individual Reports - Excel
1 Sector Report - PPT
1 Data Book - Excel

Cumulative Country Coverage

25+ Countries

Cumulative Product Coverage

25+ Level 1 & 2

Highlights of Datasets

Type of Synthesis Revenue, by Country
Type of Manufacturer Revenue, by Country
Type of Revenue, by Country
Application Revenue, by Country
Regulatory Framework, by Country
Value Chain Analysis, by Country
Competitive Landscape
Pricing Analysis

Total Number of Tables (Excel) in the bundle

183

Total Number of Figures in the bundle

160
Active Pharmaceutical Ingredients and High Potency API Industry Data Book Coverage Snapshot
Markets Covered

API and HPAPI Industry

USD 233.31 billion in 2021

6.0% CAGR (2022-2030)

API Market Size

USD 209.71 billion in 2021

5.9% CAGR (2022-2030)

High PAPI market Size

USD 23.60 billion in 2021

6.2% CAGR (2022-2030)
The global API and HPAPI markets combine to account for USD 233.31 billion revenue in 2021, which is expected to reach USD 393.65 billion by 2030, growing at a cumulative rate of 6.0% over the forecast period. The combination bundle is designed to provide a holistic view of these highly dynamic market spaces.
API Market Analysis & Forecast
The global active pharmaceutical ingredients market was valued at USD 4.29 billion in 2021 and is anticipated to witness growth at a rate of 12.7% over the forecast period. The Active Pharmaceutical Ingredients market is becoming more competitive and consumer needs are becoming highly focused toward efficacy & specificity of therapeutic agent raw material. Buyers tend to purchase materials matching their requirements and negotiate the price. Thus, buyers are highly involved in the purchasing process to ensure quality of material matches their requirement.
High capital is required for production of APIs because the process needs extremely systematic protocols, which leads to increase in outsourcing of various API production processes. Companies are looking to diversify their API suppliers and manufacturers to different locations instead of outsourcing it to just one manufacturer. For instance, in November 2022, Novo Nordisk spent USD 747 million for expanding its API manufacturing facility in Denmark, in November 2022, GE Healthcare invested USD 80 million for expanding its API manufacturing site in Norway. Companies that have been outsourcing API manufacturing to China to reduce costs are now aiming toward switching to other countries and are looking for backward integration. This is creating growth opportunities for other leading API-producing countries, such as India, to increase market shares in the changing market scenario.
Innovative Active Pharmaceutical Ingredients market dominated the market with a revenue share of 53.5% in 2021. Favorable regulations for R&D facilities and increase in funding are key factors driving the innovative Active Pharmaceutical Ingredients market. Owing to extensive research in this field, many novel innovative products are now in pipeline and are expected to be launched over the forecast period. New entrants in this segment are expected to drive the market. An example of a market player engaged in extensive R&D is Lonza, with more than 575 clinical development programs in 2018. Oncology is a leading domain for high-potency innovative API products due to need for low dosage and fewer adverse effects. Thus, highest percentage of HPAPIs is used in anticancer drugs. These APIs have also found application in hormonal imbalance, cardiovascular, musculoskeletal, and CNS drugs as well as in treatment of glaucoma.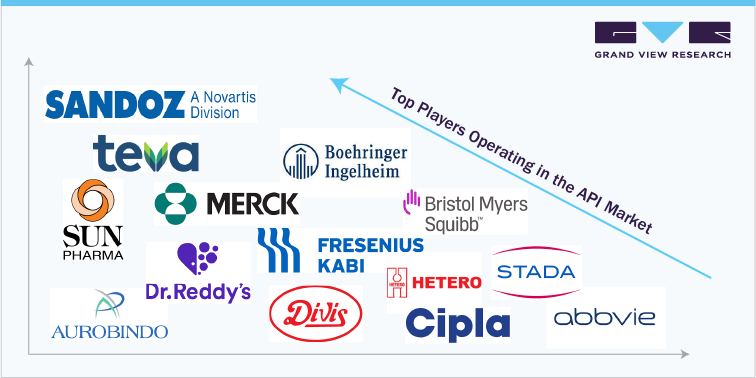 Oncology application is anticipated to grow at a CAGR of 7.6% over the forecast period. Many companies also undertake extensive R&D for development of drugs specific to novel biomarkers. Presence of various APIs in the market for different types of cancer is expected to further drive the segment. Some of the oncology APIs are Imatinib by Novartis and Trastuzumab, Bevacizumab, & Rituximab by Roche. This segment has witnessed the launch of 15 novel therapeutics, accelerating its growth. There are over 1,000 clinical trials with understudied molecules and strong commercial potential. These launches and a strong pipeline are anticipated to facilitate the strong demand for oncology APIs.
Prescription drugs dominate the market with a revenue share of 79.5% in 2021. Prescription drugs dominate the market in the oncology segment. Cancer is primarily treated using chemotherapy, immunotherapy, targeted therapy, and hormonal therapy. The use of biologics is also increasing. However, the abovementioned treatments are not available over the counter and can only be accessed with a prescription provided by a doctor, thereby supporting dominance of prescription drugs in the market. The number of prescriptions generated for targeted therapies is increasing rapidly, owing to higher efficacy of novel targeted therapies. Major players are launching novel targeted therapies. For instance, in March 2021, Novartis announced the approval of ofatumumab in Europe, which is a unique product being used to treat multiple sclerosis and can be self-administered.
HPAPI Market Analysis & Forecast
The global high potency API market was valued at USD 23.60 billion in 2021 and is anticipated to witness growth at a rate of 6.2% over the forecast period. HPAPIs are attracting generic manufacturers' attention due to patent expiry of blockbuster drugs. Moreover, CDMOs are constantly coming up with lower Occupational Exposure Limits (OELs) for intermediates and materials, which ensures employee safety.
For addressing the unmet medical needs, companies are collaborating to develop novel High Potency Active Pharmaceutical Ingredients (HPAPIs). This allows firms to use their resources to aid the development of products and enhance their supply chain. For instance, in January 2022, Lonza, BioGeneration Ventures (BGV), and Forbion announced the extension of their collaboration to include development & production of small molecules (biologics). Lonza will provide customized services to BGV and Forbion's large molecule biologic portfolio.
Captive high potencyAPI manufacturing market segment is anticipated to hold high revenue share. Outsourced market segment is driven by factors such as rising demand for biopharmaceuticals and growing cost of manufacturing these molecules in-house. Moreover, dual sourcing is becoming a key strategy and increasingly being adopted by these companies. HPAPI molecules are manufactured by some pharmaceutical companies at in-house manufacturing facilities. Pharmaceutical companies invest heavily to develop in-house capabilities and specialized requirements for toxicity containment. According to Japan Pharmaceutical Manufacturers Association, Japanese pharmaceutical companies have continuously increased their investments in R&D for discovery and development of novel drugs every year. These investments represent more than 17% of total net sales. These companies have also launched their own research funds to collaborate with outside researchers to develop new drugs. For example, a3 (a-cube) and TaNeDS launched by Astellas Pharma and Daiichi Sankyo, respectively.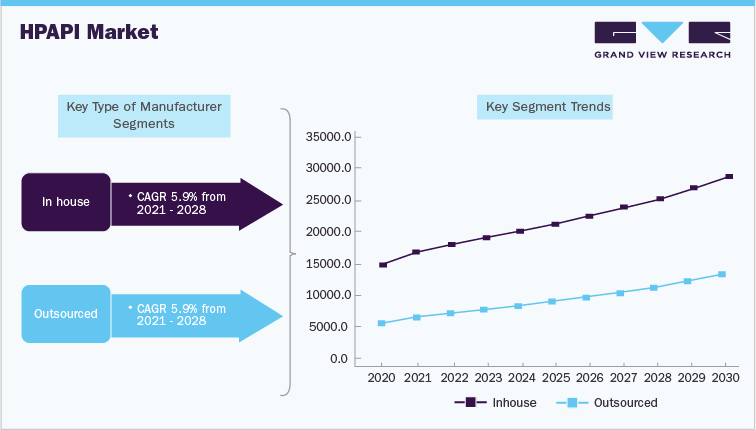 Synthetic segment dominated the market in 2021 owing to easier protocols for production. On the other hand, biotech segment is expected to witness lucrative growth owing to technological advancements and high efficacy of these ingredients. Biotech market is driven by factors such as technological advancements, higher efficiency of HPAPI molecules, and rise in demand for biopharmaceuticals and high level of efficacy of these ingredients. Moreover, 12 countries, including Japan, Singapore, and Malaysia, signed the Trans-Pacific Partnership (TPP) in 2016, which is further expected to improve the export potential of these countries.
High investments in biotechnology & biopharmaceutical sectors allows innovation of new molecules that aid in the treatment of diseases, such as cancer. Based on article published in 2020, around 71 companies raised more than USD 16 billion through IPO, setting new record for sector. The higher revenue associated with biotech-related Active Pharmaceutical Ingredients makes the market highly profitable, attracting major players. For instance, Proleukin (aldesleukin) by Clinigen, Inc. is a biologic therapy for the treatment of metastatic renal cell carcinoma.
Competitive Landscape
Competitive rivalry in this market is likely to be high due to increasing interest in small molecules and biologics for the treatment of chronic diseases is attracting industry players. These players have adopted strategies such as acquisitions, collaborations, and expansion of manufacturing units to strengthen their position in the market. Development of targeted therapies over the forecast period is expected to further intensify the competitive rivalry in the market. As part of strategic geographical expansion, many companies are setting up manufacturing plants in Asia Pacific region. In addition, increasing number of companies switch to contract manufacturers for APIs, which is further increasing competitive rivalry.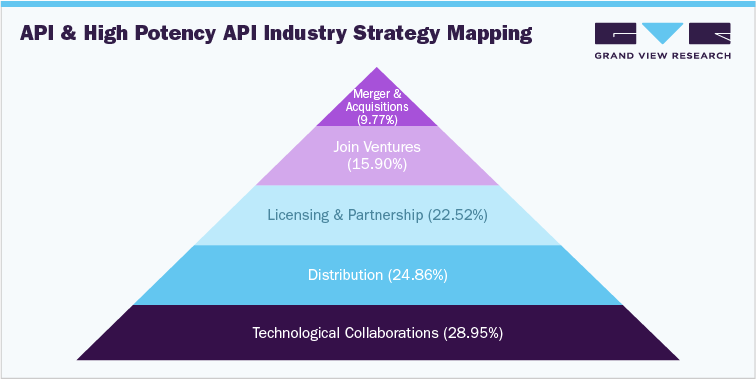 Some of the key players in the API and High Potency API market are Teva Pharmaceutical Industries Ltd., AbbVie, Inc., BASF SE, Boehringer Ingelheim International GmbH, CordenPharma, Merck & Co., Inc., Dr. Reddy's Laboratories Ltd., Cipla, Inc., Bristol-Myers Squibb Company, Sun Pharmaceutical Industries Ltd., Sanofi, Pfizer, Inc., Viatris Inc., Albemarle Corporation, and Aurobindo Pharma.
Key market players adopting expansion strategy include Novo Nordisk, Merck KGaA, Novartis AG, Aurobindo Pharma, and Piramal Pharma. For instance, in November 2022, Novo Nordisk Invested USD 744 million for expansion of its clinical manufacturing facility in Bagsvaerd, Denmark. This strategy is adopted to increase the outreach of their products in the market and increase the availability of their products & services in diverse geographical areas.