Database Overview
Grand View Research's agriculture equipment industry data book is a collection of market sizing information & forecasts, competitive benchmarking analyses, macro-environmental analyses, and regulatory & technological framework studies. Within the purview of the database, all such information is systematically analyzed and provided in the form of presentations and detailed outlook reports on individual areas of research.
Agriculture Equipment Industry Data Book Scope
Attribute

Details

Research Areas

Agriculture Equipment Market
Agriculture Tractor Market
Agriculture Implements Market

Details of the Product

3 Individual Reports - PDFs
3 Individual Reports - Excel
1 Sector Report - PPT
1 Data book - Excel

Cumulative Countries Coverage27

27+ Countries

Cumulative Product Coverage

12+ Level 1 & 2 Products

Highlights of Datasets

Product Revenue by Countries
Application Revenue by Countries
Implements Revenue by Countries
Engine Type Revenue by Countries
Driveline Revenue by Countries
Competitive Landscape

Total Number of Tables (Excel) in the bundle

336

Total Number of Figures in the bundle

76
Agriculture Equipment Industry Data Book Coverage Snapshot
Markets Covered

Agriculture Equipment Industry

USD 286.03 billion in 2021

6.2% CAGR (2022-2030)

Agriculture Equipment Market Size

USD 155.7 billion in 2021

5.0% CAGR (2022-2030)

Agriculture Tractor Market Size

USD 88.5 billion in 2021

8.3% CAGR (2022-2030)

Agriculture Implements Market Size

USD 28.6 billion in 2021

5.0% CAGR (2022-2030)
The agriculture equipment industry was valued at USD 286.03 billion in 2022 and is expected to register a growth of 6.2% throughout the forecast period. The anticipated growth of the market is supported by factors such as growing demand for products worldwide coupled with changes in farming practices, integration technologies such as telematics, framing as a service, and software to monitor the growth & temperature of the plants is expected to propel the market growth. Additionally, the technical evolution of farming vehicles such as tractors is leading to the practice of precision farming Information and technology-based farm management, which recognizes, evaluates, and coordinates agricultural production activities, is a component of precision farming. Additionally, the use of precision farming promotes profitability, sustainability, and the preservation of land resources. For efficient and improved output, the agricultural equipment industry is embracing technologies like, positioning systems such as GNSS and GPS, integrated electronic communications, spatial-mapping, automated steering systems, use of sensors such as LIDAR, radar and cameras, and variable rate technology (VRT).
Agriculture Equipment Market Analysis & Forecast
With the increasing population, the global demand for food is expected to rise significantly; thereby, increasing pressure on agrarians to produce more crops. This is expected to instigate farmers to be efficient, in terms of land usage and choice of machinery.
Businesses & governments must increase productivity, improve skills, and encourage innovations to accomplish a sustainable food balance. The rise in demand for agricultural products is projected to escalate the demand for agricultural equipment in the near future. A radical change in product offerings, instigated due to several farming practices and the amplification of farms, is projected to augment the agriculture equipment market growth.
The planting & seeding equipment segment is expected to witness healthy growth in CAGR from 2022 to 2030. The use of this equipment highly influences planting efficiency. The paradigm shift towards no-tillage practices across the globe is likely to drive market growth over the forecast period. Benefits such as uniformity of depth of seed placement, prevention of loose soil getting under the seed, and mixing fertilizer with seed during placement in the furrow are some of the factors that are likely to favour market growth over the forecast period.
With the increasing demand for food production, ensuring a quality food supply is essential, along with enough produce to suffice the demand of the increasing population. Using agricultural equipment for farming has become vital to improving productivity and yield quality. However, affordability still remains a major concern for several small farmers. Therefore, several governments worldwide, along with support from private institutions, are undertaking initiatives to rent out these products.
Farming as a Service (FAAS), artificial intelligence-based mechanization technologies, big data-based mechanization technology, and Internet of Things-based mechanization technologies. These four categories together have been named Mechanization 2.0. Farming as a Service (FAAS), Big Data based Mechanization, Artificial Intelligence based Mechanization, and IoT based Mechanization:
Farming as a Service (FAAS): This captures the development of technologies focusing on renting farm equipment. The FAAS technology works through an application, which connects the farmer to the equipment owner. This technology bridges the gap between the supply and demand of agriculture equipment and works suitably for small and marginal farmers.
Agriculture Tractor Market Analysis & Forecast
Over the years, it has been noticed that practices to mechanize farming globally have evolved significantly. Issues relating to farming productivity is being tackled via the exhaustive use of other farm equipment and tractors. The usage of mechanical machinery in the field is driving significant changes in the agriculture sector. Farmers are eligible to obtain subsidies through governments for mechanizing their tractors. The offering of the subsidy covers various stakeholders, such as governments, machinery manufacturers, agriculture associations, importers, farmers, and dealers. Credit availability for farmers is made feasible via financial institutions like banks and supportive government subsidies and policies programs. Different loan arrangements, easy instalments, and lower interest-rate schemes create mechanization funding. For instance, in India, as per National Bank for Agriculture and Rural Development (NABARD) norms, a farmer with 8 acres of land is eligible for availing loan to buy a tractor, which is to be repaid within 9 years, with an interest of 12.5%. Concessions from governments worldwide, such as the exemption from paying excise duty on tractors, have helped small-scale farmers to buy agricultural machines.
The increasing farm mechanization, particularly in developing markets, is also driving the sales of tractors with low engine power as these occupy less space and can be used with better flexibility. The ease of customization makes them more open to experimentation. Therefore, manufacturers are willing to try different technologies and components in this segment before moving on to high-powered tractors.
| | |
| --- | --- |
| Country | Percentage of farm mechanization adoption |
| India | 40 - 45% |
| U.S. | 95% |
| Brazil | 75% |
| China | 57% |
The availability of different engine power tractors is also well covered within the scope of this study. The less than 40 Hp captured a significant part of the agricultural tractor market in 2020. The segment accounted for a major share in terms of volume. The growth of this segment is accredited to the advantages associated with these agricultural tractors, such as low cost, compact size, and ability to perform all the basic agricultural activities. Moreover, the rising adoption of these agricultural tractors in developing economies is projected to drive segment growth in the foreseeable future.
Agriculture Implements Market Analysis & Forecast
This growth is accredited to rising awareness among farmers pertaining to the benefits of power equipment that are attached to tractors and is expected to support the agriculture implements market. Likewise, increasing demand for food production and crop protection is expected to increase demand for machinery such as harvesting, sowing, seeding, etc. this is expected to support the growth of the tractor implements market.
Additionally, some of the key manufacturers are focused on catering to the rising demand for low-cost, multiple combining, and compact tractors with high engine power. For instance, in 2016, Deere & Company stated its plan to focus on the manufacturing of agricultural tractors that are below 40 HP for the Indian market. Compact and high-engine power tractor with multiple combining provides the advantage of attaching double attachments simultaneously.
Competitive Landscape
Companies are engaging in several growth strategies, such as partnerships, mergers & acquisitions, and product launches, to stay afloat in the competitive industry. For instance, in May 2021, an agriculture machinery company CLAAS KGaA Mbh from Harsewinkel, Germany, acquired a minority stake in Dutch startup AgXeed B.V. The acquisition was intended to promote the commercialization of autonomous farming machines.
The below-given section in the final deliverables file highlights different strategic initiatives undertaken by major players in the market in the recent past. These initiatives impact the market space strongly. The below infographic illustrates various strategies initiated by the market participants and the impact analysis: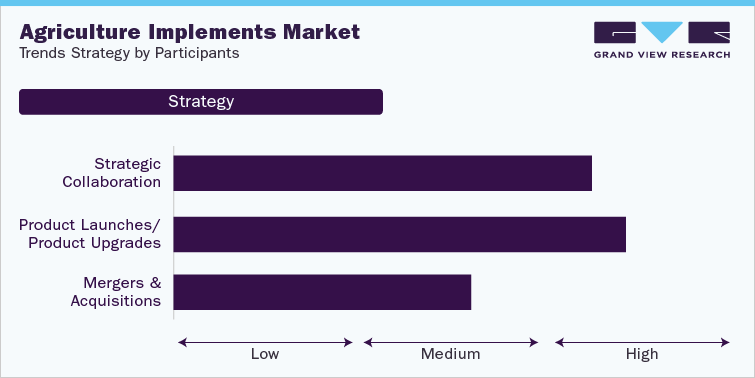 | | |
| --- | --- |
| Strategy | Spearheads |
| Strategic Collaboration | AGCO Corportion, CNH Industrial N.V., and Escorts Limited, KUBOTA Corportion |
| Product Launches/Product Upgrades | Deere & Company, AGCO Corportion, and CNH Industrial N.V., |
| Mergers & Acquisitions | Deere & Company, CNH Corportion N.V., and KUBOTA Corportion |
Product upgrades and new product developments are the key strategic growth employed to improve their market position. AGCO Corporation, CNH Industrial N.V, and Deere & Company are some of the key vendors actively engaged in innovation and product upgrades. For instance, In January 2021, AGCO Corporation launched its fifth generation A-series tractors. The tractors are acquainted with sophisticated features with two-powershift gears and dual-hydraulic brakes.
Key Drivers
Increasing mechanization in the agriculture industry

Government support with loan waivers/credit finance

Rise in demand for agriculture products

Technological advancements