Database Overview
Grand View Research's air compressor sector database is a collection of market sizing information & forecasts, competitive benchmarking analyses, macro-environmental analyses, and regulatory & technological framework studies. Within the purview of the database, such information is systematically analyzed and provided in the form of outlook reports and summary presentations on individual areas of research.
Air Compressor Industry Data Book Scope
Attribute

Details

Areas of Research

Reciprocating Air Compressor Market
Rotary/Screw Air Compressor Market
Centrifugal Air Compressors Market

Number of Reports/Presentations in the Bundle

1 Sector Outlook Report + 3 Summary Presentations for Individual Areas of Research + 1 Statistic ebook

Cumulative Coverage of Countries

50+ Countries

Cumulative Country of Products

10+products

Highlights of Datasets

Demand/Consumption, by Countries
Competitive Analysis
Air Compressor market, by products
Air Compressor market, by type
Air Compressor market, by lubrication
Air Compressor market, by application
Air Compressor market, by region
Air Compressor Industry Data Book Coverage Snapshot
Markets Covered

Air Compressor Industry

USD 24.35 billion in 2022

Reciprocating Air Compressor Market Size

USD 5.25 billion in 2022

4.1% CAGR (2023-2030)

Rotary/Screw Air Compressor Market Size

USD 11.44 billion in 2022

4.4% CAGR (2023-2030)

Centrifugal Air Compressors Market Size

USD 7.66 billion in 2022

5.3% CAGR (2023-2030)
Air Compressor Sector Outlook
The economic value generated by the air compressor industry was estimated at approximately USD 24.35 billion in 2022. With the burgeoning need to control the spread of the COVID-19 infection, governments worldwide implemented strict national lockdowns in 2020. This, in turn, hampered the growth of various sectors and industries. Likewise, the market for air compressors was also affected by the pandemic, witnessing a significant decline in sales and profits. Furthermore, the increasing cases of COVID-19 in various countries due to the second wave resulted in partial lockdowns across the globe. This has subsequently impacted the investments in the oil and gas industry along with the market's growth.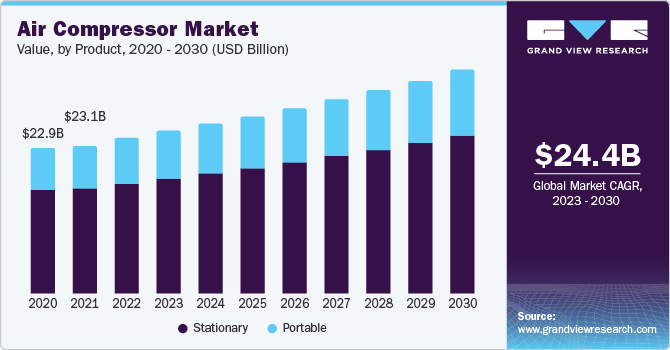 The growing adoption of variable-speed systems, low maintenance cost, effective operation, and retrofitting for existing systems are some factors propelling the demand for air compressors across key end-use industries. Energy-efficient compressors are witnessing a surge in demand owing to their cost-effective operations. However, the growing number of gas compressor stations has increased concerns about air quality. Hence, air monitoring systems are widely being installed for measuring the impact of air and gas compressors. Additionally, the subsequent introduction of non-oil and gas-based projects, and continuous investments in the industry, are driving the demand for air compressors.
Table 1. Share of Major Air Compressor Countries, by Product
Total, 2022

Reciprocating, 2022

Rotary/Screw Air Compressors, 2022

Centrifugal Air Compressors, 2022

USD Billion

24.35

USD Billion

5.25

USD Billion

11.44

USD Billion

7.66

China

18.9%

China

20.7%

China

18.4%

China

18.4%

U.S.

13.7%

U.S.

13.2%

U.S.

13.8%

U.S.

13.8%

Germany

9.7%

Germany

8.9%

Germany

9.9%

Germany

9.9%

Japan

6.9%

Japan

7.6%

Japan

6.7%

Japan

6.7%

India

5.8%

India

6.3%

India

5.6%

India

5.6%

Rest of the World

45.1%

Rest of the World

43.3%

Rest of the World

45.6%

Rest of the World

45.6%
Source: Grand View Research
Prominent players are developing eco-friendly and low-maintenance systems to encourage end-users to opt for next-generation products. Companies like Ingersoll Rand Plc and Atlas Copco Inc. have developed next-generation systems with high-performance capabilities to differentiate their products in a highly competitive market. Some of the key features offered by these air compressors include increased efficiency and reduced noise levels.
The demand for innovative compressors that offer high cost-saving techniques and eliminate the need for supplementary devices has witnessed significant growth across various applications. The increasing focus of consumers on the total solution and lifecycle cost is providing new growth avenues for energy-efficient air compressors. The rising use of compressed air in industrial power tools is also driving market growth.
Reciprocating Air Compressor Market Analysis And Forecast
Reciprocating air compressors are employed in a variety of sectors, including manufacturing, oil & gas, chemical, and electrical generation. To address the shortcomings of conventional production procedures, several industries have introduced cost-effective manufacturing strategies. Owing to the advantages such as efficient energy distribution and cost-effectiveness, these industries have a significant need for energy-efficient reciprocating air compressors. These factors are expected to positively impact the demand in the market during the forecast period.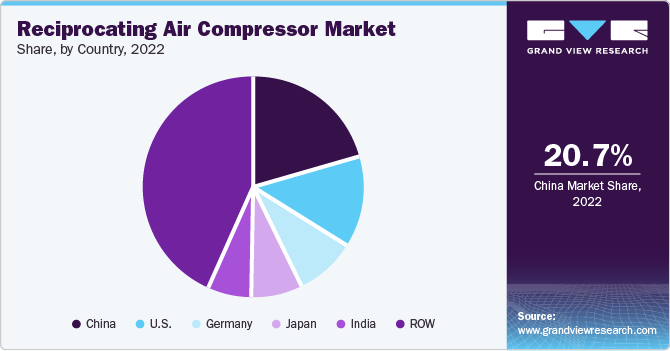 In the food processing and packaging industry, compressed air is utilized for controlling actuators and valves in computerized lines used for bottling, packaging, and filling different products. The presence of oil in compressed air can result in the jamming of bottling, packaging, and filling equipment, causing slowdowns in assembly lines. In addition, as compressed air is also used for supplying oxygen to bacteria during the fermentation of food products, the presence of even a minor amount of oil in it disturbs bacterial activities resulting in the spoilage of end products. These factors are further anticipated to propel the market demand over the forecast period.
Rotary/Screw Air Compressor Market Analysis And Forecast
Rotary/screw air compressor ensures a continuous sweeping motion in contrast to the reciprocating air compressor, which has excessive pulsing and surging of the airflow. The heat produced during air compression by rotary/screw air compressors is reduced, which aids in lowering the amount of water produced during operation. As a result, less water will enter the compressor or other final applications. These aforementioned factors are expected to augment the demand over the forecast period.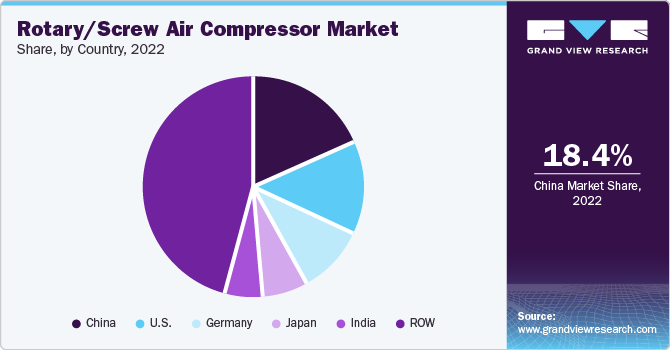 Oil-filled rotary/screw air compressors offer advantages such as higher efficiency, longer lifespan, and quieter operation compared to oil-free compressors. However, they require regular maintenance to monitor oil levels, change oil filters, and replace lubricating oil. Whereas oil-free rotary/screw air compressors operate without the use of lubricating oil in the compression chamber. Instead of relying on oil for lubrication and sealing, these compressors use other methods to achieve efficient compression.
Centrifugal Air Compressors Market Analysis And Forecast
The global centrifugal air compressors market is experiencing growth driven by several factors. Key industries such as oil & gas, metal & mining, and power are contributing significantly to this expansion. Additionally, there is an increasing demand for natural gas, a notable uptick in investments in petrochemical projects, and a growing emphasis on improving energy efficiency, all of which are further propelling market growth. Furthermore, the resurgence of previously stalled infrastructure projects, rising demand for environmentally friendly products, and ongoing technological innovations in the field of centrifugal air compressors are also acting as catalysts for the growth of the centrifugal air compressors industry.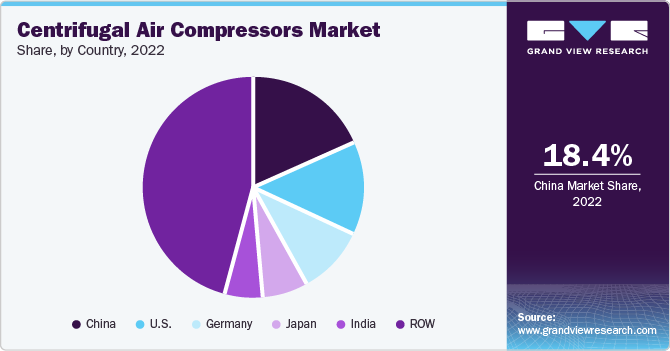 China has made a firm commitment to enhance its oil and natural gas pipeline infrastructure over the next decade, with the goal of increasing the proportion of clean fuel in its energy portfolio. The National Development and Reform Commission has outlined ambitious plans for the expansion of the country's natural gas pipeline network, aiming to reach a total length of 123,000 kilometers by 2025. Centrifugal compressors, being one of the primary pieces of equipment employed to facilitate the efficient transportation of natural gas across long distances, are anticipated to experience heightened demand as a result of this substantial growth in pipeline networks. This trend is expected to persist throughout the forecast period.
Competitive Insights
Major players in the air compressor market include Atlas Copco, Baker Hughes Company, Howden Group, Hitachi Global Air Power US, LLC, Danfoss, HPC Compressed Air Systems, United Air Power Ltd., Kaeser Compressors, ELGi, Kaishan USA, Ingersoll-Rand Plc, Frank Compressors, and Sollant Group. The air compressor manufacturers adopt several strategies, including mergers & acquisitions, partnerships & joint ventures, new product developments, distributor agreements, new online channels, and geographical expansions, to augment their market presence and cater to the ever-changing consumer requirements.
Strategies adopted by the companies usually include product portfolio expansions, collection network expansions, and geographic network expansions.
In April 2023, Atlas Copco completed the acquisition of Shandong Bozhong Vacuum Technology Co., Ltd., an innovator and manufacturer of vacuum systems and pumps. The acquired company became a division of the industrial vacuum division in the vacuum technique business segment of Atlas Copco.

In April 2023, Atlas Copco announced the acquisition of the compressed air business division of Asven S.R.L., a specialist in the service, installation, and sales of compressed air systems

In January 2023, the company announced the acquisition of the Air Treatment Business Division of SPX Flow, a provider of processing solutions. The Air Treatment division expands Ingersoll Rand's core compressor products with a highly complementary product portfolio of cost-effective compressed air filters, dryers, and other consumables with a high attachment rate.

In March 2022, Fujitsu introduced Halcyon sp In August 2022, and announced the acquisition of three companies namely, Shanghai Hanye Air Purifying Technology Co., Ltd, Holtec Gas Systems LLC, and Hydro Prokav Pumps (India) Private Limited, for a cash price of USD 35 million. These acquisitions will help expand and enhance Ingersoll Rand's air treatment solutions portfolio.

In February 2023, FS Elliot Co., LLC entered a partnership agreement with Lupamat Compressor in the Turkish market for the development of industrial products with FS-Elliott.

In May 2023, ELGi opened a manufacturing facility in Tamil Nadu, India, in May 2023. The 50,000-square-foot factory started producing pressure-reducing stations, cutting-edge high-pressure compressors, and portable breathing air compressors for the commercial shipping, navy, and industrial markets in India with an investment of over USD 4.8 million.

In December 2022, Daikin Comfort Technologies North America Inc. acquired Venstar Inc., an energy & controls management systems provider whose indoor comfort products and technology are used in light commercial & residential applications across Canada, Mexico, and the U.S.

In November 2021, In November 2021, Sundyne introduced improved "fit-for-purpose" centrifugal compressors. These specialized compressors are designed to cater to the specific needs of cogeneration power plants. These plants rely on maintaining gas pressures within a range of 250 to 750 pounds per square inch in their turbines to ensure optimal operation. To bridge the gap between the incoming gas pressures from these pipelines and the levels required by the turbines for efficient operation, many cogeneration power plants employ Sundyne fuel gas boosters. These boosters play a crucial role in ensuring that the gas supplied to the turbines meets the necessary pressure specifications, thus contributing to the overall effectiveness and reliability of cogeneration power generation processes.

In January 2023, the company announced the acquisition of the Air Treatment Business Division of SPX Flow, a provider of processing solutions. The Air Treatment division expands Ingersoll Rand's core compressor products with a highly complementary product portfolio of cost-effective compressed air filters, dryers, and other consumables with a high attachment rate.

In August 2022, it announced the acquisition of three companies namely, Holtec Gas Systems LLC, Shanghai Hanye Air Purifying Technology Co., Ltd, and Hydro Prokav Pumps (India) Private Limited for a cash price of USD 35 million. These acquisitions will help expand and enhance Ingersoll Rand's air treatment solutions portfolio