Database Overview
Grand View Research's ammunition industry data book is a collection of market sizing information & forecasts, trade data, pricing intelligence, competitive benchmarking analyses, macro-environmental analyses, and regulatory & technological framework studies. Within the purview of the database, such information is systematically analyzed and provided in the form of outlook reports (1 detailed sectoral outlook report) and summary presentations on individual areas of research.
Ammunition Industry Data Book Scope
Attribute

Details

Areas of Research

Ammunition Market
Small Caliber Ammunition Market
Medium Caliber Ammunition Market
Large Caliber Ammunition Market
Custom U.S. Small Caliber Ammunition Management Market

Number of Reports/Presentations Covered in the buddle

1 Sector Outlook Report + 5 Summary Presentations for Individual Areas of Research

Cumulative Coverage of Countries

50+ Countries

Cumulative Coverage of Application

5+ Application

Highlights of Datasets

Demand/Consumption Data, by Countries
Competitive Analysis/Region
Ammunition Industry Data Book Coverage Snapshot
Markets Covered

Ammunition Industry

Ammunition Market Size

USD 2.96 billion in 2022

3.1% CAGR (2023-2030)

Small Caliber Ammunition Market Size

USD 11.93 billion in 2022

3.7% CAGR (2023-2030)

Medium Caliber Ammunition Market Size

USD 3.56 billion in 2022

2.9% CAGR (2023-2030)

Large Caliber Ammunition Market Size

USD 5.12 billion in 2022

1.9% CAGR (2023-2030)

Custom U.S. Small Caliber Ammunition

Management Market Size

USD 4.81 billion in 2022

3.3% CAGR (2023-2030)
Ammunition Sector Outlook
The economic value generated by the ammunition industry was estimated at approximately USD 22.96 billion in 2022. This economic output is an amalgamation of businesses that are involved in the manufacturing of ammunition materials, distribution & supply, and end-use of ammunition.
Developments and enhancement of military capabilities across various countries is anticipated to increase the procurement of small to the large size weapon system, this is likely to increase the demand for ammunition.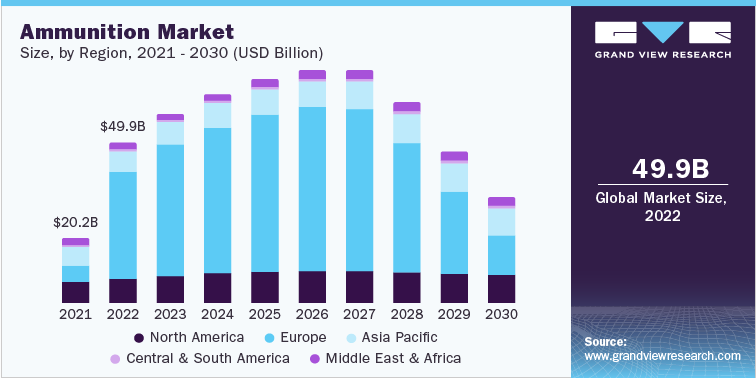 North America ammunition market is expected to witness significant growth, owing to high demand from the U.S. The defense budget in North America has increased in the recent past which is heavily influencing the market in the region. Long term competitive strategy of U.S. Department of Defense for development of technologies and new concepts of warfare is expected to aid the market growth.
Small Caliber Ammunition Market Analysis And Forecast
Terrorism and political violence risks are expected to incline on account of rising geopolitical tensions and weakening of liberal democratic governance. Also, the repercussive effects of chronic conflicts are emerging as one of the major factors, intensifying the political violence across the globe. Protracted and complex armed conflicts with multiple states and non-state actors is one the major contributing factor to political violence, thereby having a degrading effect on the security and stability of the regions. Also, a broader shift towards populist nationalism and authoritarian governance is one of the major factors heightening the war and civil commotion risks. These factors are expected to positively influence the market growth of small caliber ammunition.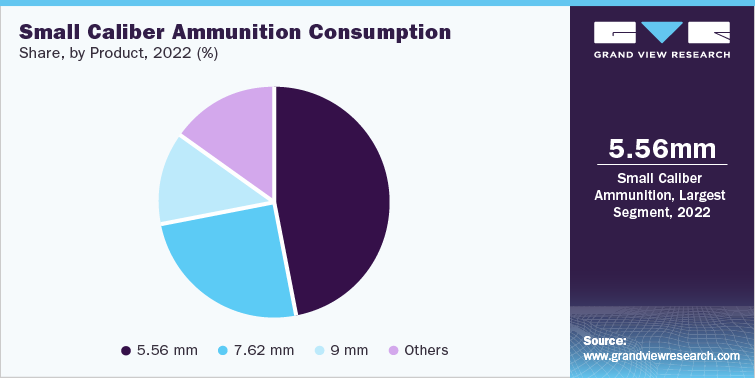 5.56mm caliber includes 5.56 × 45, and others. The 5.56mm NATO cartridge can be recognized by its appearance, the painting of projectile tips, the stamping with the initials of the manufacturer and manufacturing year on the base of the cartridge case, and the markings on the packing containers.
5.56mm caliber are expected to rise owing to their high availability and are used by the Soviet Union on a large scale.
Medium Caliber Ammunition Market Analysis And Forecast
In the recent past, the prospects of interstate conflicts have reached their peak after the end of the Cold War. Also, weak leadership in international diplomacy coupled with rising geopolitical tensions have contributed to the sustained risk of armed conflict in recent years. Moreover, the growing rate of polarization over economic, political, and social issues in mature economies coupled with division in western countries in the face of complex risks and threats, is further projected to deteriorate global security and lead to strategic uncertainty.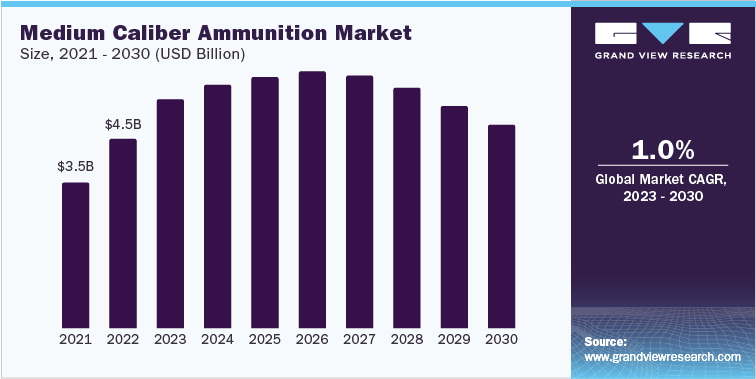 The Asia Pacific region has witnessed an unprecedented surge in the defense spending over the past decade. Rising geopolitical tension and border disputes between the regional powers have been the primary driving factor boosting the defense spending in the region. Additionally, the growing threat from terrorist activities and separatist insurgency has had a major influence on increasing defense spending in the region. This in turn is expected to positively influence the market for medium caliber ammunition over the forecast period.
Large Caliber Ammunition Market Analysis And Forecast
Large caliber ammunition include ammunition with 105mm caliber and 120mm caliber. Large caliber cartridges are generally projectiles. These cartridges are designed for long-range tank engagement and are used for anti-armor weapons. Large caliber ammunition can be classified into spin-stabilized, fin-stabilized, and rocket-assisted, which is a combination of spin-stabilized and fin-stabilized. A majority of the guns use spin-stabilized large caliber cartridge as it promotes flight stability using spinning, whereas fin-stabilized projectiles obtain stability through the fins located at the end of the projectile. These cartridges are also used for gunnery training in tank-mounted gun cannons.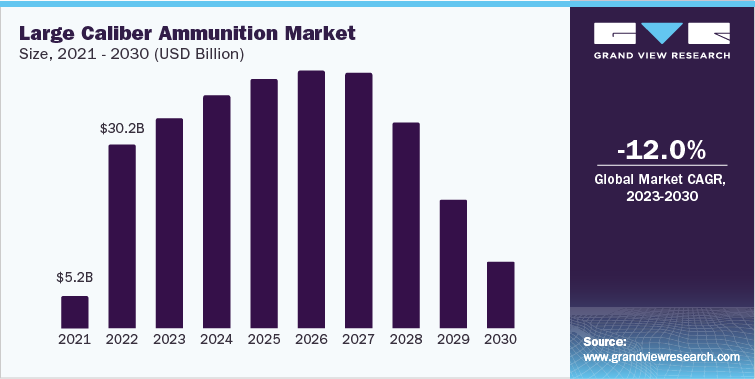 Russia's invasion of Ukraine has substantially raised the global security concerns thus opening the growth opportunities for the large caliber ammunition segment. As a result, the large caliber ammunition manufacturers based in the U.S. which is the major hub of munition manufacturing has ramped up the production exponentially, thus positively influencing the target market growth.
Competitive Insights
Key companies, such as General Dynamic Corporation, Northrop Grumman, and BAE Systems, generate majority of their revenues through military and government channels. Their primary customers include the U.S. Department of Defense and intelligence community. Moreover, they also deliver products to the U.S. government customers including the Department of Homeland Security.
These players also conduct business with government customers across the globe with primary subsidiary operations in Canada, Mexico, Brazil, France, Germany, Italy, Mexico, Spain, the UK, Switzerland, and Australia. Their non-defense subsidiaries are engaged in maintaining long-term relationships with their respective governments and have established themselves as the principal regional supplier.
In March 2020, the Government of Egypt announced a three-year plan to develop the arms and ammunition production capacities with help of companies affiliated with the Ministry of Military Production. The plan includes the modernization of 84 production lines over the period of three years and attain self-sufficiency in terms of ammunition requirements.

In July 2020, PT Pindad signed a supply contract with the Indonesian Ministry of Defense to supply about 4 billion ammunition rounds over the period of next four years.

As of May 2020, the Government of India has banned the import of about 101 defense items which including 7.62x51 Sniper Rifle, Assault Rifle 7.62 x 39mm, 30 mm Ammunition. This initiative is expected to provide a major boost to the domestic arms 7 ammunitions manufacturing capacity over the forecast period.

In September 2018, Ammo Inc completed the acquisition of SW Kenetics, Inc., a research & development firm located in Arizona. The company has designed a new product line of modular projectiles that is expected to enhance the force capability of the U.S. military and NATO member countries.