Database Overview
Grand View Research's Antibodies Industry data book is a collection of market sizing & forecast insights, market dynamics & trends, opportunity assessment, regulatory & technology framework, pricing intelligence, competitive benchmarking analyses, and macro-environmental analysis studies. Within the purview of the databook, such information is systematically analyzed and provided in the form of summary presentations and detailed outlook reports on individual areas of research. The following data points will be included in the final product offering in five reports and one sector report overview.
Antibodies Industry Data Book Scope
Attribute

Details

Research Areas

Antibody Production Market
Monoclonal Antibody Market
Cancer Monoclonal Antibody Market
Research Antibody Market
Mammalian IgG Polyclonal Antibody Market

Number of Reports/Deliverables in the Bundle

5 Individual Reports – PDFs
5 Individual Reports – Excel
1 Sector Report – PPT
1 Data Book - Excel

Cumulative Country Coverage

50+ Countries

Cumulative Product Coverage

25+ Level 1 & 2 Products

Highlights of Datasets

Type Revenue, by Countries
Process Revenue, by Countries
Source Type Revenue, by Countries
Production Type Revenue, by Countries
Application Revenue, by Countries
Product Revenue, by Countries
Technology Revenue, by Countries
End Use Revenue, by Countries
Competitive Landscape
Regulatory Guidelines, by Countries

Total Number of Tables (Excel) in the bundle

450+

Total Number of Figures in the bundle

250+
Antibody Industry Data Book Coverage Snapshot
Markets Covered

Antibody Production Market Size

USD 13.54 billion in 2021

11.84% CAGR (2022-2030)

Monoclonal Antibodies Market Size

USD 185 billion in 2021

11.3% CAGR (2022-2030)

Cancer Monoclonal Antibodies Market Size

USD 92.9 billion in 2021

12.27% CAGR (2022-2030)

Research Antibodies Market Size

USD 1.40 billion in 2021

4.93% CAGR (2022-2030)

Mammalian Polyclonal IgG Antibody Market Size

USD 1.02 billion in 2021

4.60% CAGR (2022-2030)
The antibody industry data book is a combination of the market data from four reports namely, antibody production, monoclonal, cancer monoclonal antibodies, research antibodies, and mammalian polyclonal IgG antibody market. The antibody Production market was valued at USD 13.54 billion in 2021 with a CAGR of 11.84% during 2022-2030. The monoclonal antibodies market and research antibodies market is also growing at a CAGR of 11.3% and 4.93% respectively. Due to the increasing awareness and adoption of personalized medicine, the usage of targeted therapies has increased, thus pushing the revenues for monoclonal antibodies including cancer monoclonal antibodies.
Antibody production involves various processes including upstream process, downstream process, and filtration. The market is tracked based on the revenues generated through the manufacturing of these products. The monoclonal and research antibodies market tracks the end products that are commercially available in the market. The combination bundle of these reports is designed to provide a holistic view of these highly dynamic market spaces in the industry.
Antibody Production Market Analysis & Forecast
The antibodies industry has observed tremendous growth in the last couple of decades. There has been continuous advancement in the manufacturing technologies that are being implemented in producing these novel biologics. With the discovery of applications of polyclonal and monoclonal antibodies for research purposes as well as therapeutic purposes, the demand for antibody production has increased exponentially. A large number of companies as well as CDMOs are involved in the manufacturing of antibodies at the commercial scale. The use of single-use technology such as single-use assemblies and single-use bioreactors has also played a crucial role in reducing the processing cost and boosting the production scale, thus pushing the antibody production market growth. With major pharmaceutical key players investing in the manufacturing processes, the global market for antibody production is likely to exhibit exponential growth in the forthcoming years.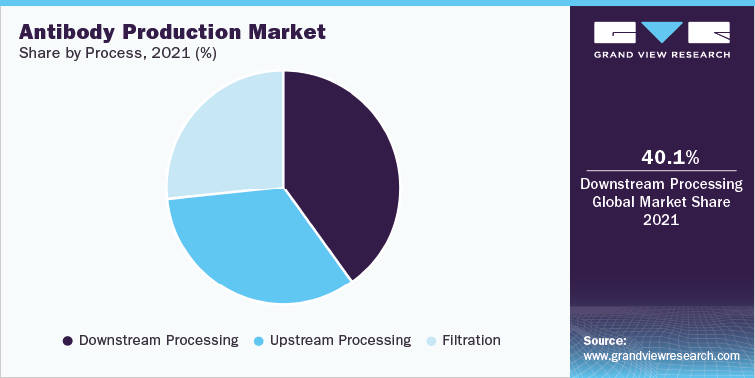 The outbreak of COVID-19 has created lucrative opportunities in this business. Several leading pharmaceutical companies are investing heavily in R&D to create brand-new vaccinations, treatments, and testing tools for this pandemic. The need for antibody production has greatly increased as a result of these intense R&D operations for the development of novel therapeutics. Additionally, a number of public and commercial entities are making significant efforts to fund the development of COVID-19 vaccines and therapeutics. For instance, in April 2020, Emergent BioSolutions, a biopharmaceutical company, received USD 14.5 million from the federal government to work on an antibody therapy study for COVID-19.
In addition, several government entities are fueling clinical research activities and expanding the scope of applications for antibody therapies. For instance, in June 2022, the National Institutes of Health launched clinical trials for the evaluation of dupilumab, for the reduction of asthma attacks and improvement of lung functionality in children. Similarly, in March 2021, the U.S. Department of Health and Human Services invested USD 150 million for increasing patient access to monoclonal antibody therapeutics for COVID-19. Such initiatives are expected to increase the adoption of monoclonal antibodies and strengthen growth prospects.
Monoclonal Antibodies Market Analysis & Forecast
In this market, the oncology segment led the global market in 2021 and accounted for a revenue share of more than 50%. Monoclonal antibodies are being used extensively for the treatment of various cancers. Some of the major types of cancers being treated with mAbs include blood cancer, breast cancer, and lung cancer. These indications collectively take up more than half of the oncology segment of this market.
Cancer is a class of chronic diseases categorized by uncontrolled cell growth. The increasing number of cancer cases is anticipated to increase the demand for monoclonal antibodies and propel market growth. According to the American Society of Clinical Oncology, by the end of 2022, there will be a projected 1.9 million diagnosed cancer cases and 609,360 deaths in the U.S. In addition, the estimates by the same source projected that in 2020, an estimated 176,000 people globally were diagnosed with multiple myeloma. In 2022, it is projected that more than 34,000 individuals will be diagnosed with multiple myeloma, and above 12,000 people will die in the U.S.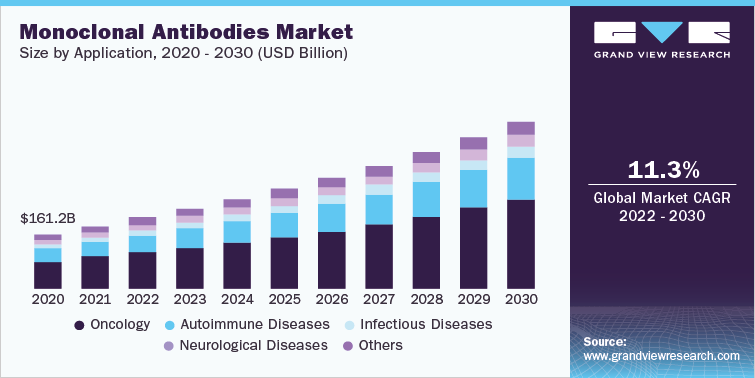 Over a couple of years, the US FDA has approved over dozens of mAbs for treating cancers. As more antigens associated with cancer are being identified, scientists have been able to build mAbs to against those cancer types. In addition, clinical trials of newer mAb candidates are under process, and these candidates are being investigated for their effectiveness against various types of cancers. Monoclonal antibody therapeutics will have huge opportunities in cancer treatment due to their specificity. Treatment approaches involving mAbs will continue to have a high demand, preference, and the probability over other treatment approaches in the coming years.
Research Antibodies Market Analysis & Forecast
In the research antibodies market, the rabbit source segment held the largest market share of 49.1% in 2021. Rabbits are regularly used for antibody production, due to various advantages including higher affinity antibodies provided by rabbits as compared to those obtained from other animal hosts. Furthermore, rabbit-sourced antibodies offer higher specificity which makes them ideal for the detection of small molecules, hormones, and toxins among others.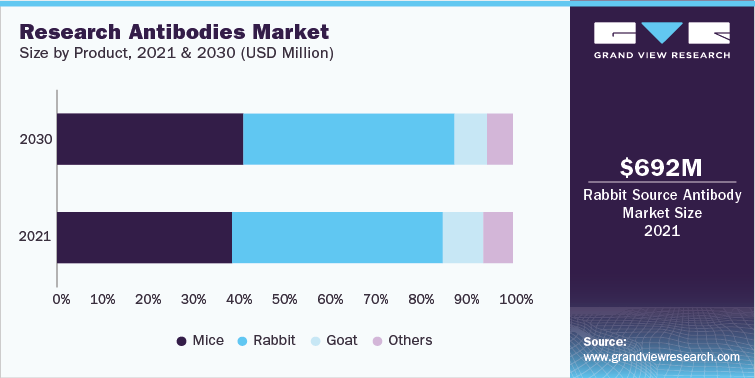 The mouse source segment is anticipated to witness considerable growth over the forecast period. Mice have been predominantly used in the production of antibodies due to their high reproduction rate and smaller size. Furthermore, the main factor influencing their widespread use is the structural similarity between mouse and human antibodies, which can significantly drive their adoption for R&D applications. Major market players such as Abcam Plc., Merck KGaA, Thermo Fisher Scientific, Inc., and Cell Signalling Technology, Inc. have been continuously involved in the development of products and exploring new application areas for the research antibodies.
Competitive Landscape
Competitive rivalry in the Antibody industry is high due to the presence of a large number of both well-established players and small- to mid-sized companies as well as CROs in the market space. Some of the major players are Danaher Corporation, Thermo Fisher Scientific Inc., Sartorius AG, GE Healthcare, Eppendorf AG, Merck KGaA, Amgen Inc, Novartis AG, AstraZeneca plc, Abcam plc, F. Hoffman-La Roche Ltd., and Eli Lilly and Company among many others. These market players are involved in the various processes of this production and are manufacturing therapeutic monoclonal antibodies as well as research-grade monoclonal antibodies and polyclonal antibodies. To maintain a significant share in the market, key participants are undertaking various initiatives and implementing business strategies, such as product launches, product portfolio expansion, reinforcement and stabilizing the distribution network, and manufacturing capacity expansion and geographic reach expansion through acquisitions, collaborations, and partnerships.
Some of the recent strategic developments in the market are mentioned below:
In November 2022, FDA granted breakthrough therapy designation to Pfizer's Elranatamab for relapsed or refractory multiple myeloma
In September 2022, Merck received four new approvals for KEYTRUDA (pembrolizumab) in Japan. One of the prominent indications is high-risk early-stage triple-negative breast cancer (TNBC). With this development, KEYTRUDA has now approval in Japan for 23 uses in 13 different types of cancer
In March 2022, Blackstone Life Sciences and Sanofi S.A. announced their collaboration for boosting the development of Sarclisa mAb's subcutaneous formulation for treatment of patients with multiple myeloma
In February 2022, Abcam and Twist Bioscience Corporation entered a licensing deal to use the Twist VHH phage library for antibody development, discovery, and commercialization for diagnostic as well as research applications

In July 2021, Abcam announced the opening of new facility in Waltham, Massachusetts, U.S. The new facility is central component in company's growth in U.S., and will be focusing on R&D and commercial activities in the North America region
Key Drivers