Database Overview
Grand View Research's asset management software industry databook is a collection of market sizing information & forecasts, competitive benchmarking analyses, macro-environmental analyses, and regulatory & technological framework studies. Within the purview of the database, all such information is systematically analyzed and provided in the form of presentations and detailed outlook reports on individual areas of research.
The growing demand to increase organizational productivity by using advanced technology to meet company needs has been considered a key factor driving the asset management software market growth. Additionally, Bring Your Own Device (BYOD) policy is rapidly evolving, and the number of Internet of Things (IoT) devices is increasing faster, creating a significant demand in the market.
The following data points will be included in the final product offering in 3 reports and one sector report overview:
Asset Management Software Industry Data Book Scope
Attributes

Details

Research Areas

Asset Performance Management Market
Enterprise Asset Management Market
Infrastructure Asset Management Market

Details of Product

3 Individual Reports: PDF
3 Individual Reports: Excel
1 Sector Report: PPT

Cumulative Country Coverage

20+ Countries

Cumulative Product Coverage

25+Level 1 & 2 Products

Highlights of Datasets

Revenue, by Region
Type Revenue, by Countries
Deployment Revenue, by Countries
Enterprise size Revenue, by Countries
End-user Revenue, by Countries
Competitive Landscape

Total Number of Tables (Excel) in the bundle

310

Total Number of Figures in the bundle

40
Asset Management Software Industry Data Book Coverage Snapshot
Markets Covered

Asset Management Software Industry

USD 56.76 billion in 2022

11.1% CAGR (2023-2030)

Asset Performance Management Market Size

USD 19.32 billion in 2022

12.0% CAGR (2023 to 2030)

Enterprise Asset Management Market Size

USD 5.74 billion in 2022

16.9% CAGR (2023 to 2030)

Infrastructure Asset Management Market Size

USD 31.70 billion in 2022

9.2% CAGR (2023 to 2030)
Asset Performance Management Market Analysis And Forecast
Increased demand for improved digitization with more features, online or offline information access and enhanced work performance growing in industrial areas are some major factors driving the market growth for asset performance management. Asset performance management demonstrates substantial expansion across several industries with better data access, reliability, and simplicity of analysis during the forecast period.
For instance, in March 2022, AVEVA Group plc partnered with Alizent, an asset management solutions provider. The companies partnered to help industries, including energy, electricity, water, food and beverage, metals, and mining, to change crucial asset maintenance operations in light of the rising complexity that future industrial settings will need. Through the partnership, customers will receive customized solutions with improved privacy and security, increased operational capability, and long-term evolution.
The market has flourished due to improved technological advancement, new features, rising digitalization, higher connectivity, increased transformations, and increased connectivity with more efficient and effective machines. For instance, in October 2021, ABB Ltd launched Ability Genix Asset Performance Management (APM) Suite for industrial, utility, and transportation industry condition monitoring, preventive maintenance, and 360-degree asset performance analytics. The Genix APM Suite prioritizes maintenance tasks based on AI-informed forecasts and offers a comprehensive picture of asset performance.
Enterprise Asset Management Market Analysis And Forecast
The growing inclusion of connected devices to manage, track, maintain and monitor assets effectively to retrieve real-time and meaningful insights regarding the performance and functioning of assets to increase productivity is anticipated to boost the adoption of Enterprise Asset Management (EAM) solutions across the globe. For instance, in February 2022, Infor introduced its EAM solution to British Sugar, a sugar processing company, to support British Sugar's maintenance operations and enhance safety, reliability, productivity, efficiency, and engineering productivity across the business. With the help of this solution, the employees of British Sugar were able to observe, record, input, and retrieve insights. Moreover, mobile applications to contact remote specialist support at the site of respective equipment helped demonstrate the specifications of the issue and expedite fault resolution.
The growing need for organizations to increase asset availability and improve KPIs for better equipment functioning is attributed to propelling the adoption rate for EAM solutions across all verticals. Moreover, the growing focus of enterprises on digital transformation and automation of their industrial operations, including asset management and maintenance, enables them to opt for an intelligent platform that could centrally manage all the functions of assets. Additionally, increasing competition in the market allows EAM vendors to optimize their products and offer a one-stop solution to their customers, thereby creating traction in the market.
Increasing concerns for data security, growing penetration of internet services, and smartphones that empower and make customers aware of using highly effective software solutions are factors influencing the demand for cloud-based EAM solutions. Moreover, the rich feature set of the SaaS solutions that enable organizations to manage asset costs, maintenance, and inventory proves an enticing factor, thereby contributing to the growth of the EAM market. For instance, in March 2022, Oracle Corporation introduced multiple Virtual Machine (VM) autonomous databases on Oracle Exadata Cloud Customer to enable enterprises to create and run isolated and highly available autonomous database instances on Exadata Cloud Customer systems.
Infrastructure Asset Management Market Analysis And Forecast
The Infrastructure Asset Management (IAM) market growth can be attributed to an increased need for integrated infrastructure development and planning systems, rising demand from government organizations, transportation and logistics companies, and an increase in service providers. For instance, in August 2022, Brookfield Asset Management Inc. partnered with Intel Corporation for USD 30 Billion to help finance its factory expansion to construct and develop semiconductor manufacturing facilities. The business looked for new sources of cash rather than depending on more conventional funding sources due to the rising cost of manufacturing chips and the need to expand Intel's manufacturing footprint.
The rising popularity of renewable energy and sustainable development initiatives positively impacts this market. IAM solutions are utilized for city planning and development, waste management, and water management. In the upcoming years, there will be a considerable need for these solutions due to increased demand for freight movement and commodities transportation. For instance, in September 2022, WSP acquired U.K.-based Capita Real Estate & Infrastructure Ltd. company Capita REI and GL Hearn Ltd. Capita REI offers design, expert consultation, project management, and environmental engineering services for owners of buildings, lands, and infrastructure. GLH provides investors and developers with cross-sector advice. The combined workforce of the two companies would increase by roughly 1,000 people headquartered in the UK, strengthening and expanding WSP's current service offerings domestically.
The increase in investment in water resources in terms of concerns about water scarcity and industrial pollution is fostering the growth of the infrastructure asset management market over the forecast period. For instance, in September 2022, the RPS group announced a strategic partnership with the Chartered Institution of Water and Environmental Management (CIWEM). The RPS teams would access various advantages through this agreement, including guidance, networking, training, and accreditation services. This would contribute to developing a strong and competent workforce that provides client services. The program was spearheaded by RPS's Water Technical division, which stands to gain significantly from it and build on the work already done by RPS staff members individually and through the CIWEM Urban Drainage Group.
Competitive Landscape
The market is competitive with the presence of major players AVEVA Group plc, Aspen Technology, Inc., ABB Ltd, Aptean, Pitney Bowes Inc., CGI, Inc., IFS AB, WSP Global Inc., RPS Group Plc., Brookfield Asset Management Inc. among others. The companies are adopting several growth strategies, such as partnerships, mergers & acquisitions, and product launches, to stay afloat in the competitive industry. For instance, in July 2022, Pitney Bowes Inc. expanded its designed delivery services to the Canadian market. The tailored services would enable Canadian retailers to optimize customer order experience. The services facilitate sortation facilities in populated coastal areas to offer transit times across Canada, leveraging various delivery provider partnerships to improve performance and cost with a single invoice and customized tracking application with no additional charge. By combining proprietary market and consumer insights with advanced modelling technology, Pitney Bowes provided its clients with the Designed Delivery service that customized the solution based on each shipper's need.
Product upgrades and new product developments are the key strategic growth employed to improve their market position. AVEVA Group plc, Aspen Technology, Inc., ABB Ltd, Aptean, Pitney Bowes Inc., CGI, Inc., IFS AB, WSP Global Inc., RPS Group Plc., Brookfield Asset Management Inc. are some key vendors actively engaged in innovation and product upgrades. For instance, in July 2021, Brookfield Asset Management Inc. announced a joint venture partnership with carrier and cloud-neutral data centre Digital Reality to build and run platform digital data centers in India. The joint venture is positioned to facilitate PlatformDigital's growth. The top global data center platform from Digital Realty addresses international corporations' changing networking, control, and data needs. By constructing key infrastructure with a leading global provider of data centers at the center of a developing connected data community in India, its implementation across the country is anticipated to enable customers to scale digital transformation quickly. For the new data centers being built in India, Digital Realty would use its industry-leading energy-efficient design and operating methods and its highly repeatable Pervasive Data Center Architecture method.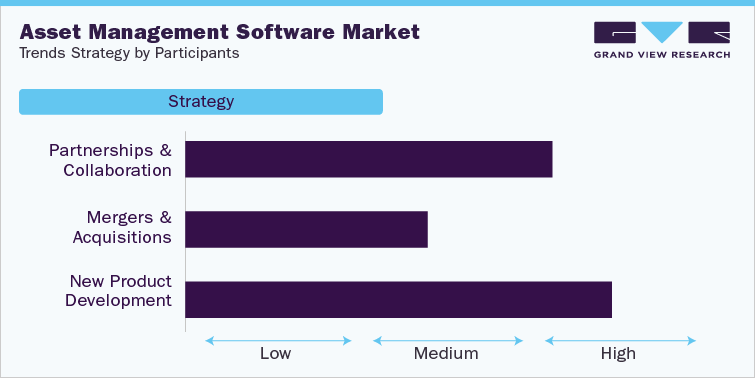 | | |
| --- | --- |
| Strategy | Spearheads |
| Partnerships & Collaborations | CGI, Inc.; Pitney Bowes Inc.; Brookfield Asset Management Inc. |
| Merger & Acquisitions | WSP Global Inc.; Oracle Corporation; RPS Group Plc. |
| New Product Development | IFS AB; Aptean; Infor |
Key Drivers
Growing adoption of IoT platforms to manage assets

Need for installation of a centralized platform for managing asset-related tasks

Growing adoption of cloud-based EAM solutions

Increasing focus of enterprises on digital transformation and automation

Increasing concerns for data security