Database Overview
Grand View Research's base metal mining sector database is a collection of market sizing information & forecasts, trade data, pricing intelligence, competitive benchmarking analyses, macro-environmental analyses, and regulatory & technological framework studies. Within the purview of the database, such information is systematically analyzed and provided in the form of outlook reports (1 detailed sectoral outlook report) and summary presentations on individual areas of research along with an agricultural statistics e-book.
Base Metal Mining Industry Data Book Scope
Attribute

Details

Areas of Research

Aluminum Production Market
Copper Mining Market
Zinc Mining Market
Lead Mining Market
Nickel Mining Market
Tin Mining Market
Tungsten Mining Market

Number of Reports/Presentation Covered in the Bundle

1 Sector Outlook Report + 7 Summary Presentations for Individual Areas of Research + 1 Statistic eBook

Cumulative Country of Coverage

50+ Countries

Cumulative Country of Application

7 Product Categories

Highlights of Datasets

Revenue Data, by Country
Production, by Country
Statistic e-Book
Competitive Analysis
Base Metal Mining Industry Data Book Coverage Snapshot
Markets Covered

Base Metal Mining Industry

USD 485.98 billion in 2022

3.5% CAGR (2023-2030)

Aluminum Production Market Size

USD 174.42 billion in 2022

3.4% CAGR (2023-2030)

Copper Mining Market Size

USD 178.61 billion in 2022

2.6% CAGR (2023-2030)

Zinc Mining Market Size

USD 66.09 billion in 2022

4.1% CAGR (2023-2030)

Lead Mining Market Size

USD 9.25 billion in 2022

2.4% CAGR (2023-2030)

Nickel Mining Market Size

USD 50.40 billion in 2022

6.6% CAGR (2023-2030)

Tin Mining Market Size

USD 7.20 billion in 2022

-0.1% CAGR (2023-2030)

Tungsten Mining Market Size

USD 0.02 billion in 2022

6.5% CAGR (2023-2030)
Base Metal Mining Sector Outlook
The economic value generated by the base metal mining industry was estimated at approximately USD 485.98 billion in 2022. This economic output is an amalgamation of businesses that are involved in base metal mining, distribution & supply, and application of base metal mining.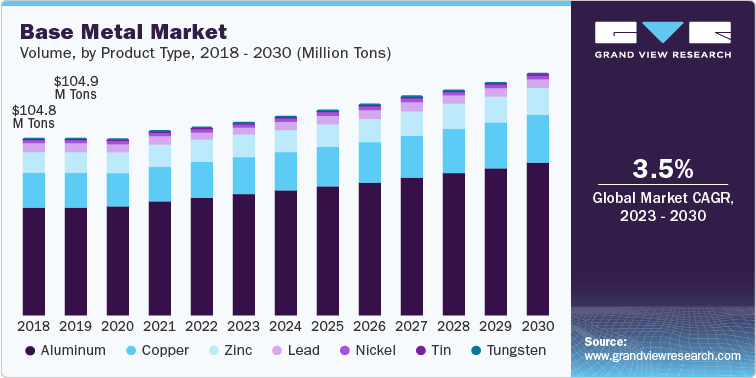 The increasing production of electric vehicles (EVs) is positively impacting the base metal mining industry. EV production widely consumes metals and minerals such as copper, zinc, aluminum, and nickel. For instance, copper is used in many components such as electric motors, batteries, wiring, and charging stations. Similarly, metals such as lead, zinc, lithium, and nickel are widely used in the battery technologies of EVs. Zinc is also a key material in the automotive sector. As per the University of Waterloo, around 7.7 kg of zinc is used per automobile for the prevention of rust.
Thus, the rising penetration of EVs is expected to propel the demand for base metals in the said forecast period. For instance, in March 2022, Suzuki Motor Corporation decided to invest USD 1,320.2 million in its manufacturing plant in Gujarat, India. It is also planning to produce 125,000 electric vehicles by 2025. A similar trend is seen across the world.
However, the high volume of solid waste generated during various stages of mining is one of the main concerns associated with the mining sector. The stages include mine development, extraction, beneficiation, storage, transportation, and reclamation. The removal of waste material to access the ore creates a major problem during storage and reclamation.
The stripping ratio for the mining of metal ores ranges from 2:1 to 8:1, depending on local conditions. The stripping ratio refers to the volume of waste material to be handled to extract some quantity of ore. If the processing is done on-site, mine dumps also need to be managed. Significant quantities of mine dumps are generated where there are ores with low metal content.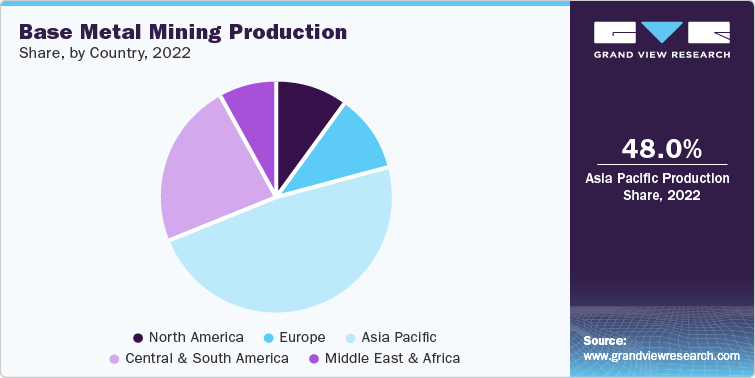 In terms of revenue, Asia Pacific dominated the market in 2022 and had over 48.0% of the revenue share. The rising investments in a wide range of end-use industries, including electrical & electronics, automotive, and construction, are augmenting the market growth. For instance, the state of Bengal's government approved five new industrial parks and 18 units totaling INR 60 million (USD 0.75 million) in August 2022.
Aluminum Production Market Analysis And Forecast
As aluminum has good electrical performance even at high temperatures, it is considered an ideal material for housing and electronic connectors. Strict emission policies coupled with increasing pressure to reduce the weight of vehicles are anticipated to remain key factors driving the demand for aluminum over the coming years.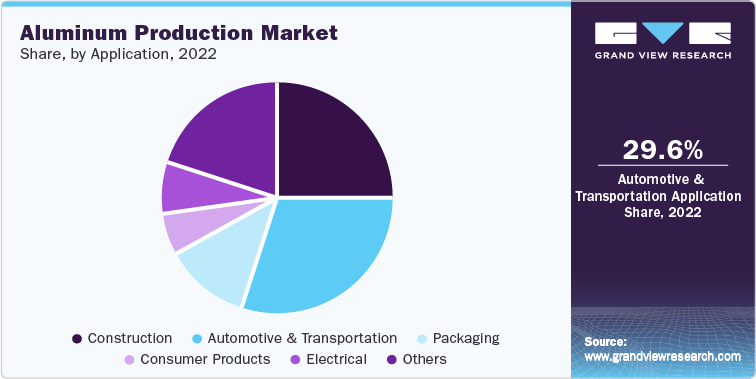 In terms of revenue, the automotive segment is predicted to grow at a CAGR of 3.2% over the forecast period. Many car parts, including doors, batteries, and bumpers, are made using aluminum, The use of aluminum in automotive manufacturing is becoming more prevalent as consumer preference for lightweight vehicles increases. According to the Aluminum Association, 16% of all vehicle weight in 2028 is anticipated to be made up of aluminum.
Copper Mining Market Analysis And Forecast
Copper is going to play a significant role in decarbonization, as the replacement of fossil fuels with renewable energy sources would require vast amounts of copper to distribute electricity over long distances. Copper will also play a crucial role in the electric vehicle transition. Owing to the above-mentioned reasons, the European Union declared copper as a critical raw material under the Critical Raw Materials Act (CRMA) in March 2023. This declaration will ensure easier access to capital and speedier permits for copper mining and recycling projects.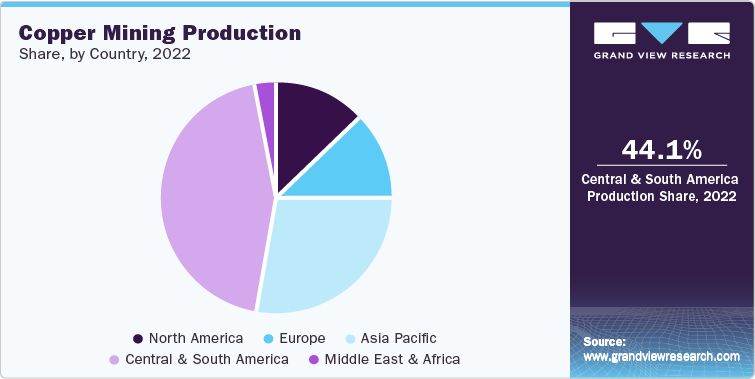 In terms of volume, Europe is anticipated to experience a CAGR of 2.9% over the forecast period. Copper consumption in Europe is expected to rise due to growing consumer demand for sustainability and carbon reduction, which has increased investment in developing green buildings and EVS.
Zinc Mining Market Analysis And Forecast
Zinc is primarily used for galvanization of steel in automotive and construction industries. It is also used in the production of bronze, brass, zinc-based alloys, and chemicals. Oxides and chemicals of zinc find use in tires, paints, and medical products. It is also used in die-casting alloys and semi-manufactured products.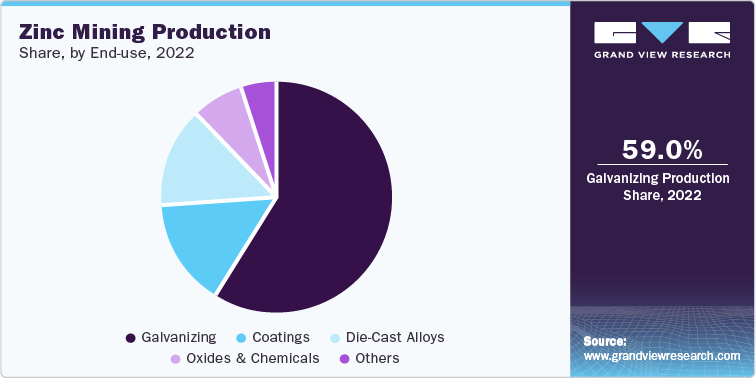 The galvanizing end-use segment dominated the volume share of the zinc market in 2022. Rising demand for steel is expected to have a positive influence on the zinc mining market. For instance, in January 2022, U.S. Steel Corp announced the construction of a new steel mill in Arkansas, U.S. The facility is expected to ass two electric arc furnaces. The plant is anticipated to have a production capacity of 3 million tons of crude steel per year. The mill is projected to start in 2024.
Lead Mining Market Analysis And Forecast
In 2022, the lead reserves were estimated to be around 2 billion tons. Substantial lead resources have recently been discovered in significant quantities, along with deposits of zinc, silver, or copper in Australia, China, Ireland, Mexico, Peru, Portugal, Russia, and the U.S. (Alaska). Australia has the largest has largest reserves of lead in the world.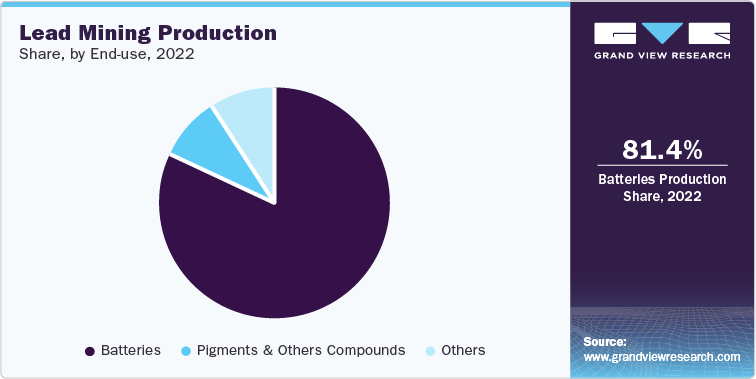 In 2022, more than 81% of lead went into the production of batteries, while the remaining is used in rolled and extruded products, pigments & other compounds, ammunition, cable sheathing, and alloys. The rising health concern with lead has led governments across the world to restrict the consumption of lead, which is negatively influencing the market.
Nickel Mining Market Analysis And Forecast
Nickel is ductile, malleable, corrosion resistant, and possesses superior strength. It is also a good conductor of heat and electricity. Nickel alloys have thousands of years of history before it was established as a metal. These alloys also exhibit good weldability by various joining processes. Nickel alloys are used in plastic deformation and casting technology. They have wide applications such as in jet engine components, turbine bodies, combustion chambers, tanks, exhaust valves, and turbine blades among others. They are also used in automotive, electronics, and household applications.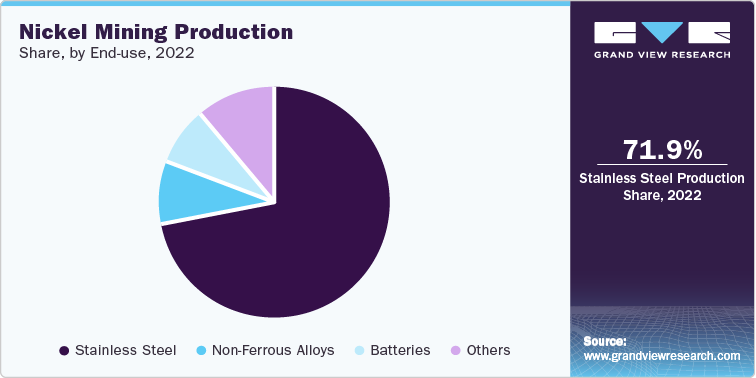 Nickel has the highest use in the production of stainless steel. The types of stainless steel such as ferritic, austenitic, and martensitic, require nickel to be added in various proportions during their production. The growth of the automotive industry is indirectly projected to drive the demand for nickel over the forecasting period.
Tin Mining Market Analysis And Forecast
The major application of tin is for soldering in the electronics and & semiconductor industry. It can be used in the production of alloys such as bronzes, solders, and fusible alloys. Along with lead, it forms excellent soldering materials for low-temperature melting. Fusible alloys of tin have applications in safety devices such as pressure cookers, fire sprinklers, electrical fuses, and boiler plugs.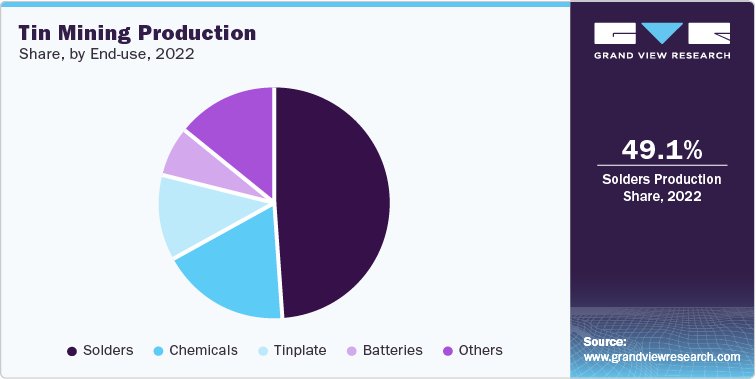 The batteries end-use segment is expected to register the fastest growth in the said forecast period. The tin is used as an anode in lithium-ion batteries. These batteries are widely used in EVs. Thus, increasing investment in the production of lithium-ion batteries for EVs is expected to propel the consumption of tin in the said forecast period.
For instance, in March 2022, Northvolt AB, a Swedish battery manufacturer, announced the construction of a gigafactory in Northern Germany. The facility is expected to start production by 2025 and is likely to have a 60 GWH annual production capacity. Thus, the surge in demand for electric vehicles is anticipated to positively influence the tin market in the country over the forecast period.
Tungsten Mining Market Analysis And Forecast
Tungsten, known for its exceptionally high melting point among metals, has historically found application in the filaments of incandescent bulbs, illuminating countless homes worldwide. However, the diminishing popularity of these bulbs, primarily due to their low energy efficiency, has led to a significant reduction in the use of tungsten filaments for lighting.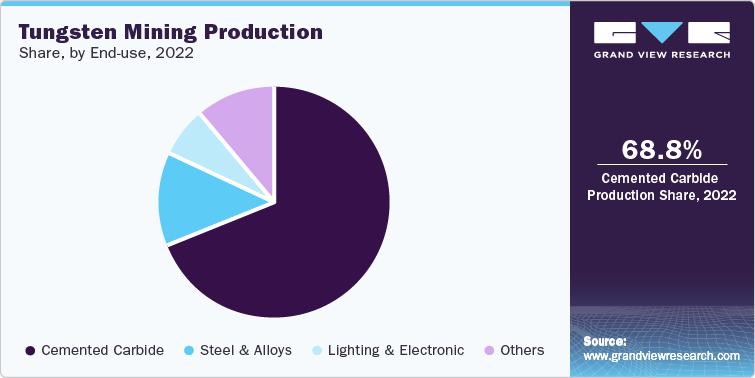 Cemented carbide is by far the largest application of tungsten in the industrial sector. It is one of the hardest compounds produced after heating an equal proportion of carbon and tungsten at 2,800°C. It is usually sold in powder form in different grain sizes. After the sintering process, it can be used in abrasives, industrial machinery, jewelry, and other instruments & tools.
Competitive Insights
The base metal mining market is fragmented with the presence of various key players such as BHP, Norilsk Nickel, Vale, GRUPO MÉXICO, and Glencore in the market. The industry also comprises a few medium and small players operating in different parts of the country. To remain competitive, mining companies are entering into long-term supply contracts with end users. Also, the companies use derivative contracts to protect them from market volatility. These fluctuations expose the companies to the risk of opportunity loss and mark-to-market fair value adjustments. These contracts could include forward sales, futures contracts, call options, and other derivative instruments.
Also, companies are following various acquisition and merger strategies to stay ahead of their competitors. For instance, in March 2023, Rio Tinto commenced underground production of copper from the Oyu Tolgoi mine in the Gobi Desert in Mongolia. The mine is anticipated to become the fourth-largest copper mine in the world by 2030.