Database Overview
Grand View Research's Biobanking Industry databook is a collection of market sizing & forecasts insights, market dynamics & trends, opportunity assessment, regulatory & technology framework, pricing intelligence, competitive benchmarking analyses, macro-environmental analyses studies. Within the purview of the databook, such information is systematically analyzed and provided in the form of summary presentations and detailed outlook reports on individual areas of research.The following data points will be included in the final product offering in four reports and one sector report overview.
Biobanking Industry Data Book Scope
Attribute

Details

Research Areas

Biobanks Market
Cell Banking Outsourcing Market
Cord Blood Banking Services Market
DNA & RNA Banking Services Market

Number of Reports/Deliverables in the Bundle

4 Individual Reports - PDFs
4 Individual Reports - Excel
1 Sector Report - PPT
1 Data Book - Excel

Cumulative Country Coverage

50+ Countries

Cumulative Product Coverage

25+ Level 1 & 2 Products

Highlights of Datasets

Product Revenue, by Countries
Service Revenue, by Countries
Biospecimen Type Revenue, by Countries
Type Revenue, by Countries
Application Revenue, by Countries
Cell Type Revenue, by Countries
Phase Revenue, by Countries
Bank Type Revenue, by Countries
End-use Revenue, by Countries
Competitive Landscape
Regulatory Guidelines, by Countries

Total Number of Tables (Excel) in the bundle

400+

Total Number of Figures in the bundle

250+
Biobanking Industry Data Book Coverage Snapshot
Markets Covered

Biobanks Market Size

USD 66.66 billion in 2021

4.6% CAGR (2022-2030)

Cell Banking Outsourcing Market Size

USD 9.86 billion in 2021

16.39% CAGR (2022-2030)

Cord Blood Banking Services Market Size

USD 35 billion in 2021

11% CAGR (2022-2030)

DNA & RNA Banking Services Market Size

USD 6.7 billion in 2021

9% CAGR (2022-2030)
Biobanking industry data book is a combination of the market data from four reports namely, biobanks, cell banking outsourcing, cord blood banking, and DNA & RNA banking services market. Biobanks market was valued at USD 66.06 Billion in 2021 with CAGR of 4.6% during 2022-2030. Cell banking outsourcing market projected to grow at the CAGR of 16.39%. Biobanks and biorepositories provide biological resources that aid in effective translation of biomedical research. Growing investments for R&D of advanced therapies including personalized medicine, regenerative medicine along with cancer genomic studies drives the biobanks market. Population-based banks are established to support research initiatives pertaining to precision medicine and create a general health awareness amongst the public. The combination bundle of these reports is designed to provide a holistic view of these highly dynamic market spaces in the biobanking industry.
Biobanks Market Analysis & Forecast
Biobanks market has been into existence since more than 60 years and it continues to evolve with introduction of new technologies such as NGS and increased focus on regenerative medicine. The collective popularity of precision/personalized medicine and genetic testing has been a key driver of the global biobanks market. Biobanks have been playing a significant role in biomedical research. Over the past few decades, there have been a number of advances in platforms and tools used in genetic studies. This has led to an increase in demand for biospecimens from clinical labs to develop assays and tissue models for genetic testing.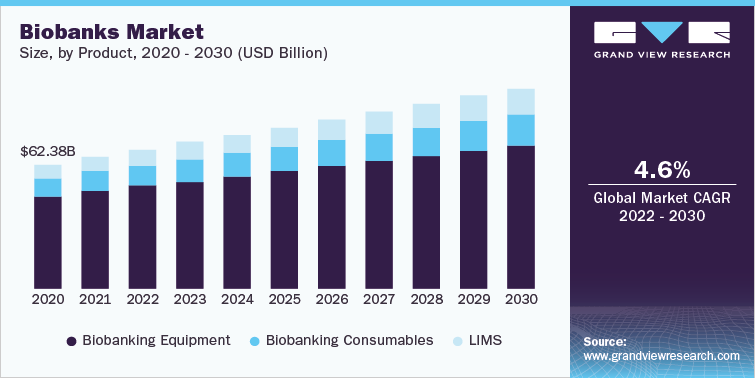 Biobanking of samples provides an opportunity to understand the genetic foundation of diseases. Biobanks aid in drug discovery, in development of personalized medicine and therapies as they provide sample collection, storage, and distribution services. The Biobank data can be used to translate the genetic discoveries into practical personalized treatments.
The COVID-19 pandemic has majorly affected the supply chain management as a result of lockdowns implemented in 2020 by many countries and continues to do the same due to delays in shipping and limited workforce. In April 2020, the Institute for Supply Management (ISM) published research data on COVID-19 impacts on global businesses and their supply chains. This research data suggested that, as a result of COVID-19 pandemic, many domestic and global companies need to shift their supply chain planning and inventory management. Around 90% of the organizations were expected to experience impacts of supply chain disruption during their second wave of research on COVID-19 pandemic. In addition, this data reveals percentage of supply chain disruptions in some countries which varies from country to country. The pandemic has disrupted the demand and supply of biobanks-related products (equipment, consumables, and management systems) due to which the market growth is expected to be hindered up to some extent. To address these issues, companies need to implement various strategies like partnerships & collaborations to strengthen and stabilize their supply chain management.
Cell Banking Outsourcing Market Analysis & Forecast
In cell banking outsourcing market, master cell banking accounted for the largest share of 64.7% in 2021 owing to their preparation being a prerequisite for production and usage of working cell banks. Master cell banking is done for longer duration and it also requires high-end equipment and advanced cryopreservation methodologies. As a result, cost incurred for these services is quite high, thus increasing the revenue share of this segment.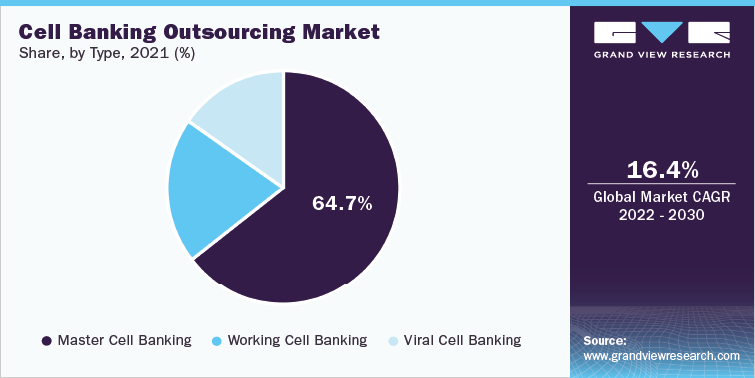 Some of the major factors driving the market growth include increasing adoption of stem cell therapy, development of advanced cryopreservation and cell banking methodologies, and high demand for mAbs and other life-saving biopharmaceuticals. Furthermore, increasing government support and new initiatives for the development of stable cell lines along with development of new technologies for better cell line storage and characterization are some key factors pushing the market growth during the assessment period. For instance, In December 2021, 'Be The Match BioTherapies' and 'Vineti' collaborated to develop an integrated supply chain management solution for gene and cell therapy. Such initiatives and collaborations are anticipated to drive the growth during the forecast period.
Cord Blood Banking Services Market Analysis & Forecast
In cord blood banking services market, private banking services segment held the largest market share with more that 90% of the market. This segment is expected to maintain its dominance because of the entry of new market players in the developing region. The public banking segment is expected to grow at a relatively slow rate. These type of banks are mostly found in developed regions. However, the hybrid banks segment is expected to exhibit fastest growth over the forecast period.
Private banks comprise industry participants that offer cord blood banking services for a particular individual and their family members. This service is provided at a substantial fee that is either charged in one go or may be divided into annual fee over the total duration of storage.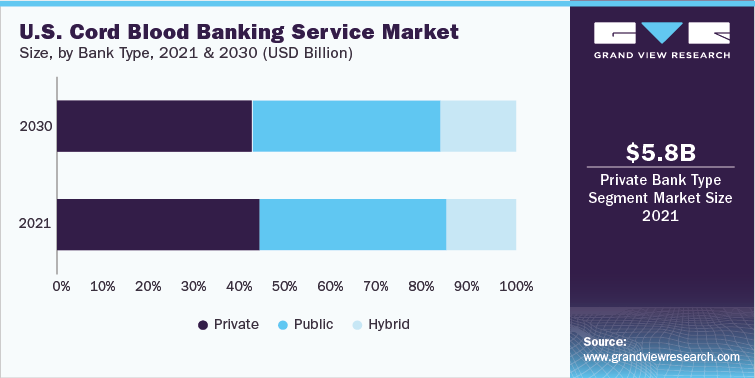 Services offered by private cord blood banks include long-term storage of cord blood components that are to be used by donors or relatives when needed, which involves high service cost. Currently, major private banks are expanding their businesses by implementing strategies such as geographical expansion, affordable pay packages, and expanding their services offerings. For instance, in February 2021, Cryo-Cell International, Inc., announced a collaboration contract with the Duke University. The agreement permits right to Cryo-Cell for proprietary processes and regulatory data related to cord blood as well as cord tissue manufactured at Duke.
Competitive Landscape
Competitive rivalry in the biobanking industry is high due to the presence of a large number of both well-established players and small- to mid-sized companies as well as biobanks in the market space. Some of the major players are Thermo Fisher Scientific Inc., Charles River Laboratories, Merck KGaA, Cord Blood America, Inc., Becton, Dickinson and Company, Cryo-Cell International, Inc, PromoCell GmbH, SGS Life Sciences, and Lonza Group AG among many others. These market players are involved in the manufacturing of various products associated with cell banking industry including reagents, consumables, and equipment along with certain services. To maintain a significant share in the market, key participants are undertaking various initiatives and implementing business strategies, such as product launches, product portfolio expansion, reinforcement and stabilizing the distribution network, and manufacturing capacity expansion and geographic reach expansion through acquisitions, collaborations, and partnership.
Some of the recent strategic developments in the market are mentioned below.
In June 2022, STEMCELL Technologies and PBS Biotech partnered for scaling up human PSCs (Pluripotent Stem cells). PBS will be supplying the 'PBS Mini Bioreactor' for 3D culture of these cells for a robust scale up and will help the company to increase its offering on research for cell therapy.

In June 2022, Biovault Family announced that it'll no longer be offering private stem cell banking services. However, the stored samples will continue to be storage according to the agreement.

In February 2022, Hamilton Storage expanded its range of VersoQ series of storage systems at adebut in SLAS 2022 conference. This will increase the company's product offerings to the biobanking industry.

In October 2021, Lonza announced expansion of the development services for mammalian processes at Singapore. The expansion aims to increase the cell culture, analytical and purification services at the facility.
Key Drivers
Continuous increase in COVID-19 cases
Increased focus on precision medicine and genetic testing
Changes in biobanking operations & automation of biobanks
Increase in the number of clinical trials globally
Growing industry and research collaborations
Technological Advancement Involving Cell Banking
Patent Expiration Of Blockbuster Biologics
Growing R&D Investments In Biotechnology Sector