Database Overview
Grand View Research's blister packaging sector database is a collection of market sizing information & forecasts, trade data, pricing intelligence, competitive benchmarking analyses, macro-environmental analyses, and regulatory & technological framework studies. Within the purview of the database, such information is systematically analyzed and provided in the form of outlook reports (1 detailed sectoral outlook report) and summary presentations on individual areas of research along with a statistics e-book.
Blister Packaging Industry Data Book Scope
Attribute

Details

Areas of Research

Healthcare Blister Packaging Market
Consumer Goods Blister Packaging Market
Industrial Goods Blister Packaging Market
Food & Confectionary Blister Packaging Market

Number of Reports/Presentation in the Bundle

1 Sector Outlook Report + 4 Summary Presentations for Individual Areas of Research + 1 Statistic ebook

Cumulative Coverage of Countries

50+ countries

Cumulative of Material

10+ Materials

Highlights of Datasets

Production Data, by Countries
Import/Export Data, by Countries
Demand/Consumption, by Countries
Competitive Analysis
Healthcare Blister Packaging Market, by Material
Consumer Goods Blister Packaging Market, by Material
Industrial Goods Blister Packaging Market, by Material
Food & Confectionary Blister Packaging Market, by Material
Blister Packaging Industry Data Book Coverage Snapshot
Markets Covered

Blister Packaging Industry

USD 27.09 billion in 2022

7.2% CAGR (2023-2030)

Healthcare Blister Packaging Market Size

USD 18.28 billion in 2022

7.7% CAGR (2023-2030)

Consumer Goods Blister Packaging Market Size

USD 2.23 billion in 2022

7.0% CAGR (2023-2030)

Industrial Goods Blister Packaging Market Size

USD 2.87 billion in 2022

6.3% CAGR (2023-2030)

Food & Confectionary Blister Packaging Market Size

USD 3.71 billion in 2022

5.6% CAGR (2023-2030)
Blister Packaging Sector Outlook
The economic value generated by the blister packaging industry was estimated at approximately USD 27.09 billion in 2022. This economic output is an amalgamation of businesses that are involved in the raw material suppliers, manufacturers of blister packaging materials, distribution & supply, and application of blister packaging.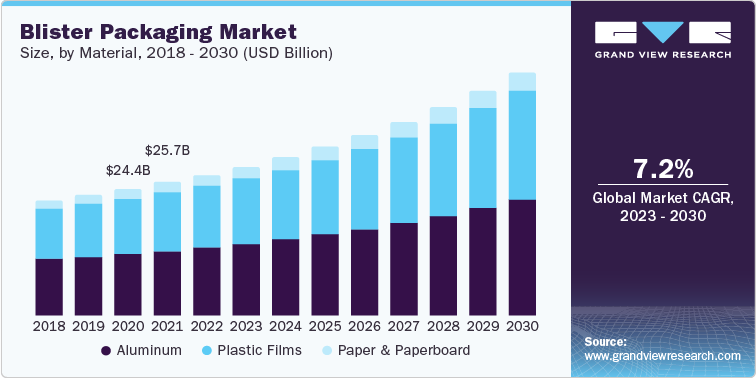 Material types in the blister packaging market include aluminum, paper & paperboard, and plastic films, among which aluminum dominates the material segment. This is due to aluminum foil being widely utilized in the pharmaceutical industry to pack pharmaceutical drugs. The properties of aluminum foil such as resistance to corrosion, ability to withstand changes in temperature and humidity, and anti-permeability against oxygen, fats, and ultraviolet light support its adoption in the blister packaging industry.
The aluminum foil, commonly known as Alu-PVC blister packaging, protects the pharmaceutical materials from the external environment and elements, leaving the material uncontaminated. In addition, plastic films such as PVC, polyethylene terephthalate (PET), and polyethylene (PE) provide sturdy packaging that is transparent and protects the material against external environmental factors, which is further driving the market growth for this segment.
Blister packaging is experiencing moderate growth in the U.S., driven by the high level of safety provided by these packaging solutions. The demand for blister packaging has been increasing over the years in the country due to the growing preference of blister packaging manufacturers and consumers for these packaging solutions. The market has also been fueled by the rising demand for over-the-counter drugs such as aspirin, antacids, and vitamin supplements.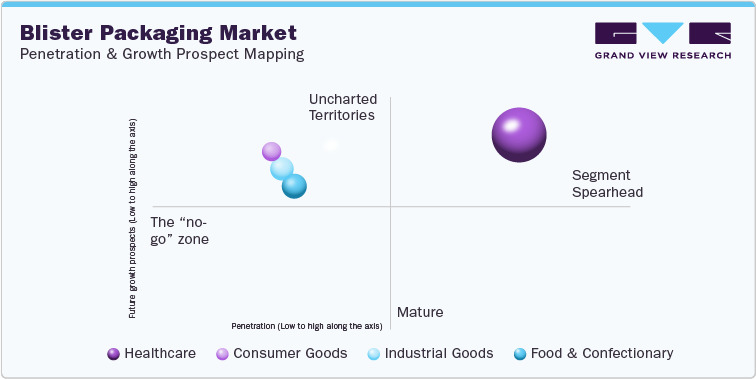 Healthcare was one of the strongest end-user segments owing to the blister packaging application in various healthcare materials such as prescription drugs, OTC drugs, and medical devices. The demand for this packaging solution in the healthcare industry is driven by various factors such as material protection, tamper-evident features, and convenience. Moreover, the market growth of blister packaging in the healthcare sector is also being driven by the increasing trend of smart blister packaging. This involves tracking a patient's drug intake to improve their compliance by providing medication data based on their activity.
The blister packaging market size was estimated at USD 27.1 billion in 2022 and is expected to grow at a CAGR of 7.2% during the forecast period. This growth is attributed to the rising demand for easy-to-use and convenient packaging solutions and their cost-effective properties. The use of pre-formed cavities allows producers and manufacturers of blister packaging to reduce extra material usage and minimize the need for additional protective packaging materials.
This packaging solution is often used for tamper-evident packaging as it provides a sealed and visible container for materials, allowing consumers to see if the material has been opened or tampered with. This type of packaging also makes it difficult to replace the material with counterfeit or other harmful substances without breaking the seal, providing an additional layer of protection for consumers.
Moreover, the demand for blister packaging is being driven by advancements in packaging design, including child-resistant packaging configurations, the emphasis on the use of recyclable materials, and the introduction of smart blister packaging solutions to provide information about the material and monitor its usage.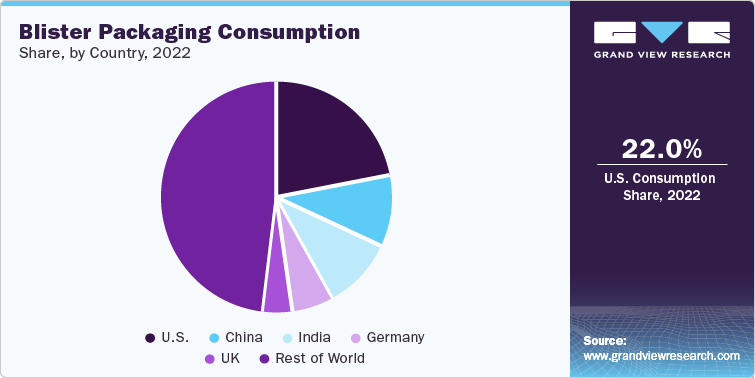 The industry players are adopting several strategies, including partnerships, expansions, mergers & acquisitions, joint ventures, and partnership agreements to increase the customer base and individual market share. For instance, in January 2023, TekniPlex announced an expansion in its material portfolio by launching a high-visible and mid-barrier polypropylene (PE) blister packaging solution to cater to the healthcare end-use industry.
Healthcare Blister Packaging Market Analysis And Forecast
Healthcare is one of the largest markets with a significant impact on the global economy and is constantly growing at a significant rate owing to the rising population around the globe. Changing lifestyles, high rates of urbanization, and increased per capita income are driving the demand for healthcare facilities, which, in turn, is driving the blister packaging industry.
The global healthcare blister packaging market is expected to witness growth on account of rising demand for pharmaceutical drugs and materials in developed and developing economies, increasing demand from healthcare end-use industries for tamper-evident packaging designs provided by blister packaging solutions, and their high visibility properties. A shift in consumer preference from traditional packaging for healthcare materials to tamper-evident designed unit-dose blister packaging solutions and their cost-effective properties is driving the blister packaging market.
Several key companies are collaborating and adopting acquisition strategies to strengthen their market positions in the blister packaging market. For instance, in June 2022, VisiPak, a packaging division of Sinclair & Rush, Inc., announced the acquisition of INDEPAK, Inc., a U.S.-based packaging manufacturer for medical packaging applications. With this acquisition, VisiPak expanded its material portfolio range to cater to the medical packaging industries across North America.
Consumer Goods Blister Packaging Market Analysis And Forecast
Rising consumption of consumer goods such as electronics and cosmetics, along with increasing disposable income of consumers, is likely to drive the demand for blister packaging in consumer goods applications. For instance, Arcade Beauty offers thermoform blister packaging for its wide range of make-up and skin-care materials. Moreover, the rising environmental concerns among consumers have given rise to blister packaging solutions made with sustainable materials.
Demand for electronics, cosmetics, and personal care materials from millennials is on the rise in major countries, including the U.S., China, India, and other developing economies. The consumer base in these countries is expected to increase substantially over the forecast period leading to a higher demand for blister packaging.
Industrial Goods Blister Packaging Market Analysis And Forecast
The industrial good blister packaging segment includes automotive and semiconductor industry applications. Various automotive parts, such as repair tools, small batteries, and other tiny components, use blister packaging. In addition, electrostatic discharge (ESD) is a significant aspect of the semiconductor industry, as it can cause damage to sensitive semiconductor parts. Blister packaging solutions are designed to provide ESD protection by utilizing an anti-static coating and treatment to the material packaging. This ensures that the materials are safely protected from static electricity, reducing the risk of physical damage during shipping and warehousing.
North America is a hub for computer hardware and accessories, including components, peripherals, and networking devices, owing to the presence of several well-established electronic companies in the region, such as Apple Inc. and Microsoft. Blister packaging is widely adopted in this sector to protect fragile and sensitive electronic components during shipping and warehousing. The cold-form blister packaging provides cushioning, prevents moisture ingress, and reduces the risk of damage during handling and transportation.
Food & Confectionary Blister Packaging Market Analysis And Forecast
Blister packaging consists of a plastic cavity or blister that holds the product and a backing card or foil that provides visibility and protection. Blister packaging is often used to package single-serve snacks such as chocolates, candies, gum, or nuts. It keeps these items fresh and protected from external factors like moisture and air.
Blister packaging is popular for medicated chewing gums and mints. The individual blisters ensure precise dosing, hygiene, and protection of the product. Some bakery items, like cookies, brownies, and pastries, are individually packed in blister packaging to maintain freshness and prevent breakage during transport. Blister packaging can be used for individual condiments and sauce servings in restaurants and takeout orders. It provides portion control and minimizes mess. Blister packaging plays a crucial role in the food and confectionery sector by providing protection, visibility, portion control, and convenience for various products, from snacks and candies to supplements and condiments. It helps ensure product integrity and enhances the overall consumer experience.
Competitive Insights
The blister packaging market witnesses highly competitive rivalry with the presence of a number of global blister packaging manufacturers such as Amcor plc, Constantia Flexibles, UFlex Limited, Sonoco Products Company, WINPAK LTD., and WestRock Company along with some other new and growing market players. The global blister packaging market players face strong competition from other regional and national players as well as from each other since they have a well-established supply chain network, knowledge of suppliers across markets, and are well-informed about the packaging compliances and regulations for various end-use sectors.
In May 2023, SÜDPACK Medica introduced "PharmaGuard", an innovative blister concept for solid applications. The recyclable packaging concept serves as a building block in improving the eco-balance of the pharmaceutical industry.

In October 2022, TekniPlex Healthcare introduced the world's first fully transparent mid-barrier recyclable blister pack at Pack Expo.

In August 2021, Klöckner Pentaplast (kp) launched kpNext, the first-to-market innovation in reusable PET blister films. kpNext is the only PET recyclable blister that works flawlessly with pharmaceutical manufacturing form, fill, and seal equipment.

In April 2021, Amcor launched the revolutionary New AmSky™ blister system that eliminates PVC from blister packaging, offering improved recyclability.