Database Overview
Grand View Research's blood glucose meters market industry data book is a collection of market sizing information & forecasts, regulatory data, reimbursement structure, competitive benchmarking analyses, macro-environmental analyses, and regulatory & technological framework studies. Within the purview of the database, all such information is systematically analyzed and provided in the form of presentations and detailed outlook reports on individual areas of research.
The following data points will be included in the final product offering in 3 reports and one sector report overview:
Blood Glucose Meters Industry Data Book Scope
Attribute

Details

Research Areas

Blood Glucose Meters

Self-Monitoring Blood Glucose Monitors
Continuous Blood Glucose Monitors
Point-of-care glucose Testing Devices

Number of Reports/Deliverables in the Bundle

3 Individual Reports - PDFs
3 Individual Reports - Excel
1 Sector Report - PPT
1 Data book - Excel

Cumulative Country Coverage

50+ Countries

Highlights of Datasets

Product Revenue, by Countries
Technology Revenue, by Countries
Competitive Landscape
Regulatory Guidelines, by Countries
Reimbursement Structure, by Countries

Total Number of Tables (Excel) in the bundle

190

Total Number of Figures in the bundle

221
Blood Glucose Meters Industry Data Book Coverage Snapshot
Markets Covered

Blood Glucose Meters Industry

USD 15.80 billion in 2022

7.3% CAGR (2023-2030)

Point-of-care Glucose Testing Market Size

USD 3.27 billion in 2022

3.7% CAGR (2023-2030)

Blood Glucose Monitors Market Size

USD 12.53 billion in 2022

8.1% CAGR (2023-2030)

Self-Monitoring Devices Market Size

USD 8.34 billion in 2022

7.8% CAGR (2023-2030)

Continuous Glucose Monitoring Devices Market Size

USD 4.20 billion in 2022

8.7% CAGR (2023-2030)
Blood Glucose Monitoring Devices Market Analysis And Forecast
The global blood glucose monitoring devices market generated over USD 12.53 billion revenue in 2022 and is projected to expand at a CAGR of around 8.1% during the forecast period to reach USD 23.15 billion by 2030.
The global market for blood glucose monitoring devices is showing major shift towards the preference of continuous glucose monitoring (CGM) devices. Specially designed CGM devices for athletes are expanding the user base beyond chronic diabetes patients. While the CGM devices are gaining traction, its customer base is still limited to the high-income group. Lack of reimbursement policies and affordability are major factors influencing purchase decisions in price sensitive regions including Asia Pacific and the Middle East.
The study highlights a comparative analysis between CGM and self-monitoring blood glucose meter. The global segment trends are provided in: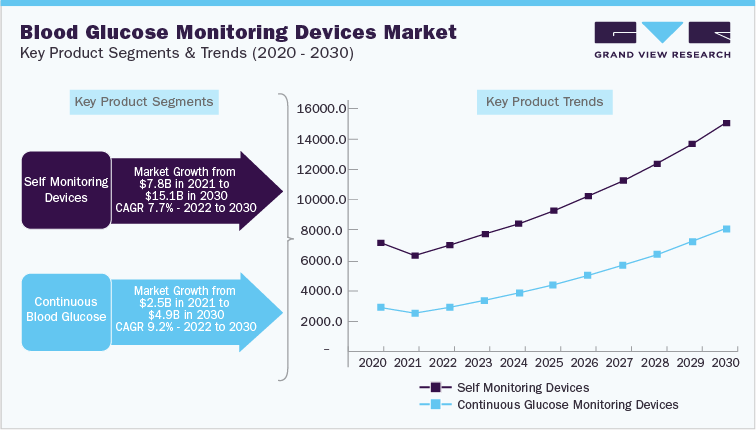 The upcoming technological advancements include the collaboration of CGM with insulin delivery systems to ensure a single integrated system for efficient diabetes care management. For instance, Tandem Diabetes Care launched its Slim X2 insulin pump, which is integrated with Dexcom G6 CGM. Similarly, Ypsomed Holdings developed CGM system called Mylife Unio Neva, which integrates with the company's insulin pump. The readings are then transferred to Mylife application via Bluetooth.
Point-of-care Glucose Testing Market Analysis And Forecast
POC testing is considered as a solution to meet the requirements of customers for rapid testing or Short Turn-Around Testing (STAT). Currently, internal laboratory procedures are highly automated and efficient and focus on acute treatment. The introduction of analyzers that help conduct short turnaround tests can interact with a Laboratory Information System (LIS). LIS is being increasingly installed in outpatient and inpatient settings, as they are capable of handling testing procedures ranging from specimen collection to result interpretation. These automated systems have proven to improve the turnaround for routine testing.
The healthcare industry is emphasizing on shorter hospital stays, better acute care, and expansion of outlying surgical centers, which has consequently increased the demand for STAT testing. POC management solutions allow patients and healthcare providers to easily collect, share, and manage specimens to meet the regulatory requirements.
Over the past few years, the utilization of centralized POC testing with near-to-patient testing has gained popularity. Connecting several devices to one single software platform enables laboratories to cluster the devices in a Near Patient Testing (NPT) area and prevents the need for multiple data management systems. Therefore, cooperative partnerships among vendors of POC and LIS systems as well as partnership with laboratory staff allow advancements in NPT concept and enable better management of diabetes. The hospital patient management system can be operated efficiently by utilizing analytical systems placed in remote central hub, thereby eliminating the use of internal systems
Top 10 countries with number of adults (20-79 years) suffering from diabetes in 2019, 2030, and 2045
| | | | | |
| --- | --- | --- | --- | --- |
| Rank | Country | 2019 | 2030 | 2045 |
| 1 | China | 116.4 | 140.5 | 147.2 |
| 2 | India | 77 | 101 | 134.2 |
| 3 | U.S. | 31 | 34.4 | 37.1 |
| 4 | Pakistan | 19.4 | 26.2 | 36 |
| 5 | Brazil | 16.8 | 21.5 | 26 |
| 6 | Mexico | 12.8 | 17.2 | 22.3 |
| 7 | Indonesia | 10.7 | 13.7 | 16.9 |
| 8 | Germany | 9.5 | 11.9 | 16.6 |
| 9 | Egypt | 8.9 | 11.4 | 15 |
| 10 | Bangladesh | 8.4 | 10.1 | 10.4 |
Competitive Landscape
Technological advancements: especially in case of biosensors, Bluetooth integration, & real-time alerts, and price competitiveness are two of the major strategies mostly focused on by the major market players. Each new product is designed to be easier to use by its antecedents and laced with connectivity. Increasing awareness of advanced diabetes management tools is among the top priority of market players.
Mentioned below are some of the key strategies followed by major players in recent years:
In April 2021, Medtronic announced its ongoing commitment to health equity for people of colour living with diabetes. To better understand and address these discrepancies, the company committed investments in collaborations with the American Diabetes Association (ADA) and T1D Exchange, as well as additional research activities.

In May 2021, Medtronic received CE marking for its Guardian 4 Sensor, which does not require a fingerstick for calibration or diabetes treatment decisions. With the CE marking, this sensor can be used along with the MiniMed 780G insulin pump system or the InPen, as well as for standalone CGM use.

In June 2022, Abbott announced the development of a new bio wearable that will monitor CGM and ketone levels in one sensor. This device has received breakthrough designation from the U.S. FDA.

In April 2022, Roche launched cobas Pulse, its new point-of-care blood glucose monitoring device, for hospital professionals. This device runs on an Android operating system and is equipped with digital health applications, performing a wide range of clinically valuable functions-from clinical decision support to measuring digital biomarkers & vital signs