Database Overview
Grand View Research's catalyst sector database is a collection of market sizing information & forecasts, trade data, pricing intelligence, competitive benchmarking analyses, macro-environmental analyses, and regulatory & technological framework studies. Within the purview of the database, such information is systematically analyzed and provided in the form of outlook reports (1 detailed sectoral outlook report) and summary presentations on individual areas of research along with a statistics e-book.
Catalyst Industry Data Book Scope
Attribute

Details

Areas of Research

Heterogeneous Catalyst Market
Homogeneous Catalyst Market

Number of Reports/Presentation Covered in the Bundle

1 Sector Outlook Report + 2 Summary Presentations for Individual Areas of Research + 1 Statistic ebook

Cumulative Coverage of Countries

20+ Countries

Cumulative Coverage of Applications

04 Applications Categories

Highlights of Datasets

Demand/Consumption, by Country
Competitive Analysis
Industry Trend Analysis
Market Outlook
Catalyst Industry Data Book Coverage Snapshot
Markets Covered

Catalyst Industry

7,967 kilotons in 2022

4.3% CAGR (2023- 2030)

Heterogeneous Catalyst Market

5,875.3 kilotons in 2022

4.2% CAGR (2023- 2030)

Homogeneous Catalyst Market

USD 2,091.7 kilotons in 2022

4.6% CAGR (2023- 2030)
Catalyst Sector Outlook
The economic value generated by the catalyst industry was estimated at approximately USD 29.72 billion in 2022. This economic output is an amalgamation of basic catalyst categories namely, heterogenous and homogenous.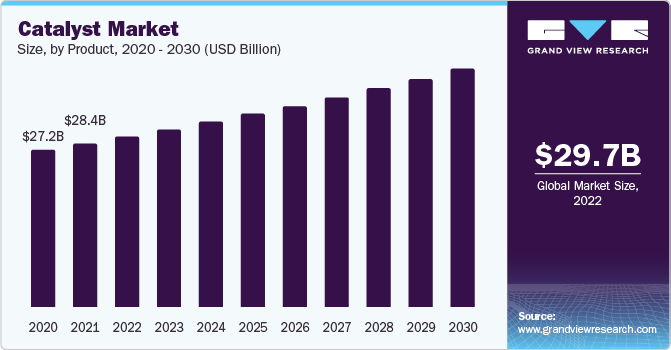 The global catalyst market has witnessed remarkable growth in the recent past. This growth can be attributed to the rising demand for catalysts from manufacturers across the world. These manufacturers seek catalysts to optimize their processes, improve yields, save costs, and conserve energy. The demand stems from various applications such as chemical synthesis, petroleum refining, polymers & petrochemicals, and environmental purposes. A catalyst is a substance that accelerates chemical reactions by providing an alternative pathway with lower energy requirements. By doing so, it enables reactions to occur at faster rates and under milder conditions. Catalysts can exist in different forms, either as heterogeneous substances (solid/gas or solid/liquid) or as homogeneous substances (in the same phase as the reactants). Regardless of their form, catalysts are designed to interact with reactant molecules, ultimately leading to the desired products.
These catalysts are majorly used in chemical synthesis, petroleum refining, polymer, and other environmental activities. In polymerization processes, catalysts facilitate the joining of monomers to form long chains, resulting in the creation of various plastic materials. For example, Ziegler-Natta catalysts are commonly used in the production of polyethylene and polypropylene, two widely used plastics. These catalysts, typically based on transition metal compounds, enable the control of molecular weight, branching, and stereochemistry, leading to the desired properties of the polymer. Catalysts also help in the synthesis of specialty polymers like polystyrene, polyvinyl chloride, and polyethylene terephthalate, which find applications in packaging, construction, automotive, and electrical industries. The use of catalysts in polymer production enables enhanced process efficiency, improved product quality, and the ability to tailor the properties of polymers for specific applications. According to the OFB Tech Pvt. Ltd, the polymers market accounted for USD 589.9 billion in 2021 and is anticipated to grow at a CAGR of 5.4% from 2021 to 2030 to reach USD 946.99 billion by 2030. Additionally, in 2022, there was a 5.2% growth in global polymer production compared to the previous year. China emerged as the top global polymer producer, followed by the U.S. and India. Asia Pacific contributed to over 50% of the global polymer production, with China alone accounting for over one-third of the total output.
Polymer Demand in India (Million Tons)
Particulars

Financial Year

Growth %

2021-2022

2022-2023

Polymer

15.3

17.1

12%

Polyethylene (PE)

6.4

7.0

8%

Polypropylene (PP)

6.1

6.4

6%

Polyvinyl chloride (PVC)

2.8

3.7

32%
According to the annual report published by the Chemicals and Petrochemicals Manufacturers' Association (CPMA) for the year 2022, India is projected to have an overall polymer demand of 17.05 million tons for the financial year 2022-23. This represents a 7.2% increase from the previous fiscal year, where the demand was reported at 15.9 million tons. In the financial year 2021-22, India's polymer demand had already grown by 7.7% from the preceding year, reaching 14.78 million tons. Moreover, the CPMA also estimates that India's cumulative polymer production for the financial year 2022-23 will be 13.69 million tons, based on factories operating at 90% of their capacity. This is compared to the actual output of 12.86 million tons reported in the previous financial year, with the same operating rate. Thus, the advancing demand for polymers in various end-use industries, including the electronics and automotive industries, is anticipated to drive the polymer market growth over the forecast period.
The rising demand for petrochemical and petroleum products is expected to boost the catalyst demand. Catalysts play a crucial role in the synthesis of these products, making them an essential component. As a result, growth of the oil and gas sector is projected to have a positive impact on catalyst demand in the foreseeable future. In addition, growing emphasis on green technologies and increasing demand for energy have made catalysts indispensable in petroleum refining operations. Catalysts are extensively used in various processes such as reforming, hydro-processing, and cracking in refineries. This is driven by the need to comply with emission control regulations and achieve efficient and environmentally conscious processes with high yields. Consequently, catalysts are being sought after in different applications to enhance process efficiency and contribute to environmental conservation efforts.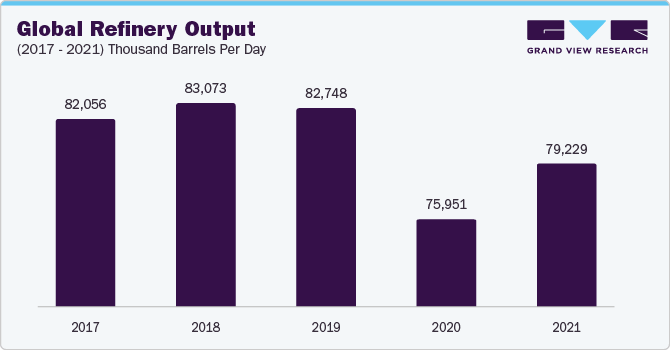 The global refinery throughput was 82,056 thousand barrels per day in 2017, which declined in 2020 to 75,591 thousand barrels per day but again started witnessing an increase and reached 79,229 thousand barrels per day in 2021. The demand for catalysts in the petroleum refining industry is expected to grow further due to the increasing volume of refinery output in Africa, Middle East, and Asia Pacific. Strong demand from refineries was one of the major drivers for the catalysts market during the past years and the trend is anticipated to continue over the forecast period.
Catalysts are invaluable in chemical synthesis as they accelerate reaction rates, enable selective reactions, promote sustainability, and unlock novel synthesis routes. By reducing the activation energy required for reactions, catalysts expedite the formation of desired products, enhancing productivity and efficiency. Their unique interaction with reactants allows for precise control over reaction outcomes, facilitating the production of specific compounds while minimizing unwanted byproducts. Additionally, catalysts contribute to sustainable processes by conserving resources, minimizing energy requirements, and enabling the use of renewable feedstocks. Moreover, their ability to enable the formation of complex molecules opens up new possibilities for drug discovery, materials science, and other fields, driving innovation in chemical synthesis.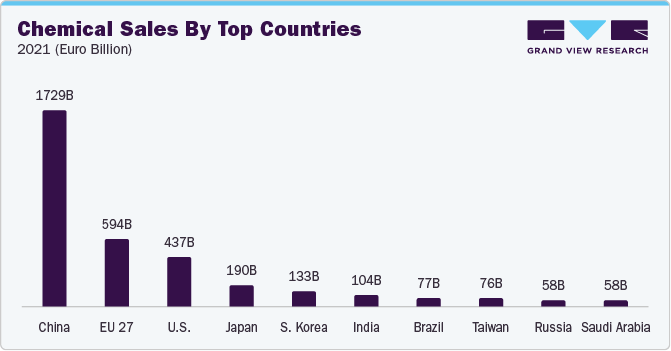 As depicted above according to the European Chemical Industry Council, China witnessed the highest sales in the chemical sector, accounting for Euro 1,729 billion, followed by EU-28 countries and the U.S. The growth in China can be attributed to competitive local manufacturers, established multinationals, development of optimized solutions, and competitive pricing, among others. The advancing chemical industry worldwide is anticipated to further drive the demand for catalysts used in chemical synthesis over the forecast period.
The catalyst market is characterized by a high level of concentration, with major players such as BASF SE, Evonik Industries AG, Johnson Matthey Plc, Clariant International Ltd, Umicore SA, and Heraeus Group dominating the industry. These leading producers of catalysts cater to the growing demand from various end-use markets including chemicals, petroleum refining, and the polymer industry. To ensure continued growth, these players are actively engaged in continuous innovation. They invest in research and development (R&D) to reduce the costs associated with existing catalytic processes and strive to develop new, environmentally friendly, and cost-effective catalyst technologies. This focus on innovation helps expand the user base of catalysts and targets future market growth. For instance, American Elements has introduced a new catalytic process that utilizes rhodium on alumina spheres, as a more affordable alternative to the expensive pure rhodium/iridium catalysts. Such initiatives not only increase market share by attracting new end users but also strengthen relationships with existing customers and market players through the provision of improved technological solutions.
The companies are actively engaging in mergers and expansions to solidify their market presence. A notable example is Evonik, a prominent chemical company, which recently integrated its alkoxides business with its catalysts business line in January 2023. This strategic consolidation has resulted in the catalysts business line offering a wider selection of homogeneous catalysts in addition to its existing range of heterogeneous catalysts. This move is anticipated to enhance the market position of the catalysts business line, which has been identified as one of Evonik's areas of growth.
Heterogeneous Catalyst Market Analysis And Forecast
Heterogeneous catalyst accounted for a share of 71.7% in 2022. Heterogeneous catalysts are a class of catalysts that play a crucial role in countless industrial processes, offering remarkable versatility and efficiency. Unlike homogeneous catalysts, which are in the same phase as the reactants, heterogeneous catalysts exist in a different phase, typically as solids in contact with gaseous or liquid reactants. This unique characteristic allows them to facilitate chemical reactions by providing a surface for the reactants to interact and undergo transformations. Heterogeneous catalysts have wide-ranging applications, from petroleum refining and chemical synthesis to environmental remediation and energy production. Their ability to be reused, high selectivity, and adaptability to various reaction conditions make them indispensable in driving sustainable and economically viable chemical processes, paving the way for a greener and more efficient future.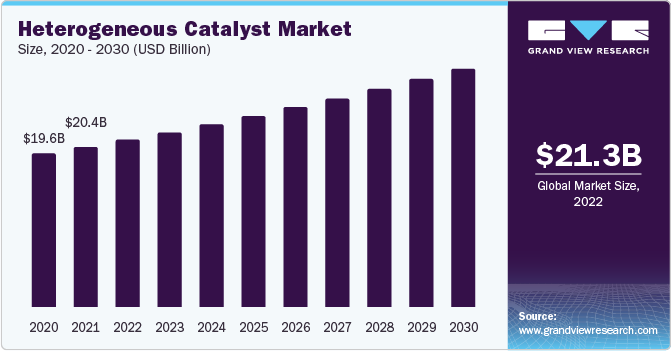 Environmental application segment dominated the market with a revenue share of 32.7% in 2022. Catalysts are an important factor in environmental remediation including industrial and municipal waste treatment and vehicle emission control systems. They help curb pollution and negate many adverse environmental impacts including clean burning of fuels. Additionally, catalysts assist in the production of low-polluting refrigerants. Across various industries, catalysts are widely employed to treat and mitigate the environmental impact of effluents. Particularly, heterogeneous catalysts are instrumental in reducing air pollution caused by vehicles. They effectively decrease the emissions of nitrogen oxides, hydrocarbons, and carbon monoxide, making them indispensable components of car converters.
According to the International Organization of Motor Vehicle Manufacturers (OICA), the U.S. produced 10.06 million vehicles in 2022, a growth of 10% as compared to 2021. Additionally, India produced a total of 5,456,857 vehicles including commercial vehicles, three-wheelers, passenger vehicles, and two-wheelers, witnessing a growth of 24% in 2022, compared to 2021. With the advancing automotive industry and increasing limits on vehicle emissions demand for catalysts in light and passenger vehicles is bound to increase at a significant rate.
Homogeneous Catalyst Market Analysis And Forecast
Homogeneous catalyst accounted for a share of 28.3% in 2022. Homogeneous catalysts are a class of catalysts that operate in the same phase as reactants, typically in a liquid or gas state. They help facilitate chemical reactions by interacting directly with reactant molecules, often forming unstable intermediates that subsequently lead to the desired products. Homogeneous catalysts possess the ability to control reaction pathways, enhance reaction rates, and promote selectivity, making them invaluable in a wide range of industries, including pharmaceuticals, polymer synthesis, and fine chemical production. Their homogeneous nature allows for precise control over reaction conditions and enables the catalyst to be easily separated from the product, enhancing the overall efficiency of the process. With their versatility and effectiveness, homogeneous catalysts continue to play a pivotal role in advancing scientific research and industrial applications, contributing to the development of innovative products and sustainable technologies.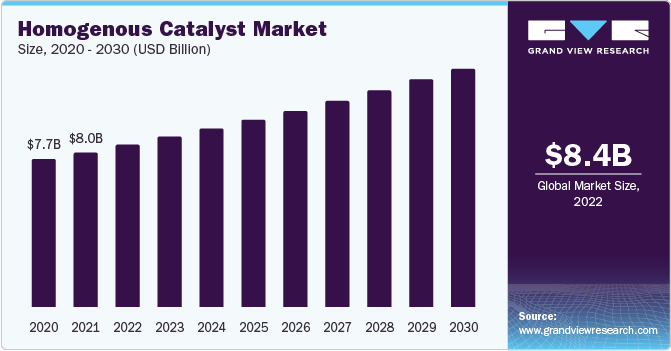 Chemical synthesis in the application segment is one of the segments dominating the market with a revenue share of 26.3% in 2022. Chemical synthesis includes organic and inorganic chemistry wherein processes such as Contact, Haber, and converting ammonia to nitric acid involve the use of catalysts. Therefore, global chemical industry growth is expected to augment catalyst demand over the forecast period. Moreover, catalysts are increasingly being used in chemical synthesis on account of superior characteristics including high stability, activation of alkenes and alkynes, and promoting regio-, diastereo-, and enantioselective processes. Furthermore, they possess exceptional functional group tolerance, are cost-competitive, and do not require additional ligands. All the above-mentioned factors are responsible for increasing use of catalysts in chemical synthesis and driving segment growth.
Competitive Insights
The catalyst market operates within a highly competitive environment, driven by the ever-growing demand for efficient and sustainable chemical processes across various industries. The market is characterized by intense rivalry among key players, including multinational corporations, specialty chemical companies, and research institutions. These entities continually strive to develop and commercialize novel catalyst technologies that offer improved performance, selectivity, and cost-effectiveness.
The market faces competition from alternative technologies, such as enzymes and biocatalysts, which provide eco-friendly and enzymatic solutions. Industry players must also navigate stringent regulatory frameworks and evolving environmental standards that prioritize the use of catalysts with low toxicity and reduced environmental impact. Continuous research and development efforts, collaborations, and strategic partnerships are crucial for companies to gain a competitive edge in this dynamic landscape. Companies are actively pursuing mergers and partnerships as a means to solidify their market position. A prime example of this is W. R. Grace & Co.-Conn., which recently completed its acquisition of Rive Technology, Inc., a manufacturer of FCC catalysts. As part of the acquisition, W. R. Grace & Co.-Conn. integrated all of Rive Technology's service offerings, employees, and technological assets into its own business model. This integration of technology has enabled the company to offer a more customer-centric product range, catering to the increasing catalyst demands of the petrochemical and refining sectors.
Moreover, innovation, product differentiation, and a strong focus on customer needs are key factors that drive success in the catalyst industry, ensuring that companies can meet the ever-evolving demands of the chemical industry while contributing to a sustainable future. Some of the prominent players include Albemarle Corporation, Haldor Topsoe A/S, BASF SE, Evonik Industries AG, LyondellBasell Industries Holdings B.V., Arkema, The Dow Chemical Company, Haldor Topsoe A/S, W. R. Grace & Co.-Conn., Johnson Matthey, Axens, Honeywell UOP, Zeolyst International, Clariant, Umicore, and Exxon Mobil Corporation.
Company Financial Performance, for Catalyst Business Portfolio, 2022 (USD Billion)
Company

Contact Details

Revenue

The Dow Chemical Company

2211 H.H. Dow Way

Midland, 48674,

U.S.

Tel: +1 (989) 636-1000

Packaging & Specialty Plastics: USD 29.26 Billion

BASF SE

22777 Springwoods Village Parkway Spring,

Texas, U.S.

Tel: 77389-1425

Surface Technologies: USD 0.69 Billion

Evonik Industries

Rellinghauser Straße 1—11

45128 Essen

Germany

Tel: +49 201 177-01

Specialty Additives: USD 4.51 Billion