Database Overview
Grand View Research's Cell Culture Industry databook is a collection of market sizing & forecasts insights, market dynamics & trends, opportunity assessment, regulatory & technology framework, pricing intelligence, competitive benchmarking analyses, macro-environmental analyses studies. Within the purview of the databook, such information is systematically analyzed and provided in the form of summary presentations and detailed outlook reports on individual areas of research.The following data points will be included in the final product offering in four reports and one sector report overview.
Cell Culture Industry Data Book Scope
Attribute

Details

Research Areas

Cell Culture Market
Cell Culture Media Market
3D Cell Culture Market
Primary Cell Culture Market

Number of Reports/Deliverables in the Bundle

4 Individual Reports - PDFs
4 Individual Reports - Excel
1 Sector Report - PPT
1 Data Book - Excel

Cumulative Country Coverage

50+ Countries

Cumulative Product Coverage

25+ Level 1 & 2 Products

Highlights of Datasets

Consumable Revenue, by Countries
Product Revenue, by Countries
Application Revenue, by Countries
Type Revenue, by Countries
End user Revenue, by Countries
Separation Methods Revenue, by Countries
Technology Revenue, by Countries
Competitive Landscape
Regulatory Guidelines, by Countries

Total Number of Tables (Excel) in the bundle

400+

Total Number of Figures in the bundle

250+
Cell Culture Industry Data Book Coverage Snapshot
Markets Covered

Cell Culture Industry

Cell Culture Market Size

USD 21.05 billion in 2021

11.86% CAGR (2022-2030)

Cell Culture Media Market Size

USD 3.62 billion in 2021

12.13% CAGR (2022-2030)

3D Cell Culture Market Size

USD 1.74 billion in 2021

10.74% CAGR (2022-2030)

Primary Cell Culture Market Size

USD 3.79 billion in 2021

10.66% CAGR (2022-2030)
Cell Culture industry data book is a combination of the market data from four reports namely, cell culture, cell culture media, 3D cell culture, and primary cell culture market. Cell culture market was valued at USD 21.05 Billion in 2021 with CAGR of 11.86% during 2022-2030. Cell culture media market and primary cell culture market are also growing at the CAGR of 12.13% and 10.66% respectively.
Advancements in these techniques such as 3D cell culture and its growing adoption for biopharmaceuticals manufacturing, tissue engineering, and drug development applications are projected to boost the demand for cell culture products. Also, large number of oncology focused research trials and broadening scope of gene therapy applications are also expected to drive the market growth. In addition, development in regenerative medicine market space and high unmet medical needs in emerging markets are expected to drive the adoption of cell culture technologies. The combination bundle of these reports is designed to provide a holistic view of these highly dynamic market spaces in this industry.
Cell Culture Media Market Analysis & Forecast
Rise in adoption of cell culture techniques for development of substrates for safe production of viral vaccines and increased global demand for advanced therapy medicinal products is driving the market. Moreover, increase in R&D investments in biotechnology, life sciences, and biopharmaceutical research activities have led to high demand for cell culture media for 2D and 3D culture systems. In addition, technological advancements in the field of cell culture are allowing entry of new and improved culturing techniques, which is expected to boost market growth for cell culture media.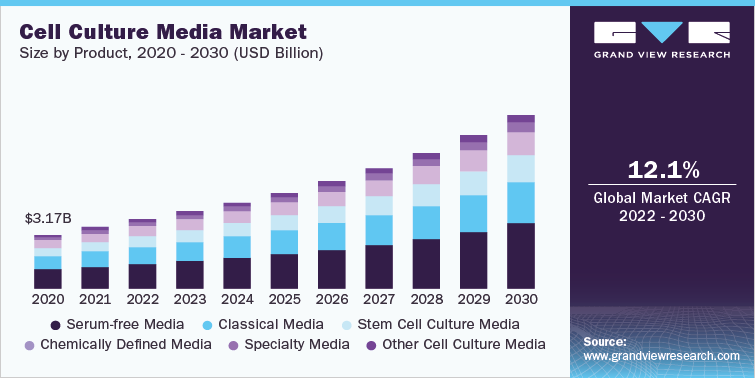 The outbreak of COVID-19 has created lucrative opportunities in the cell culture media business. It has also facilitated novel advancements in vaccine development involving DNA/RNA-based vaccines. Several leading pharmaceutical companies are investing heavily in R&D to create brand-new vaccinations, treatments, and testing tools for this pandemic. Furthermore, cell culture produced Adeno-associated virus vectors have shown promising outcomes as an effective protein & gene delivery tools in vaccine manufacturing and gene therapy. Moreover, increasing the reproducibility and accuracy of cell culture models continues to be one of the biggest drivers of methodological improvement in vaccine development today. All the registered COVID-19 vaccines have shown success in clinical trials, and all have been tested using cell culture methods. Hence, there remains room for optimization when it comes to cell-based vaccine production, thereby positively impacting the market.
In last decade, stem cell therapy has emerged as the most promising and rapidly growing scientific research area. The development of treatment methods has induced great opportunities. Stem cells have considerable potential to become one of the most significant aspects of medicine. Funding related to stem cell research has augmented in recent years, which has further accelerated the growth of research. Furthermore, key cell culture media manufacturers launched new products for stem cell research. For instance, in December 2020, CollPlant and STEMCELL Technologies announced a product manufacturing and supply agreement. As per the terms of this agreement, CollPlant will sell its patented recombinant human Type I collagen, rhCollagen, to STEMCELL Technologies. The company will incorporate CollPlant's product into its cell culture media kits portfolio.
3D Cell Culture Market Analysis & Forecast
In 3D cell culture market, scaffold based segment led the global market in 2021 and accounted for revenue share of 67%. Scaffold-based 3D cell cultures are expected to register lucrative growth owing to rising demand for 3D cellular model-based research coupled with increasing incidence of chronic diseases.
Scaffolds are used by researchers in 3D cell culture techniques to provide support to the organization of cell cultures. Introduction of novel tools and technologies is expected to boost revenue generation in this segment. For example, development of 3D nanofibrous scaffold designated as 3P, which enables cultured cells to form tight irregular aggregates similar to in vivo tumors. Furthermore, companies such as Sigma-Aldrich, Tecan, and others involved in providing scaffold-based 3D cell culture tools and solutions contribute to the growing share of this segment.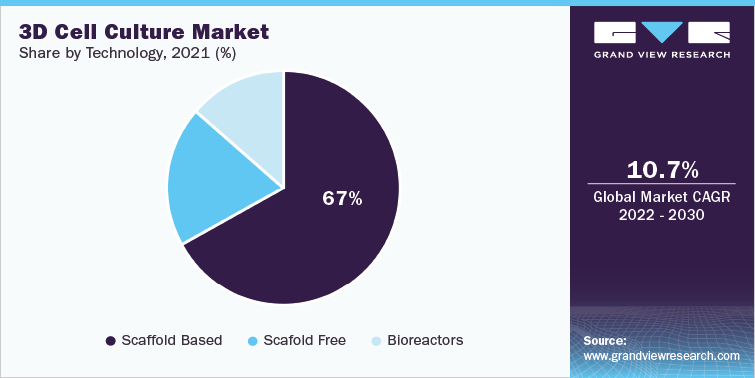 Microfluidic networks are being incorporated within cell-embedded hydrogels and several other matrices. These networks facilitate efficient convective transport of nutrients and other soluble growth factors throughout the 3D scaffolds. Use of these technologies can significantly improve viability and functionality of cell types, such as hepatocytes that are impoverished when grown in static cultures.
Primary Cell Culture Market Analysis & Forecast
In primary cell culture market, the enzymatic degradation segment held the largest market share of about 33% in 2021. This is the most widely used technique for cell disaggregation. This technique provides high yield of primary cells and employs different types of enzymes to disaggregate the tissue. Crude trypsin is the enzyme which is mostly used in this technique. But, before culturing, it is highly recommended to remove any residues of these enzymes from the cells to maintain the yield and purity of cells. Due to less damaging effect on the cells and more yield, enzymatic disaggregation is the most preferred method in primary cell culture separation and culture techniques.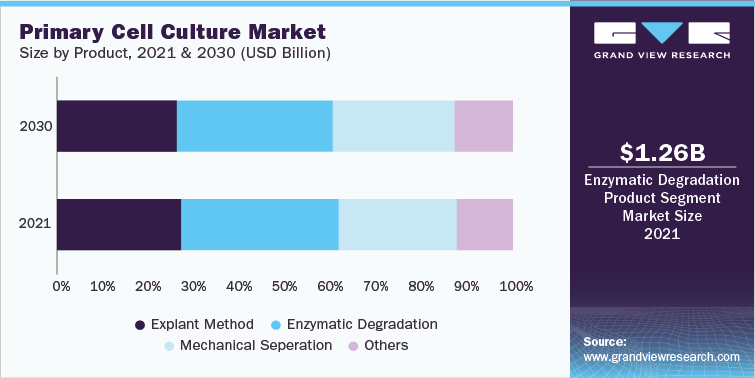 The other advantages of enzymatic degradation include:
It avoids selection of cells by migration and, hence, usually yields more representative sample.

It is comparatively faster than explant.
There are various types of enzymes used for the cell degradation process, some of these include trypsin, collagenase, protease, pronase, dispase, and hyaluronidase among others. Collagenase is present in abundance in higher animals. The enzyme is effectively used for disaggregation of several tissues. It has been widely used to disaggregate brain, liver, lung and other epithelial tissues. Increasing popularity of bacterial collagenase is further driving the segment. Bacterial collagenases are preferred over human/animal-derived collagenases for tissue digestion as their production is comparatively cheaper and as they also exhibit higher specificity for native collagen than vertebrate collagenases. Several players operating in the market, such as Thermo Fisher Scientific, Inc., Merck, and PromoCell GmbH, offer a broad range of collagenases for obtaining primary cells.
Competitive Landscape
Competitive rivalry in the cell culture industry is high due to the presence of a large number of both well-established players and small- to mid-sized companies as well as CROs in the market space. Some of the major players are Bio-Rad Laboratories, Inc., Thermo Fisher Scientific Inc., Sartorius AG, Eppendorf AG, Merck KGaA, Becton, Dickinson and Company, PromoCell GmbH, and Lonza Group AG among many others. These market players are involved in the manufacturing of various products associated with this industry including cell media, reagents, consumables, and equipment along with certain services. To maintain a significant share in the market, key participants are undertaking various initiatives and implementing business strategies, such as product launches, product portfolio expansion, reinforcement and stabilizing the distribution network, and manufacturing capacity expansion and geographic reach expansion through acquisitions, collaborations, and partnership.
Some of the recent strategic developments in the market are mentioned below.
In February 2022 Cytiva signed an agreement with NecstGen to develop new gene and cell therapies. Both companies are working to fast-track the development of gene and cell therapies using their manufacturing proficiencies. Cytiva is expected to provide its services, solutions, and technologies to NecstGen

In January 2022, Thermo Fisher Scientific Inc. acquired PeproTech. PeproTech's recombinant proteins range complements the cell culture media products of Thermo Fisher Scientific, Inc. and will allow it to offer customers substantial benefits through a combined offering.

In November 2021, Sartorius announced plans of investing around USD 300 million through the end of 2024 to expand its activities in South Korea. The company was expected to launch cell culture media production and build sterile systems for flexible & efficient manufacturing of biopharmaceuticals in the country's biopharma hub Songdo in Incheon

In July 2021, Sartorius Stedim Biotech, a subgroup of Sartorius AG, acquired Xell AG. The company develops, produces, and markets feed supplements and media for cell cultures, particularly for the manufacturing of viral vectors that are used in vaccines and gene therapeutics
Key Drivers
Expansion in the scope of cell culture technology

Demand for biopharmaceuticals, artificial organs & vaccine production

Demand for serum - free, specialty and customized media

Expansion of biosimilars business

Increase in demand for stem cell therapy and regenerative medicine

Rising demand for organ transplantation & tissue engineering

Technological advancements in scaffold-free technology

Rise in investments and R&D funding for cell-based research

Rising usage of primary cell culture products in in-vitro testing and drug screening

Rising incidence of cancer and other chronic diseases

Advancements in genetic engineering protocols

Rise in research funding for functional biology and research