Database Overview
Grand View Research's centrifugal pump sector database is a collection of market sizing information & forecasts, trade data, pricing intelligence, competitive benchmarking analyses, macro-environmental analyses, and regulatory & technological framework studies. Within the purview of the database, such information is systematically analyzed and provided in the form of outlook report and summary presentations on individual areas of research.
Centrifugal Pump Industry Data Book Scope
Attribute

Details

Areas of Research

Radial Flow Pumps Market
Mixed Flow Pumps Market
Axial Flow Pumps Market

Number of Reports/Deliverables in the Bundle

1 Sector Outlook Report + 3 Summary Presentations for Individual Areas of Research + 1 Statistic ebook

Cumulative Coverage of Countries

50+ countries

Cumulative Coverage of Products

10+ products

Highlights of Datasets

Demand/Consumption, by Countries
Competitive Analysis
Centrifugal Pump Market, by Desgin
Centrifugal Pump Market, by Configuration
Centrifugal Pump Market, by End-use
Centrifugal Pump Industry Data Book Coverage Snapshot
Markets Covered

Centrifugal Pump Industry

USD 37.5 billion in 2022

Radial Flow Pumps Market Size

USD 24.4 billion in 2022

3.6% CAGR (2023-2030)

Mixed Flow Pumps Market Size

USD 9.1 billion in 2022

4.7% CAGR (2023-2030)

Axial Flow Pumps Market Size

USD 4.0 billion in 2022

3.1% CAGR (2023-2030)
Centrifugal Pump Sector Outlook
The economic value generated by the centrifugal pump industry was estimated at approximately USD 37.5 billion in 2022. The rising residential and commercial infrastructure, coupled with the expansion of the manufacturing industry globally, is expected to drive the demand for centrifugal pumps globally.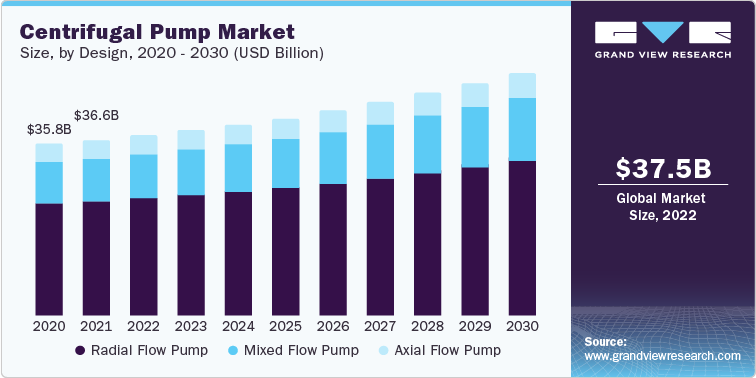 One of the key drivers behind this growth is the need for reliable and efficient fluid transportation in various applications. Centrifugal pumps offer advantages such as high flow rates, low maintenance requirements, and the ability to handle a varied range of fluids, making them indispensable in numerous industries. Furthermore, the development of advanced technologies, such as variable frequency drives (VFDs) and IoT-enabled monitoring systems, has enhanced the performance and efficiency of centrifugal pumps, further fueling their adoption.
Table 1. Share of Major Centrifugal Pump Countries, by Design 2022
Total

Radial Flow

Mixed Flow

Axial Flow

USD Billion

37.5

USD Billion

24.4

USD Billion

9.1

USD Billion

4.0

China

17%

China

17%

China

17%

China

17%

United States

11%

United States

11%

United States

11%

United States

11%

India

8%

India

8%

India

8%

India

8%

Japan

6%

Japan

6%

Japan

6%

Japan

6%

Australia

5%

Australia

5%

Australia

5%

Australia

5%

Germany

4%

Germany

4%

Germany

4%

Germany

4%

Rest of the World

49%

Rest of the World

49%

Rest of the World

49%

Rest of the World

49%
Source: Grand View Research
Despite this growth, the market faces competitive pressures and regulatory challenges, including stringent environmental standards. Manufacturers are responding by focusing on innovation in pump design, materials, and control systems to meet these challenges. Looking ahead, the centrifugal pump market is poised for continued expansion, driven by factors such as population growth, urbanization, and the imperative for efficient water management solutions. Additionally, the ongoing trend of digitalization and automation in industrial processes presents opportunities for manufacturers to develop smart and connected centrifugal pump solutions that offer real-time monitoring, predictive maintenance, and enhanced energy efficiency. These factors collectively indicate a promising trajectory for the centrifugal pump industry in the foreseeable future.
Radial Flow Pumps Market Analysis And Forecast
Radial flow pumps, a subcategory of centrifugal pumps, have emerged as critical equipment in various industries due to their efficiency, versatility, and ability to manage diverse fluid types. These pumps are widely deployed in applications spanning agriculture, water treatment, mining, and industrial manufacturing. Characterized by their unique design, which facilitates the outward flow of fluids perpendicular to the impeller's rotation axis, radial flow pumps are renowned for their capacity to move fluids efficiently and generate high flow rates, making them indispensable for numerous pumping requirements.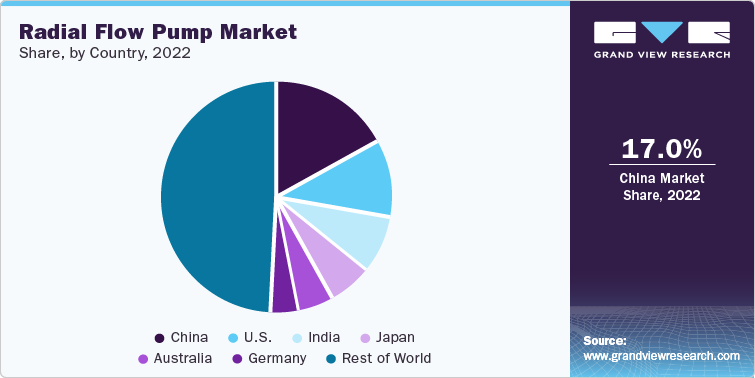 The agriculture end-use led the market and accounted for 26.9% of the global revenue share in 2022. Increasing urban population, rising investment, and favorable government policies promoting the agriculture sector are projected to foresee tremendous demand for centrifugal pumps in the agriculture sector in developing markets including China, India, and Brazil. Radial flow pumps play a crucial role in water treatment and wastewater management systems, aligning with the increasing emphasis on environmental sustainability and clean water supply.
Mixed Flow Pumps Market Analysis And Forecast
The mixed flow pumps are known for their unique hybrid design that combines elements of both centrifugal and axial flow pumps and has garnered significant attention in recent years due to their versatility and efficiency in handling various fluid types. A notable trend in the mixed flow pumps market is the increasing demand for these pumps across a wide range of industries such as agriculture, irrigation, flood control, and wastewater management, offering a balanced solution between the high flow rates of axial flow pumps and the pressure capabilities of centrifugal pump. This adaptability to diverse fluid viscosities and conditions has contributed to the widespread adoption of mixed flow pumps.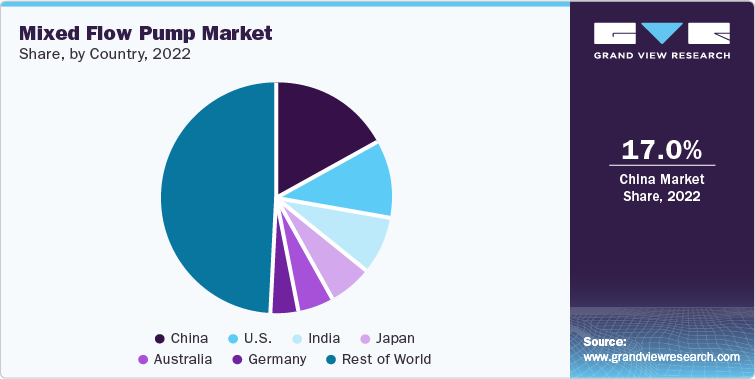 Key drivers propelling the mixed flow pumps market include the growing global emphasis on water resource management. As environmental concerns and regulatory requirements intensify, the need for efficient flood control, irrigation, and wastewater handling solutions becomes paramount. Population growth and urbanization further contribute to the demand for mixed flow pumps, particularly in regions facing increased water management challenges.
Axial Flow Pumps Market Analysis And Forecast
The axial flow pumps characterized by their unique design that allows fluid to flow parallel to the impeller's axis, have gained prominence for their efficiency and suitability in applications requiring high flow rates. Axial flow pumps find applications in sectors such as agriculture, aquaculture, drainage, and wastewater management, offering a compelling solution for moving large volumes of fluid with minimal energy consumption. This adaptability to handling low-head, high-flow conditions has contributed to their growing popularity.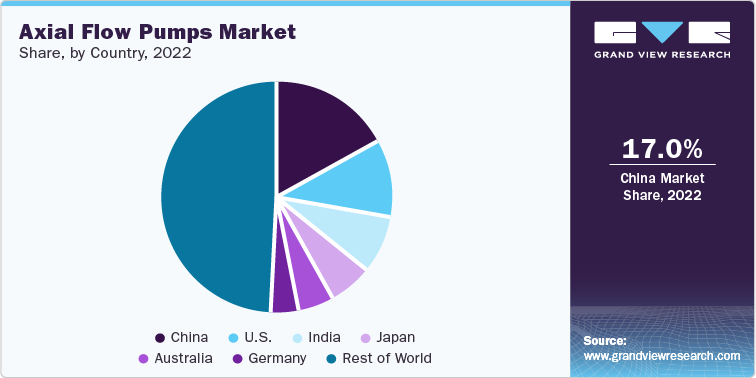 Efforts to enhance the efficiency and environmental sustainability of axial flow pumps are driving innovation in this sector. Manufacturers are investing in research and development to optimize pump designs, materials, and hydraulic characteristics. This focus aligns with the broader industrial push towards energy-efficient and eco-friendly fluid handling solutions. The ongoing integration of digital technologies and smart systems in fluid handling processes will likely create opportunities for advanced and interconnected axial flow pump solutions.
Competitive Insights
The competitive landscape of the centrifugal pump market is characterized by a mix of established global players and regional manufacturers. Several multinational companies dominate the global centrifugal pump industry. Some of the leading players include Grundfos; ITT Goulds Pumps; Xylem Inc.; Sulzer Ltd.; Flowserve Corporation; and KSB SE & Co. KGaA. These companies have a strong global presence, extensive product portfolios, and a well-established customer base. Companies continuously invest in research and development to innovate their product offerings. This includes developing more energy-efficient pumps, incorporating advanced materials, and integrating smart technologies for remote monitoring and predictive maintenance. Strategies adopted by the companies usually include product portfolio expansion, product development, and distribution network expansion.
In May 2023, Xylem, Inc. launched a global pump manufacturing site in Egypt. This plant will provide industry-leading water solutions to Egypt, North Africa, and across Africa

In February 2023, CPC Pumps International extended its product range by launching its first-ever BB5 pump. The development of the BB5 opens opportunities in the more extreme high-pressure side of the business

In August 2023, EBARA Pumps announced the opening of a new branch, EBARA Pumps Europe S.p.A. Nordic (EPEN) located in Sweden

In March 2023, KSB completed the acquisition of Bharat Pumps, a prominent producer of centrifugal pumps and various other products. The responsibility for managing this recent addition will fall under KSB SupremeServ, a specialized division within KSB focused on providing aftermarket services. KSB SupremeServ will oversee the spare parts operations and servicing of more than 5,000 BP&CL products that are currently in use across a wide range of industries and locations throughout India

In August 2022, Grundfos entered into an agreement to acquire Mechanical Equipment Company, Inc. (MECO). This acquisition will further expand Grundfos' water treatment capabilities and strengthen Grundfos' position as a provider of water treatment solutions