Database Overview
Grand View Research's clinical laboratory industry data book is a collection of market sizing & forecasts insights, regulatory & technology framework, pricing intelligence, competitive benchmarking analyses, macro-environmental analyses studies. Within the purview of the database, such information is systematically analyzed and provided in the form of summary presentations and detailed outlook reports on individual areas of research.The following data points will be included in the final product offering in two reports and one sector report overview.
Clinical Laboratory Industry Data Book Scope
Attribute

Details

Research Areas

Clinical Laboratory Tests Market
Clinical Laboratory Service Market

Details of Product

2 Individual Reports - PDFs
2 Individual Reports - Excel
1 Sector Report - PPT
1 Data book - Excel

Cumulative Country Coverage

25+ Countries

Cumulative Product Coverage

25+ Level 1 + Level 1

Highlights of Datasets

Test Type Revenue, by Country
Application Revenue, by Country
Service Providers Revenue, by Country
End Use Revenue, by Country
Regulatory Revenue, by Country
Value Chain Analysis Revenue, by Country
Competitive Landscape
Pricing Analysis

Total Number of Tables (Excel) in the bundle

200

Total Number of Figures in the bundle

160
Clinical Laboratory Industry Data Book Coverage Snapshot
Markets Covered

Clinical Laboratoryt Industry

USD 321.20 billion in 2022

5.52% CAGR (2023-2030)

Clinical Laboratory Tests Market Size

USD 103.67 billion in 2022

9.42% CAGR (2023-2030)

Clinical Laboratory Service Market Size

USD 217.53 million in 2022

3.24% CAGR (2023-2030)
The global clinical laboratory markets combine to account for USD 321.20 billion in revenue in 2022, which is expected to reach USD 493.72 billion by 2030, growing at a cumulative rate of 5.52% over the forecast period. The combination bundle is designed to provide a holistic view of these highly dynamic market spaces.
Clinical Laboratory Tests Market Analysis & Forecast
The global clinical laboratory tests market was valued at USD 103.67 billion in 2022 and is anticipated to witness growth at a rate of 9.42% over the forecast period. The market growth can be attributed to the increasing adoption of clinical laboratory tests, increasing prevalence of targeted diseases, and rising geriatric population. According to the UN data, in 2020, there were around 727 million individuals aged 65 and above globally. Moreover, the share of the global population aged 65 and above is expected to grow from 10% in 2022 to 16% in 2050. Aging is considered a great risk factor for developing chronic diseases, which is expected to fuel the demand for clinical laboratory tests over the forecast period.
Growing prevalence of target diseases such as cardiovascular diseases, diabetes, and others is anticipated to fuel market growth. According to the WHO, in 2021, cardiovascular diseases are the leading cause of death globally. Around 17.9 million people die each year due to CVDs, which is about 31% of total death worldwide. The mortality rate of CVDs is higher in low and middle-income countries compared to high-income countries due to the low penetration rate of clinical tests in these regions. High unmet medical needs in developing regions are anticipated to create new opportunities for the market stakeholders. Moreover, increasing awareness among people regarding early diagnosis of diseases is anticipated to propel the market growth over the projected period.
Increasing introduction of technologically advanced and innovative solutions for maximizing efficiency and reducing test errors is increasing the adoption of clinical laboratory tests. Integrated workflow management systems, database management tools, and patient test records are gaining importance in the healthcare industry with increasing volume of sample processing every year. In addition, increasing adoption of laboratory automation systems is enhancing efficacy, reduces errors, and increases patient safety by integrating mechanical, electronic, and informatics tools. For instance, in May 2022, Thermo Fisher Scientific introduced an automated Indiko clinical chemistry analyzer that provides results faster with sample-oriented testing. Moreover, in April 2022, Sysmex Corporation launched its three-part differential system, XQ-320 XQ-Series Automated Hematology Analyzer in Europe, used as a stand-alone device to improve the quality of tests.
Favorable initiatives undertaken by government bodies such as WHO, CDC, ECPC, EFPIA, non-government bodies, and market players to increase the adoption of clinical laboratory tests are expected to support the market growth over the forecast period. For instance, the government of India has introduced the Free Essential Diagnostics Initiative under the National Health Mission to address high out of pocket expenditure on diagnostics and improve the quality of healthcare services by increasing the availability of diagnostic tests at public health facilities. Moreover, high insurance coverage and supportive regulatory policies especially in developed countries are promoting routine tests. These tests are billed to insurance providers directly, thereby facilitating ease in the assessment of payment by patients.
Clinical Laboratory Service Market Analysis & Forecast
The global clinical laboratory service market was valued at USD 217.53 billion in 2022 and is anticipated to witness growth at a rate of 3.24% over the forecast period. Increasing burden of chronic diseases, growing demand for early diagnostic tests, and increasing research activities to develop novel diagnostic and therapeutic solutions are expected to increase the market for clinical laboratory service market. Moreover, advancements in data management and sample preparation due to the growing volume of testing are further supporting the market growth.
Increasing research activities by pharmaceutical & biotechnology companies and research & academic institutes are driving the demand for clinical laboratory services to study different health conditions across the globe. As of January 2023, ClinicalTrials.gov registered 439,527 research studies, out of which, around 31% of clinical studies were registered in the U.S. Moreover, the presence of intense research activities related to genetic & proteomics, cancer, and other life-threaten diseases is expected to drive revenue generation in the coming years. Presence of several genetic and tumor tests in the development phases is further anticipated to fuel the market growth.
Most research studies are being conducted in North America and Europe region. A large number of clinical studies conducted in these regions are due to favorable government policies, the presence of strong market players coupled with heavy investments done by them in R&D activities. However, research activities are expected to increase in the Asia Pacific region over in next couple of years. Increasing shift towards the APAC region, high unmet medical needs, low operational cost, and increasing contract research organizations in the region will boost the demand for clinical laboratory services in the region. Moreover, APAC countries are becoming more competitive by building appropriate infrastructure, technological expertise, and scale to manage large clinical trials. For instance, The Clinical Trials Activity initiative of the government of Australia will provide USD 750 million from 2022 to 2032 to increase clinical trial activities in Australia.
Increasing prevalence of chronic & life-threatening diseases and increasing demand for early diagnosis are expected to drive the market growth. These factors have prompted entities for the introduction of innovative services to address the growing demands. Introduction of accurate and technologically advanced products, such as companion diagnostics, biochips, & microarrays, has bolstered the demand for early disease detection. Moreover, quality clinical laboratory services encompass numerous aspects, including the total testing process and derivation of results that are to be communicated to the requesting physician.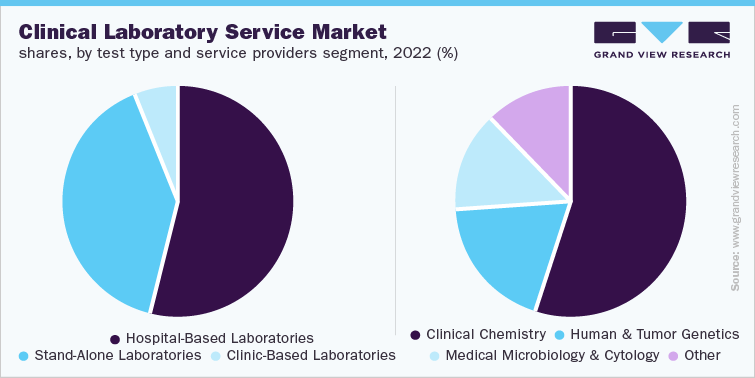 Favorable government initiatives and increasing collaboration between government and non-government bodies to conduct research studies are anticipated to fuel the market growth. For instance, NCI-MATCH Trial is supported by the National Cancer Institute in collaboration with ECOG-ACRIN Cancer Research Group, Alliance for Clinical Trials in Oncology, NRG Oncology Group, SWOG, and healthcare professionals at public & private institutions across the U.S. Moreover, the National Institutes of Health has launched the Rapid Acceleration of Diagnostics (RADx) initiative to boost the development and commercialization of technologies for COVID-19 testing. NIH has partnered with other government bodies such as CDC, U.S. FDA, Defense Advanced Research Projects Agency, and Biomedical Advanced Research and Development Authority to expand testing development and distribution in the country.
Increasing penetration of AI and machine learning in clinical trials is smoothening the process the molecule identification and drug development. It allows the process of a large quantity of data and automates the system which leads to a faster and more efficient clinical trial system. Moreover, automated technologies reduce the complexity associated with drug discovery & development and reduce the cost of clinical studies. Machine learning and automation can be applied at every stage of clinical trials resulting in a lower cost of overall drug development programs. The increase in the success rate of clinical studies is expected to increase the demand for clinical laboratory services in the coming years.
Competitive Landscape
Competitive rivalry in this market is to be high due to a large number of service providers, increasing number of contract research organizations, and high R&D investment to develop novel tests for different healthcare applications. These players have adopted strategies such as acquisitions, and collaborations to strengthen their product portfolio offered for clinical laboratory tests. Moreover, global players are expanding their services in developing countries due to high medical unmet needs and collaborating with local players in developing economies.
Some of the key players in the clinical laboratory market include Abbott, ARUP Laboratories, OPKO Health, Inc., Bioscientia Healthcare GmbH, Charles River Laboratories, NeoGenomics Laboratories, Healthscope, Labco, Laboratory Corporation of America Holdings, Fresenius Medical Care AG & Co. KGaA, QIAGEN, Quest Diagnostics Incorporated, Siemens Healthcare GmbH, Tulip Diagnostics (P) Ltd, Sonic Healthcare Limited, Merck KGaA, Biosino Bio-Technology and Science Inc., Cinven, DaVita Inc., SGS Société Générale de Surveillance SA, and Almac Group
Key market players are adopting different market strategies such as new product launches, mergers & acquisitions, and collaboration to increase their market footprint. For instance, in March 2022, Mindray launched a new BC-700 series of hematology analyzers that incorporate complete blood counts and erythrocyte sedimentation rate tests. Moreover, in January 2022, Agilent introduced Seahorse XF Pro Analyzer, a pharma-oriented workflow solution having advanced experimental design and analysis tools. Furthermore, in January 2021, Quest Diagnostics and CDC entered into an agreement to offer genomic sequencing to recognize new patterns & mutations of transmission of SARS-CoV-2 using the data collected from Quest lab. Such initiatives undertaken by market players are increasing the market growth over the forecast period.