Database Overview
Grand View Research's construction fasteners sector database is a collection of market sizing information & forecasts, trade data, pricing intelligence, competitive benchmarking analyses, macro-environmental analyses, and regulatory & technological framework studies. Within the purview of the database, such information is systematically analyzed and provided in the form of outlook reports (1 detailed sectoral outlook report) and summary presentations on individual areas of research.
Construction Fasteners Industry Data Book Scope
Attribute

Details

Areas of Research

Mechanical Anchors Market
Chemical Anchors Market
Bolts Market
Rivets Market
Screws Market
Nails Market

Number of Reports/Presentations in the Bundle

1 Sector Outlook Report + 6 Summary Presentations for Individual Areas of Research

Cumulative Coverage of Countries

10+ Countries

Cumulative Country of Applications

2 Applications

Highlights of Datasets

Demand/Consumption, by Countries
Competitive Analysis
Construction Fasteners, by Application
Construction Fasteners Industry Data Book Coverage Snapshot
Markets Covered

Construction Fasteners Industry

USD 26.67 billion in 2022

Mechanical Anchors Market Size

USD 1.85 billion in 2022

2.8% CAGR (2023-2030)

Chemical Anchors Market Size

USD 0.95 billion in 2022

3.9% CAGR (2023-2030)

Bolts Market Size

USD 6.33 billion in 2022

5.4% CAGR (2023-2030)

Rivets Market Size

USD 0.95 billion in 2022

3.3% CAGR (2023-2030)

Screws Market Size

USD 6.28 billion in 2022

3.8% CAGR (2023-2030)

Nails Market Size

USD 10.29 billion in 2022

3.8% CAGR (2023-2030)
Construction Fasteners Sector Outlook
The economic value generated by the construction fasteners industry was estimated at approximately USD 26.67 billion in 2022. This economic output is an amalgamation of businesses that are involved in the manufacturing, distribution & supply, and application of construction fasteners.
Mechanical Anchors Market Analysis And Forecast
Mechanical anchors have great potential for demand and installation in the architecture and construction industry, including historic masonry materials. For optimal holding characteristics, these anchors mechanically hold themselves in the underlying material through friction and a degree of movement. Mechanical concrete anchors are gaining market share due to their versatility and benefits in concrete applications. Mechanical anchors come in a variety of shapes and sizes, including wedge anchors, sleeve anchors, machine screw anchors, hammer drive anchors, single expansion anchors, and double expansion anchors. They are used in a variety of applications due to their features and benefits, which are predicted to increase their market demand.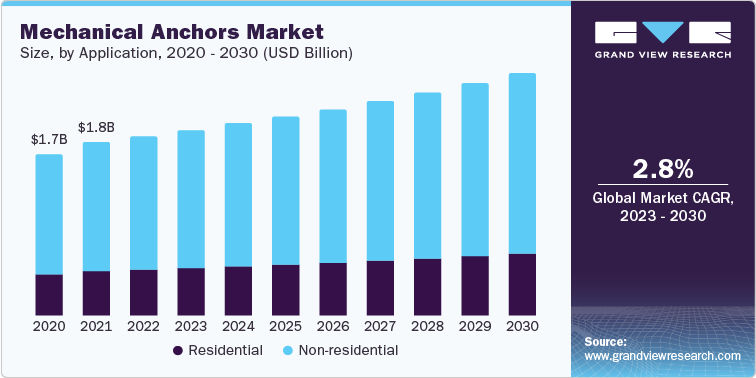 In residential applications, mechanical anchors are used to secure wooden or plastic frames to concrete or masonry structures, railings and fences, and cable trenches. Because of their lightweight and highly durable qualities, metals such as aluminum and steel are commonly employed in the manufacture of windows and doors in buildings.
Additionally, crucial design and construction issues for the proper attachment of timber frames and structural systems to concrete or stone bases are the major key areas where mechanical fasteners are used in residential applications. Furthermore, rising security concerns in residential areas are driving the need for railing and fencing that employ mechanical anchors that connect the railing bars to the house's boundary wall. During the forecast period, the aforementioned reasons are expected to enhance market demand.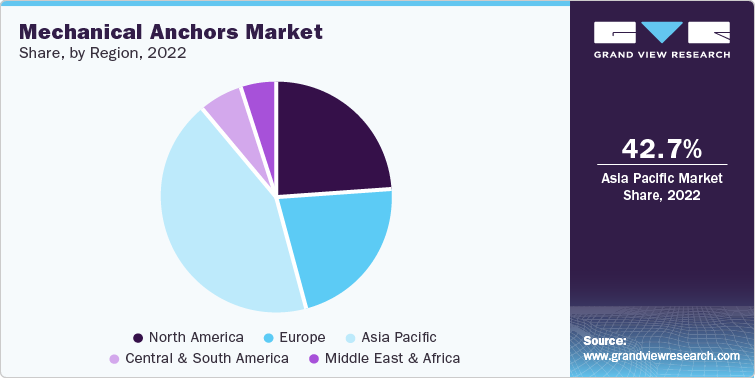 The market is distinguished by the presence of both rising and developed nations, including China, the U.S., India, Japan, Germany, and the UK. Rapid economic expansion, industrialization, and an increasing population are among the few of the factors boosting construction fastener demand in these countries.
Chemical Anchors Market Analysis And Forecast
Chemical anchors are employed in the majority of steel constructions, column bases, and scaffold anchoring as they surpass their counterparts. However, low contractor awareness, particularly in emerging markets, about the use of appropriate construction chemicals for structures is limiting market growth.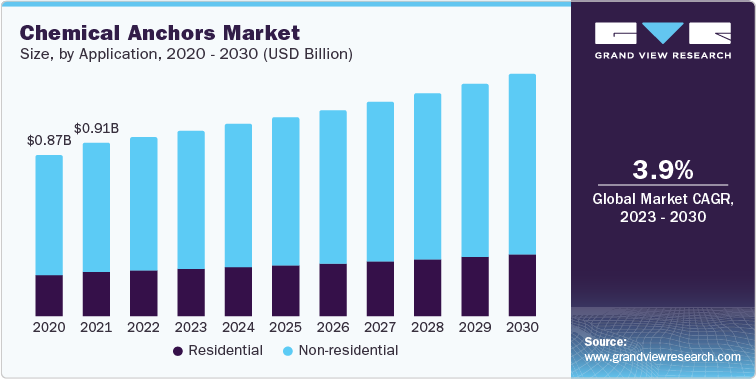 China has dominated the Asia Pacific board construction fasteners market and accounted for a revenue share of 38.9% in 2022, followed by Japan and India. The rapid development of the construction sectors in China and Japan is likely to propel the growth of the Asia Pacific market. Chemical anchors have gained prominence in North America over the past few years, especially in non-residential activities. Increasing awareness of chemical anchors and the growing infrastructure investment in the area are anticipated to boost the market growth during the forecast period.
Bolts Market Analysis And Forecast
The increasing use of automated bolt fastening systems, along with the increasing penetration of carbon and alloy bolts in various application industries, is likely to drive market growth throughout the forecast period. The market has seen significant technological advancements in the manufacturing of lightweight bolts for automotive and industrial applications, which are projected to broaden their application scope. The market has also shown trends in finding high-quality materials and producing simple, easy-to-assemble designs and structures.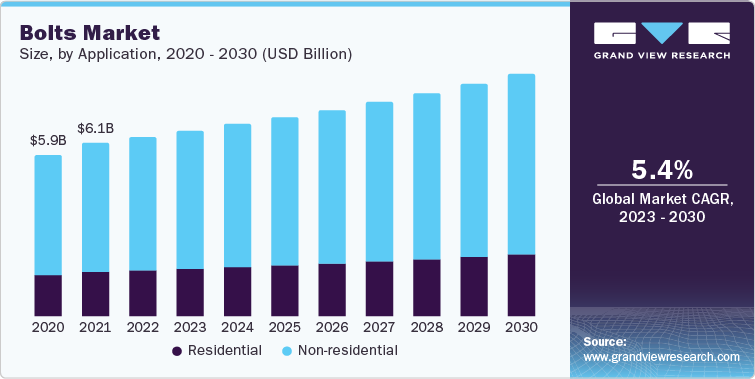 The construction industry's rapid growth as a result of increased investments in residential and commercial constructions around the world is likely to drive growth over the forecast period. Furthermore, rising urbanization and the development of smart cities and townships in emerging economies are likely to boost growth.
In 2022, Asia Pacific was the world's largest consumer of bolts, accounting for 33.95% of the total market share in terms of revenue. Over the projection period, the regional market is expected to increase significantly. Due to an increase in disposable income, the Asia Pacific area's rate of urbanization and industrialization is predicted to accelerate the number of construction activities in the region, consequently boosting the market.
Rivets Market Analysis And Forecast
Throughout the forecast, rising infrastructure development and improvements in the construction industry are expected to fuel demand for rivets, particularly for steel structure installations. Because of the rising usage of rivets for bonding window and door panels, the building and construction segment is likely to grow. Rivets' suitable design, ease of handling, and easy-to-install qualities make them beneficial for the installation of interior components in commercial structures, propelling the rivets market's growth.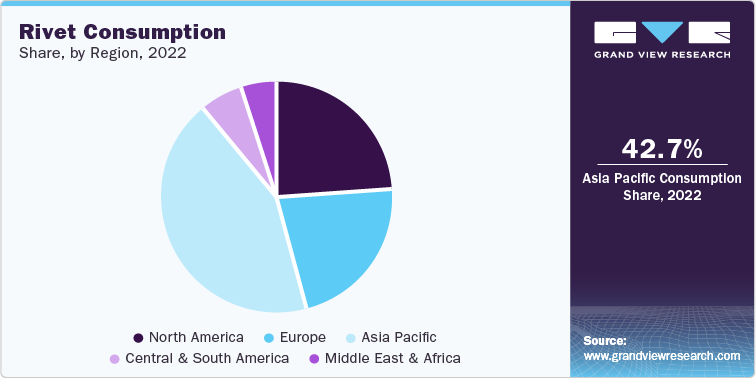 The region's growing manufacturing sector, particularly in China and India, is expected to fuel demand for rivets over the forecast period. The well-established manufacturing industry in the United States, together with increased government spending to encourage industrial practices, is expected to boost market growth. Globally prominent players are gaining a competitive advantage by offering products through numerous sales channels. Manufacturers use online platforms, third-party distributors, and retailers to supply their products to application sectors.
Screws Market Analysis And Forecast
The growth of the construction industry of the market can be attributed to the ease of use offered by screws in new outdoor and indoor construction projects. In the construction industry, screws are frequently used with drywall. The continued growth of the construction industry worldwide demands a substantial volume of screws for various applications, including fastening structural components. Additionally, the increasing focus on infrastructure development projects, particularly in emerging economies, has further fueled the demand for screws. Technological advancements in screw manufacturing processes, such as precision engineering and the development of corrosion-resistant materials, have improved the overall quality and durability of screws, driving the overall market.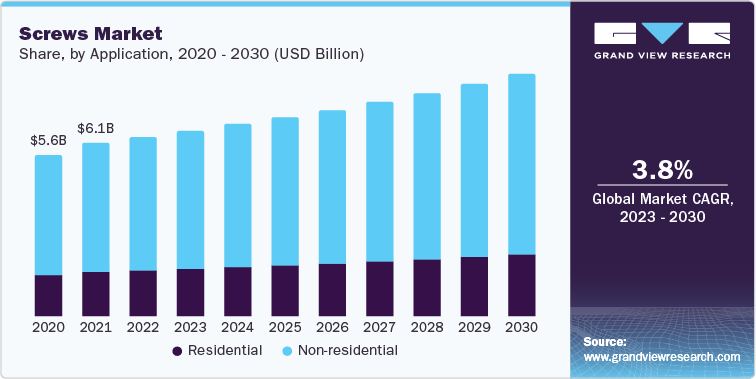 Factors such as rising population, fast urbanization, commercialization, and increasing investments in the construction of houses are likely to drive market expansion globally. There is a growing demand for eco-friendly screws made from recycled materials or designed for easy disassembly and reuse. Moreover, e-commerce and online distribution channels are becoming increasingly important for the screws market, offering a convenient way for customers to access a wide range of screw types and sizes, often with fast delivery options, thereby driving the market.
Nails Market Analysis And Forecast
The growing global construction industry, which is a significant consumer of these nails, might be credited to the market growth. Increased public and private investments in the development of new infrastructure, residential spaces, and commercial spaces in nations such as India, China, and Mexico are driving global construction industry growth. As a result, the increasing number of construction activities around the world is driving up demand for construction nails.
These nails are becoming more common in wood constructions, cabinets, wall-molding applications, sheaths, fence-fixing applications, timber & soft pine frames, composition roofing, underlayment, fiber-cement boards, buildings, and home improvement projects, among others. The surge in the development of lightweight wood-based structures in various countries around the world is also fueling demand for the product, owing to the easy availability of wood, its high mobility rate, reduced taxes, and low transportation costs, as well as the ease of processing offered by it.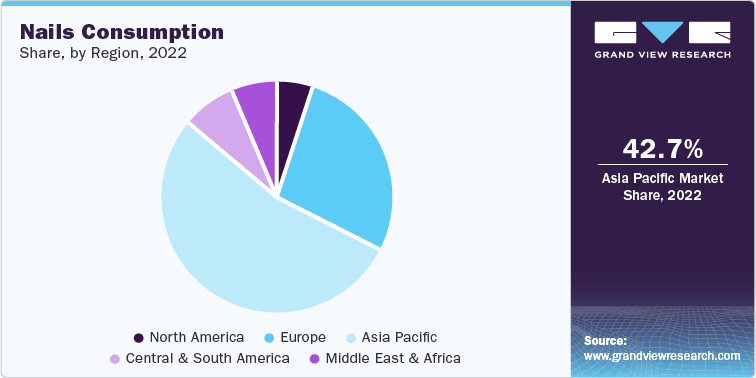 The Asia Pacific region dominated the global nails market with a revenue share of 42.7% in 2022. The region includes many developing as well as developed economies, such as India, China, Japan, and Bangladesh. The countries in the region are witnessing growth in infrastructural development, which is driving the demand for these nails.
China is expected to witness significant growth over the forecast period. The country has emerged as one of the promising markets in the Asia Pacific due to the presence of favorable government policies that promote investments in the construction sector. Furthermore, factors such as population growth, rapid urbanization, and rising disposable incomes also play an important role in developing the country's construction sector. Thus, with a rise in construction activities in the country, the market is expected to witness growth over the forecast period.
Competitive Insights
The construction nails market is categorized as highly competitive owing to the presence of a number of large- and small-sized manufacturers of different types of these nails in their product portfolios. These players are focused on increasing their market share by adopting various strategies such as new product launches, research and development, mergers & acquisitions, and collaborations. Quality is a key factor for consumers, thus, the manufacturers are focusing on quality certification to gain consumer confidence.
For instance, MungoBefestigungstechnik AG has quality certification of Swiss Safety Center AG and ISO 9001:2015. Chemfix Products Ltd. has various quality certifications such as ISO-9001, ISO-14001, ITB, SOCOTEC, WQA, and ETA.
The bolt price is based on purchase volume and duration of the contract with the OEMs. Several manufacturers in the market use similar technologies and methods to manufacture bolts, thus, leading to a low level of product differentiation. Also, bolts are used and sold as standard products with limited differentiation, which results in higher competition in the market
In June 2023, Lubrinox introduced bolts, nuts, and fasteners with a high-end lubricating coating. The fasteners help prevent the inner and outer threads of a stainless-steel connection from sticking together

In March 2023, Installed Building Products, Inc., acquired Anchor Construction Fasteners Co., Inc. This acquisition would increase the overall presence of IBP, Inc. in multiple geographies along with the increased product range