Database Overview
Grand View Research, Cosmetic Dental Products industry databook collection of market sizing information & forecasts, regulatory data, reimbursement structure, competitive benchmarking analyses, macro-environmental analyses, and regulatory & technological framework studies. Within the purview of the database, all such information is systematically analyzed and provided in the form of presentations and detailed outlook reports on individual areas of research. The following data points will be included in the final product offering in 4 reports and one sector report overview:
Cosmetic Dental Products Industry Data Book Scope
Attributes

Details

Research Areas

Teeth Whitening Market
Dental Implants Market
Dental Crown & Bridges Market
Dental Veneers Market

Details of Product

4 Individual Reports: PDF
4 Individual Reports: Excel
1 Sector Report: PPT
1 Data Book: Excel

Cumulative Country Coverage

50+ Countries

Highlights of Datasets

Type Revenue, by Countries
Distribution Channel Revenue, by Countries
Material Revenue, by Countries
Price Revenue, by Countries
End-use Revenue, by Countries

Total Number of Tables (Excel) in the bundle

157

Total Number of Figures in the bundle

185
Cosmetic Dental Products Industry Data Book Coverage Snapshot
Markets Covered

Cosmetic Dental Products Industry

USD 21.0 billion in 2022

7.4% CAGR (2023-2030)

Teeth Whitening Market Size

USD 7.2 billion in 2022

5.0% CAGR (2023-2030)

Dental Implants Market Size

USD 4.6 billion in 2022

9.8% CAGR (2023-2030)

Dental Crown & Bridges Market Size

USD 2.8 billion in 2022

8.0% CAGR (2023-2030)

Dental Veneers Market Size

USD 6.3 billion in 2022

7.7% CAGR (2023-2030)
Teeth Whitening Market Analysis And Forecast
The global teeth whitening market size was estimated at USD 7.2 billion in 2022 and is expected to expand at a compound annual growth rate (CAGR) of 5.0% from 2023 to 2030. Growing consumer awareness regarding the influence of oral health on a person's social life and self-esteem is the major factor fueling the market growth. Teeth Whitening is a procedure that improves the appearance of the teeth and gums, with a primary focus on the colour, and overall smile appearance of an individual
Factors such as the increasing popularity of cosmetic dentistry, evolving medical tourism of dental treatment, and the introduction of multiple government initiatives for public oral health care, are a few growth enablers for the market.
As stated by Racounter - a digital marketing agency, 67.0% of American adults have tried to whiten their teeth in one way or another-either through dentists and professional whitening techniques or with the help of toothpaste and strips. At-home whitening gels have around a 3.0% concentration of hydrogen peroxide which is approved by the FDA. Teeth whitening is the most popular dental procedure in the U.S., accounting for 32.0% of in-office practice and this is because 99.7% of people in the country perceive a smile as their most important social asset. Therefore, teeth whitening is one of the most popular dental requests in the current time.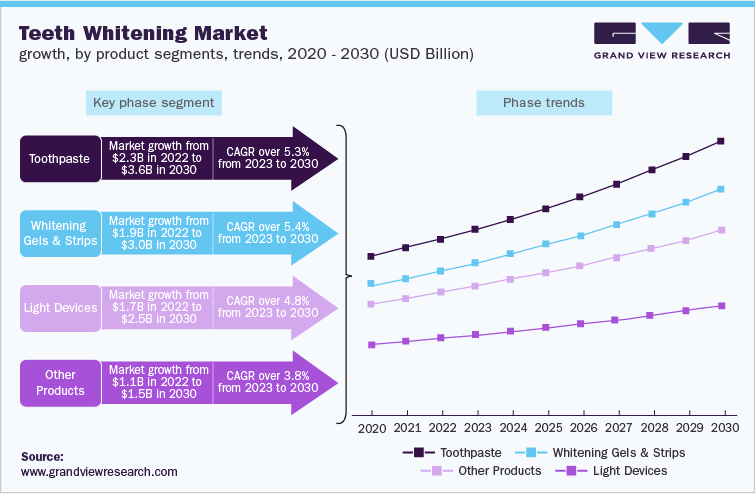 Dental Implants Market Analysis And Forecast
The global dental implants market size was valued at USD 4.6 billion in 2022 and is expected to grow at a compound annual growth rate (CAGR) of 9.8% from 2023 to 2030. With growing aesthetic awareness, people are exploring more treatment options, which is leading to the growth of the market. For instance, as per the American Academy of Cosmetic Dentistry data, more than 95.0% of individuals across the globe believe that their smile is a vital social asset and nearly 84.0% revealed to be under increased pressure to perfect their smile, thus increasing the product demand. Dental implants are considered the only restorative technique that preserves and stimulates natural bone. Owing to the growing number of edentulous populations, the demand for prosthetics is increasing, which is expected to be one of the significant impact-rendering drivers for the market.
Several industries have halted their services due to the COVID-19 pandemic. However, this industry is greatly impacted by the significant decrease in elective procedures, many of which are being postponed or cancelled so that hospitals can focus their resources on treating patients with COVID-19. Major Countries like the U.S and India procure raw materials and electronic components from China, which has disrupted the supply chain of many dental equipment and product manufacturers. However, with the decrease in the number of COVID-19 cases, hospitals are likely to begin scheduling elective procedures, depending on their capacity of admission and patient's comfort level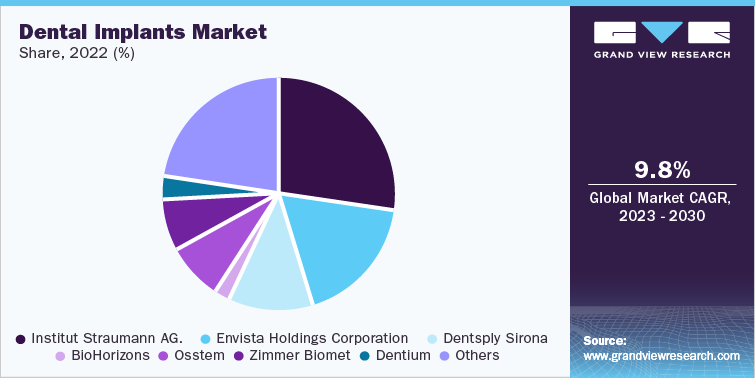 Dental Crown & Bridges Market Analysis And Forecast
The global dental crowns and bridges market size was valued at USD 2.8 billion in 2022 and is expected to expand at a CAGR of 8.0% from 2023 to 2030. The rise in demand for preventive and cosmetic dentistry is expected to drive the market significantly during the forecast period in addition to factors such as the rising prevalence of dental disorders, high demand for cosmetic dentistry, and growing dental medical tourism in the developing economies. In addition, the introduction of novel technologies, such as CAD/CAM is anticipated to stimulate growth. This technology is expected to gain popularity in the near future since it improves the creation and design of dental restorations.
The most widely used material by dental surgeons is Titanium since it is compatible with the body tissues and easily bonds with an adjacent bone while treatment. Dental implants are primarily fabricated by six different titanium-based biomaterials. Each material includes grades of commercially pure titanium and two titanium alloys with different properties for treating the patient accordingly
The growth of developing economies, such as China and India in the Asia Pacific and the rise in disposable income of consumers is also propelling the growth of the dental crowns and bridges market. Nonetheless, changing demographics and rising demand for CAD/CAM due to growing popularity is anticipated to create growth opportunities for the market.
Dental Crown & Bridges Market Key Players
| | | |
| --- | --- | --- |
| Dentsply Sirona Inc. | Straumann Group | Danaher Corporation |
| Dentium | Zimmer Biomet | Henry Schein Inc. |
| 3M Health Care | Biohorizons Implant Systems, Inc. | OSSTEM IMPLANT |
Dental Veneers Market Analysis And Forecast
The global dental veneers market size was valued at USD 6.3 billion in 2022 and is expected to expand at a CAGR of 7.7% from 2023 to 2030. The rising prevalence of oral diseases, disorders, and conditions, growing demand for aesthetic dental procedures, evolving this tourism worldwide, and increasing disposable income in developing regions are some of the factors contributing to the market growth.
Cosmetic dentistry has transformed patient perspectives related to these products such as dental veneers. As these procedures are gaining popularity, more people are realizing that they can improve the appearance of their teeth with satisfactory results. The availability of innovative materials and techniques has resulted in the development of newer approaches to managing dental disorders. The pursuit of better facial features has increased the demand for cosmetic dental intervention. With age-related dental problems, the geriatric population has fueled the expansion of this industry. Also, the growth of aesthetic dentistry around the world has been largely attributed to this tourism.
The simultaneous applications of the aesthetic aspect of dentistry along with the technical skills allow dental specialists to attain aesthetically functional results. The market's development is expected to be restrained by the hefty premium of these imaging techniques, the paucity of insurance coverage for cosmetic operations, and the greater risks and difficulties involved with orthodontic and dental bridge procedures.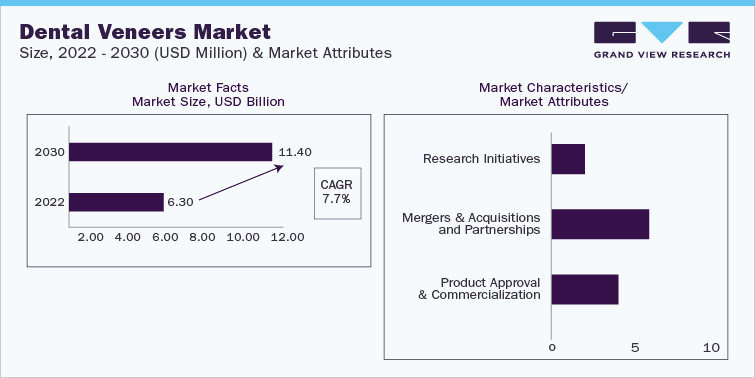 Dental Veneers Market Key Participants

DenMat

Glidewell Laboratories

Ultradent Products

Coltene

Dentsply Sirona

Planmeca OY
Competitive Landscape
Companies are focusing on strategic initiatives, such as the introduction of novel products through customization according to consumers' needs, partnerships, collaborations, and mergers & acquisitions, to expand their product portfolio and extend leadership positions in the field of dental implantology. Moreover, the competition between key players will turn intense in the coming years as they are focusing more on geographical expansion, strategic collaborations, and partnerships through mergers & acquisitions. In May 2020, Straumann Group announced a new zygomatic implant solution for patients with severe jawbone loss in collaboration with Southern Implants. The new solution combines proven implant design features with the advantages of Straumann's BLX and BLT implant prosthetic range.
This section in the final deliverables also highlights various initiatives taken by the key companies in the recent past that strongly impacts this market space. The below figure represents the various strategic developments initiated by these market participants: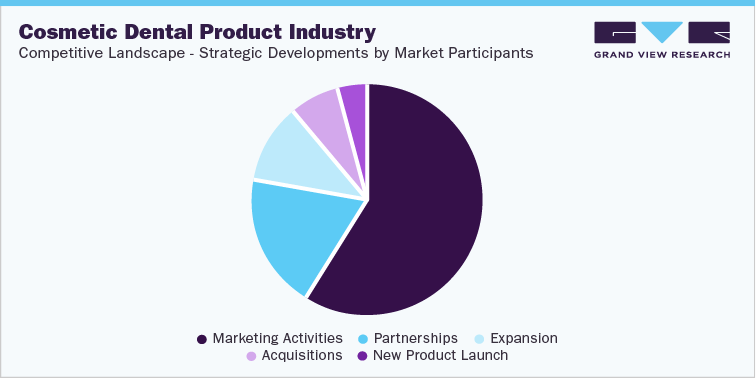 Key Drivers
Increasing demand for the replacement of teeth has provided good growth potential to the implant market. Dental implants also help support a bridge, crown, or dentures

Some of the key players in the dental implants market are focusing on the introduction of novel implants that can cater to all needs of patients

The introduction of software solutions to design dental implant restorations is also increasing. Technological advancements supported new product development procedures through Computer-aided Design & Computer-aided Manufacturing (CAD/CAM). CAD/CAM systems are used by all major companies with an aim of improving the design and creation of dental restorations.

The advanced procedures and products are continually expanding the range of offerings and making greater inroads into demographic groups that value aesthetics

The widespread explosion of extreme makeovers in the media gives the impression that the dental communities fully support this new era of cosmetic dental procedures.