Database Overview
The digital health industry data book, compiled by Grand View Research, is a collection of market sizing information & forecasts, trade data, pricing intelligence, competitive benchmarking analyses, macro-environmental analyses, and regulatory & technological framework studies. Within the purview of the database, such information is systematically analyzed and provided in the form of outlook reports and summary presentations on individual areas of research along with a digital healthcare statistics e-book.
Digital Health Industry Data Book Scope
Attributes

Details

Areas of Research

Tele-Healthcare Market
mHealth Market
Healthcare Analytics Market
Digital Health System Market

Number of Reports/Presentations in the bundle

4 Individual Reports - PDFs
4 Individual Reports - Excel
1 Data book - Excel

Cumulative Coverage of Countries

20+ Countries

Cumulative Coverage of Technologies

30+ Level 1 & 2 Technologies

Highlights of Datasets

Technology type Revenue, by Countries
Component Revenue, by Countries
Competitive Landscape
Regulatory and Reimbursement Guidelines, by Countries

Total number of tables (Excel) in the bundle

300+

Total number of figures in the bundle

200+
Digital Health Industry Data Book Coverage Snapshot
Markets Covered

Digital Health Industry

USD 211.0 billion in 2022

18.6% CAGR (2022-2030)

Tele-Healthcare Market Size

USD 87.6 billion in 2022

23.5% CAGR (2022-2030)

mHealth Market Size

USD 56.8 billion in 2022

10.8% CAGR (2022-2030)

Healthcare Analytics Market Size

USD 35.3 billion in 2022

21.4% CAGR (2022-2030)
Digital Health System Market Size

USD 31.4 billion in 2022

6.1% CAGR (2022-2030)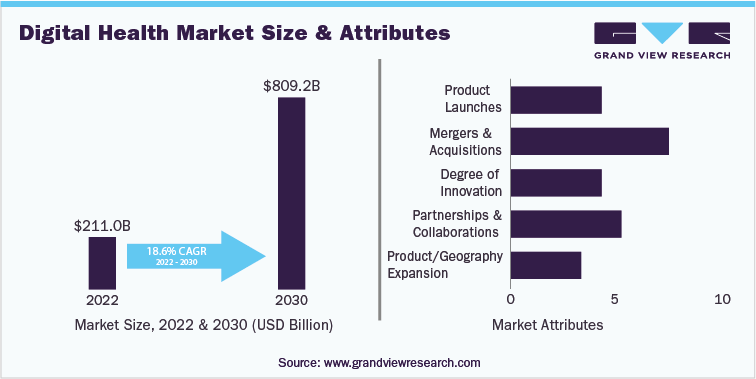 Key Market Participants

Cerner Corporation

Allscripts

Apple,Inc.

Telefonica

S.A.

Mckesson

Corporation

Epic Systems Corporation

QSI Management, LLC

AT&T

AirStrip Technologies

Google,Inc.

Samsung ElectronicsCo., Ltd.

Orange

IBM Corporation

CISCO System, Inc.

Qualcomm Technologies, Inc.

Softserve

MQure

Computer Programs and Systems, Inc

Vocera Communications

HiMS
mHealth Market Analysis and Forecast
The global mHealth market size was valued at USD 56.8 billion in 2022 and is expected to expand at a compound annual growth rate (CAGR) of 10.8% from 2023 to 2030. The major factors that are attributing the market growth are growing adoption of smartphones for personal health and fitness and rising penetration rate of the internet. Other factors like growing preferences of mHealth technology and platforms by physicians and patients and rising penetration of digital health services for remote patient monitoring are projected to fuel the market growth over the forecast period.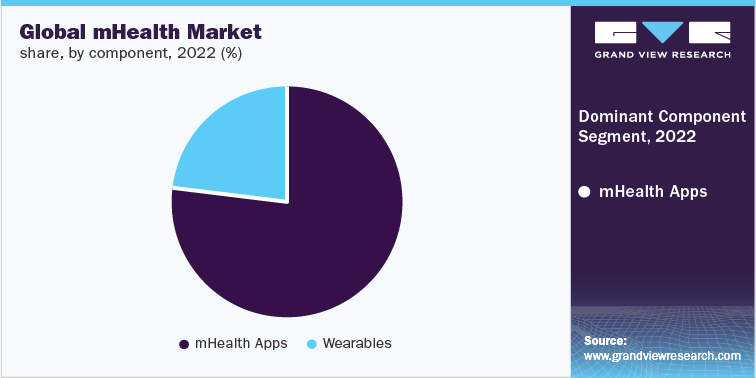 Shifting trend of adopting patient centric and preventive approaches from conventional healthcare practices are also expected to drive the market growth. For instance, as per the statistics published in a digital health journal in 2020, about 64% approved on the benefit of tracking medical treatment, and 68% of users agreed that the apps which retrieve EMR remotely are highly valuable for a healthy lifestyle. Increasing investment by government and non-government organizations in expanding digital healthcare sector further boosts the market growth. The market gained major traction during COVID-19 as large number of patients and doctors opted for mHealth platforms during that time frame owing to infection fears and lock down scenarios globally. Increasing strategic alliances between manufacturers and healthcare institutions is also expected to support the market growth. For instance, collaboration between Philips and American Telemedicine Association (ATA) in 2020 helped in increasing adoption of mHealth during COVID-19.
Healthcare Analytics Market Analysis and Forecast
The global healthcare analytics market is currently valued at USD 35.3 billion as of 2022 and is expected to expand at a CAGR of 21.4% for the forecast period 2023-2030. The healthcare analytics platforms are being highly adopted to improve patient care, curb down treatment cost, and increase patient retention and engagement. Factors like, technological advancement in rapid rate and rising investment rate into IT development and digitalization in the healthcare sector is projected to fuel the market growth over the forecast period.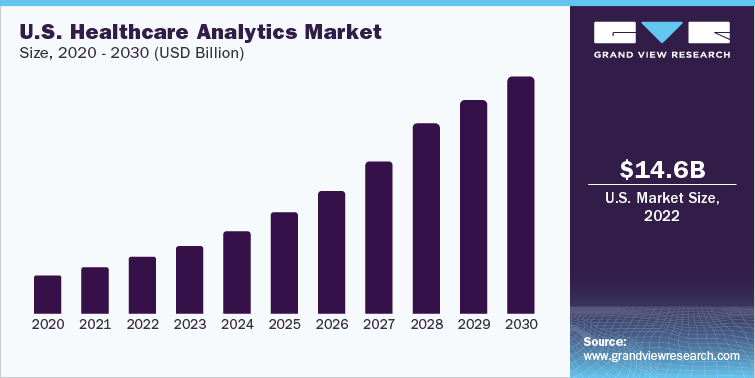 New advanced analytics tools and services are being introduced, which, in turn, is driving their adoption by healthcare organizations. For instance, in September 2020, Eversana launched predictive analytics solution, ACTICS. Similarly, in June 2021, QPharma opened Neolytica, a firm that provides AI-based predictive analytics solutions. Development of new advanced analytics technologies and methods with increasing awareness about benefits of analytics is another major factor expected to drive the market.
The COVID-19 pandemic accelerated the use of healthcare analytics solutions. Healthcare industry is increasingly using predictive analytics to forecast disease risk & severity, hospital surge planning, and mapping virus spread. In June 2020, National Institutes of Health launched an analytics platform to help scientists analyze data to understand disease and develop treatments under the National COVID Cohort Collaborative (N3C) initiative. The analytics platform can systematically collect laboratory, clinical, & diagnostic data from healthcare providers and analyze this data using advanced analytics. Similarly, in June 2020, Cleveland Clinic developed predictive analysis model to determine likelihood of patients testing COVID-19 positive.
Digital Health Systems Market Analysis and Forecast
The global digital health systems market size was valued at USD 31.4 billion in 2022 is projected to grow at a compound annual growth rate (CAGR) of 6.1% from 2023 to 2030. Growing penetration rate of smartphones, improvement in internet connectivity, introducing advance healthcare IT infrastructure, rising healthcare expenditure, diseases, rising adoption rate of remote patient monitoring services, and increasing accessibility of virtual care are driving market growth. Growing prevalence of chronic diseases such CVD, diabetes, cancer and others are further driving the market growth as digital health systems help in monitoring condition from any place and at any time.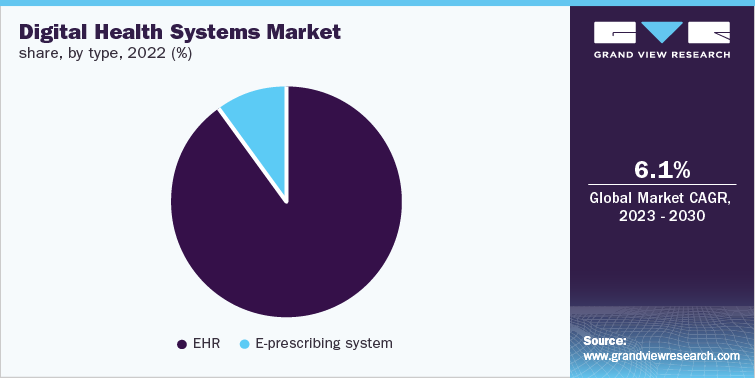 Smartphones have widened their application scope from devices just for communication & entertainment to devices monitoring health & fitness. As per the statistics of Pew Research Center about 97.0% of U.S. citizens own smartphones in the year 2021. Moreover, key players are also focusing on developing and introducing innovative mobile applications for tracking daily activities, providing information about medical queries, tracking & ordering medical prescriptions, scheduling appointments, and storing healthcare information. The ongoing COVID-19 pandemic exposed the flaws in the current overburdened healthcare systems and highlighted the potential of digital health solutions, which in turn encouraged the use of these solutions and resulted in a sharp increase in their rate of adoption.
Tele-Healthcare Market Analysis and Forecast
The global telehealth market size was valued at USD 87.6 billion in 2022 and is projected to expand at a compound annual growth rate (CAGR) of 23.5% from 2023 to 2030. Growing pentration of internet and innovation in smartphones are filling the gaps in the delivery and availing the telehealth services easily. Furthermore, COVID-19 positively impacted the market growth owing to imposed restrictions to curb the infections as most people opted for tele-health services rather than visiting clinics and hospitals. For instance, Teladoc Health Inc., recorded a 63% year on year growth in the first two quarters of 2020 compared to the first two quarters of 2019. Growing awareness about tele-health services and rising need to monitor health in order to mange chronic conditions further drives the market growth over the forecast period.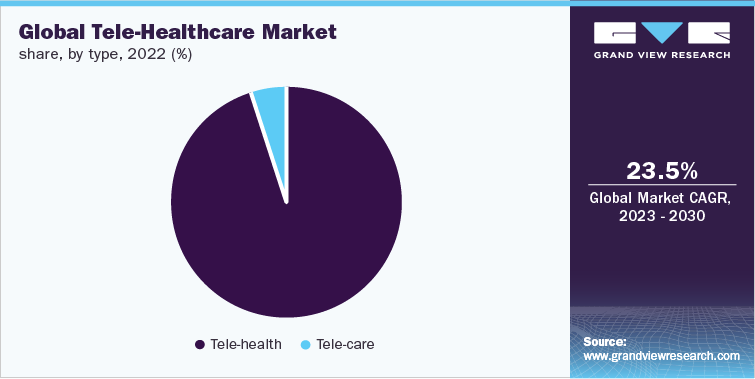 Furthermore, the use of telehealth services is being driven by increased funding and measures being taken by governments all over the world. For instance, in August 2021 the Biden-Harris Administration announced an investment of about 19 million dollars to enhance healthcare delivery and alleviate gaps in care faced by rural communities with limited due to access to essential services. Healthcare professional shortages have been a problem in developing nations, and shortage of physicians is a huge challenge in rural and distant healthcare settings. For instance, as per the statistics of WHO, there will be shortage of about 15 million healthcare professionals by 2030. This shortage is expected to impact the market positively as it will increase the adoption rate of tele health services in order to reduce healthcare expenses and improve the accessibility of healthcare services.
Competitive Landscape
Increasing demand for technologically advanced digital health platforms and services are increasing competition in the market and thus, forcing key players to introduce new solutions in the market. Additionally, it is projected that rising industry consolidation activities, such as acquisitions and mergers by the leading market participants, as well as expanding efforts in R&D of digital health applications by key players, is also expected to boost the market share. Increasing funding and growing awareness and acceptance to adopt healthcare application is further projected to open new opportunities for the market especially at entry level.
Some startups which have received funding in 2021
In August 2021, Genomic Medical raised USD 60 million in their series C funding which was led by Casdin Capital and Google Ventures. Genomic Medical focuses on enhancing telemedicine services by incorporating genomic medicine for everyday use.

In May 2021, Aetion received a funding of USD 110 million in their series C funding by B Capital and Foresite Capital. The company provides real world evidences and analytics to life science companies, payers and regulatory agencies.

In May 2021, Noom, a weight management app raised USD 540 million in their series F round which was led by Silver Lake Management LLC.

In March 2021, Tyto Care, gained the funding of USD 50 million in their series D funding round by Tiger Global Management and Qumra Capital. The company is into building remote care solutions and tele-health platforms.
Key Drivers:
Growing investment in healthcare IT infrastructure.

Rising penetration rate of non-communicable diseases owing to rapidly aging population and unhealthy lifestyle.

Growing trend of automation and modernization of hospitals and laboratories in emerging countries.

Presence of supportive government initiatives to improve healthcare infrastructure and promote economic growth.

Increasing number of startups entering the market.