Database Overview
Grand View Research's E-commerce industry databook is a collection of market sizing information & forecasts, competitive benchmarking analyses, macro-environmental analyses, and regulatory & technological framework studies. Within the purview of the database, all such information is systematically analyzed and provided in the form of presentations and detailed outlook reports on individual areas of research.
The following data points will be included in the final product offering in 2 reports and one sector report overview:
E-commerce Industry Data Book Scope
Attributes

Details

Research Areas

B2B E-commerce Market
B2C E-commerce Market

Details of Product

2 Individual Reports - PDF
2 Individual Reports - Excel
1 Data Book - Excel

Cumulative Country Coverage

10+ Countries

Cumulation Product Coverage

10+ Level 1& 2 Product

Highlights of Datasets

Model Type Revenue, by Countries
End-user Revenue, by Countries

Total Number of Tables (Excel) in the bundle

200

Total Number of Figures in the bundle

100
E-commerce Industry Data Book Coverage Snapshot
Markets Covered

E-commerce Industry

USD 13,497.0 billion in 2022

15.0% CAGR (2023-2030)

B2B E-commerce Market Size

USD 7,904.0 billion in 2022

22.8% CAGR (2023-2030)

B2C E-commerce Market Size

USD 4,398.9 billion in 2022

9.7% CAGR (2023-2030)
E-commerce Industry Outlook
The global E-commerce market was valued at USD 13,497.0 billion in 2022 and is projected to grow at a CAGR of 15.0% from 2023 to 2030. E-commerce is a form of the latest technologies that could alter the traditional way of life. The aspects which have resulted in the high adoption include a faster buying process, flexibility for customers, a wide range of products and services, and convenience, among others. Factors that have also resulted in the high adoption of e-commerce include increased smartphone penetration, and internet users, among others. According to a report published by Pew Research Center in April 2021, 85%, (as of April 2021) of U.S. adults own a smartphone, and 93% of U.S. adults use the internet. These underlying aspects have resulted in increased sales via e-commerce platforms; for instance, according to the U.S. Department of Commerce, E-commerce sales accounts ~14% in 2021.
Integration of the latest technologies has been revolutionizing the ecommerce market. A major contribution is the integration of A.I. technologies, as is the case with any other market, which offers benefits such as personalized product recommendations, improved customer service, targeted marketing, and automated customer journey, among others. Apart from A.I., many other technologies have been proven advantageous, including Augmented Reality (A.R.), Web3, chatbots, and blockchain. The rapid adoption of new technologies by the E-commerce platform to stay ahead of the competition is fueling the growth of the market. For instance, in December 2022, Flipkart.com partnered with Polygon (a decentralized Ethereum scaling platform) to work towards setting up the Blockchain-eCommerce Centre of Excellence (CoE), which will work on R&D of Web3 and metaverse commerce uses cases in India for accelerating the adoption of Web3.
The supply chain network has been an aggravating factor as far as eCommerce companies are concerned, which could derail the growth of the e-commerce market. The blockage of the Suez Canal in March 2021 resulted in the holding up of trade valued at USD 9 billion per day, as per Informa U.K. Limited (U.K. Based digital services and academic knowledge group). Such a scenario has resulted in e-commerce companies looking for other means of transportation to support their ecommerce growth. For instance, In July 2022, Cainiao.com (a logistic division of the Alibaba Group) partnered with Qatar Airways Cargo to start a weekly charter flight from Hong Kong to Brazil (Sao Paulo) to support e-commerce growth in Latin America. Boeing 777 aircraft will carry 100 tons of products, including toys, watches, jewelry, and sports equipment.
B2B E-commerce Market Analysis And Forecast
The global B2B e-commerce market was valued at USD 7,904.0 billion in 2022 and is projected to grow at a CAGR of 22.8% from 2023 to 2030. COVID-19 pandemic has accelerated the demand for e-commerce during a period of slow economic activity. In the first half of 2020, the pandemic affected several businesses across the globe. With stay-at-home constraints, numerous customers and organizations went digital to buy and sell goods and services online. Moreover, companies have been participating in/renewing partnerships with various vendors aimed at enabling the e-commerce companies to offer a better product range, enabling the companies to gain better traction in the market. For instance, In November 2022, Cartona renewed its partnership with Beyti (based in Egypt juice, milk, and other dairy products), which enabled Beyti to showcase its 94 products on the Cartona e-commerce platform.
Flexible payment options favor business owners. The changing B2B buyer behavior and a strong emphasis on streamlining purchasing processes are prompting B2B e-commerce companies. This, in turn, offers payment methods, such as third-party payments and mobile wallets, as part of their efforts to make B2B transactions more convenient. Moreover, e-comm companies have been involved in partnerships aimed at improving B2B e-comm payments, such initiatives have also been driving the growth of this market during the forecast period. For instance, in December 2022, Market Time LLC had partnered with Balance Payments, Inc. (Israel-based B2B payment platform) aimed at launching B2B payment solution. The partnership will enable Market Time to integrate Balance's mtPay, which enables easy processing of pain points, and reduced cost, and time.
B2C E-commerce Market Analysis And Forecast
The B2C service segment of the e-commerce market by model type was estimated to be USD 4,398.9 billion in 2022 and is expected to have a CAGR of 9.7% during the forecast period 2023-2030. The percentage of e-shoppers across the world has been increasing over the years across regions. Moreover, the number of internet users has also been on the high side in the past years. According to the European Report 2022, published in June 2022, 91% of the European population access the internet, and 75% of internet users bring goods/services online. Considering both data in tandem, the B2C segment is expected to have high growth in the coming years.
The B2C segment will hold the largest market share by model type in 2022. The segment's growth can be attributed to many regional/country-based e-commerce companies. Such companies also have high revenue in the respective region/country. For instance, Flipkart.com (acquired by Walmart) platform operating in India, witnessed 1 billion visits and 35 million app downloads during the annual flagship sales, which took place in September 2022. The presence of such regional companies will gain better acceptance among the local population, further driving the growth of the B2C segment of the e-commerce market during the forecast period.
Fake reviews are an element disrupting the market; for which both e-commerce companies and governments have been working. For instance, in November 2022, the Government of India announced new norms to restrict fake online reviews. The government will come up with a new standard, "IS 19000:2022", for online consumer reviews, which came into effect on November 25, 2022. The new standard will apply to any platform which publishes consumer reviews online. Such initiatives would help companies to gain trust among the public who are straying away from online shopping, thereby fueling the growth of the B2C segment of this market by model type during the forecast period.
Competitive Landscape
The top competitors that dominated the global market in 2022 include Alibaba Group Holding Limited, Amazon.com, Inc., Apple Inc., Best Buy, eBay Inc., Shopify Inc. Companies in the market have engaged in partnerships, mergers & acquisitions to capture the market. For instance, in July 2022, Shopify Inc partnered with YouTube to offer merchants new pathways for reaching customers. Shopify merchants can sell their products to users via YouTube shorts and live and video-on-demand content. Such initiatives enable wider research on ecommerce companies, driving the growth of the e-commerce market.
Adopting new technologies by the e-commerce platforms plays a major role in enhancing the customer experience, which has contributed to the growth. For instance, in May 2022, Snap Inc. expanded its e-commerce capabilities enabling brands to create AR (augmented reality) shopping content for engaging mobile users.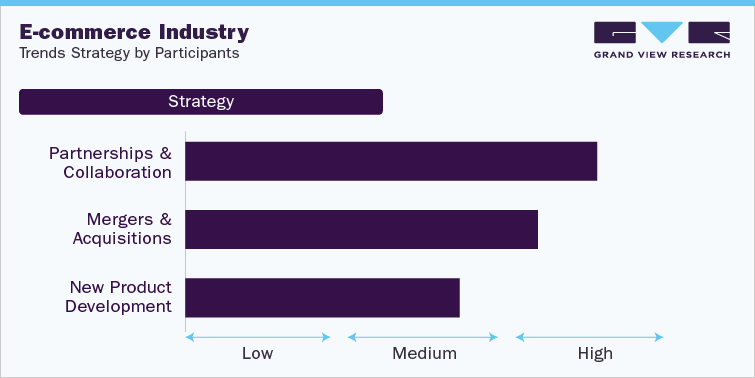 | | |
| --- | --- |
| Strategy | Spearheads |
| Partnerships & Collaborations | Amazon.Com, Inc., eBay INc., Shopify Inc. |
| Merger & Acquisitions | Flipkart.com, Amazon.com, eBay INc., Walmart |
| New Product Development | Flipkart.com, Mercado Libre, Otto Group |
Key Drivers
Changing B2B buyer behaviour and a strong emphasis on streamlining purchasing processes

Technological proliferation, such as the application of artificial intelligence, Web3 and cloud technology

An increase in mobile transactions and internet banking

Massive expansion of the online apparel marketplace

Implementation of 4G and 5G technology

The increasing number of small and medium enterprises