Database Overview
Grand View Research's electric mobility industry data book is a collection of market sizing information & forecasts, regulatory data, reimbursement structure, competitive benchmarking analyses, macro-environmental analyses, and regulatory & technological framework studies. Within the purview of the database, all such information is systematically analyzed and provided in the form of presentations and detailed outlook reports on individual areas of research. Surge in the adoption of EVs, especially e-scooters among the youth, light commercial vehicles for rapid transportation with reduced carbon footprints and increasing purchasing capacity across the globe are expected to significantly increase the demand for E- mobility, thereby supporting the market growth.
The following data points will be included in the final product offering in 3 reports and one sector report overview:
Electric Mobility Industry Data Book Scope
Attribute

Details

Research Areas

Electric Two-Wheeler Market

Electric-Scooters Market
Electric Motorcycles Market

Electric Three-Wheeler Market
Electric Light Commercial Vehicles Market

Details of the Product

3 Individual Reports - PDFs
3 Individual Reports - Excel
1 Data book - Excel

Cumulative Country Coverage

40+ Countries

Highlights of Datasets

Vehicle Type Revenue, by Countries
Battery Revenue, by Countries
End Use Revenue, by Countries
Voltage Revenue, by Countries
Competitive Landscape

Total Number of Tables (Excel) in the bundle

480

Total Number of Figures in the bundle

120
Electric Mobility Industry Data Book Coverage Snapshot
Markets Covered

Electric Mobility Industry

USD 101.67 billion in 2022

19.9% CAGR (2023-2030)

Electric Two-Wheeler Market Size

USD 91.07 billion in 2022

13.0% CAGR (2023-2030)

Electric Three-Wheeler Market Size

USD 1.28 billion in 2022

7.7% CAGR (2023-2030)

Electric Light Commercial Vehicles Market Size

USD 9.30 billion in 2022

39.0% CAGR (2023-2030)
The global electric two-wheeler, three-wheeler, and light commercial vehicles markets combine to account for USD 101.67 billion in revenue in 2022, growing at a cumulative rate of 19.9% over the forecast period. The combination bundle is designed to provide a holistic view of these highly dynamic market spaces.
Electric Two-Wheeler Market Analysis & Forecast
The global electric two-wheeler market comprises markets for electric scooters and electric motorcycles. In India, a growing number of start-ups and their rising focus on research development activities pertaining to the integration of electronics and other latest technologies has bolstered the electric two-wheeler market growth in the country. For instance, in November 2022, Simple Energy, an Indian start-up had announced to launch of its electric scooter "Simple One" in March 2023. The company is investing in the research & development of its own propriety motor for the Simple Energy electric scooters. Thus, with better engineering and manufacturing capabilities the company is poised to launch a new product in the Indian market.
Electric-Scooters Market
The E-Scooters/mopeds segment is expected to witness significant growth over the forecast period. The growing concerns over the rising levels of vehicular emissions are expected to drive the adoption of E-Scooters. At a time when gasoline prices are rising all over the world, especially in developing countries; E-Scooters are guaranteeing lower operating costs and higher efficiency as compared to conventional scooters. Electric two-wheelers also last longer and tend to have a lower environmental impact as compared to gasoline-powered scooters. Several governments across the world are pursuing various initiatives, such as providing various benefits to manufacturers and consumers of e-scooters in the form of subsidies, as part of their efforts to encourage the adoption of e-scooters/mopeds.
The COVID-19 pandemic has disrupted the operations of many industries worldwide, with the transportation sector being one of the most affected. The pandemic crippled the auto industry, severely impacting the demand for e-cars, three-wheelers, and two-wheelers. Lockdowns were imposed in several parts of the world to prevent the spread of the virus, causing supply chain disruptions and the temporary closure of several manufacturing facilities.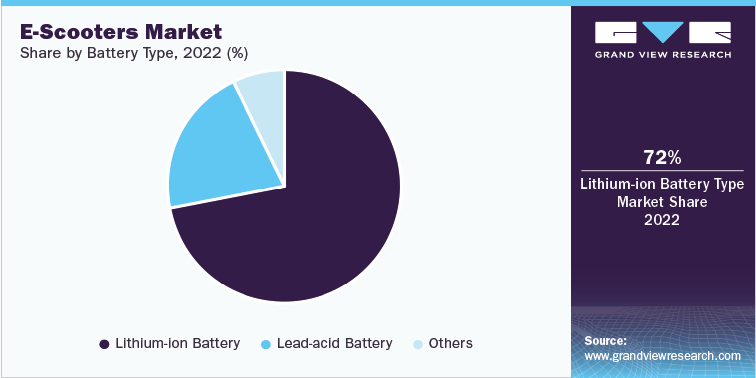 Furthermore, the raw materials required to produce various components were also unavailable due to supply chain disruptions, which created production delays. Niu International, a leading provider of smart urban mobility solutions, has witnessed a decline of around 40% in its revenue in the first quarter of 2020 due to the halt of third-party production in February 2020.
The increasing use of shared mobility services in countries such as France, Germany, the U.S, and Spain has increased the demand for E-Scooters. E-scooters are purchased primarily from manufacturers such as Ninebot-Segway, Xiaomi, and Gogoro, Inc. by electric scooter-sharing service providers such as Uber Technologies Inc., Bird Rides, Inc., Lime, Spin, Cooltra Motos SL, emmy-sharing, Scooty, and Razor USA LLC that provide.
The growing concern about carbon emissions from traditional fuel-based vehicles has been a major source of concern for governments across the globe over the last decade. One of the major driving forces behind the adoption of environment-friendly E-Scooters is the shift toward smart cities and the rapidly expanding charging infrastructure. As E-scooters are powered by batteries, they do not lead to carbon or gaseous emissions. This mode of transportation is becoming more popular among environmentally conscious commuters as these vehicles have the potential of significantly reducing fuel consumption and carbon and sulfur emissions from the transportation sector. Furthermore, these vehicles use ultra-quiet chains to power the e-motor, ensuring quiet rides and a reduction in noise pollution.
Electric Motorcycles Market
The electric motorcycle segment is projected to register a high CAGR over the forecast period. The sale of E-motorcycles is anticipated to increase globally owing to shifting consumer preferences toward motorcycles and expansion of road networks & charging infrastructure in the developing parts of the world. The increasing use of E- motorcycles for business activities and recreational activities such as off-roading, racing, and touring across the globe is also contributing to their increased sales. The below figures show the penetration of E-motorcycles by region: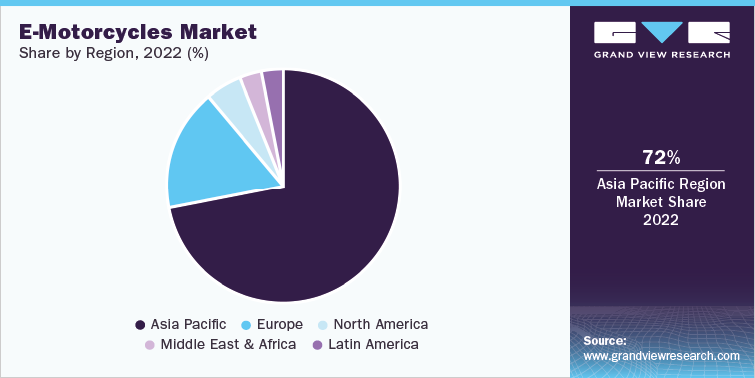 Moreover, the growth of the e-motorcycles market in Europe can be attributed to the provision of incentives and subsidies by governments, especially in Western Europe, to encourage the use of EVs. For instance, the government of Germany has exempted EVs from the annual circulation of tax for the first 10 years from their date of registration. Furthermore, China, being the largest manufacturer and exporter of EV witnesses E- motorcycle market as a huge opportunity owing to presence of limited number of players. Hence, it is anticipated to perform well due to factors such as rising private demand, industry shifts, government support, and rapid urbanization.
The advent of increasing greenhouse gas emissions has led to the implementation of several initiatives to combat climate change enabling policymakers to pin hopes on EVs. This has led to the enactment of an action plan for climate change to reduce the emissions from transport by adopting a sustainable and eco-friendly transportation alternative such as public transport and EVs. Furthermore, the rising investment in clean energy and the initiatives taken by governments in curbing CO2 emissions is expected to boost the demand for electric kick scooters, skateboards, and bicycles.
The price of raw material is directly proportional to the prices of electric skateboards, kick scooters, and bicycles. The major components for micro mobility vehicles include batteries, vehicle frames, motors, controllers, tires, brakes, and other plastic components. Continuous fluctuations in prices of raw materials, especially E- motors, and batteries, directly affect micro-mobility scooter manufacturers' revenue. However, prices of electric motors and batteries are, in turn, affected by fluctuations in prices of commodities such as steel, copper, iron, and lead. Over the past five years, excessive demand for batteries and e-motors have contributed to the continuous decline in their prices.
Electric Three-Wheeler Market Analysis & Forecast
ICE-powered three-wheelers are considered ideal for public transport in high population density economies such as China and India, especially among the low-income and medium-income demographics. However, ICE-powered vehicles are often held responsible for the rising levels of vehicular pollution, which is becoming a significant worry for several governments. Moreover, depleting fossil fuel reserves, coupled with geopolitical challenges, are leading to a major increase in fossil fuel prices, thereby increasing the operational and maintenance costs of ICE-powered vehicles. Under these circumstances, electric three-wheelers are emerging as a viable, eco-friendly, and affordable alternative to ICE-powered three-wheelers.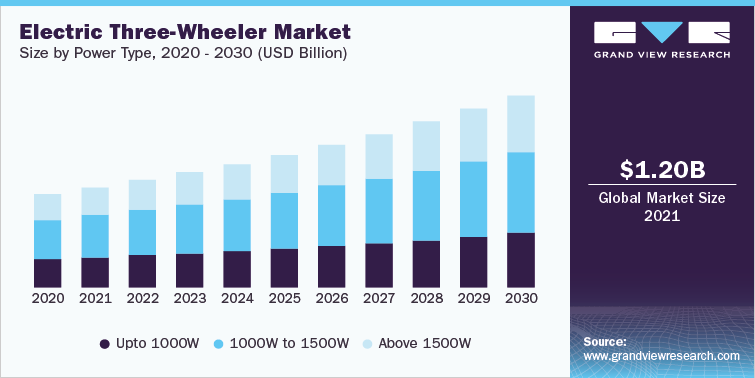 Electric three-wheelers are finding application as passenger carrier vehicles and delivery vehicles in regions such as Asia and Africa. According to the World Economic Forum, the demand for last-mile delivery in urban areas will increase by 78% in 2030, resulting in a nearly 36% growth in three-wheeler deployment. The rising number of electric mobility startups in Asian and African countries is further contributing to the market growth. Similarly, organizations from other industries, such as e-commerce, are also entering the African electric three-wheeler market. For instance, in December 2020 Sokowatch an East African e-commerce platform, announced that it would add three-wheelers, popularly known as a tuk-tuk, to its delivery fleet in Uganda. The three-wheelers are manufactured by the Indian company Gayam Motors Works.
The increasing awareness about the harmful impact of emissions from ICE vehicles on the environment has compelled manufacturers and governments to formulate strategies to push for the adoption of electric three-wheelers. Government subsidies on vehicles, batteries, or EV components will help reduce the financial burden on the end user. Governments in Asian countries such as Thailand, Vietnam, and India are introducing incentives and laws to drive the uptake of electric three-wheelers. The Thai government has launched the EV incentives package, which provides incentives such as a reduction in import duties and taxes. A new investment package announced by the government includes corporate income tax exemption on three-wheelers and plans to establish charging stations across the country to further encourage the adoption of electric three-wheelers
A looming lack of adequate charging infrastructure in urban and rural areas is one of the leading factors discouraging buyers from considering E- vehicles for last-mile commutes and deliveries. Moreover, since electric three-wheelers do not have an alternative charging source, the lack of charging infrastructure leads to range anxiety among buyers. To create a supportive ecosystem and increase EV sales, governments must focus on standardizing charging infrastructure to allow easy adoption of a range of products offered by global vendors. Presently countries utilize different rapid charging standards.
Electric Light Commercial Vehicles Market Analysis & Forecast
Increasing demand for the lightweight, fuel-efficient, and cost-effective vehicle for the transportation of goods is fueling the growth of light commercial vehicles such as pick-up trucks, vans and minibus in the market. Additionally, the booming e-commerce sector is further creating demand for the logistics transportation service, an electric light commercial vehicle which offers tax incentives, contributes to reducing fuel emission, and are affordable. Thus, LCVs are widely preferred for door-to-door delivery, pick, and drop, and shipping service in the market.
Moreover, government initiatives to reduce the global carbon footprint has positively impacted the growth of light commercial vehicles. For instance, in 2019, European Union set a mandate to meet the regional CO2 emission targets, the new LCVs manufactured vehicle fleet must emit up to 147g CO2/KM and from 2035, all the new light-duty manufactured must be zero-emission vehicle. Thus, government efforts have resulted in the increasing the share of e-vans from 1.4% in 2020 to previous year. Furthermore, to boost the adoption of light commercial vehicle, European government launched the "fit for 55 climate packages" in 2021, a regulatory framework which is expected to propel the adoption rate of electric vans by the consumers.
The prominent players in light commercial vehicle market are majorly focusing on product launching activities to maintain their dominance globally. For instance, in May 2022 Volkswagen AG, one of the key players of the automobile industry is has launched "VW ID.Buzz electric minibus", the vehicle is equipped with the Travel Assist module which has swarm data interphase, equipped with the infotainment system, and have a 77 Kwh battery.
In addition, some of automobile parts manufacturers are working on developing the technology advanced solution for electric light commercial vehicle manufacturers. For instance, in 2022, ZF Friedrichshafen AG, has launched solid rear axle for pick-up trucks, which has integrated electric drivetrains. The company-produced an e-Beam e- axle comprised of the power inverter, e- motor, transmission, axle assembly a complete solution for pick-up trucks. Also, the embedded battery packs have a faster charging option. Further, the ZF e-beam axle is paired with the ZF's Active Kinematic Control rear-wheel steering system, which reduces the turning radius of the vehicle. Therefore, these innovations and technological advancement is parts will improve overall efficiency and performance of the E- light commercial vehicle thereby contributing to creating new growth opportunity for market growth
Asia Pacific region is expected to hold the highest share in the electric three-wheeler market. Factors such as EVs as an eco-friendly and affordable option for public transport, increasing popularity of shared mobility, and active government backing for the adoption of EVs are contributing to high regional share. The region has a high penetration of electric three-wheelers, prompting manufacturers to adopt strategies such as partnerships and launching new e-three-wheeler models to gain market share. For instance, Omega Kesiki Mobility entered the passenger electric three-wheeler segment with the launch of Stream, which is priced at INR 3.40 lakhs after government subsidy.
Competitive Landscape
The key market players in the E- mobility market, such as AIMA Technology Group Co. Ltd., Bird Rides Inc., Hero Electric, Lime, Jiangsu Xinri E-Vehicle Co. Ltd., Motovolt, Okinawa Autotech Internationall Private Limited, Rad Power Bikes Inc., Yadea Technology Group Co. Ltd., Yamaha Motor Co. Ltd., and Zero Motorcycles, Inc. are continuously pursuing various initiatives such as strategic partnerships, mergers and acquisitions, and new product launches. These vendors hold expertise in the industry and have strategic footprints spread across various parts of the world. Hence, these companies have been able to successfully defend their position in the market. The below figure represents the various strategic developments initiated by these market participants:
Manufacturers of electric three-wheelers are investing aggressively in research and development to increase the range and make their electric three-wheelers cost-effective. The research & development activities are particularly focused on powertrains, among other systems. For instance, Atul Auto Limited has been pursuing a research & development strategy by developing and manufacturing parts and solutions on its own. On the other hand, Omega Seiki Mobility has collaborated with universities to focus on product development, testing, and quality control.