Database Overview
Grand View Research's ferroalloys industry data book is a collection of market sizing information & forecasts, trade data, pricing intelligence, competitive benchmarking analyses, macro-environmental analyses, and regulatory & technological framework studies. Within the purview of the database, such information is systematically analyzed and provided in the form of outlook reports (1 detailed sectoral outlook report) and summary presentations on individual areas of research along with an agricultural statistics e-book.
Ferroalloys Industry Data Book Scope
Attribute

Details

Areas of Research

Ferro Manganese Market
Ferrochrome Market
Silico Manganese Market
Ferrosilicon Market

Number of Reports/Presentations Covered in the buddle

1 Sector Outlook Report + 4 Summary Presentations for Individual Areas of Research + 1 Statistic ebook

Cumulative Coverage of Countries

50+ Countries

Cumulative Coverage of Products

10+ Products

Highlights of Datasets

Demand/Consumption Data, by Country
Competitive Landscape
Market , by Product
Market , by Application
Ferroalloys Industry Data Book Coverage Snapshot
Markets Covered

Ferroalloys Industry

USD 42.7 billion in 2020

7.1% CAGR (2021-2028)

Ferro Manganese Market Size

USD 14.2 billion in 2019

4.0% CAGR (2020-2027)

Ferrochrome Market Size

USD 16.77 billion in 2018

4.6% CAGR (2019-2030)

Silico Manganese Market Size

USD 26.74 billion in 2021

6.5% CAGR (2022-2033)

Ferrosilicon Market Size

USD 11.25 billion in 2022

2.5% CAGR (2023-2030)
Ferroalloys Industry Outlook
Ferroalloys have significant amounts of one or more non-ferrous elements. Ferroalloys are crucial additives in steelmaking and help in improving the strength of steel. It is a vital component for economic growth and plays a crucial role in the development of high-strength infrastructure across the globe. The addition of ferroalloys improves the fatigue strength, corrosion resistance, tensile strength, and ductility properties of steel products. Stainless steel, carbon & low alloy steel are major application segments of ferroalloys.
The ferroalloys market is anticipated to grow significantly owing to the increasing steel production around the globe. Ferrochrome, ferrosilicon, ferromanganese, and silico manganese are included in ferroalloys. Different ferroalloys have various purposes in the production of steel. 85 to 90% of the ferroalloys are used for steel production. Therefore, pricing of ferroalloys is hugely impacted by the steel related products and their production & consumption.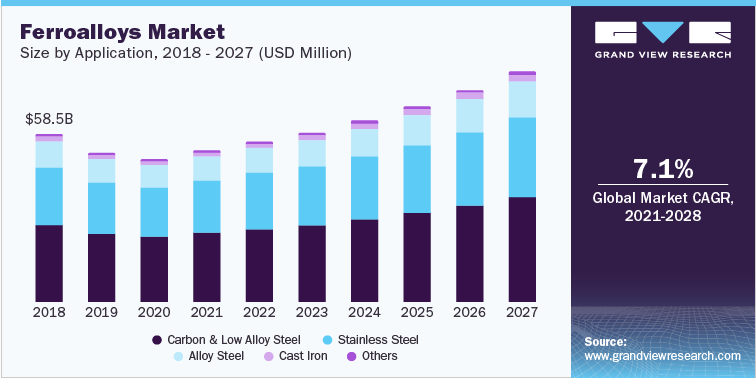 The stainless steel segment had the largest revenue share of over 32% in 2020 of the global ferroalloys market. As per The International Stainless Steel Forum (ISSF), with a share of 59% in 2020, China managed to produce majority of stainless steel in the world. Compared to 2019, the country's production increased by 2.5% in 2020. Globally, the production of stainless steel fell 2.5% year over year in 2020 to 50.9 million tons.
Cast iron is expected to continue to grow at the fastest rate in the market over the forecast period. A little amount of nickel, manganese, tungsten, chromium, and molybdenum are included in cast iron ferroalloy. The segment is expected to propel owing to benefits such the low cost manufacturing, good casting characteristics, durability, higher compression strength, and resistance to deformation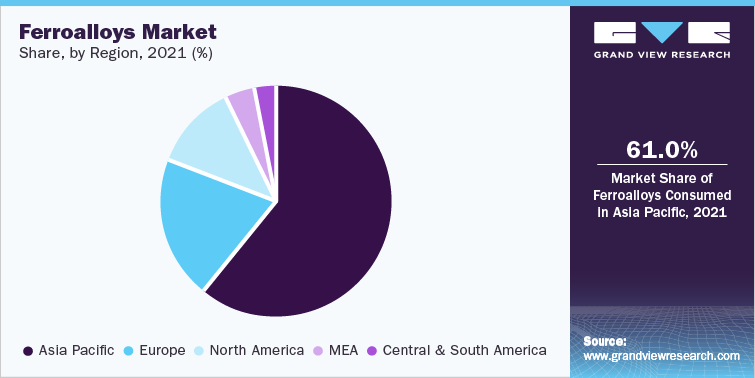 China is expected to continue to dominate the market in the coming years as it is a major producer and consumer of ferroalloys. Vietnam, India, Malaysia, and Indonesia are the newly developing regional markets for ferroalloys in the Asia Pacific region. In the years to come, significant growth is anticipated in China and the aforementioned emerging markets.
In North America, the U.S. witnessed a rise in steel production in 2019, whereas Canada and Mexico saw a decline in production. Steel production in the U.S. is much higher than in Canada and Mexico, which makes the ferroalloy market in this country substantially larger. A crucial factor driving the market expansion for ferroalloys is the rising domestic steel manufacture in the area. The demand for ferroalloys in the region declined rapidly in 2020 owing to the COVID impact, however, it recovered with economic progress.
Ferro Manganese Market Analysis And Forecast
Various industrial sectors require stainless steel which has led to steady growth and demand for stainless steel market over the past few years. The rising demand for the market has influenced the production levels positively. Ferro manganese is increasingly being used as an alternative for nickel in the manufacturing of stainless steel. As a result, consistent stainless-steel production is anticipated to fuel the ferro manganese market over the forecast period.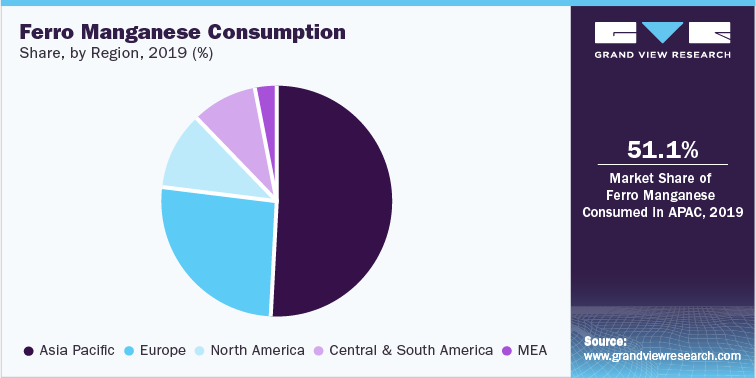 China is expected to be Asia's top producer and consumer of steel and would continue to play a significant role in the market over the forecast period. Vietnam, Malaysia, India, and Indonesia are the major developing markets for ferromanganese in Asia Pacific. The ferromanganese traders in the area are expected to benefit financially owing to the rising demand from application industries from these developing economies and their markets, along with China.
Developing Asia Pacific economies are in the key position as global ferromanganese suppliers across the globe are focusing majorly on this region. Additionally, China the largest steel producer across the globe is expected to boost the growth of ferromanganese market in the region and provide lucrative opportunities to suppliers in the region. Therefore, it is anticipated to present profitable prospects for industry participants throughout the forecast period.
Ferrochrome Market Analysis And Forecast
Ferrochrome (FeCr) is a coating to improve the corrosion resistance of stainless steel and gives it a better appearance. In stainless steel, FeCr concentration ranges from 10% to 18%, with 10% being the minimum. The stainless steel sector has a significant impact on the supply and demand for ferrochrome.
The Asia Pacific region is primarily driven by China and India's rising stainless steel manufacturing. Ferrochrome is frequently utilized in the production of stainless steel due to its corrosion resistance and appealing appearance. The International Stainless Steel Forum reports that Asian melt shops produced 34,901 thousand metric tons of stainless steel in 2018, up from 25,361 thousand metric tons in 2012.
Some of the key reasons boosting the stainless steel market in the area are expanding manufacturing activity and rising foreign investments. Manufacturing industries like construction, heavy machinery, consumer products, and automobiles benefit from increased foreign investment. According to the United Nations Conference on Trade and Development, Asia had the highest net foreign direct investment (FDI) rate of any region in 2017 at 9.1%.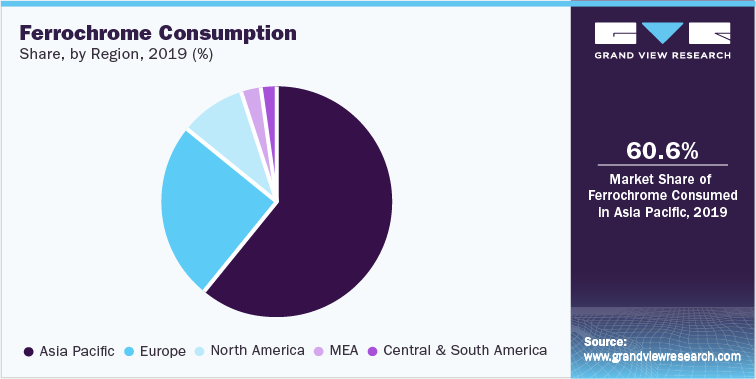 A huge proportion of stainless steel is manufactured in the Asia Pacific, which contributes to the region's dominance. In contrast, the ISSF estimates that Asia produced more than 68% of the world's stainless steel in 2018, with China dominating the industry with a 52.6% share of worldwide output. India, in alongside China, is a lucrative market for FeCr due to the country's booming stainless steel output over the past few years.
Owing to its dominance as the world's largest producer and consumer of FeCr, China controls a significant portion of the ferrochrome industry. The ferrochrome suppliers and independent smelters in China are unorganized and import chromite ore from nations like South Africa, India, and Turkey.
Europe comprises numerous automakers and auto component producers in Germany and a sizable aerospace manufacturing industry in France. As stainless steel is used to make a range of auto parts, there is a sizable domestic stainless-steel production. Also, the current pattern points to protectionist measures taken by the government to increase domestic steel output. This is anticipated to benefit the ferrochrome demand in the long run.
Silico Manganese Market Analysis And Forecast
Silico manganese is used to manufacture steel, which improves the material's strength, corrosion resistance, and ductility. Furthermore, it is utilized to refine, modify, deoxidize, and regulate nonmetallic impurities. Thus, increasing steel production and consumption are projected to have a favorable impact on the market expansion. The demand for silico manganese in the U.S. is estimated to rise over the forecast period as a result of increasing investments in steel production facilities. For instance, it is predicted that by the end of 2023, the U.S. steel sector will receive investments totaling around USD 16.00 billion for the modernization, decarbonization, and electrification of manufacturing facilities.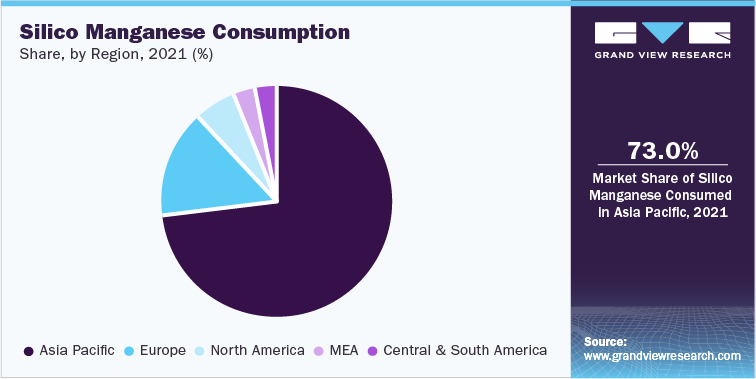 The Middle East and Africa are projected to experience a CAGR of 5.8% in terms of revenue over the forecast period. The growth of the region is attributed to the rising private investment to increase steel production. Ezz Steel, Egypt, announced in January 2022 that it would invest EGP 3 billion (about USD 154.4 million) on a second melt shop. By 2023, this will probably be fully operating.
Central & South America is anticipated to experience a CAGR of 4.9% in terms of revenue over the forecast period. Investments in oil and gas projects are expected to raise the region's demand for steel, which is likely to accelerate the expansion of the silico manganese market over the forecast period. For instance, in September 2022, a deal to construct an LNG facility and a pipeline network in Vaca Muerta, Argentina, was reached between Petroliam Nasional Berhad (PETRONAS), a Malaysian oil and gas firm, and YPF, the country's state oil company. The initial investment in the project is USD 10 billion.
Ferrosilicon Market Analysis And Forecast
Ferrosilicon is increasingly being used as a deoxidizer in the steel sector and as an inoculant in cast iron, which is anticipated to drive the market. The rising demand for steel propelled the producers to boost their production capacity. For instance, in January 2022, AM/NS India and the Government of Gujarat signed a Memorandum of Understanding, as part of which the business will invest over USD 22.0 billion in six projects throughout the state. The Hazira facility would invest USD 5.97 billion to increase its annual steel production from 8.6 to 18.0 million tons.
The sector of carbon and other alloy steel had a revenue share of more than 43.0% in 2021 and dominated the ferrosilicon market. Ferrosilicon is a crucial raw element in the manufacture of steel since it is utilized as an alloying and deoxidizing agent. Ferrosilicon powder is also utilized as a heat-producing agent for creating capped steel since it can produce a significant quantity of heat when burned at high temperatures. Cast iron is expected to increase at the fastest rate over the forecast period in terms of revenue.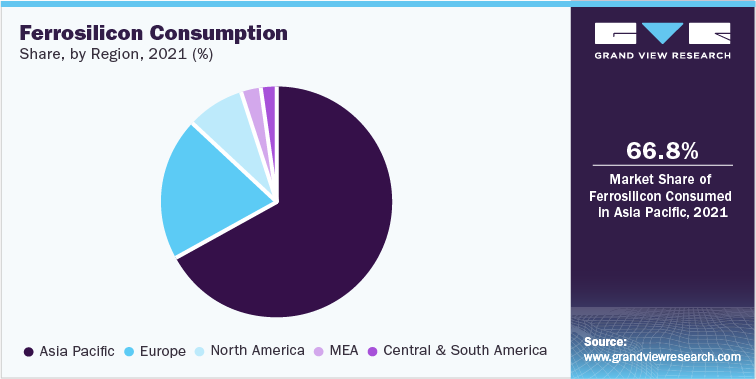 Steel production is increasing, which is boosting the ferrosilicon market's growth in the Asia Pacific region. The region's great potential for infrastructure developments as well as ongoing investments in the automobile sector is leading to rising steel production. According to the World Steel Association, India, China, and Japan were the top three countries in the world for producing crude steel in 2021. India reported a growth of 4.7% in output from 2020 to 2021 whereas China and Japan recorded a fall. Various investments are being made in the region to increase the capacity of producing steel in various nations, which is projected to help the region's market grow over the coming years.
Competitive Insights
The industry is expected to witness additional investments from established major companies in the next years owing to the competitive market outlook. For instance, Zimasco, a Sinosteel Corporation affiliate, has announced an investment of USD 35.0 million for the expansion of ferrochrome manufacturing capacity. A new project with an increased capacity of 72 kilotons per year is planned to start at the Kwekwe ferrochrome smelting plant. The market is expected to see more competitive rivalry as production capacities rise to fulfil the demand for steel.
In October 2022, Pertama Ferroalloys Sdn. Bhd. announced to invest USD 600 million for second phase expansion of its ferroalloy smelting plant in Bintulu. It is the second investment by the company after its USD 300 million investment in 2018 to start its full production

In March 2022, Tata Steel announced the acquisition of Stork Ferro and Mineral Industries Private Limited (SFML) assets in Odisha pertaining to ferroalloy at a value of USD 18.6 million.

In November 2021, a proposal to build a ferrosilicon facility at Chengmari was made to the government of Bhutan by BMML, a domestic ferrosilicon producer. The project is expected to have a value greater than USD 11.96 million.

In October 2021, Rukam Capital, The Chennai Angels, and DSG Consumer Partners contributed USD 1.1 million to The Indus Valley as an investment, a direct-to-consumer manufacturer of cast iron kitchenware, in order to increase manufacturing and supply toxic-free kitchenware goods. Additionally, ferrosilicon is utilized in the Pidgeon process to refine high purity magnesium. The production of magnesium is being driven by increasing demand from various industries.

In April 2021, Milwaukee Tool, a manufacturer, developer, and retailer of power tools with headquarters in the U.S., announced a plan to increase its market share by establishing a manufacturing plant in Grenada, Mississippi.

In April 2021, a subsidiary of Tata Steel, Tata Steel Mining Limited (TSML), announced plans to increase its ferrochrome production capacity in India by 50% to 900,000 tons annually. The increase in domestic and international demand for the ferrochrome used to make stainless steel are factors attributable for capacity development.