Database Introduction
The fertilizer industry database, compiled by Grand View Research, is a collection of market sizing information & forecasts, trade data, pricing intelligence, competitive benchmarking analyses, macro-environmental analyses, and regulatory & technological framework studies. Within the purview of the database, such information is systematically analyzed and provided in the form of outlook reports (1 detailed sectoral outlook report) and summary presentations on individual areas of research along with an agricultural statistics e-book.
Fertilizer Industry Data Book Scope
Attributes

Details

Areas of Research

Nitrogenous Fertilizers Market
Potassic Fertilizers Market
Phosphatic Fertilizers Market
Foliar Fertilizers Market
Biofertilizers Market
Water-soluble Fertilizers Market
Fertilizer Additives Market

Number of Reports/Presentations in the bundle

1 Sectoral Outlook Report + 7 Summary Presentations for Individual Areas of Research + 1 Statistics eBook

Cumulative Coverage of Countries

50+ Countries

Cumulative Coverage of Products

20+ Products

Highlights of Datasets

Production Data, by Countries
Import Data, by Countries
Demand/Consumption, by Countries
Agricultural Statistics
Competitive Analysis
Fertilizer Use, by Applications
Fertilizer Industry Data Book Coverage Snapshot
Markets Covered

Fertilizers Industry

201.3 Million Tons in 2021

1.2% CAGR (2022-2030)

Nitrogenous Fertilizers Market Size

113.3 Million Tons in 2021

1.2% CAGR (2022-2030)

Potassic Fertilizers Market Size

39.7 Million Tons in 2021

1.6% CAGR (2022-2030)

Phosphatic Fertilizers Market Size

48.8 Million Tons in 2021

1.5% CAGR (2022-2030)

Foliar Fertilizers Market Size

8.01 Million Tons in 2021

2.8% CAGR (2022-2030)

Biofertilizers Market Size

1.4 Million Tons in 2021

6.0% CAGR (2022-2030)

Water-soluble Fertilizers Market Size

7.1 Million Tons in 2021

6.5% CAGR (2022-2030)

Fertilizers Additives Market Size

8.01 Million Tons in 2021

2.8% (2022-2030)
Fertilizers Sector Outlook
The economic value generated by the fertilizer industry was estimated at approximately USD 200 billion in 2021. This economic output is an amalgamation of businesses that are involved in the manufacturing of fertilizers & their additives, distribution & supply, and application of fertilizers. With changing dietary habits and an increase in global income levels in tandem with population growth, the world's food demand is projected to increase by 59%, by 2050, from the current levels.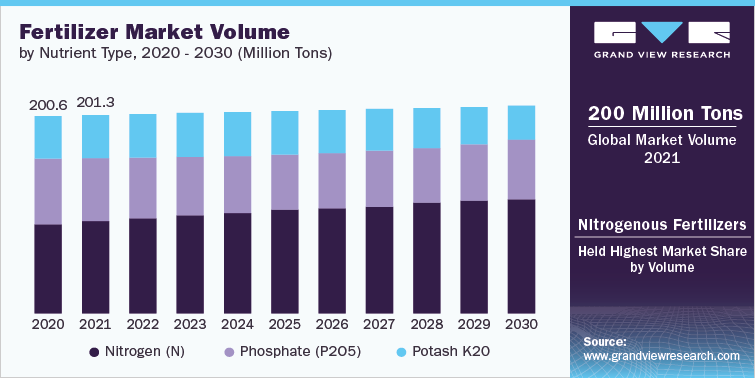 The agriculture markets will need to be transformed in never envisaged ways in order to supply sufficient food output to keep the global population nutritiously fed. In this phenomenon lies the opportunity for growth of fertilizer usage and shaping the demand patterns for sustainable solutions, as new farming methods are being developed. The demand for fertilizers is concurrent with the agricultural output of countries and their population & food demand. As such, China and India, home to nearly 2.8 billion people, collectively accounted for over 40% of the global fertilizer volume utilized in 2021.
Share of Major Fertilizer Suppliers, by Nutrient Type 2021
Total

Nitrogen

Phosphorous

Potassium

Million Tons

198

Million Tons

110

Million Tons

48

Million Tons

39

China

25%

China

25%

China

36%

Canada

30%

Russia

10%

India

12%

United States

12%

Russia

18%

United States

8%

United States

11%

India

10%

Belarus

17%

India

8%

Russia

8%

Morocco

9%

China

13%

Canada

6%

Indonesia

6%

Russia

7%

Israel

6%

Belarus

4%

Egypt

5%

Brazil

5%

Germany

6%

Rest of the World

39%

Rest of the World

33%

Rest of the World

22%

Rest of the World

11%
Nitrogenous Fertilizers Market Analysis & Forecast
Nitrogenous fertilizers made the highest demand of the NPK formulations, with the demand for nitrogen being nearly 3 times that of phosphorus or potassium. China, Russia, the U.S., and India accounted for over half of global fertilizer supplies, on account of the scale of their respective industries for agrochemical development & production.
China accounted for just over 23% of the global demand for nitrogenous fertilizers in 2021, with the country also supplying 25% of global nitrogenous fertilizers. India follows suit after China, as the second largest consumer of nitrogenous fertilizers. Both countries are characterized by the significant development of their agrarian economies and the concurrent food demand of their respective populations.
Potassic Fertilizers Market Analysis & Forecast
Canada supplies almost 30% of the world's potassium fertilizers, as the country is the largest producer of potash, with Saskatchewan province being the home to a vast majority of its potash output. Nearly 95% of potash mined is used for manufacturing fertilizers, specifically potassium fertilizers.
Brazil, Canada, and Mexico are heavily reliant on imported fertilizers, as the domestic production ecosystem in these countries isn't as established & mature compared to countries in their regions with comparable economic sizes. Furthermore, these imports are heavily reliant on the supply situation in Russia and Belarus. Albeit Canada is the leading supplier of potassium fertilizers, its domestic capabilities for other forms of fertilizers are lackluster due to the non-availability of essential feedstock domestically for the production of the latter.
Phosphatic Fertilizers Market Analysis & Forecast
The demand patterns for phosphorus fertilizers have been shifting towards the usage of phosphate compounds rather than straight phosphate formulations. While the overall consumption of phosphate fertilizers has grown at a yearly average of 1.5% from 2012 to 2020, the consumption volume of P2O5 straight formulations has declined by -2.6% yearly on average during the same period. Such shifts in demand patterns can be attributed to the usage of compound formulations and the adoption of integrated farming practices.
Over half of the global consumption of phosphorus fertilizers can be attributed to the Asia Pacific, with the region holding 56% of the market share in 2021. Like the region's domination in consumption of other nutrient-based fertilizers, phosphorus fertilizers demand is driven by China and India, boasting of large agricultural sectors respectively.
Competitive Insights
Fertilizer markets across the globe returned to making profits in Q2 2022. This is followed by a supply squeeze of essential crop nutrients in the wake of the Russian invasion of Ukraine. Sanctions on Belarus and Russia, which are amongst the top producers of potash behind Canada, a key nutrient of potassium fertilizers, led to an increase in the mineral's prices to levels registered back during the 2008 food crisis. The sanctions left a 35% void in the global output of potash.
Prices of potash were already on the rise last year due to sanctions on Belarusian state-owned company Belaruskali, in response to President Lukashenko's crackdown on political opponents. But Russia's invasion of Ukraine and subsequent sanctions exasperated the trend since Russia is also a leading producer & supplier of nitrogen, phosphate, urea, and ammonia to the world. These chemicals are other major ingredients in various fertilizer formulations. The rise in prices would benefit the operating margins of top fertilizers manufacturers such as Nutrien, Mosaic Co., CF Industries in the short to medium term.
Nutrien, in March 2022, announced that it would increase its potash production from the current levels of 1 million metric tons to 15 million metric tons per annum in response to the political situation in Eastern Europe. However, labor shortages since the dawn of the pandemic might impede further developments in this context.
Nitrogen-based fertilizer producers might witness diminishing profit margins in the long run, as natural gas price increases offset the gains associated with high fertilizer prices. CF Industries is a dominant nitrogen fertilizer maker that would be embroiled in such a scenario.
On another plane, vertically integrated companies such as Mosaic and Nutrien are positioned to mine their own potash and insulate themselves from inflating raw material prices. This isn't the case with companies such as CF Industries, which buy U.S. natural gas to produce nitrogen.
The price crunch is leaving farmers with sparse usage of fertilizers, or stockpiling fertilizers for time to come, or switching to manure, Thus, denting the overall demand for fertilizers in the near future. The ripple effects of such a slump in demand shall also bear alterations to fertilizer utilization patterns and market shares of fertilization products