Database Overview
Grand View Research's flavors & fragrances industry databook is a collection of market sizing information & forecasts, trade data, pricing intelligence, competitive benchmarking analyses, macro-environmental analyses, and regulatory & technological framework studies. Within the purview of the database, such information is systematically analyzed and provided in the form of outlook reports (1 detailed sectoral outlook report) and summary presentations on individual areas of research along with a statistics e-book.
Flavors & Fragrances Industry Data Book Scope
Attribute

Details

Research Areas

Natural Flavors & Fragrances Market

Essential Oils
Oleoresins

Aroma Chemicals Market

Number of Reports/Presentation in the Bundle

1 Sector Outlook Report + 2 Summary Presentations for Individual Areas of Research + 1 Statistic ebook

Cumulative Coverage of Countries

50+ countries

Cumulative Coverage of Product

10+ Products

Highlights of Datasets

Product Data, by Countries
Import/Export Data, by Countries
Demand/Consumption, by Countries
Competitive Analysis
Flavors & Fragrances Types, By Application
Natural Flavors & Fragrances, By Types
Essential Oils for Flavors & Fragrances, By types
Oleoresins for Flavors & Fragrances, By types
Aroma Chemicals, By types
Flavors & Fragrances Industry Data Book Coverage Snapshot
Markets Covered

Flavors & Fragrances Industry

USD 23.35 billion in 2021

4.3% CAGR (2022- 2030)

Natural Flavors & Fragrances Market Size

USD 8,510.4 million in 2022

4.6% CAGR (2023- 2030)

Aroma Chemicals Market Size

USD 15,639.1 million in 2022

3.3% CAGR (2023- 2030)
Flavors & Fragrances Industry Outlook
The economic value generated by the flavors & fragrances industry was estimated at approximately USD 23.35 billion in 2021, is anticipated to expand at a compound annual growth rate (CAGR) of 4.3% from 2022 to 2030. This economic output is an amalgamation of natural flavors & fragrances such as essential oils & oleoresins as well as aroma chemicals including esters, alcohols, aldehydes, phenols, terpenes, among others.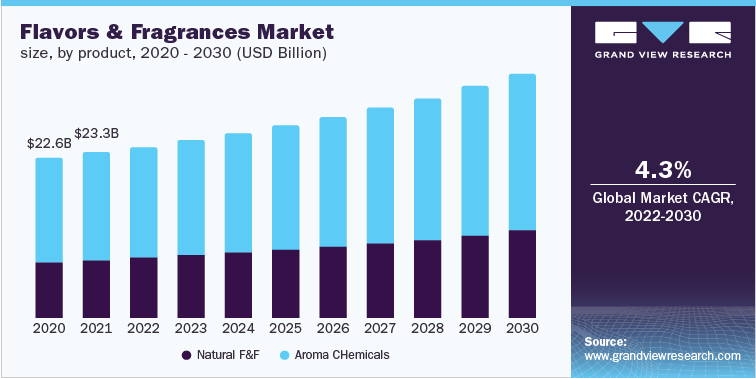 Natural flavor & fragrance ingredients are expected to grow at a high CAGR on account of growing preference for organic ingredients in the food and personal care sector. Increasing disposable income in developing economies is projected to augment the demand for fragrances used in cosmetics, toiletries, perfumes, and soaps & detergents. Natural fragrances are perceived to be safe, healthier, and therapeutic. Manufacturers engaged in developing natural fragrances often charge a "green premium" on their products.
Aroma chemicals occupied the largest share in the market due to its economical prices and high shelf-life. The easy availability of aroma chemicals is also projected to foster market growth. The demand for synthetic fragrances is fueled by their properties including long lasting nature, strong fragrance, and greater freedom of creativity to manufacturers. Moreover, synthetic fragrances are less expensive as compared to natural fragrances.
Natural Versus Synthetic Ingredients
Parameters

Natural Ingredients

Synthetic Ingredients

Definition

Natural ingredients are the ones, which are produced from or are present in nature
They are readily available in nature and do not require much processing before use
These may include animal, plant, mineral or microbial ingredients
They are grown, raised, harvested, and processed in an ecological manner
They are not genetically engineered and do not contain Genetically Modified Organisms (GMOs)
Synthetic or artificial ingredients are tailor made in the laboratories by mixing various chemicals together
Proper processing facilities need to be set up for their production
A synthetic ingredient is nothing but a chemical, which can be obtained by processing petroleum or paper pulp
It serves as an alternative to ingredients which are either not available in nature or as an ecological alternative to the natural ones

Sources

Natural ingredients include flavoring agents and fragrances occurring in nature
These ingredients are found in fruits or fruit juices, spices, vegetables or vegetable juices, edible yeast, herbs, meats, seafood, poultry, eggs, dairy products, or fermented products
They can also be essence or extracts from flowers, barks, root, leaf or similar plant material
Synthetic ingredients are artificially formulated through various chemical reactions
Many times, natural substances also may be chemically or genetically modified through human skills to yield ingredients, which show enhanced properties than the pre-reaction substances
Petroleum or paper pulp can be chemically processed to obtain these products

Price

These ingredients are costlier than the synthetic ones owing to their limited availability and limited regional presence
As their demand is higher than the supply, the prices are high
Synthetic ingredients can be produced in bulk, thus are cheaper than the natural ones

Regional Presence

The natural ingredients consist of essential oils, oleoresins, and others, which are mainly produced in India and other South Asian countries along with Africa.
Major exporters: Vietnam, India, Indonesia, Brazil, Malaysia
Major importers: The U.S. and Europe
Major exporters: South Asian countries such as India, South Korea, Japan, China, Germany, Italy, France, and other European countries
Major importers: The U.S, the Netherlands, Brazil, Mexico, Japan, the UK, and others

Processing Methods

Essential oil processing methods

Steam distillation
Phytonic process
Enfleurage

Oleoresins processing methods

Solvent extraction
Supercritical fluid extraction process
Centritherm - Thin film evaporator

Directly extracted using simple methods, simple chemical reactions, or resulting from naturally occurring biological processes
Sulphonation
Ethoxylation
Propoxylation
Blending various chemicals together

Drivers

Increasing consumer demand for natural products
Health concerns regarding artificial ingredients
Growth in essential oils and natural extracts in various applications
Large-scale demand from food & beverage industries for natural flavors & fragrances
Urbanization & changing lifestyles
Biodegradable products
No associated health effects
Easily available
Scope for enhancement
Growing personal consumption expenditures
Rising popularity for fragrance-containing goods, such as packaged foods and cosmetics & toiletries
Cost-effective and ecological alternative to natural ingredients

Restraints

High price on account of limited availability
Adverse environmental impacts owing to over-harvesting of natural sources, such as trees, for extracting essential oils such as frankincense, sandalwood, eucalyptus, and others
Time-consuming process, as one needs to grow sources by farming for sourcing these ingredients
They are usually produced using non-renewable resources, such as petroleum byproducts, which are in limited supply
They can be bio accumulative and can accumulate within the fat cells of your body, potentially altering the delicate balance of thousands of chemical reactions occurring within our bodies and ultimately impacting our health

Products

Essential oils

Orange oil, corn mint, eucalyptus, peppermint, lemon and others

Oleoresins

Paprika, black pepper, turmeric, ginger, and others

Bio-based aroma chemicals
Aroma Chemicals

Esters, alcohols, aldehydes, phenols, and others

Applications

Foods & beverages
Essential oils
Aromatherapy
Spas & salons
Fine fragrances
Perfumeries
Dairy products
Confectioneries
Cosmetics & toiletries
Bakery foods
Other flavor & fragrance industries
Food
Wine
Soft drinks
Floral scents & perfumes
Fragrance oils
Synthetic essential oils
Cosmetics
Personal care products
Pharmaceuticals
Toiletries such as soaps, detergents, hand wash
Oral care products
Natural Flavors & Fragrances Market Analysis And Forecast
Increasing consumer preference for natural and organic products is projected to fuel the demand for essential oils from end-use industries. Expanding food & beverage and hospitality industries coupled with growing disposable consumer income are anticipated to drive the market over the forecast period.
Essential oils are utilized as flavoring and aromatic agents across diverse end-use industries including medical, food & beverages, spa & relaxation, cleaning & home, and others.
In the food & beverage industry, they have witnessed rising popularity in exotic dishes and local cuisines as flavoring and coloring agents. These oils provide immense nutritive value to foods and increase the overall appeal of products with just a few drops, leading to a high value with less investment.
Oleoresin products include paprika, black pepper, capsicum, turmeric, ginger, garlic, onion and others. The ability of oleoresins to enhance the taste, color, flavor, and shelf life of the final product is expected to fuel the demand. Each ingredient is utilized based on its properties. For instance, the rising demand for colorants coupled with natural spices has propelled the demand for paprika across the world. Paprika oleoresins are extensively used in food industry as natural flavoring, also find its usage in meat products, cheese, popcorn oil, and cheese food coatings.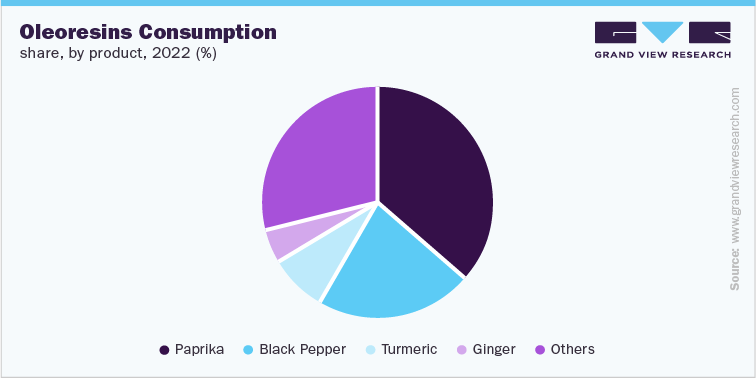 Similarly, ginger oleoresins are reported to exhibit antibacterial & antifungal activity against food borne pathogen such as bacteria & fungi. These oleoresins are also effective as bio-preservative in fresh sugarcane juice at a refrigeration temperature for a constant 35 days. The juice treated with oleoresin ginger exhibit insignificant changes in the dietary properties along with its aesthetic appeal.
Aroma Chemicals Market Analysis And Forecast
Aroma chemicals are the synthetic aromas and are used in many applications such as perfumes, food & beverages, essential oils and others. They play an important role in the production of flavors & fragrances that are used in the food industry to enhance the flavor & appeal of the product. These chemicals are classified as esters, alcohols, aldehydes, phenols, among others.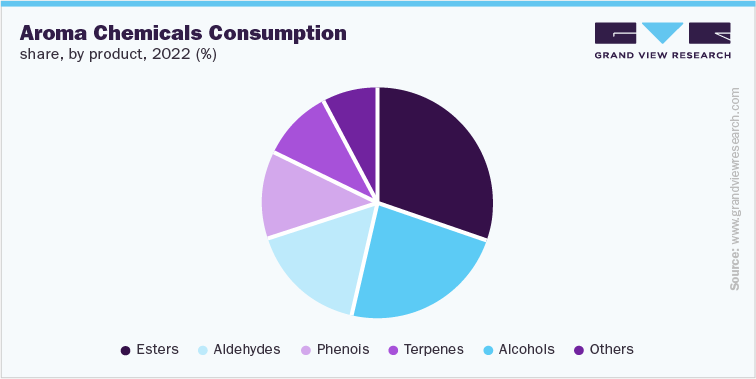 Esters accounted for a share of 30.5% in the global aroma chemicals market for flavors & fragrances in 2022. Esters are the chemicals which are naturally found in fruits & vegetables or are made synthetically by reacting carboxylic acids and alcohols together in a condensation reaction. Esters have a pleasant odor and are responsible for different types of aromas such as jasmine, roses, apples, bananas, strawberries, etc. Owing to this unique property, they are used in the perfumes as well as other flavoring & fragrance industries, and can also be implied as fixatives, and carrier solvents. However, the unsaturated esters have stronger odor than the saturated ones.
Aldehydes are formed owing to partial oxidation of primary alcohols to form carboxylic acids when they are furthermore oxidized, aldehydes differ in term of structure bond angles and smell. Aldehydes aroma relies on the structure and the size of the bond. The most common type of aldehydes used in the fragrance and the flavor industry is fatty aldehydes which tend to have a very pleasant odor with a fruity or floral scent which is detected even in very low conditions.
Competitive Insights
Though the COVID 19 pandemic led multiple chemical manufacturers to witness a decline in sale of their products, The flavors & fragrance sector was less affected by the same. The major players in the business, namely, Givaudan and Symrise, witnessed an increase in sales while the International Flavors & Fragrances saw a slight decline in the revenue.
The sales for Givaudan rose by 4% to reach USD 3.5 billion in the first half of 2020. The sales for consumer products from its fragrance division increased by 11.8% during the same time period on account of COVID 19 related bulk buying of household goods. On the contrary, the sales for its fine fragrances division dropped by 16.4% due to close down of the retail channels.
Symrise witnessed an increase of 3.4% in its sales during the first half of 2020 and 4.6% in the second quarter. The sales of its fragrance products for consumer and oral care products were strong during the period, while sales of its sun protection products witnessed a decline due to drop in tourism. The sales of its flavor business were stable during the year on account of rise in the trend of cooking at home.
The market players across the flavors & fragrances industry were able to maintain good momentum and cope with the challenges associated with operations and supply chain disruptions. Significant growth was witnessed during 2021 on account of recovery in the demand for fine fragrances and active beauty products. Similarly, the sales for flavors witness a considerable growth from beverage, savory, snacks, and health & wellness categories due to ease in the restrictions related to out-of-home eating.
The key players in the flavors & fragrances industry have been involved in new product development as a key strategy for future growth.
In November 2022, Givaudan launched MoodScentz fragrance and oral care flavors design platform which allows the perfumers to create formulations for mood enhancement.

In October 2022, Givaudan launched Scentaurus Melrose, which is a biodegradable molecule delivering long lasting fragrance.

In November 2022, Symrise launched Hydrolite 6 green for application in the cosmetics industry. The company has been involved in development of a wide range of green 1,2-alkanediols, such as Hydrolite 5 green, Hydrolite 7 green, and Hydrolite 8 green.