Database Overview
Grand View Research's flooring industry data book is a collection of market sizing information & forecasts, trade data, pricing intelligence, competitive benchmarking analyses, macro-environmental analyses, and regulatory & technological framework studies. Within the purview of the database, such information is systematically analyzed and provided in the form of outlook reports (1 detailed sectoral outlook report) and summary presentations on individual areas of research.
Flooring Industry Data Book Scope
Attribute

Details

Areas of Research

Ceramic Tiles Market
Resilient Flooring Market
Soft Covering Flooring Market
Wood & Laminate Flooring Market

Number of Reports/Presentations Covered in the buddle

1 Sector Outlook Report + 6 Summary Presentations for Individual Areas of Research

Cumulative Coverage of Countries

25+ Countries

Cumulative Coverage of Application

10+ Flooring Materials

Highlights of Datasets

Demand/Consumption Data, by Countries
Competitive Analysis/Region
Trade Statistcis
Flooring Industry Data Book Coverage Snapshot
Markets Covered

Flooring Industry

USD 266.48 billion in 2022

5.6% CAGR (2022-2030)

Ceramic Tiles Market Size

USD 59,692.1 million in 2022

5.2% CAGR (2022-2030)

Resilient Flooring Market Size

USD 29,225.3 million in 2022

6.1% CAGR (2022-2030)

Soft Covering Flooring Market Size

USD 35,591 million in 2022

4.8% CAGR (2022-2030)

Wood & Laminate Flooring Market Size

USD 51,765.1 million in 2022

6% CAGR (2022-2030)
Flooring Sector Outlook
The economic value generated by the flooring industry was estimated at approximately USD 266.48 billion in 2022. This economic output is an amalgamation of businesses that are involved in the manufacturing of flooring materials, distribution & supply, and application of flooring.
Positive growth outlook exhibited by the construction industry especially in the developing economies is expected to bolster the flooring materials industry as it is one of the most conventional construction materials.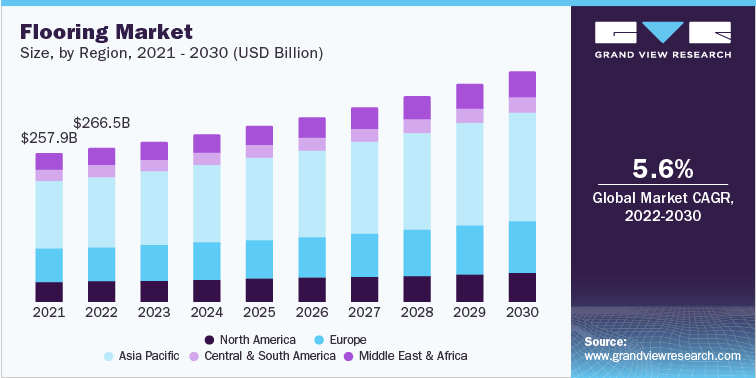 Asia Pacific dominated the flooring market in 2022 with revenue share of over 45%. Asia Pacific is expected to remain the largest regional market and witness the fastest growth over the forecast period due to the rapidly growing population thus leading to higher demand for residential spaces. In addition, growing service sector and development of industrial clusters in the emerging economies of the region such as India is further expected to bolster the demand for flooring materials in commercial and industrial applications.
Ceramic Tiles Market Analysis And Forecast
Ceramic tiles are increasingly being used in the construction industry and are a very common choice for kitchen and bathroom flooring and wall applications. Growing demand for ceramic tiles in this industry rises from the need to address current construction problems as well as future innovative structural designs. Presently, construction problems include widespread infrastructural decay, which is attributed to the exhaustion of material life for many concrete structures.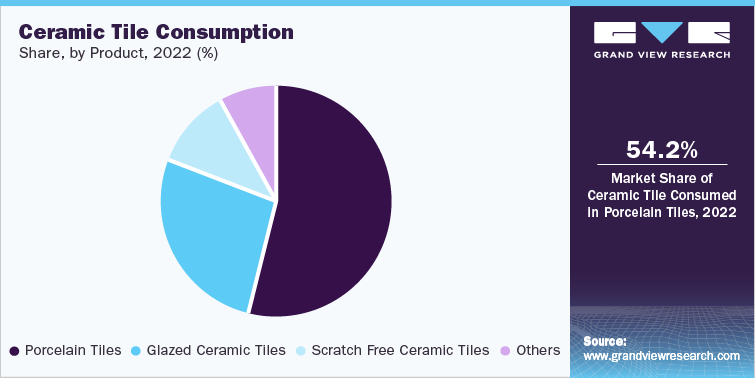 Porcelain tiles are made from fine, denser clay, and fired at extreme temperatures, which makes them more durable. Features such as mold and bacteria resistance offered by impervious porcelain tiles lead to long-term value in floor covering. In addition, this flooring product does not fade and is easy to maintain. Moreover, the products are chemical and stain resistant and, therefore, highly suitable for use in commercial spaces such as hotels, shopping malls, institutional buildings, and others. Rising use of sustainable construction materials is expected to positively influence the growth of porcelain tiles as their manufacturing process is also environmentally friendly.
Resilient Flooring Market Analysis And Forecast
Increasing development of new innovative floor covering solutions and consumer trends in construction solutions and floor design have been critical in the industry development over the last few years. Expansion of ultramodern workspaces and offices along with increasing consumer lifestyles and rapid urbanization has led to the growth of the resilient flooring industry.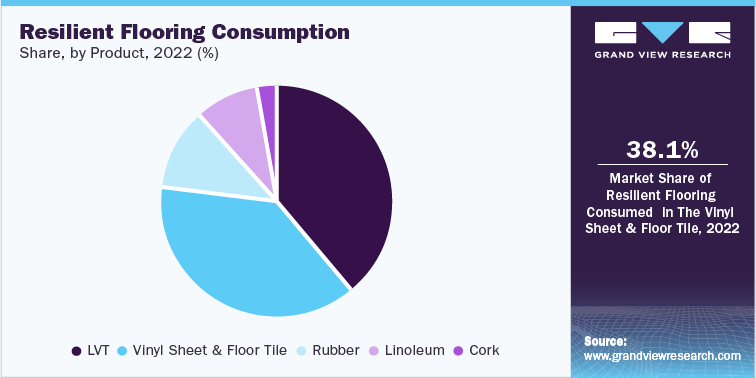 Luxury Vinyl Tile (LVT) is one of the favorable product segments in the global resilient flooring market on account of the durability and low-cost benefits of these tiles. LVTs can be used to create exceptional visual appeal replicating concrete, natural stone, metal, wood, and several other unique finishes in both designs and texture. These tiles can be easily designed with endless patterns and in several color options, thereby offering a wide range of product varieties for the application industries.
Soft Covering Flooring Market Analysis And Forecast
The tourism and hospitality industry are witnessing a rebound post the COVID-19 slump, thus exhibiting a positive growth outlook for the construction hotels, resorts and recreational centers. Thus, this in turn is expected to bolster the growth of soft covering flooring over the forecast period.
Carpet is primarily of three types, namely woven, tufted, and knotted. Owing to its cushioned surface, it can absorb sound, offers a non-slip surface, and adds additional warmth. It is one of the most affordable flooring products. Carpets are highly used in commercial and residential establishments such as hotels, retail stores, and private homes.
Wood & Laminate Flooring Market Analysis And Forecast
The wood and laminate flooring market is anticipated to be driven by the rising demand for aesthetically pleasing flooring products. Growing demand from the residential construction and replacement segment has been the major driving force behind this increase in demand. Commercial establishments lay high emphasis on the interior and exterior design and decor to provide superior experience to consumers leading to a growth in the demand for hardwood floorings.
High durability and easy installation are some of characteristic attributes associated with wood flooring. These flooring is highly preferred for its durability and longevity and offers an option to choose from a wide variety of dent and scratch resistant wood species to choose from. Wood flooring category majorly comprise of solid wood flooring, engineered wood flooring and others. The solid
Competitive Insights
The manufacturers aim to achieve optimum business growth and strong market position through implementation of various strategies such as acquisitions, new product launch, collaborations, and strengthening of distribution network in the global as well as regional markets. Flooring material manufacturers aim to intensify their market positions by widening their customer base. Thus, multi-national players are aiming to achieve business growth in regional market by mergers, acquisition and other strategic initiatives.
Furthermore, these manufacturers are focusing on distribution, new product launches, and product expansion to gauge existing as well as future demand patterns from merging application sectors. The existing and emerging application scenario is anticipated to offer favorable opportunities for the key players operating in the market. Distribution and sales locations is another beneficial factor for the companies to enhance their overall positioning in the commercial flooring market.
In September 2019, Porcelanosa Group inaugurated a new showroom in Brooklyn, New York, in order to showcase its ceramic and porcelain products. The facility features an exhibition space of more than 6,000 square feet

In October 2018, Mohawk Industries, Inc. acquired Berghoef to strengthen its position in Europe in mezzanine flooring on account of rising demand in e-commerce warehousing in the region.

In November 2018, Armstrong Flooring, Inc. sold its wood flooring segment to American Industrial Partners for a value of USD 100 million. With this divestment, the company has planned to intensify its focus on other resilient flooring products.