Database Overview
Grand View Research's food packaging industry data book is a collection of market sizing information & forecasts, trade data, pricing intelligence, competitive benchmarking analyses, macro-environmental analyses, and regulatory & technological framework studies. Within the purview of the database, such information is systematically analyzed and provided in the form of outlook reports (1 detailed sectoral outlook report) and summary presentations on individual areas of research along with a statistics e-book.
Food Packaging Industry Data Book Scope
Attribute

Details

Areas of Research

Flexible Food Packaging Market
Fresh Food Packaging Market
Food Container Market
Micro-perforated Food Packaging Market

Number of Reports/Presentations Covered in the buddle

1 Sector Outlook Report + 4 Summary Presentations for Individual Areas of Research + 1 Statistic ebook

Cumulative Coverage of Countries

50+ Countries

Cumulative Coverage of Products

50+ Products

Highlights of Datasets

Retail Food Industry Revenue, by Country
List of Key Food Companies
List of Food Packaging Companies
Edible Vegetable Trades, Top 10 Countries 2021
Edible Friuts Trades, Top 10 Countries 2021
Avg Pricing of the food packaging products
Competitive Landscape
Food Packaging, by Type
Fresh Food Packaging Market, by Product
Food Container Market, by Product
Micro-perforated Food Packaging Market, by Application
Food Packaging Industry Data Book Coverage Snapshot
Markets Covered

Food Packaging Industry

USD 346.5 billion in 2021

Flexible Food Packaging Market Size

USD 150.9 billion in 2021

6.3% CAGR (2022-2030)

Fresh Food Packaging Market Size

USD 129.0 billion in 2021

5.0% CAGR (2022-2030)

Food Container Market Size

USD 147.5 billion in 2021

4.2% CAGR (2022-2030)

Micro-perforated Food Packaging Market Size

USD 1.5 billion in 2021

6.1% CAGR (2022-2030)
Food Packaging Industry Outlook
The economic value generated by the food packaging industry was estimated at approximately USD 346.5 billion in 2021. This economic output is an amalgamation of businesses that are involved in the manufacturing of food packaging products, distribution & supply, and application of the product in the end-use industry.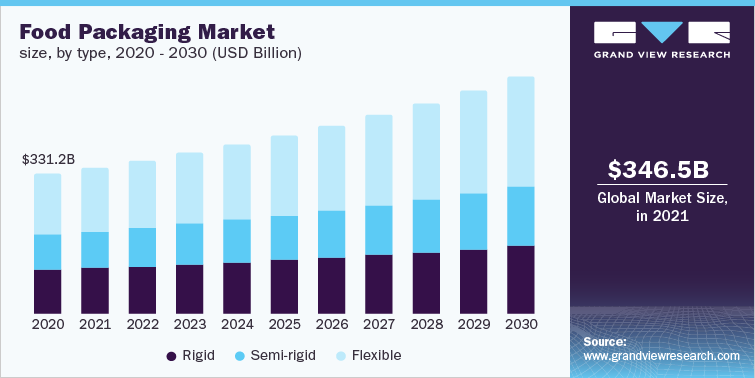 The value chain of the food packaging market depicts the whole value creation process. This value chain is characterized by significant value added by manufacturers with varying distribution margins across various regions. Asia Pacific and Europe accounted for the largest markets for food packaging in 2020 owing to an increase in food consumption, especially convenience food in the regions. In Asia, the demand for food packaging is on a constant rise, thereby prompting key players to set up their manufacturing units in proximity to the growing market.
The manufacturing process includes the processing of raw materials and producing various food packagings products such as paper cartons & boxes, plastic films & pouches, steel & aluminium cans, and glass jars & bottles for various applications such as bakery & confectionery, dairy products, meat, fish & poultry, sauces & dressings, frozen foods, and convenience food. Manufacturers obtain raw materials from third-party suppliers through competitively priced supply contracts. Some of the major manufacturers in the food packaging market are Amcor Ltd., Bemis, and Ball Corporation.
The emergence of e-commerce has given food packaging producers an additional sales channel because end-use businesses can directly place an order via e-commerce portals. When compared to conventional distribution channels, e-commerce platforms offer greater discounts to customers because they operate primarily based on high sales Revenue. Some of the key distributors/suppliers include Moresco Distributing Company, MJS Packaging, and Victor Packaging
Flexible Food Packaging Market Analysis And Forecast
Flexible food packaging combines the benefits of paper, aluminium foil, and plastic without impacting the barrier protection properties, printability, ease of use, and durability of packaging products. This packaging also keeps the freshness of packaged products intact. Some examples of flexible food packaging products are chip bags, protein bar wrappers, juice pouches, and granola pouches.
Brands operating in the food & beverages industry try to use flexible packaging materials in the form of unbreakable, lightweight, and portable pouches for packaging food products instead of glass and plastic packaging products as they are easy to handle. Flexible packaging products have lower costs than rigid packaging products and are eco-friendly resulting in their low carbon footprint.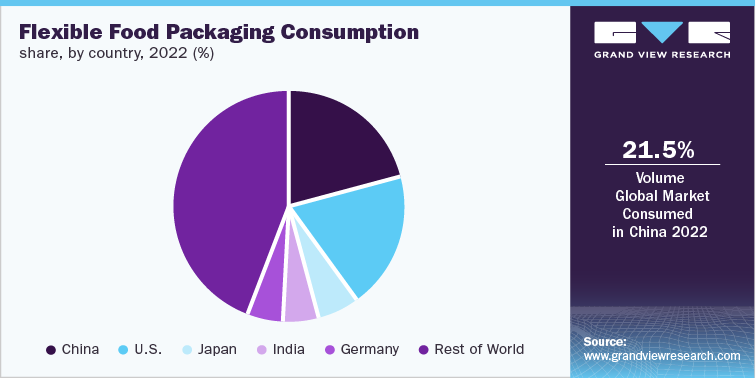 The flexible segment of the food packaging market is growing significantly worldwide. According to a report titled 'Flexible Packaging Facts & Figures' released by the Flexible Packaging Association (FPA), it was the second-largest segment of the packaging market in the U.S. as of August 2021. Increasing demand for flexible packaging products for packing food products owing to their cost effectiveness, lightweight, etc. is anticipated to fuel the growth of this segment of the market.
According to the Packaging Distributors of America (PDA), there are several factors responsible for the surged adoption of flexible packaging products in the food industry, including the cost savings linked with their usage and consumer acceptance of products packed in them. For instance, Campbell has switched from conventional glass jars and aluminium cans to pouches for packaging sauces and soups.
Ongoing technological advancements in flexible packaging in the form of improving moisture and freshness retention properties are expected to fuel the demand for flexible packaging products across the world in the coming years. For instance, Fresh-Lock technology offers reclosable flexible packaging solutions with improved durability and slow oxidation when used with appropriate refrigeration and freezing conditions.
Fresh Food Packaging Market Analysis And Forecast
Fresh produce sales increased by USD 4.5 billion in the U.S. between January and August 2020 as compared to the same period in 2019. According to a survey conducted in July 2020, a majority of contemporary consumers preferred the purchase of fresh food and are willing to pay a premium price for the same. Increasing demand for organic fresh food products like fruits, vegetables, and dairy from diet and health-conscious consumers is expected to have an appositive impact on the demand for the fresh food packaging market in coming years.
Furthermore, ever-increasing food service operators and retail chains in North American and European economies are projected to switch from plastic packaging to a sustainable solution to attract an environment-conscious consumer base in the region. Thus, the aforementioned factors are expected to drive the demand for eco-friendly fresh food packaging.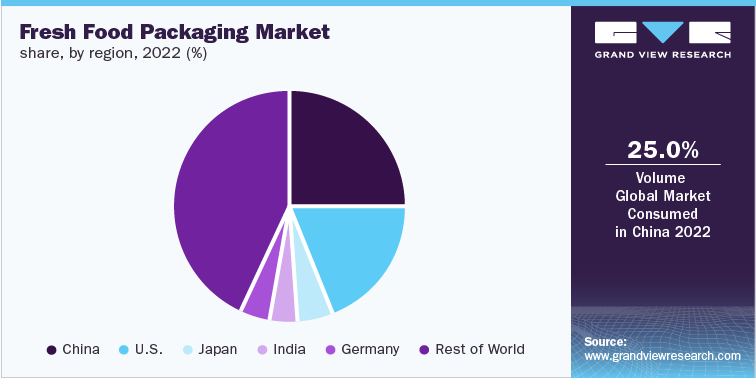 Storage and transportation of fresh produce incur a higher cost as safe handling is required during the process to protect the products from external impact. Therefore, players are developing new products to cater to specific consumer demands. For instance, in March 2021, Amcor launched a 1-litre container bottle for fresh milk. This is made from 20% transparent post-consumer recycled (PCR) polyethylene terephthalate (PET) which increases the sustainability of the product.
Fruits & vegetable applications dominated the application segment in terms of revenue. Major contents in a vegetarian diet are fruits and vegetables. The shift in consumer preference toward a vegan diet and plant-based nutrients is likely to expand the market size of the fruits and vegetable segment. Furthermore, players operating in the market are developing innovative solutions such as efficient oxygen barriers, bio-based raw materials, and other printing capabilities in order to capture large market shares.
Food Container Market Analysis And Forecast
The global market is primarily driven by the enormous increase in global food output. The demand for convenient packaging that is easy to store, and carry, and enables immediate consumption of food is likely to rise. Thus, it is critical for food container manufacturers to stay up to the changing consumer tastes.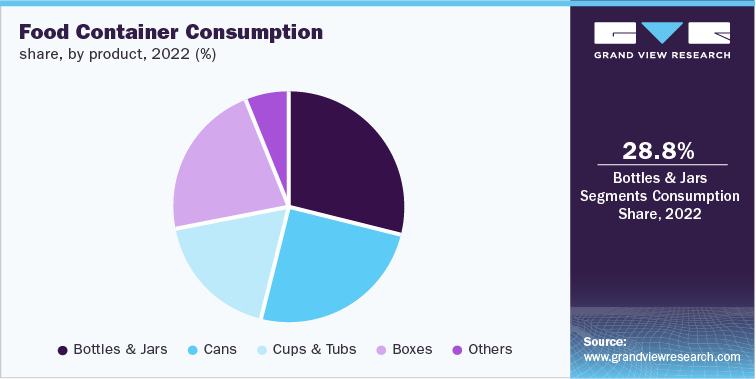 The rise in the number of employed women, the proportion of households consuming packaged goods, and a significant rise in double-income households are boosting the worldwide industry for food containers' future growth. The population growth in metropolitan areas and the growing number of single-person households are expected to drive the demand for food containers.
However, the market's expansion would be constrained by the environmental impact of food storage container disposal in the forecast period. Moreover, food contamination as a result of the usage of lower-quality materials is another factor that is expected to hamper the target market's expansion in the near future.
Micro-perforated Food Packaging Market Analysis And Forecast
Micro-perforated food packaging is a type of perforated packaging that contains micro holes, which enable gas permeation in order to maintain the rate of respiration of food products. Micro-perforation involves the puncturing of packaging films with holes ranging from a diameter of 30 mm to 200 mm. This packaging offers various advantages including extended shelf life and moisture retention of the food products.
We have segmented the global micro-perforated food packaging market based on three parameters, namely material, application, and region. In terms of material, micro-perforated food packaging market has been segmented into polyethylene (PE), Polypropylene (PP), polyethylene terephthalate (PET), and others. Others include Polyvinyl chloride (PVC) and Ethylene vinyl alcohol (EVOH). These materials are used in various types of plastic packaging such as wraps, bags, pouches, and sleeves.
Micro-perforated packaging is used in various applications including fruits & vegetables, bakery & confectionery, ready-to-eat, and others. Some of the other applications include the packaging meat and seafood. Wraps are the most preferred packaging type for all applications on account of their aesthetic appeal and low cost.
On the basis of region, the market has been segmented into five major regions and eight countries. The five key regions include North America, Europe, Asia Pacific, Central & South America, and the Middle East & Africa (MEA). Countries that account for a major share of the market include the U.S., Germany, the UK, China, Japan, India, Brazil, and the UAE.
Competitive Insights
The food packaging market is characterized by intense competition, with both public and private companies focusing on product development and innovations. Public companies with established production bases, expanded product portfolios, and distribution channels are gaining a competitive edge in the market. Key public companies present in the market include Berry Global Inc. Amcor Plc, and DS Smith. Along with food packaging, companies also provide packaging solutions for healthcare, cosmetics, food service, and industrial sectors.
The increasing popularity of ready-to-eat foods, frozen foods, and convenience foods is expected to be one of the factors that are accelerating the growth of the food packaging market. Furthermore, the rising demand for sustainable and eco-friendly food packaging products and solutions by consumers and food processing companies is expected to enhance market growth. Stringent government policies and regulations regarding the use of plastic are increasing the demand for eco-friendly packaging products..
In April 2022, WestRock Company partnered with a Canada-based food chain named Swiss Chalet Partners to introduce paperboard recyclable packaging for their Canada outlets

In May 2022, Berry Global, Inc. launched a plastic cup in partnership with Taco Bell, which contained mechanically recycled post-consumer resins (PCR).

In April 2022, Mondi provided a thermally protective and recycled packaging solution to a London-based food startup named Tyme.