Database Overview
Grand View Research's handbag industry data book is a collection of market sizing information & forecasts, trade data, pricing intelligence, competitive benchmarking analyses, macro-environmental analyses, and regulatory & technological framework studies. Within the purview of the database, such information is systematically analyzed and provided in the form of outlook reports (1 detailed sectoral outlook report) and summary presentations on individual areas of research.
Handbag Industry Data Book Scope
Attributes

Details

Areas of Research

Tote Handbags Market
Clutch Handbags Market
Satchel Handbags Market

Number of Reports/Presentations in the Bundle

1 Sector Outlook Report (PDF) + 3 Summary Presentations for Individual Areas of Research (PDF) + 1 Statistic ebook (Excel) + 4 Individual Databook (Excel)

Cumulative Coverage of Countries

15+ Countries

Cumulative Coverage of Products

15 + level 1 & 2 Products

Highlights of Datasets

Product Data, by Country
Import/Export Data, by Country
Demand/Consumption Data , by Country
Statistic e-book
Competitive Analysis
Handbag Industry Data Book Coverage Snapshot
Markets Covered

Handbag Industry

USD 40,431.9 million in 2022

6.1% CAGR (2023-2030)

Tote Handbags Market Size

USD 21,186.7 million in 2022

5.8% CAGR (2023-2030)

Clutch Handbags Market Size

USD 12,364.5 million in 2022

6.0% CAGR (2023-2030)

Satchel Handbags Market Size

USD 6,872.1 million in 2022

7.1% CAGR (2023-2030)
Handbag Sector Outlook
Handbags are an essential fashion accessory for both men and women. People often use handbags to express their personal style and complement their outfits. The ever-changing fashion trends and the desire to stay stylish drive the demand for a variety of handbag styles, designs, and brands.
Global travel and tourism growth has led to increased demand for travel-friendly handbags and accessories. Consumers often seek lightweight, durable, and secure bags suitable for their travel needs. The popularity of destination shopping also drives handbag sales in tourist hotspots.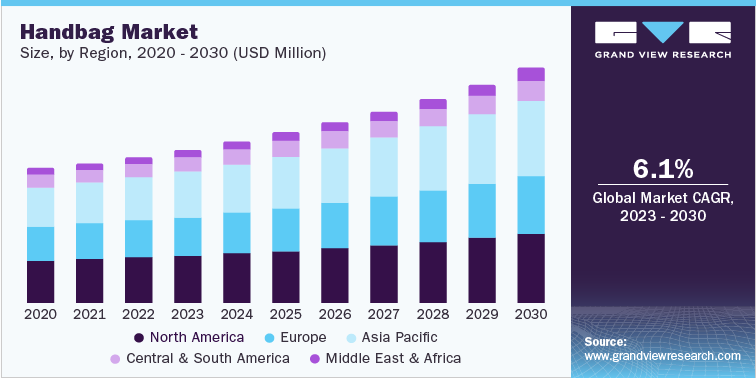 Many handbag manufacturers and brands are now focusing on using vegan leather, plant-based materials, upcycled materials, and sustainable materials in their products. Brands like Matt & Nat, Stella McCartney, Angela & Roi, and Pixie Mood, among others, are emphasizing on launching handbags made from sustainable materials like vegan leather to meet the growing sustainable needs among the global population. For instance, in January 2022, Veganologie, a popular accessories brand based in Dubai introduced a line of vegan leather and faux suede handbags made from recycled plastic bottles. The collection consists of three different styles of handbags in distinctive colors.
Tote Handbag Market Analysis And Forecast
Tote bags are generally larger in size compared to other handbags, providing ample space to carry essentials such as laptops, books, gym clothes, groceries, or even beach accessories. Their roomy interior makes them ideal for everyday use and practical for various activities. Korean fashion and aesthetics have gained significant popularity among younger consumers worldwide. Tote bags align well with the minimalist, practical, and stylish aspects of Korean fashion trends, contributing to their increased demand.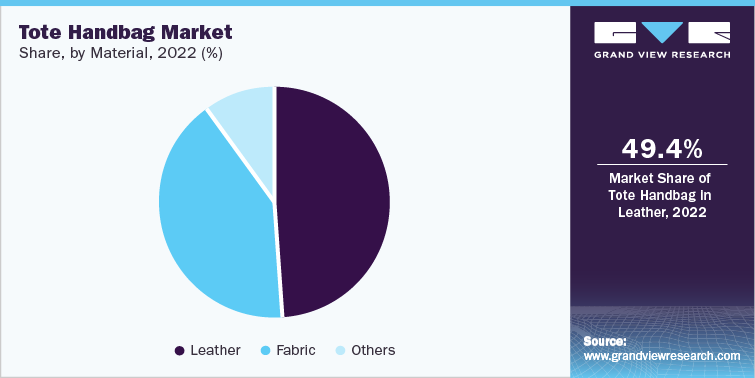 Leather is a durable material known for its longevity. Leather tote bags are designed to withstand regular use and can handle the wear and tear of everyday life. The high-quality craftsmanship associated with leather goods ensures that these handbags can last for years, making them a worthwhile investment for many consumers. Many professionals, such as businesspeople, lawyers, and executives, prefer leather tote bags for their sleek and polished appearance. Leather tote bags' structured and professional look can enhance one's overall image in a work or formal setting.
Luxury accessories brands continuously innovate in terms of design, offering unique and distinctive leather tote bag designs that capture the attention of affluent consumers. These brands often set trends and establish themselves as leaders in the fashion industry and collaborate with designers, driving the demand for their leather tote bags. For example, in November 2022, Luca Nichetto, a well-known furniture designer collaborated with Angela Roi, a prominent accessories brand to design a tote bag crafted from apple skin leather.
Clutch Handbag Market Analysis And Forecast
The rise in disposable income, especially among the affluent population, has contributed to the increased demand for luxury bags. As consumers have more purchasing power, they are more likely to invest in high-end and designer handbags, including clutch bags, as a symbol of luxury and status. Clutch bags are often favored for social events and parties due to their compact size and stylish appeal. Consumers appreciate the convenience and elegance of clutch bags, which can elevate their outfits and make a fashion statement on special occasions.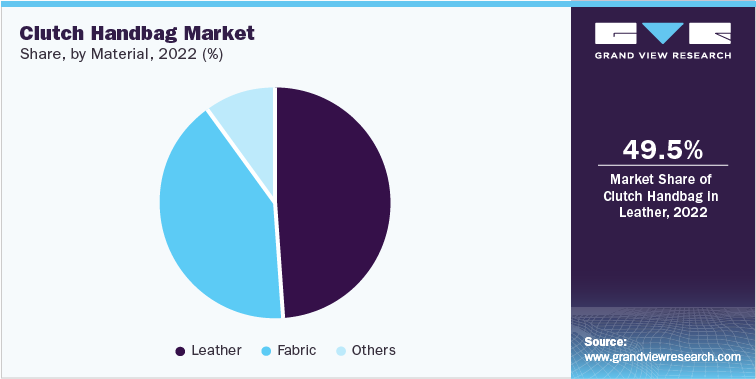 Clutch handbags are characterized by their small size and lack of handles or straps, typically designed to be carried in one hand or tucked under the arm. Clutch leather handbags are versatile and can be easily paired with different outfits and occasions. They can be used during daytime events or dressed up for evening affairs, making them a versatile accessory choice. Also, the increasing prices of designer bags and their ever-increasing demand among high-income households have facilitated the overall demand for luxury accessories like leather clutch bags in countries like the U.S. and the U.K. For instance, according to Business and Fashion's new data and insights on June 2022, the average price of a women's designer bag in the US has increased by 27% since 2019.
Satchel Handbag Market Analysis And Forecast
Satchel handbags can make a fashion statement by adding a touch of style and personality to an outfit. They come in a wide range of colors, patterns, and embellishments, allowing individuals to express their individuality and complement their personal style. The unisex design and versatility of satchel handbags have made them a preferred choice for individuals who appreciate a gender-neutral accessory.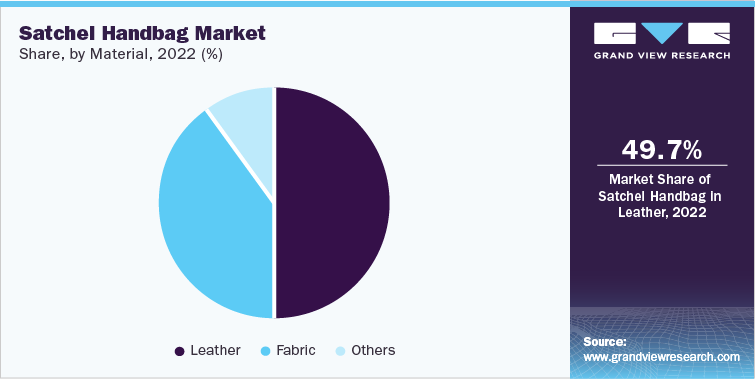 Leather satchels are extremely popular in the UK, where they are seen as an essential fashion item. Although satchel bags, particularly leather ones, were originally worn by horse riders and motorcyclists, they are increasingly being adopted by customers from various walks of life due to their utility and convenience.
Competitive Insights
The manufacturers aim to achieve optimum business growth and a strong market position through the implementation of various strategies such as acquisitions, new product launches, collaborations, and strengthening of distribution networks in the global as well as regional markets. Handbag manufacturers aim to intensify their market positions by widening their customer base. Thus, multinational players are aiming to achieve business growth in the regional market through mergers, acquisitions, and other strategic initiatives.
For instance, in April 2023, Rashki, a sustainable fashion brand collaborated with Atma Leather to introduce banana leather bags in Indian markets. The brand has launched different bags made with Banofi leather that includes a Fede tote bag, a Unica Eco handbag, and Snow black and white crossbody bag.

For instance, the Frayme Mylo bag marks a significant milestone in sustainable and cruelty-free fashion by introducing the vegan leather bag in Stella McCartney's Summer 2022 collection. Mylo is a vegan leather alternative developed by Bolt Threads and the company showcases the potential of innovative materials in the fashion industry.