Database Overview
Grand View Research's healthcare information systems industry data book is a collection of market sizing information & forecasts, regulatory data, reimbursement structure, competitive benchmarking analyses, macro-environmental analyses, and regulatory & technological framework studies. Within the purview of the database, all such information is systematically analyzed and provided in the form of presentations and detailed outlook reports on individual areas of research.
Healthcare Information Systems Industry Data Book Scope
Attributes

Details

Areas of Research

Hospital Information Systems Market

Electronic Health Records (EHR) Market
Patient Engagement Solution Market
Population Health Management Market

Pharmacy Automation Systems Market
Laboratory Informatics Market
Revenue Cycle Management Market

Number of Reports/Presentations in the bundle

7 Outlook Reports
1 Sectoral Summary Presentation
1 Data eBook

Cumulative Coverage of Countries

50+ Countries

Highlights of Datasets

Product Revenue, by Countries
Deployment Revenue, by Countries
Component Revenue, by Countries
End Use Revenue, by Countries
Competitive Landscape
Regulatory Guidelines, by Countries
Reimbursement Structure, by Countries

Total Number of Tables (Excel) in the bundle

831

Total Number of Figures in the bundle

533
Healthcare Information Systems Industry Data Book Coverage Snapshot
Markets Covered

Healthcare Information System Industry

USD 406.4 billion in 2022

13.3% CAGR (2023-2030)

Hospital Information System Market Size

USD 118.2 billion in 2022

17.7% CAGR (2023-2030)

Electronic Health Records (EHR) Market Size

USD 29.7 billion in 2022

6.9% CAGR (2023-2030)

Patient Engagement Solution Market Size

USD 21.9 billion in 2022

17.5% CAGR (2023-2030)

Population Health Management Market Size

USD 57.2 billion in 2022

22.1% CAGR (2023-2030)

Pharmacy Automation Systems Market Size

USD 5.8 billion in 2022

10.0% CAGR (2023-2030)

Laboratory Informatics Market Size

USD 3.7 billion in 2022

4.7% CAGR (2023-2030)

Revenue Cycle Management Size

USD 269.2 billion in 2022

11.2% CAGR (2023-2030)
Healthcare Information Systems Industry Outlook
The global healthcare information systems market size generated over USD 406.4 billion in 2022 and is expected to grow at a CAGR of 13.3% over the forecast period. Rising global prevalence of chronic diseases is one of the key factors anticipated to boost the demand for healthcare IT for better Chronic Disease Management (CDM). In the U.S., various organizations are implementing healthcare information technology to improve their CDM programs. Some of the healthcare IT applications used for CDM are telehealth, which remotely connects patients and providers for co-management of chronic diseases, Electronic Health Records (EHRs) with integrated chronic care management tools & decision support, and Clinical Decision Support (CDS) systems. As per our study, the market is segmented into application, deployment, component, and end use.
The presence of Accountable Care Organization (ACO) and growing acceptance of these organizations by Medicare, Medicaid, and private health insurers have led to an increase in the number of ACOs by 600% in the past 5 years. Increase in the number of collaborations between private players to start a new ACO is one of the major factors expected to increase the focus on reducing healthcare cost with efficient treatment, which is anticipated to increase the implementation of healthcare information systems.
RCM dominated the HIS market in 2022. The rising need for optimization of organizational workflow coupled with growing innovation in synchronized management software and systems is anticipated to promote RCM market growth. Also, the establishment of teams by federal agencies for regulatory reforms leads to the possibility of reclassification of various healthcare products within the medical industry.
Hospital Information Systems Market Analysis & Forecast
The global hospital information system market was valued at USD 118.2 billion in 2022 and is anticipated to witness growth at a rate of 17.7% over the forecast period. Rising government initiatives and increasing demand from hospitals to deploy advanced IT solutions for effective operational efficiency are some of the key factors driving the adoption of hospital information systems. In addition, growing use of Electronic Health Records (EHRs) for patient-centric care is significantly boosting market growth. Furthermore, technological advancement in healthcare IT infrastructure along with increasing adoption of cloud computing in hospital settings is impelling market growth.
The hospital information system market is segmented based on type. It includes electronic health record, electronic medical record, real-time healthcare, patient engagement solution, and population health management. Population health management (PHM) dominated the market. It is driven by several key factors such as increasing government initiatives being undertaken to reduce healthcare costs, growing importance of value-based care, rising need for effective disease management, and introduction of Big Data analytics in healthcare, software, & IT solutions. In September 2020, Cerner collaborated with Hampshire and Isle of Wight (HIOW) health and care system to implement their PHM data platform, HealtheIntent along with their big data analytics solution, HealtheEDW. These tools aimed at transforming and improving the health and care delivery of the UK's population.
EHR also held significant shares in 2022 within the hospital information system category. The need for centralization of medical records for efficient care delivery and shift in trend toward value-based care are among factors driving the EHR market. Furthermore, provision of Medicare and Medicaid EHR Incentive Programs is another example of public initiative. Under this program, payments are incentivized for eligible healthcare professionals and hospitals that implement, adopt, update, and demonstrate the way of using certified EHR technology.
The patient engagement solutions market is majorly driven by factors such as increasing deployment of cloud-based technologies in healthcare facilities, rising demand for patient-centric healthcare delivery due to the shift toward value-based care, and rising burden of diseases worldwide.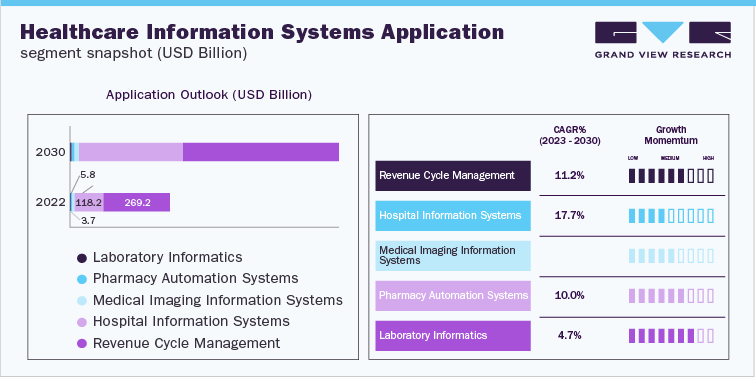 Pharmacy Automation Systems Market Analysis & Forecast
The pharmacy automation systems market was valued at USD 5.8 billion in 2022 and is expected grow at a CAGR of 10.0% from 2023 to 2030. Medicine wastage is a major problem globally and costed USD 14.56 globally in 2021, with the adoption of automation in pharmaceutical sector there have been considerable reduction in wastage of medicines and increasing prescription volumes.
Increased prescription volumes have been reported due to the adoption of automation systems in retail pharmacy, with the users of automation devices such as dispensing robots reporting increase in prescription volumes up to 70%, which is attributed to positively impact the demand for the automation devices globally.
On the basis of product, the medication dispensing segment dominated the market in 2022. These systems are commonly used in medication distribution process to reduce errors in dispensing and enhance speed & accuracy. According to a research study published by Health Technology Inquiry Service, automated dispensing devices reduced dispensing and medication errors along with costs as compared to the manual systems.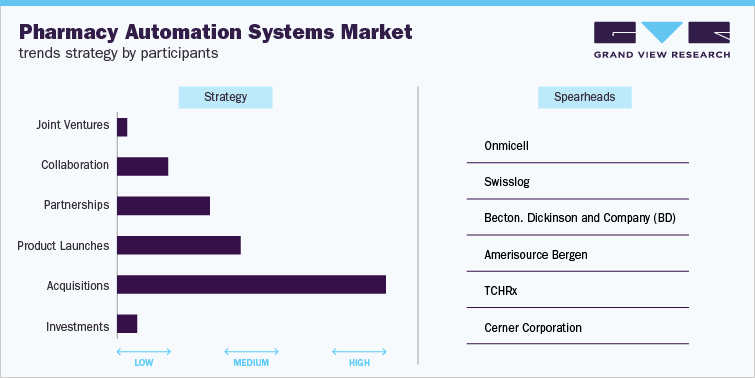 Laboratory Informatics Market Analysis & Forecast
The laboratory informatics market size was valued at USD 3.7 billion in 2022. Emergence of Software as a Service (SaaS)-based laboratory information system is an example of technological advancements. Low initial cost of ownership, reduced IT cost, and rapid deployment are some of the major factors boosting the demand for SaaS-based laboratory inventory systems.
Business intelligence tools such as D360, LiveDesign, and BIOVIA Insight are leveraging through data analysis technology. These tools can interface with Electronic Laboratory Notebooks (ELNs) or Laboratory Information Management Systems (LIMS). Some of the application areas of LIMS offered by Thermo Fisher Scientific include Research and development LIMS, Process development and manufacturing LIMS, and Bioanalytical LIMS.
In October 2022, Thermo Fisher Scientific announced the launch of its bioanalytical lab in the U.S. This initiative will expand the company's clinical research operations that require improved laboratory services for drug development and to meet the increased demand from biopharma industry.
Revenue Cycle Management Market Analysis & Forecast
The revenue cycle management market size was valued at USD 269.2 billion in 2022 globally and is expected to grow at a CAGR of 11.2% to reach USD 634.7 billion by 2030 over the forecast period. A key driver of revenue cycles in the majority of healthcare procedures is reimbursement services from copays, health insurance payers, and insurance deductibles from patients. If a healthcare supplier's revenue cycle management is more efficient, it will be more profitable. Mishandling of insurance refunds or patient collections can hamper a provider's monetary solvency.
Outsourcing of healthcare IT services has increased owing to various factors such as the dearth of skilled labor, shortage of resources, and rising healthcare costs. Primary services that are outsourced by healthcare organizations include coding stipulations, key performance monitoring, follow-up of claims, and ensuring data accuracy. The major advantages of outsourcing the revenue cycle management are the availability of skilled & trained professionals, cost-effective & efficient services, and compliance to required rules & regulations.
Loopholes in the healthcare infrastructure may act as a major restraint for emerging markets such as China and India. In recent years, China's Communist Party has announced various reforms for infrastructural development in the country. Lack of supportive infrastructure restrains the growth and adoption of innovative systems such as revenue cycle management.
Regional Insights
North America accounted for the largest revenue share in 2022. The focus of the U.S. healthcare system has shifted from fee-for-service care models to delivery of value-based care. Governing bodies have initiated several measures with this objective in mind. Increasing adoption of digital technology in Canada has contributed to growth of IoT in the healthcare market. As of March 2021, there were an estimated 500,000 potential EHR users among healthcare professionals in Canada.
Asia Pacific is expected to grow with the fastest CAGR over the forecast period. Various hospitals in Malaysia, Japan, South Korea, and Australia have adopted these systems for better patient care and satisfaction. As per a CNBC article on Chinese digital healthcare scenario in September 2020, it stated that business deals with Chinese startups have recovered to pre-COVID-19 levels and receiving the required impetus to develop innovative solutions. These measures taken by the Chinese government are likely to create a favorable environment for growth of the HIS market in China.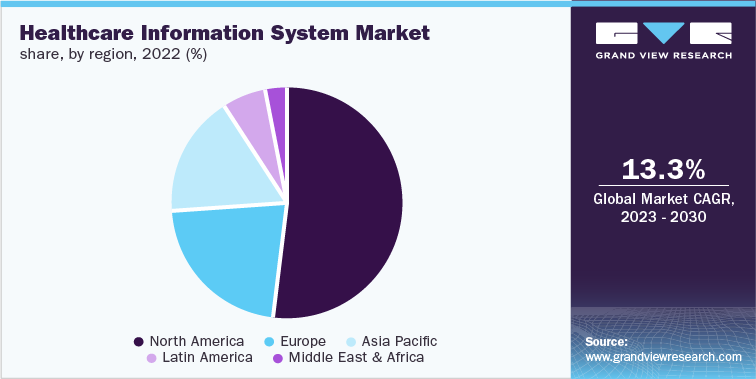 Competitive Landscape
Some of the key players operating in the healthcare information system market are athenahealth, Inc.; Philips Healthcare; Agfa Gevaert Group; McKesson Corporation; Epic Systems Corporation; Allscripts Healthcare, LLC; Cerner Corporation; GE Healthcare; Hewlett Packard; and Agfa Gevaert Group. Mergers & acquisitions, product launches, and collaborations & partnerships are continuously adopted by these companies to maintain a competitive edge in the market.
Some of the key strategic initiatives undertaken by the industry players
In June 2022, athenahealth expanded its mobile EHR voice capabilities for healthcare providers. The voice assistant will help healthcare professionals improve documentation accuracy, provide a better patient experience, and save time.

In March 2022, Constellation Software's N. Harris Computer Corporation entered into an agreement with Allscripts Healthcare, wherein it would acquire Allscripts electronic health record business segments including tools such as Opal, Paragon, dbMotion, Sunrise, and TouchWorks.

In March 2022, Epic Systems launched Garden Plot, which is a Software as a Service (SaaS) that gives users access to Epic software and third parties. The software includes integrated products from Change Healthcare, OSG Billing Services, and Intelligent Medical Objects.

In September 2021, McKesson launched a rapid return solution for health systems, which helps health systems and hospitals increase the amount of credit received for returned pharmaceuticals & OTC products, simplify the returns process and expedite credit processing.
| | | | | |
| --- | --- | --- | --- | --- |
| | Mckesson Corp. | Allscripts Healthcare,LLC | Cerner Crop. | Athenahealth, Inc. |
| Deal Type | Product Launch | Partneship | Acquistion | Partneship |
| Deal Date | September 2021 | June 2021 | June 2022 | March 2022 |
| Strategies | The Company Launched a rapid return solution for health systems and hospitals, which would simplify the returns process and expedit credit processing. | Veradigm, a business unit of Allscripts partnered with PRA Health Science to co-create leading EHR-based clinical research network in the industry | Oracle acquired Cerner Crop. and the two companies would combine their expertise and capabilities to provided advance digital health to ols and improve patient journey | Athenahealth and MedWise entered a strategic partnership, wherein MedWise will use athenaOne's medical coding solutions to maintain & enhance patient experience, reduce administrative burden, and improve financial performance |