Database Overview
Grand View Research's HVAC systems industry data book is a collection of market sizing information & forecasts, trade data, pricing intelligence, competitive benchmarking analyses, macro-environmental analyses, and regulatory & technological framework studies. Within the purview of the database, such information is systematically analyzed and provided in the form of outlook report and summary presentations on individual areas of research.
HVAC Systems Industry Data Book Scope
Attribute

Details

Areas of Research

U.S. HVAC Systems Market
U.S. HVAC Controls Systems Market
Heat Pump Market
Dehumidifier Market
Air Purifiers Market

Number of Reports/Presentations Covered in the bundle

1 Sector Outlook Report + 4 Summary Presentations for Individual Areas of Research + 1 Statistic ebook

Cumulative Coverage of Countries

50+ Countries

Cumulative Coverage of Application

10+ Products

Highlights of Datasets

HVAC Consumption Per Capita
Competitive Landscape
U.S. HVAC Systems Market by end-use
U.S. HVAC Controls Systems Market by end-use
Heat Pump Market by end-use
Dehumidifier Market by end-use
Air Purifiers Market by end-use
HVAC Systems Industry Data Book Coverage Snapshot
Markets Covered

HVAC Systems Industry

USD 136 billion in 2021

U.S. HVAC Systems Market Size

USD 16.54 billion in 2021

5.6% CAGR (2022-2030)

U.S. HVAC Controls Systems Market Size

USD 2.01 billion in 2021

11.7% CAGR (2022-2030)

Heat Pump Market Size

USD 67.74 billion in 2021

8.1% CAGR (2022-2030)

Dehumidifier Market Size

USD 2.91 billion in 2021

6.8% CAGR (2022-2030)

Air Purifiers Market Size

USD 12.26 billion in 2021

8.1% CAGR (2022-2030)
HVAC Systems Industry Outlook
The economic value generated by the HVAC systems market was estimated at approximately USD 136 billion in 2021. Increasing employee health and safety awareness, combined with rising industrial deaths in emerging economies due to a shortage of protective equipment, is likely to fuel market expansion throughout the forecast period.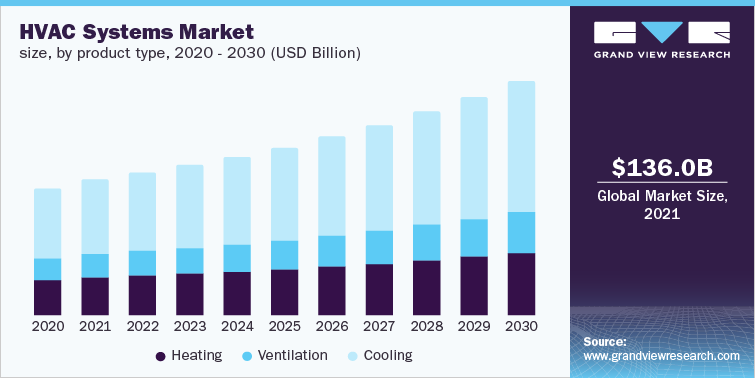 The increased ownership of multi-family and single-family homes is laying the path for future growth. The HVAC market is progressively focusing on energy efficiency. Various OEMs are emphasizing green initiatives in order to save money while mitigating greenhouse gas emissions. As a result, there has been an inclination toward eco-friendly HVAC systems in recent years. This category includes products that consume less energy and run on renewable energy sources, cutting energy costs.
Table 1. Share of Major HVAC Systems Countries, by Application 2021

Total

Air Purifier

Dehumidifier

Heat Pump

USD Billion

136.30

USD Billion

12.26

USD Billion

2.91

USD Billion

67.74

U.S.

12%

U.S.

23%

U.S.

32%

U.S.

19%

China

24%

China

19%

China

10%

China

35%

Japan

10%

South Korea

11%

Germany

7%

Japan

4%

Canada

7%

Japan

9%

India

6%

France

4%

Germany

4%

Canada

6%

France

5%

Germany

3%

Rest of the World

42%

Rest of the World

32%

Rest of the World

40%

Rest of the World

35%
An array of underlying trends is expected to impact the HVAC market growth over the coming years. A few of these trends include changing business environments, societal changes, emerging technologies, and transforming markets. Several HVAC companies are focused on developing HVAC systems based on the convenience of the user to enhance the overall experience. The emphasis on the user's convenience is driving technological advancements in HVAC systems with the introduction of innovative and smart products.
U.S. HVAC Systems Market Analysis And Forecast
The availability of tax credit and rebate programs, as well as other monetary incentives connected with the purchase of energy-efficient systems, is likely to boost sales in the U.S. HVAC systems industry. Governments at all levels, including the federal and state levels, have created guidelines to enhance the performance of HVAC systems. Governments have established several standards aimed at the production of energy-efficient technologies, lowering environmental dangers and carbon footprints.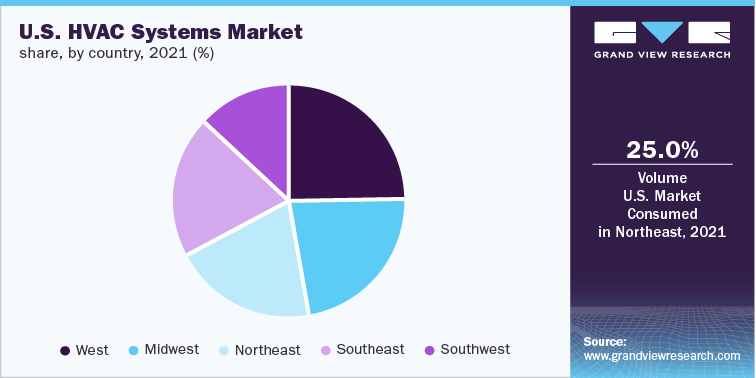 Technological advancements in HVAC such as the integration of IoT, improved energy efficiency, hybrid technology, etc. lead to improved performance, reduced cost, and increased energy efficiency. Thus, several HVAC system users are replacing old equipment with new HVAC systems that deliver higher energy efficiency and performance. Further, the factors such as government incentives & rebates increased energy efficiency, and reduced operating costs which are critical for the adoption of modern HVAC variants.
U.S. HVAC Controls Systems Market Analysis And Forecast
Fast paced industrialization has increased demand for HVAC systems across a wide range of end-use industries. Furthermore, rising energy prices and rigorous environmental regulations have prompted some businesses to install HVAC control systems. Furthermore, growing demand for easy-to-use remote access control systems has led in a significant increase in investment in HVAC control systems by commercial, industrial, and residential end users. The connected technology in smart homes enable the integration of smart HVAC control systems, providing more control and efficiency.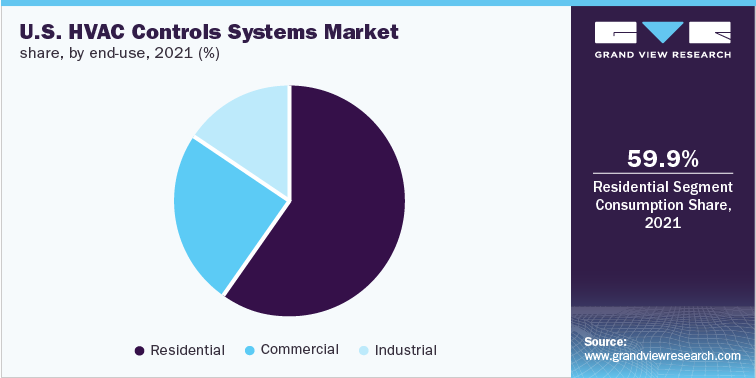 HVAC control systems are integrated into bigger building automation systems (BAS). These systems not only handle heating and cooling, but also lighting, security, communication, and fire suppression. They use software that enables operators to control the system while on-site or remotely. Buildings with an HVAC control system have numerous advantages over those without these systems. Controls that are simple to use enable building staff to maximize worker and occupant performance, comfort, and productivity. They also contribute to increased energy efficiency and lower heating & cooling costs. These aforementioned factors are expected to drive the demand for HVAC control systems.
Heating Equipment Market Analysis And Forecast
Heating equipment is critical in the processing and production of ferrous and nonferrous metals, mining, oil and gas, and the automobile sector. As energy consumption in the industrial and residential sectors grows, so will demand for heating equipment solutions that reduce operational costs and improve energy savings. Demand for heating equipment is expected to rise in the projected timeframe as the industrial sector undertakes more repair and refurbishment. Furthermore, tight regulatory landscape is likely to boost market expansion. The global heating equipment market is very competitive, and large corporations strive to reduce overall product costs by capitalizing on the high cost of technology and installation.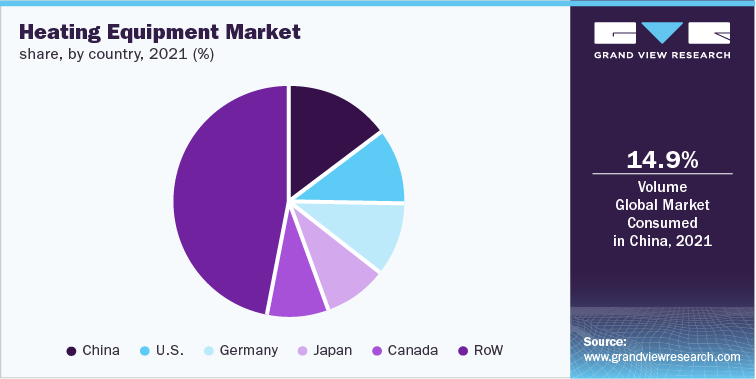 Government limitations are also expected to increase demand for energy-saving devices in the industrial and residential sectors. Furthermore, energy-efficient technologies cut operational expenses to a greater extent. Greater energy efficiency in buildings, industrial processes, and transportation networks, according to the International Energy Agency, may cut global energy consumption by one-third and help reduce greenhouse gas emissions by 2050.
Heat Pump Market Analysis And Forecast
A heat pump is a device that moves heat from one spot to another by using a minimal amount of energy. Government measures such as rebates, incentive schemes, personal and corporate tax credits, and clean heating and cooling initiatives are projected to have a favorable impact on market growth. The federal government of the United States has created renewable energy rebate schemes in order to provide discounts on the installation of renewable energy systems, particularly ground source systems, in buildings are anticipated to upsurge market demand.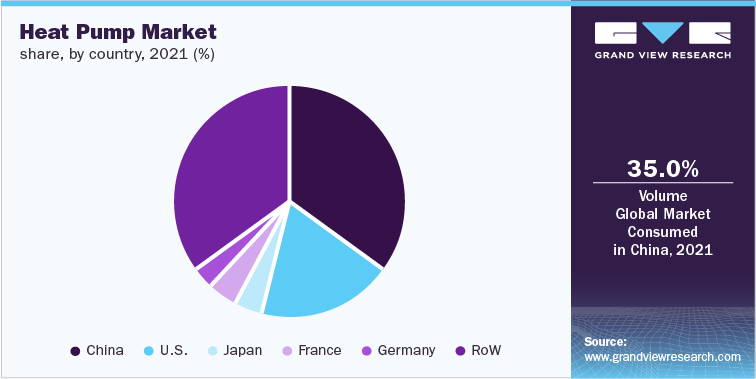 Heat pumps' multiple advantages, such as minimal maintenance needs, cost-effective operation, reduced carbon footprint, and extended lifespan expectancy, have substantially affected their popularity. Furthermore, it's potential to deliver space heating and water-heating solutions and cooling is projected to drive demand for air source technology in the coming years. Furthermore, rising construction activity in North America, increased surgical infrastructure investment, and rising need for efficient space and water heating solutions will boost demand in the single and multi-family residential building market.
Chillers Market Analysis And Forecast
Chiller is a device that controls temperature by circulating a cooling liquid that absorbs heat. To remove heat from the condenser and evaporators, chiller units use refrigerants. Rising temperatures as a result of global warming are expected to stimulate demand for cooling equipment. The market is expected to be driven by increased usage of chillers due to their ability to extract heat from buildings while maintaining internal temperature.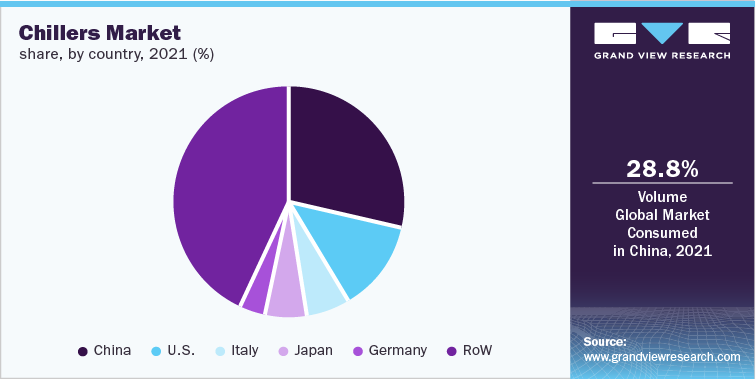 Governments in several developing nations have made large investments in public infrastructure such as offices, hospitals, shopping malls, and housing societies. Construction investment in the rising countries of the Middle East and Asia Pacific regions is expected to rise as a result of strong industrial and economic development, as well as population increase, which will benefit the chillers market.
Cooling Towers Market Analysis And Forecast
Cooling towers are a low-cost technique of cooling big commercial infrastructures and process cooling applications in a variety of industrial verticals and sectors, including oil and gas, chemicals, and food processing. Cooling towers are also used extensively in power facilities to remove excess heat. The growing need for energy-efficient cooling systems in industrial and commercial applications is expected to fuel market expansion.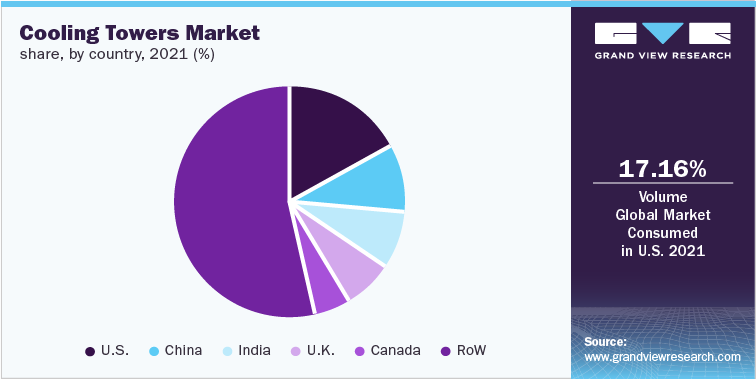 The growing relevance of cooling in data centers to improve efficiency and offer safety will drive market expansion. The IT gear contained in data centres generates a lot of heat due to which adequate cooling is essential. Cooling towers can assist in maintaining optimal temperature in data centres while consuming less electricity. The data centre business is flourishing, with numerous anticipated hyper-scale projects, which bodes well for cooling tower market development.
Dehumidifier Market Analysis And Forecast
Demand for dehumidifiers is predicted to rise as rules and regulations for managing and regulating humidity in various industrial processes improve. The worldwide dehumidifier market is predicted to grow due to an increase in the number of hotels, restaurants, and cafés. Changing consumer lives and expanding café culture are pushing the global HoReCa sector. The need for dehumidifiers in such commercial establishments to keep the air fresh and avoid mound and fungal growth.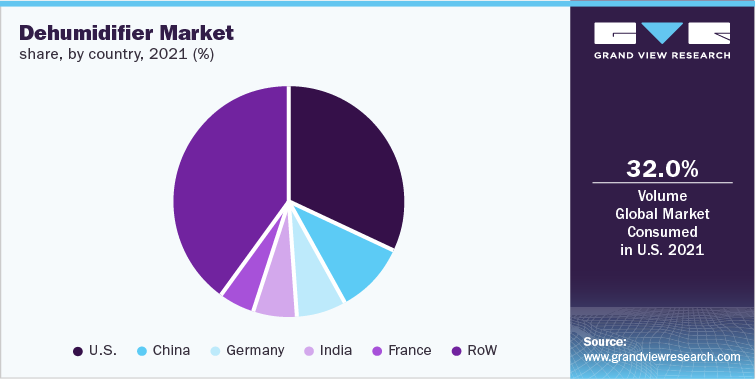 Dehumidifiers are also used in the manufacture of lithium-ion batteries to manage humidity and moisture. The most critical and vital aspect influencing the production process is relative humidity, which must be as low as 1.0% to 10.0%. Demand for electric cars is driving the production of lithium-ion batteries, which is projected to boost the expansion of the dehumidifier industry.
Air Purifiers Market Analysis And Forecast
Air purifiers help to eliminate different health risks associated with poor air quality by removing impurities such as dust, smoke, and pollen. Furthermore, these products help persons with asthma, airborne allergies, and other respiratory disorders. Over the next several years, the market will be largely driven by growing air pollution levels, the breakout of the COVID-19 pandemic, and increased knowledge of the advantages of air purifiers.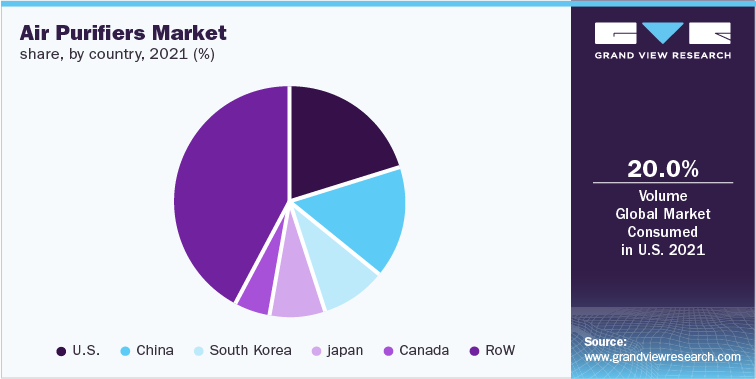 Several governments are focused on air pollution management by enacting severe laws and standards for indoor air quality, which are expected to boost the market throughout the forecast period. Furthermore, several air pollution control efforts launched globally by governments and non-governmental organisation (NGOs) are likely to drive market expansion throughout the forecast period. Several reasons, including changing lifestyle choices, decreasing indoor air quality, rising health concerns, and increased consumer knowledge of the advantages of air purifiers, are expected to drive market expansion.
Competitive Insights
The HVAC systems market is characterized by intense competition owing to the presence of international players. Key players present in the market include Carrier, Daikin Industries, Ltd., Emerson Electric Co, Haier Group, Johnson Controls, LG Electronics, Lennox International, Mitsubishi Electric Corporation, Rheem Manufacturing Company, and Trane Technologies plc.
Manufacturers of HVAC systems are adopting several strategies including new product launches, mergers, acquisitions, joint ventures, , and geographical expansion to enhance market penetration and cater to changing technological demands from various end-use industries such as residential, commercial, and industrial.
In November 2022, Carrier acquired Toshiba Corporation's (TOKYO: 6502) holding in Toshiba Carrier Corporation (TCC). With this acquisition, Carrier will have opportunities to expand in the rapidly growing, energy-efficient VRF, and heat pump markets.

In November 2022, the Republic of Indonesia, Daikin Industries, Ltd. is constructing a new manufacturing facility for home air conditioners at the Greenland International Industrial Center (GIIC), which is close to Jakarta. The new facility is being constructed in response to the rapidly increasing demand for air conditioners in Indonesia.

In May 2021, Johnson Control acquired Silent-Aire, a hyperscale data center solution provider, to broaden its portfolio of reliable and sustainable data center solutions.

In March 2021, Emerson Electric Co. launched the Copeland variable speed reciprocating hermetic compressors. The new energy-efficient compressors are designed to deliver performance enhancements for commercial refrigeration applications.